To hire a software development team abroad is no longer an exception but a smart move that allows IT companies to tap into a new market's potential and cut expenses. During the last 5 years, Eastern Europe has been accelerating IT sector development and increasing its talent capacities, becoming one of the most appealing regions for building offshore development teams.
If you are still hesitating whether it's the right decision to hire dedicated developers in Eastern Europe, this article will help you figure it out! You'll ascertain the principal reasons that make Eastern Europe an ideal offshoring destination, find out how to overcome possible difficulties of assembling a dedicated team of software developers from Eastern Europe, and even get some valid tips on how to choose a competent service provider. And in case you'd like to experience high-quality IT recruitment in Poland, Romania and other Eastern European countries, Alcor can become your trusted partner!
What Is a Dedicated Development Team?
A dedicated development team is a software crew that works exclusively on your product and under your brand but gets hired by a recruitment services provider. Oftentimes, such a team works on a remote basis and consists of software developers from different locations, allowing the company to save on salaries, taxes, office maintenance costs, and operational expenses.
Dedicated development teams work best for tech companies of different sizes struggling with finding experienced professionals to enhance their engineering team or looking for ways to expand on the market. This business model can help cut costs while not losing out on necessary expertise. Below, you will find more benefits of a dedicated development team and reasons to hire software developers from Eastern Europe.
7 Reasons for Hiring Eastern European Developers
1. Extensive pool of talented IT specialists 
The first and foremost argument that can be expressed in favor of Eastern Europe is its enormous talent pool which accounts for over 1 million IT specialists. The first place in this region is taken by Poland, which boasts the biggest number of tech professionals – 430K. In second place we find Ukraine with about 285K programmers. Then the list is followed by Romania (140K) and the Czech Republic (130K). The Hungarian (80K) and Slovak (55K) tech markets are a bit lagging behind but are constantly trying to expand their IT talent pools.
However, after the russian invasion of Ukraine, the IT specialist statistics in Eastern Europe altered. It is estimated that around 57,000 Ukrainian software developers relocated to the neighboring countries. The largest share of them moved to Poland – 35,2%, while Romanian (5,7%), Czech (3,6%), Slovak (2,4%), and Hungarian (2,2%) tech talent pools saw only slight growth.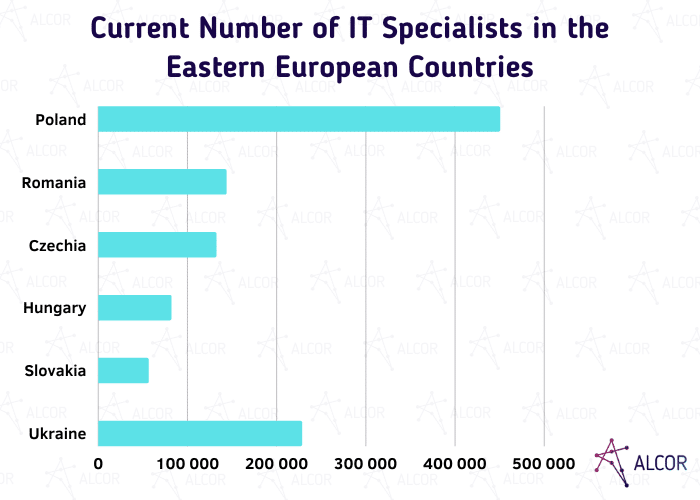 2. Profound expertise
Another vital reason why international IT companies prefer building an outsourced dedicated development team in Eastern Europe is the high expertise and talent of software developers.
– Top-quality STEM education
The technical education in Eastern Europe has global recognition. This region provides higher STEM education in around 300 HE institutions, a good share of which can be found in the QS World University Rankings 2023: Top global universities. Among them are such leading universities as Warsaw University of Technology, National Technical University of Ukraine, Politehnica University of Bucharest, Czech Technical University in Prague, University of Szeged, and Slovak University of Technology in Bratislava. Overall, computer science and software engineering have been gaining popularity among young people in Eastern Europe, leading to a steady increase of tech students & graduates in the region. For instance, Poland had an impressive number of 66,400 ICT students in the 2020/2021 academic year, which is 3,000 more compared to the previous year.
– Exceptional tech skills
What else makes outsourcing recruitment of software developers to Eastern Europe highly attractive for IT companies is an up-to-date attitude to the latest IT trends/practices and expertise in a broad array of programming languages among local developers:
Poland: JavaScript, Java, Python, TypeScript
Romania: PHP, C#, Java, C++
Czech Republic: JavaScript, Java, PHP, C#
Hungary: JavaScript, HTML/CSS, Python, Java
Slovakia: Python, Java, JavaScript, PHP
Their deep tech expertise is undeniable, as Eastern European programmers can always be found in various skill rankings: SkillValue, Harvard Business Review, and TopCoder.
– High English proficiency 
Another aspect that doubles the value of these tech professionals on the global IT market is their knowledge of the English language. According to the EF English Proficiency Index, all the above-mentioned Eastern European destinations are in the top 30 countries with a high English proficiency level. Moreover, it's not uncommon for these engineers to be armed with an additional European language. This fact draws even more attention to Eastern European software developers, as effective communication is a key to productive cooperation.
3. Affordable remunerations
Who doesn't like to get high-quality services for a modest price? In the case of software developers in Eastern Europe, it's not just a dream but a reality. The annual salary rates for these professionals are approximately 2-4 times lower than in the USA. Compare the relevant gross remunerations of a software developer in the table below to see the difference. Moreover, you can also check our recent research on React Developer salary, QA engineer and iOS developer salaries worldwide.
Average Annual Software Developer Salary

 Country
Junior
Middle
Senior
Team Lead
USA
$85,000
$109,000
$129,500
$144,000
Canada
$77,000
$111,000
$130,000
$148,000
Germany
$52,500
$71,500
$85,500
$97,000
UK
$45,000
$59,000
$81,000
$100,000
Czech Republic
$37,000
$54,000
$76,000
$84,000
Poland
$26,000
$47,000
$65,500
$82,000
Slovakia
$26,000
$42,000
$59,000
$79,000
Hungary
$21,000
$37,000
$54,000
$70,000
Romania
$22,500
$39,000
$57,000
$61,000

Local currencies were converted to US dollars at a relevant exchange rate for May 2023. 
4. Business-friendly environment 
Every year the governments of Eastern European countries work on new legislation and policies aimed at the simplification of business and tax conditions to attract more high-profile companies to their local markets. For instance, in Poland IT companies that generate income from their IP rights enjoy only 5% tax, while Polish programmers (if employed on the basis of the B2B contract) pay 8,5% – 12%. In the meantime, the Romanian market is a real tax haven for those companies that have R&D centers, as they are exempted from all income taxes for 10 years. Slovakia has a similar perk, providing additional tax deduction for R&D expenses up to 200%. Hungary, for its part, offers fast & easy business registration (4-5 days) and a possibility to have a virtual office which frees up funds in the vital early stages of development. To feel all of these benefits and perks, many leading tech companies have already built teams of developers in Eastern Europe: Google, Apple, Microsoft, Oracle, Amazon, Intel, Samsung, People.ai, Cisco, etc.
5. Robust data security
Another reason why it's a good idea to have a team for software development in Eastern Europe is data privacy and protection. Since most countries of this region are EU member-states, they are obliged to follow its regulatory structure. It means that all their data-related activities should abide by appropriate copyright laws, non-disclosure agreements, and other policies, including the GDPR.
6. Convenient location 
Many Western European IT entrepreneurs find it convenient to set up a dedicated software development team in Eastern Europe. Why? Because this region has an optimal geographic location. The average time difference between Eastern and Western European countries is about 1-2 hours which allows offshoring developers to follow the same schedule as their headquarters in Western Europe. Moreover, it takes just a few hours to get from Eastern Europe to any other European country, allowing even face-to-face meetings with offshore engineering teams.
7. Western-oriented mindset
When it comes to building a dedicated software team in any offshoring destination, many tech leaders get concerned about the possible cultural barrier. However, if they choose transferring software engineering to Eastern Europe, this won't be a problem, as they feel an affinity with western values and work ethics. Furthermore, these engineers can easily adapt to new working conditions and contribute to building a healthy workplace environment.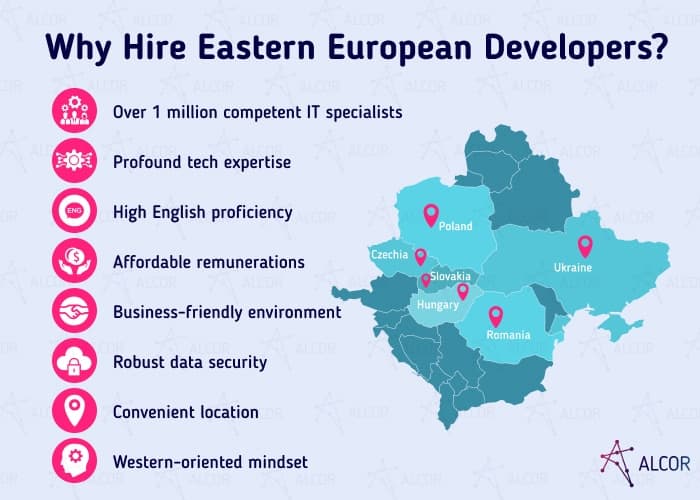 5 Roles and Responsibilities of Dedicated Development Team in Eastern Europe
Speaking about software development outsourcing in Eastern Europe, what positions in your team can you cover? With over a million of qualified specialists on the market, the answer is – just about any. Still, let's take a more detailed look at 5 key roles in a software development team to ensure.
1) Tech/Team Lead
A tech team lead is a programmer with vast experience and a notable technical stack who is responsible for guiding and mentoring coders in technical matters, reviewing their code, and making decisions regarding system modifications. Additionally, you might need to hire a team lead who would be focused on creating a productive work environment, facilitating communication inside the team, motivating team members and tracking the overall team performance.
2) Product Manager
A product manager researches the market, oversees product development and launches the product on the market. Their main responsibility is to help the company achieve its goals through the product. These specialists cooperate with software developers, business analysts, UI/UX designers and other team members and conduct team meetings.
3) Software Developers
Eastern European software developers can be a great extension to any tech team as they use their knowledge of the required programming languages, frameworks, libraries and other technologies to create the product. For instance, front and back end engineers, as well as full-stack developers, abound in Eastern Europe. With front end specialists managing the outlook of the website and back end professionals dealing with its internal structure, one can assemble a full web development team or opt for hiring a full-stack developer who will be skilled in both fields.
4) QA Engineers & Testers
These specialists have a shared responsibility, which is to ensure high product quality. QA Engineers analyze if the software or particular features work properly by creating test scenarios and applying them to identify software bugs and errors. At the same time, QA testers test websites and applications by making observations about the user's journey, offering suggestions for its improvement and creating reports about the results.
5) UI/UX Designers
It's necessary for UI/UX designers to possess skills such as developing wireframes, outlining user flow, researching the target audience, comprehending information architecture patterns, and utilizing visual design tools. UX designers ensure software accessibility to the users and UI designers are in charge of the visual part. The goal is to ensure functionality and proper navigation on the website.
The roles mentioned above are essential for any software team in Eastern Europe (and it's also a great starting point for a dedicated offshore development center), but what country is the best?
Which Country in Eastern Europe to Choose for Software Development?
Now let's have a more precise look at such frequently selected Eastern European locations as Poland, Romania and Bulgaria to find out about the peculiarities of setting up dedicated engineering teams there.
Poland
Even though Poland is considered one of the most popular destinations to hire developers in Eastern Europe, its business conditions are not devoid of peculiarities. According to the Global Business Complexity Index, Poland is ranked 2nd in Europe. This is due to constantly changing legislation and a compounded tax system. The latter is closely connected to another issue – different types of employment. Despite the obvious financial advantage of B2B contracts, the Umowa o prace (employment contract) continues to dominate the market, constituting 51% of all contracts. Thus, if you plan on recruiting Polish software developers, consult a professional service provider who will help you employ specialists on the best terms and make your business legally compliant.
Romania
When it comes to offshore software development in Eastern Europe, building a team of programmers in Romania may be a bit more tricky due to its limited number of tech hubs. Unlike Poland, which has 6 major IT centers, Romania can only account for one really developed hub – Bucharest – and two emerging ones: Cluj-Napoca and Iași. Consequently, this fact can affect the hiring process, leading to unwanted downtime and extra expenses. However, if you partner with an experienced IT recruitment agency, you shouldn't have to worry about time-consuming talent acquisition in Romania.
Bulgaria
Bulgaria is an appealing offshoring destination due to the lowest corporate and personal income taxes in the EU, which helps companies to cut costs, and thus achieve one of the main goals of outsourcing development. What is more, it has a stable IT market and is even ranked 35th out of 132 countries in The Global Innovation Index. The number of tech professionals has been growing by 7% each year according to Statista: from 92,500 developers in 2019 to 110,000 in 2022. Last but not least, there are 50 STEM universities in Bulgaria that lead to 3000 skilled ICT graduates a year, which adds one more benefit to this country as a sector for software outsourcing.
Things to Consider Before Hiring a Dedicated Development Team in Eastern Europe
As I mentioned above, Eastern European countries have a pretty convenient location, allowing IT entrepreneurs from Western Europe to have almost no time difference with their offshoring teams. However, for US-based businesses it's a bit more significant, ranging from 6-7 hours (for East Coast companies) to 10 hours (West Coast companies). At first sight, it may seem like a substantial disadvantage. But if you would like to get round-the-clock business coverage for a reasonable price, it's actually a logical way to go!
Remote team management issues
Some tech owners get frustrated while pondering the challenges of managing offshore teams. These may include: chaotic communication, impeded progress-tracking, and decreasing team productivity. But in reality the devil is not so black as he is painted. If you take into account the nuances of remote team management, it can become just like having in-house developers. My advice is to concentrate on such key aspects as: setting up a decent workflow, arranging regular calls, utilizing proper management tools, and sustaining team spirit.
Tips to Hire a Dedicated Team Provider in Eastern Europe
Headhunting offshore programmers or doing staff augmentation in Eastern Europe can be quite an arduous, time-consuming, and expensive process if done incorrectly. Thus, to assemble a dedicated development team in Eastern Europe successfully, think of cooperating with a local IT recruitment company. Consider the following features to select a truly professional service provider.
Local IT market expertise 
Deep knowledge of the local market is crucial when it comes to fast and effective IT recruitment. Your ideal partner should keep you updated on the number of available developers, their tech stacks, salaries, as well as be armed with IT industry and recruitment trends. To help you hire and retain top talents in your development team, a professional IT recruitment company will also provide you with blind CVs, analytical reports, and relevant information concerning employer value proposition (EVP).
Vast tech recruitment experience
There are quite a lot of agencies which hire Eastern European developers but have little to no experience in recruiting IT specialists for product software companies (but a strong desire for financial gain). How can you spot them in the crowd? Such vendors usually have a similar pattern of behavior: firstly, they bury you in irrelevant CVs to show how broad their candidate base is; proceed with job interviews without proper pre-screening of applicants; and then get stuck in the first phase of the interview just to stall and rip you off. To avoid taking bait, pay attention to such defying aspects as:
– a big team of seasoned IT recruiters; 
– an extensive internal candidate base; 
– the availability of case studies and client reviews on independent resources that prove the company's broad experience in IT recruitment.
Well-thought-out hiring strategy 
Your ideal tech staffing partner should possess a genuine interest and strong desire in doing their best for creating a successful offshore team. To make it happen, they will present you with a well-elaborated hiring strategy which covers each stage of the recruitment process, including specified KPIs, a set of hiring technologies & resources, and details on pricing.
Finally, one of the most concrete indicators of high professionalism and credibility of an IT recruitment agency is their guarantees. If a company can vouch for the quality of its product & services publicly, it's a green light for you to consider partnering with them.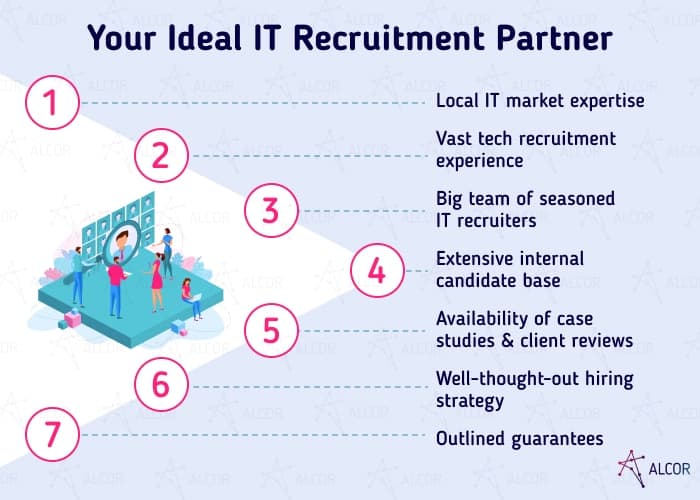 Real Example of Hiring a Dedicated Development Team in Eastern Europe
Once Dotmatics, a US-based product company that develops scientific software, was in your shoes. They wanted to enter a new Eastern European market by setting up an engineering team, but had a hard time finding a competent tech recruitment service provider. Finally, Dotmatics came across Alcor and decided to give it a try. In just a year we hired 30+ seasoned software developers for them! Want to know how? Firstly, we adjusted their vacancies to the local tech market, helped Dotmatics devise an ideal candidate profile and EVP. Then, our team prepared blind CVs, pre-screened the candidates, and conducted job interviews. After that, we forwarded only the best programmers to the client for further interviews. That's how full-cycle tech hiring looks like at Alcor!
Consider Alcor BPO Your Trusted Dedicated Team Provider
As a professional IT recruitment services provider, we specialize in hiring senior and lead software developers from Eastern Europe, particularly Poland, Bulgaria and Romania. To build a dedicated team of top programmers for US and EU companies, our team of 40 IT researchers and recruiters use an internal database of over 200,000 verified applicants. We have an 80% CV pass rate which means that 4 out of 5 candidates get to the interview stage, while 98,6% of all programmers that we hire pass the probation period successfully.