An end-to-end recruitment process helps tech companies better plan their IT recruiting, as well as effectively source, screen, select, provide feedback, hire, and later onboard software developers. Usually, this process is preceded by identifying the company's recruiting needs, workforce strategy, and budget. We at Alcor know how to assist in these matters as our team provides IT recruitment in Poland, Romania, and other Eastern European countries. In this article, you will find out more about the full cycle recruiting for tech product companies, the 10 main stages of this process, possible disadvantages and their solutions, and our exclusive tech recruitment service that might save you tons of time and financial resources.
What is Full Lifecycle Recruitment 
Full life cycle recruitment is an end-to-end staffing process that encompasses all stages of recruitment. The most common of them are:
1. An ideal candidate profile
2. EVP
3. Job descriptions
4. Active search
5. Pre-screening
6. Interviews
7. Feedback
8. Job offers
9. Counter-offers
10. Onboarding
Tech companies usually adopt the full recruitment lifecycle either by forming an in-house IT recruitment team or cooperating with a professional tech staffing provider.
10 Stages of a Full Lifecycle Recruitment Process 
1. Create an ideal candidate profile 
The first stage of full cycle recruiting is creating a profile of the desired candidate. This process should be based on in-depth research of target developers, including their technology stack, working experience, psychological portrait, workplace culture, and career growth preferences. 
2. Come up with a relevant EVP 
EVP or employer value proposition is a set of HR benefits for company employees. They are important for software developers since perks are a part of what your employees receive in return for their work. According to the 2022 SHRM research on employee benefits, the most valuable perks are healthcare, retirement planning, leave benefits, family benefits, and flexible schedule opportunities. However, perks may vary depending on the country. Given the cultural & national specifics, pay attention to what local developers prefer by consulting agencies at this geographic location. 
3. Write clear job descriptions 
The next step of the recruitment lifecycle process is writing informative job descriptions. Make sure you clearly describe your company's business and product, as well as specify job responsibilities, technology stack, desired hard & soft skills, and company benefits. For example, mention whether a new teammate will work on legacy code or other specific technology they'll need to learn.
4. Actively search for candidates 
Once you're ready to start sourcing software developers with the needed qualifications, use active search instead of simply waiting for applicants. Search for candidates on social media networking sites like LinkedIn and GitHub, in your network, and via employee referrals. Beyond that, consider creating your internal candidate resources that might be maintained via special applicant tracking tools like SmartRecruiters, CleverStaff, or BambooHR. 
5. Pre-screen your candidates  
After selecting the resumes of the most eligible candidates, use a pre-screening method to quickly check their working experience. Tech recruiters usually pre-screen their candidates by asking them some experience-related questions via messages or calls. The whole process takes up to 30 minutes but allows you to instantly rule out software engineers with irrelevant expertise and keep working with more suitable candidates. 
6. Interview the candidates 
The next recruitment stage is conducting job interviews. The first one is usually an HR interview where the IT recruiter learns more about the personality of the candidate, while the candidate gets the chance to find out more about the employer. The next stage is a technical interview which might be preceded by a test task. Then, the candidate might have a meeting with management (Team Lead/CTO/CEO/VP of Engineering) and other people on the team.  
7. Provide descriptive feedback 
Another critical step of the full recruiting lifecycle is sharing your feedback about the candidate. This information lets the candidate learn more about how they performed during interviews and whether they have some areas for improvement.
8. Make job offers to the best candidates 
Making job offers is a part of the hiring cycle that doesn't need much explanation and is probably the favorite step of tech recruiters. Just make sure you mention the right position and starting date, repeat job duties, list the up-to-date list of company benefits and add the right salary in the offer letter.
9. Work with counter-offers, if any 
Sometimes after you make an offer to a software developer, they might already have one or several offers from other companies. In this case, you should demonstrate your negotiating skills and be able to persuade the candidate to accept your offer. This might include reconsidering a candidate's salary or providing your potential employee with better career growth opportunities. 
10. Onboard your new employees 
The last part of the lifecycle of recruitment is onboarding. You should help your candidates adapt to your company, adjust to company culture and fit in the team. The most effective and fast way to do this is to allocate a personal mentor or manager to the new programmer who can guide them in their new workplace. Some companies have a whole system with lectures, articles, tests, and other onboarding materials.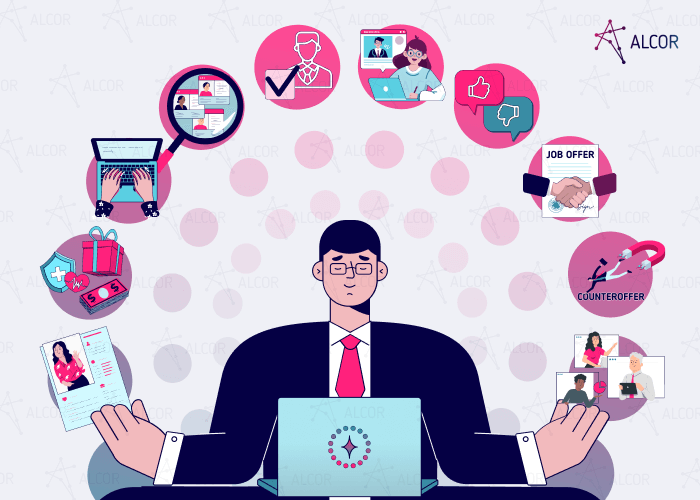 Full Lifecycle Recruiting Pitfalls & Solutions 
Nevertheless, even if you adopt all the aforementioned stages of the recruitment process, you might face certain staffing challenges. We have described the most common ones below and provided effective solutions:
Pitfall: No response from candidates 
Taking into consideration the high demand for qualified middle, senior, and lead software engineers, programmers might receive dozens of interview invitations per day. Thus, they might ignore or miss your message among others. 
Solution: Customize your communication 
To make your candidates notice you among other employers, start a conversation by mentioning how their working experience is relevant to your vacancy or adding other personal details from a candidate's social networks. This way you'll show that you've learned something about the candidate instead of bulk messaging as many candidates as you can, then just hoping for a response. 
Pitfall: Developer drop-off rate 
Some candidates might drop out of the recruitment process without warning. This usually happens if a company has many interviewing stages, long intervals between interviews, or asks software engineers to perform burdensome test tasks.  
Solution: Shorten your talent acquisition process 
First of all, if your company has 5+ recruiting stages, consider reducing this number to 2-3 interviews or combining two hiring stages. Also, try to shorten the time between interviews to prevent your candidates from losing interest in the job, plus replace time-consuming test tasks with coding sessions or panel interviews.
When a French software product company — Ledger, which produces crypto management wallets, decided to set up its software engineering team in Eastern Europe, they reached out for assistance to Alcor. The goal was to hire 20 QA engineers, so we started our cooperation by assigning a team of 10 IT researchers and recruiters to Ledger. One of the ways to accelerate the recruitment process for the client was to conduct all interviews in one day in our office. As a result, the first offer to a QA manager was made that day. Among other techniques to meet Ledger's staffing needs was an individual tech recruitment approach that helped us close the position of Site Reliability Engineer. 
Pitfall: Offer rejections 
Offer rejections slow down the recruitment process and prevent you from reaching your hiring KPIs. Often, candidates reject offers from unknown companies that are not well-represented in the tech market. 
Solution: Develop a strong employer's brand 
When one of our clients – Tonic Health, faced the issue of offer rejections from senior software developers in Eastern Europe, Alcor first started promoting their brand of an employer. The client then received the necessary marketing services, including the development of Tonic Health's social media, which helped us hire 15 programmers for our client on time. 
 Consider Alcor BPO Your Trusted IT Recruitment Provider 
If you're also up for a 360 recruitment cycle for your company, Alcor might be your perfect partner. We are an international tech staffing services provider that delivers IT recruitment services in Romania, Poland, and other Eastern European countries, as well as IT RPO services. Our IT recruiting department comprises over 40 specialists that can take over the assembling of a diverse tech team for you. We follow all the recruitment cycle steps that I described above and even go the extra mile. Alcor allocates a key account manager who supports you at each cooperation stage, as well as conducts IT recruitment consultations and delivers weekly hiring progress reports.
It's not a problem for us to source seasoned software developers because we have our internal database with 600,000+ candidates from Eastern European countries. We always strive to save the time of our clients and need only 8 resumes in general until 1 accepted offer, rejections and counter-offers included.