Higher pay is one of the main criteria that motivates tech talent to cast their nets wider for new job prospects, according to The State of Remote Engineering 2023 report. However, not all companies can compensate more in their domestic market and start looking for great but budget-friendly talent overseas, for instance, in Colombia. 
I'm Maryna Panchuk, Head of IT Recruitment at Alcor, with over 10 years of hands-on experience in sourcing, headhunting, and hiring rare tech talents. Alcor provides US clients with R&D center services and full-cycle IT recruitment in Latin America and Eastern Europe. 
In this article, you'll find an outline of Colombia's market situation, advantages, and challenges of working with its developers. Together with my team of IT headhunters in Colombia, we'll also shed some light on their tech background and the average software engineer salary in Colombia. Ready to dive in?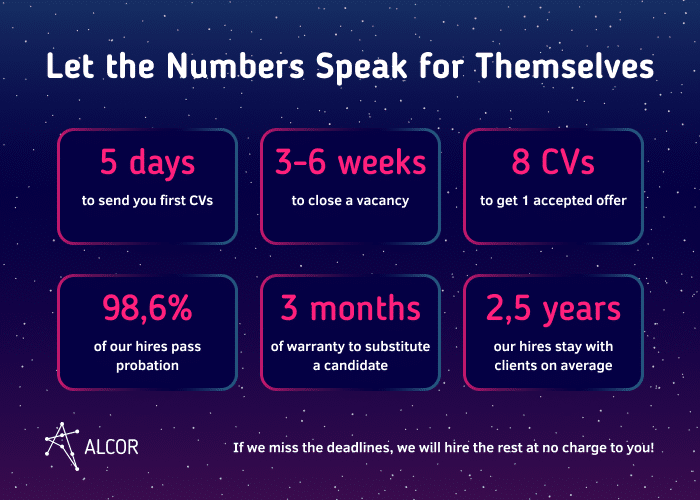 Colombia Software Development Industry Overview
The IT services sector in Colombia is expected to grow at a CAGR of 9.18%. By 2028, the market volume will swell to $2.9 billion. In addition, IT outsourcing dominates one-third of the market in 2023, with its earnings set to double by 2028.  
Moreover, Colombia is prominent on the startup scene, being in the top 3 as a startup location in Latin America. Colombian IT hubs accumulated 289 startups — 189 in Bogota, 56 in Medellin, and 44 in Cali — and produced such unicorns as Rappi and LifeMiles. The country is 3rd in LatAm for its startup-friendly business environment. Supported by government initiatives, the sphere of innovation keeps growing and is another yes for outsourcing software development to Colombia.
Advantages of Hiring Colombian Developers
Numerous & Qualified  Talent
The Colombian talent pool boasts over 150,000 IT professionals, including 62,000 software engineers, along with more than 11,000 IT companies. With such a number of potential employers, computer science majors are in demand: the first five best universities in Colombia alone abound with 20,000+ students enrolled. Moreover, Colombian higher institutions — the University of the Andes Colombia, the Universidad Nacional de Colombia, and Pontificia Universidad Javeriana — made it to the LatAm top 30. These facts will ensure a steady stream of skilled computer science graduates. 
High Programming Ranking
Colombian software developers top the charts in LatAm and the Caribbean in their overall technology and data science scores, excelling in operating systems, computer networking, and computer programming, namely web and database development, cloud computing, and data analysis.
Additionally, Colombia shines as a JavaScript community hub: it has JS-related meetups in 8 cities and more than 3,000 members. It's a particular advantage for offshoring since JavaScript programming language reigns supreme in 2023, according to the newest Stack Overflow survey. Software developers in Colombia are also prized for their expertise in HTML/CSS, SQL, and Python. 
At Alcor, we find qualified devs of different stacks. For one of our clients, a US-based scientific software company Dotmatics, we managed to hire 30 software engineers in a year, including JavaScript and Java tech stacks, but also Node.js, C++, React, AWS, and Cypress. So, if you're in need of expert devs to nearshore your business to Colombia, we're just a click away!
Affordable  Salaries
The average software developer salary in Colombia is four times lower than in the US, as American companies pay about $104K annually. Given the high level of expertise of software engineers in Colombia, outsourcing software development allows substantial cost savings while maintaining high quality.  
Read on for a detailed breakdown of the average software engineer salary in Colombia. 
Manageable Time Differences
The central IT hub, Bogota, is two hours ahead of California and one hour behind New York, so staying in touch with your offshore developers in Colombia is easy. Besides, overlapping work hours help manage the remote team and stay on top of your software production deadlines. 
Innovation-Oriented Government
According to a recent OECD report, the Colombian government prioritizes innovation, as reflected in the National Development Plan 2018-2022. This led to significant changes, such as the ICT Sector Modernization Law. Its goal is to bridge the digital gap, boost access to technology, and increase investment. With this in mind, Colombia invested $2.5 million in tech education for teachers and students and implemented trade-free zones to simplify registration for new businesses, as well as introduced tax breaks and grants for companies investing in tech. 
Challenges of Hiring Developers in Colombia
Lower English Proficiency
The level of English in Colombia is not as high as in other LatAm countries. Fortunately, the Colombian government acknowledges the issue and actively promotes teaching English starting from elementary school, aiming for the country to become fully bilingual by 2025. As for now, I'd suggest considering senior-level devs with a high command of English. An average annual salary in Colombia for a software engineer, even of high seniority, is still 40-50% lower than in the US, so it will cost you much less to recruit the Colombian best with the help of a professional provider. 
Mind-boggling Taxes
In any new market, figuring out taxation is crucial to reap the most benefits. Since the Colombian legal sphere is fast-paced in introducing change, it's worth keeping an eye on them. For example, the Tax Reform Law of 2023 allows for a 25% tax discount for IT companies, but you should also navigate the corporate income tax, value-added tax, and other Colombian taxes. If you decide to nearshore outsourcing to Colombia, I recommend looking for expert legal advice from local providers, in addition to IT staffing & other operational support. 
Intricate Labor Laws
Colombian legislation has several nuances. Generally, the peculiarities concern a 48-hour working week, 25% extra pay for overtime hours, 15 days of paid vacation, and more public holidays than in the US — 18 in total. On top of that, the Colombian classification of contract workers and independent contractors, along with comprehensive employee protection requirements and labor unions, might be confusing. The most practical way for American IT companies here is to seek a trusted partner to handle everything. 
That's what a US company People.ai did before setting up their own development hub abroad. Look at how they achieved full legal compliance with Alcor: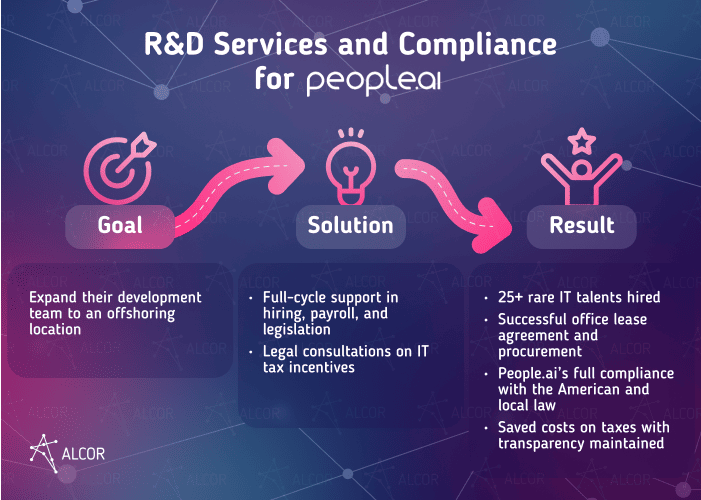 Portrait of a Software Developer in Colombia
Summing up the insights, here's how I would describe a Colombian software engineer. 
Hard Skills
On average, expect a software developer in Colombia to have a general computer science or computer engineering degree. Information and security systems are also popular majors. Plus, Colombian coders can learn independently — Coursera's high scores for data science in Colombia prove that. Speaking about programming languages, Colombia is a hotspot for JavaScript, SQL, Ruby, and Python experts. Finally, thanks to the bustling startup environment, Colombian programmers have a unique chance to learn the ropes of programming in a startup, which is why they typically have such experience. 
Soft skills
Colombian devs are renowned for their work ethics, time management skills, efficiency, and dedication, coupled with the value of work-life balance. In communication and teamwork, Colombians bring friendliness, openness, and respect. Together with their unorthodox thinking and adaptability, such personal skills make them a great asset to the team. 
Cultural Peculiarities
Colombians value trust and close-knit teams. Coming from a relationship-oriented culture, they're great at fostering personal and business relationships. Thus, Colombian employees show initiative, genuine interest, and polite consideration for their teams. Besides, the value of trust motivates them to stay with one company for longer, reinforcing their exceptional work ethic.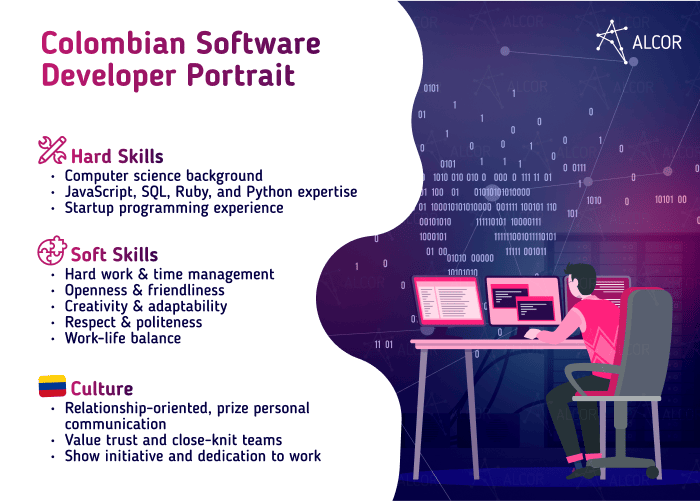 Software Developer Salaries in Colombia
The average salary in software development in Colombia rests at $24,000 a year. However, this figure can fluctuate depending on the programmer's skill set. 
Together with my team of 40 IT recruiters, we've prepared a concise overview of software development rates to offer you a broader perspective.
Position
Gross Annual Salary, USD 
Junior
Middle
Senior
Full-Stack Developer
18,000-24,000
24,000-42,000
30,000-66,000
Mobile App Developer
18,000-24,000
24,000-30,000
30,000-48,000
Python Developer
14,000-25,000
20,000-30,000
36,000-52,000
Java Developer
14,000-25,000
20,000-30,000
24,000-68,000
Ruby Developer
19,000-25,000
25,000-34,000
30,000-48,000
DevOps Engineer
18,000-30,000
24,000-48,000
30,000-72,000
Machine Learning Engineer
19,000-33,000
30,000-48,000
36,000-58,000
Source: Glassdoor 
Junior-level salaries are relatively consistent across different tech stacks and align with the median wage in the country. Middle pay rates stay within a $20K-$34K range, with DevOps Engineer, Machine Learning, and Full Stack Developer salary in Colombia surpassing the limit. As for senior positions, Ruby and Mobile App Developer salary in Colombia ranges between $30K and $48K, while other roles command a higher compensation: for instance, a senior DevOps Engineer can earn up to $72K a year. 
As for the Latin American market, the average yearly pay scale is higher than a software developer salary in Colombia. Senior Ruby Developers in South America, for example, earn $66K annually and are 28% more expensive than Colombian software engineers with the same skills.
As you can see, nearshoring to Colombia costs less, and you'll still get the most sought-after expertise. 
Hire a Software Development Team in Colombia with Alcor
Alcor is your trusted ally in LatAm and Eastern Europe: we build development teams in Colombia, Argentina, Chile, Mexico, Poland, Romania, Bulgaria, Ukraine, the Czech Republic, and Slovakia. Our job is to hire top-notch IT talent and leave all the decision-making to you. 
How does it all come together? After you reach out to us, we will provide you with more data on the market, for example, by consulting you on local laws or developer salaries in Colombia. Then we'll allocate a team of IT recruiters to fill your positions and assign a key account manager to provide reports and further operational support. With an 80% CV pass rate, Alcor will recruit 20 expert devs in 3 months. Also, our R&D center model allows us to take care of an office for your new tech team alongside operational support & procurement. 
If you're looking for a win-win cooperation, Alcor's the partner to trust!