Being one of the most demanded languages, more and more tech specialists worldwide equip themselves with JavaScript, opening the way for professional growth. And due to high demand, JavaScript coders are well-paid, making this programming language even more attractive for learning. In this article, I will take a world tour to get an ultimate insight into the average JavaScript developer salary based on the research of my team. 
JavaScript Developer Salary Worldwide: Key Takeaways  
Before moving to a global overview of the salary rates, let's analyze what directly influences these numbers. The first point is the seniority level that reflects the degree of qualification and years of experience. There are three rungs: junior (0-2 years), middle (2-5 years), and senior (more than 5 years of practical experience). Accordingly, this differentiation impacts the JavaScript programmer salary significantly. The second point is the knowledge of frameworks and libraries that contribute to the developer's expertise and value. Apart from this, JS engineers have different specializations due to their range of responsibilities. JavaScript front-end developers deal with HTML, CSS, etc., whereas full-stack specialists can manage both frontend and backend and also work with databases, design, and system engineering.  
My team compiled data from Salary Expert, PayScale and Glassdoor on the median salary worldwide. These numbers represent average wages in different regions around the world, but there are dramatic discrepancies when it comes to certain countries that I will illustrate later in the article.  
The table below represents salary rates as for April 2022: 
Gross annual income, USD

North America

South America

Junior
Middle
Senior
Junior
Middle
Senior

 Front-End JavaScript Developer

$52,000
$73,000
$91,000
$17,000
$24,000
$30,000

Full-Stack JavaScript Developer

$69,000
$12,000
Gross annual income, USD

Eastern Europe

Western & Nordic Europe

Junior
Middle
Senior
Junior
Middle
Senior

 Front-End JavaScript Developer

$20,000
$31,000
$41,000
$36,000
$51,000
$67,000

Full-Stack JavaScript Developer

$26,000
$50,000
Gross annual income,
USD
Eastern & Southern Asia
Middle East
Africa
Junior
Middle
Senior
Junior
Middle
Senior
Junior
Middle
Senior
 Front-End JavaScript Developer
$29,000
$41,000
$51,000
$46,000
$64,000
$80,000
$26,000
$37,000
$46,000
Full-Stack JavaScript Developer
$42,000
$56,000
$39,000
JavaScript Global Market Trend
The market potential of JavaScript developers is another noteworthy topic. I suggest analyzing it through the lens of supply and demand in the labor market. 
According to Developer Nation, in Q3 2021 there were approximately 16.5M developers who used JavaScript. The soaring popularity and relative ease of learning attract entry-level developers to start with JavaScript, as 4M software engineers entered the labor market with JS last year. Doubtlessly, these numbers are hefty and show promising growth.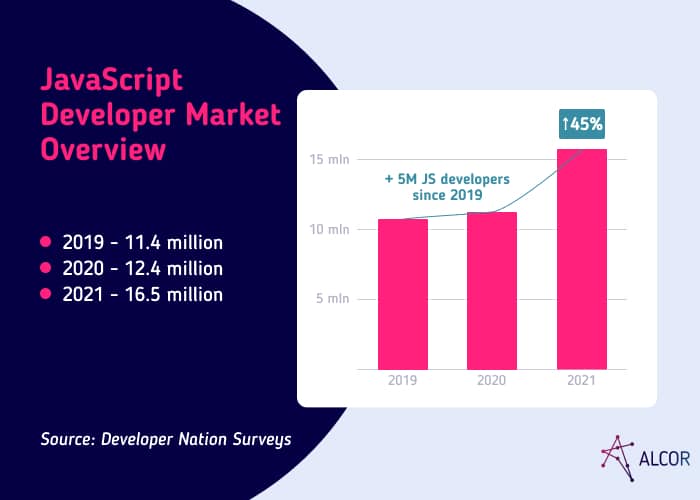 The demand, in turn, is conducive to JavaScript developers worldwide, as there are more and more vacancies. The main reason is that JS is the language primarily used for website development. For instance, on Indeed there are more than 40,000 vacancies for software developers who know JavaScript in the USA.  Eastern Europe is another location with a developed tech infrastructure in such countries as Poland, Ukraine, and Romania. These regions are very popular among tech companies for opening their IT hubs, especially Warsaw, Kyiv, Lviv, and Bucharest. Only these three countries offer more than 7,000 vacancies for JavaScript specialists on LinkedIn, boasting of more than 1M software developers in general. Along with this, a JavaScript software engineer salary in Eastern Europe is vastly different from the USA or Western Europe. You will see it for yourself when we study every region in detail. 
Quality, Expertise and Education of JS Programmers in Different Countries
In general, JS engineers have a degree (bachelor's or master's) in computing or maths for which employers are ready to pay a bit more. JavaScript is a language primary used for web development but it's rarely the only tool JS coders have in their arsenal. So, tech stack is another factor that influences salary for a JavaScript developer. A lot of tech companies value JS engineers who have expertise in such frameworks as React, Angular, and Vue. JQuery, for example, remains one of the most popular JavaScript libraries used by Google, Facebook, and WordPress.
According to DevSkiller report 2022 on tech talent hiring insights, frameworks and libraries are frequently tested with JavaScript for technical screening. Thus, top IT skill pairs include 13.8% JS&HTML, 10.9% JS&Angular, and 7.9% JS&SQL. As you see, companies look for developers who can verify their knowledge of JavaScript, its frameworks and libraries. That's why more than a quarter of developers surveyed plan to learn Angular, while a third aim at React.
As well, extending the professional stack and taking up new technologies greatly contribute to the quality of work. Some countries have proven that their JavaScript programmers are worth hiring. As mentioned earlier, Eastern Europe is one of the well-regarded destinations to find JS developers. Due to a vast talent pool and solid experience in programming, tech giants decide to expand their business there, successfully managing offshore teams. Leading remote teams is not a challenge for them due to the programmers' soft skills, such as independence, ability to work in a team, and good English skills. Another factor that reinforces this perfect match is cultural similarities. Software developers from Eastern Europe follow a western-inspired work ethic that values responsibility and hard work.
Have a look at Sift, one of the leading companies that deals with product security and fraud prevention. The company chose Eastern Europe to hire Ukrainian developers for team extension. To enter the foreign market with flying colors from the very beginning, Sift addressed us as a local all-in-one-place provider. Even though while headhunting there were some challenges like finding engineers with a unique stack, our recruiters managed to find 17 talented developers for them. The hiring quality speaks for itself – there were no substitutions. Our specialists also took care of perks management for the Ukrainian team – getting stock options was legally compliant thanks to our legal team. 
JavaScript Developer Salary in North America
To outline the average salary for a JavaScript developer in North America, we selected three countries: the US, Canada, and Mexico. Notwithstanding, the average pay in the US and Canada significantly differs from the one in Mexico.
USA 
As an undisputed leader in the tech arena, the US has a lot to offer. The JavaScript engineer salary per year is one of the highest: $75K – $130K, compared to other regions and countries, however the numbers in different cities vary:
Gross annual income, USD
Los Angeles
New York
Chicago
JavaScript Developer
$115,000
$122,000
$110,000
Full-Stack JavaScript Developer
$96,000
$104,000
$87,000
Canada
In comparison with the US, Canadian salaries are lower: $45K – $80K. If you decide to hire a full-stack JS specialist in Canada, he/she will cost you $56K per year. 
Mexico
Mexican front-end developers have the lowest wage in North America. The average scale spans between $17K and $29K. The Full-stack javascript developer salary in this region starts from $19K.
Gross annual income, USD
North America
The USA
Canada
Mexico
JavaScript Developer
$103,000
$62,000
$15,000
Full-Stack JavaScript Developer
$109,000
$56,000
$19,000
JavaScript Developer Salary in South America
Brazil
In Brazil, a front-end JS developer with 1-3 years of experience receives $22K, while mid-level experts earn $31K and seniors $39K.
Argentina
An Argentinian JS specialist makes between $12K up to $20K per year. Full-stack specialists make $19K.
Gross annual income, USD
South America
Brazil
Argentina
JavaScript Developer
$30,000
$16,000
Full-Stack JavaScript Developer
$23,000
$19,000
JavaScript Developer Salary in Western & Nordic Europe 
The United Kingdom
The UK offers competitive salaries for JS specialists: the average rates are between $50K – $80K.
Gross annual income,
USD
The United Kingdom
England
Scotland
Wales
Northern Ireland
JavaScript Developer
$73,000
$67,000
$66,000
$53,000
Full-Stack JavaScript Developer
$53,000
$60,000
$59,000
$50,000
Germany
German JavaScript coders make approximately $41K – $79K per year. In Berlin, salary rates are higher than in the rest of the country. The Entry-level JavaScript developer salary is $35K, middle developers earn $52K and seniors $70K. 
France
In France, JS programmers earn almost the same amount of money as the ones from Germany: $37K – $60K, although in Paris senior-level developers are paid $70K while junior-level specialists tend to earn $39K. 
Italy
Developers from Italy make less than their colleagues from the rest of Europe: $26K – $55K. Full-stack specialists earn $47K per year. 
Spain
Spain also offers rather small salaries for JS specialists: $25K – $55K per year. Spanish full-stack JS developers make $29K. 
Norway
Norwegian specialists who deal with JS coding language make $47K- $85K per year, while full-stack engineers have the highest rate in Europe – $65K. 
Netherlands
In the Netherlands, the average pay rate is $32K – $65K. In Amsterdam, junior JS developers make $35K and work with senior developers will cost you $88K per year. 
Sweden
Sweden provides the second-highest salary in Europe for JS programmers: $40K – $83K. The compensation for a full-stack specialist is $50K. 
Austria
JavaScript engineers in this country have moderate salary rates: $50K – $63K.
Belgium
A JavaScript developer salary in this country is approximately the same as in Italy or Spain: the lowest annual mark is $25K, while the highest is $55K. 
Gross annual income,
USD
Western & Nordic Europe
Germany
France
Italy
Spain
Norway
Netherlands
Sweden
Austria
Belgium
JavaScript Developer
$61,000
$48,000
$39,000
$38,000
$66,000
$48,000
$63,000
$56,000
$39,000
Full-Stack JavaScript Developer
$42,000
$51,000
$47,000
$29,000
$65,000
$33,000
$50,000
$60,000
$62,000
JavaScript Developer Salary in Eastern Europe 
Ukraine
Ukrainian IT companies offer IT software engineers $19K – $48K per year. The wage for a full-stack specialist is approximately $30K.
Poland 
In this country, the average base rate is $25K – $44K per year. In the capital city Warsaw the JavaScript software engineer salary is slightly higher. If you decide to hire a junior specialist, it will cost $29K per year. Hiring a mid-level developer in Warsaw is about $40K, while senior is $50K. 
Hungary
Hungarian IT specialists have a similar salary rate $20K – $30K. Full-stack developers are paid the same as the ones from Ukraine. 
Czech Republic 
Czech coders are paid the highest compensation in Eastern Europe: $30K – $50K, while full-stack coders make approximately $53K per year. In Prague, junior tech specialists make $36K, mid-level $41K. A Senior JavaScript developer salary in the capital is $63K. 
Romania
The Romanian salary rate spans between $17K and $29K per year. In Bucharest, JS specialists make slightly more than in the rest of the county: $19K – $32K. Full-stack specialists have the same wage as in Ukraine or Hungary.
Gross annual income,
USD
Eastern Europe
Ukraine
Poland
Hungary
Czech
Republic
Romania
JavaScript Developer
$29,000
$35,000
$27,000
$41,000
$23,000
Full-Stack JavaScript Developer
$30,000
$35,000
$30,000
$53,000
$30,000
JavaScript Developer Salary in Eastern & South Asia 
China
The average JS coder salary in China is neither high nor low: $37K – $64K per year, depending on the developer's seniority.
Japan
Japanese developers boast of competitive salaries in this region. The range is from $55K to $95K per year. Full-stack specialists are paid the most – $78K. 
South Korea
JS engineers from this country make almost the same amount of money as their Chinese colleagues: $35K – $62K. 
Singapore
This country is a leader among Asian countries when it comes to salary rates. A JS developer can make $56K- $97K per year. 
India
Indian developers earn less than their colleagues from this region. The JS programmer annual salary ranges between $13K and $23K. 
Gross annual income,
USD
Eastern & South Asia
China
Japan
South Korea
Singapore
India
JavaScript Developer
$50,000
$75,000
$49,000
$77,000
$19,000
Full-Stack JavaScript Developer
$63,000
$78,000
$38,000
$72,000
$24,000
JavaScript Developer Salary in Israel 
Israel offers rather hefty wages: a junior JS developer makes $51K, while the salary rate for a developer with more than five years of experience is $108K per year. Full-stack specialists are offered a generous compensation of $85K. 
| | |
| --- | --- |
| Gross annual income, USD | Israel |
| JavaScript Developer | $80,000 |
| Full-Stack JavaScript Developer | $85,000 |
JavaScript Developer Salary in Australia
Australia provides JS developers with competitive salaries compared to other regions in the world. The average annual income is $74K- $128K while the wage for full-stack developers starts at $81K. 
| | |
| --- | --- |
| Gross annual income, USD | Australia |
| JavaScript Developer | $101,000 |
| Full-Stack JavaScript Developer | $81,000 |
Alcor BPO Sets Up Software Teams of Best Javascript Talents  
Hiring talented JavaScript engineers abroad with a trustworthy partner results in a dedicated team. Consider Alcor as your provider for building your own development team! 
Alcor is an international recruitment service provider that focuses on filling tech positions for IT product companies. We help foreign companies find talented programmers from Eastern European countries such as Poland, Ukraine, Romania, Slovakia, and the Czech Republic. Our recruitment department is a team of experienced specialists who already found skilled software developers for such well-known tech companies as Tonic, BigCommerce, Ledger, Globality, Sift, and Samsung, etc. The recruitment team takes care of everything: starting from sourcing and finishing with employment procedures – but the final decision of hiring remains with you. We provide 3 months warranty to substitute a candidate free of charge!
We also help establish your own offshore software development center, providing a full set of operational services: payroll & accounting, legal compliance, employer branding, and others.
Tech giants such as BigCommerce, Google, Microsoft, and Motorola have already gone for Eastern European programmers, benefiting from high-quality service and low JavaScript web developer salary in this region. Shall Eastern Europe become your destination for finding JavaScript engineers? Alcor can make it happen!