The pandemic forced most businesses to switch to remote mode, changing our work culture. However, some moves toward going back to office life have started to take place. About 32% of Fortune 100 companies have already returned to the office, while it is predicted that 90% of companies will require employees to start working onsite this year. This means that the trend of building development centers abroad is likely to make a comeback in the near future, especially against the growing popularity of hiring offshored programmers.
But how to accomplish the best remote R&D office setup and which offshoring destination to choose? In building remote IT teams and offices for over 10 years, the Alcor team can provide you with answers to these questions which I gathered in this article.
5 Steps for Starting Your Own Remote Software Development Office
When embarking on the quest to your future remote office, you might follow this useful 5-step guide:
1. Define Your Business Goals
Firstly, you need to analyze your current state of affairs to decide whether offshoring will bring your business goals to fruition. If you are planning to scale up your team, fill the expertise gaps, enter new markets, or simply reduce labor & operational costs, then going offshore can come in handy. But which distant location to choose for your remote office? Keep reading this article to find out!
2. Outline the Scope of Work 
Once you're sure that setting up a remote IT office is the way to go, you can think of the piece of work you'd like to delegate to your offshore development team. For instance, maybe you're planning to build a mobile application? In the first place, you should decide whether it will be a native or cross-platform app. The former presupposes the usage of iOS or Android platforms in combination with either Swift or Kotlin. The latter can be built with the help of Golang, React Native, or Django framework. Then you should determine whether your future mobile app will be simple or complex. As a rule of thumb, the more sophisticated the app, the more funds and time you'll have to allocate for its development. After that, you can figure out its front- and back-end specifics.
3. Think of Team Structure
Having a complete picture of your future product will help you realize the must-have players your remote tech team will consist of. Let's continue dwelling on the idea of building a mobile app. In this case you'll need: 
a Team Lead to manage programmers, monitor the software development process, and launch the products; 
Mobile App Developers (iOS/Android devs or experts in cross-platform app development) who are responsible for app architecture;
UI/UX Designers to make a user-friendly interface and a visually appealing product in general;
QA Engineers who check the performance, security, and quality of the end-product;
Backend Developers (for complex apps) who specialize in server-side development and API integration, etc.
4. Set Candidate Requirements
Now, that your remote team structure is settled, you can move on to setting job requirements for each position. The skillset will differ depending on expertise levels. For example, if you're hiring senior iOS developers, you should expect advanced knowledge of Swift and Objective-C, hands-on experience with iOS frameworks, APIs, libraries, solid understanding of the full app development life cycle, and knowledge of UX/UI standards. When it comes to soft skills, those leadership abilities, analytical thinking, and project management skills are crucial. To hire a perfect fit in your offshoring software development team, you should make a list of interview questions, including behavioral, system design, and coding ones to get a complete portrait of the candidate.
5. Decide on Work Arrangement
The IT industry is full of opposing thoughts concerning the current state of work arrangements. Some tech players believe that working in the office is the best way to sustain corporate culture and achieve better productivity. Others are inclined toward teleworking or hybrid work arrangements to grant their employees flexibility and a better work-life balance. In fact, the State of Remote Engineering Report has found that 66% of programmers work fully online, while 80% of respondents want to continue working from home. Meanwhile, about 50% of business decision-makers already require their employees to go back to office.
When it comes to setting up tech teams abroad, it's vital to look at this matter from different perspectives. Offering remote work opportunities can largely benefit the recruitment process, as about 65% of software engineers prioritize this option when looking for a job. In addition, such a work arrangement can save you a decent sum on office leasing. Instead, you can provide your offshore developers with an IT kit of necessary equipment to help them with their remote office setup at home. You can also consider opting for a hybrid mode, letting your remote workers use the coworking space to elevate teamwork and communication. On the other hand, if you intend to set up an autonomous company branch with a large dedicated offshore team, then you should probably build a remote IT office. 
Pitfalls of the Remote Software Development Office
Office Lease Hardships
Establishing a remote development office on your own is like tempting fate — one wrong move and you may end up with a load of problems. The first challenges arise when looking for office premises. There are multiple aspects that should be considered, but the most critical is undoubtedly the situation of your future office. Not only does it determine the monthly rental but also the overall convenience. Poor infrastructure, like inaccessibility to public transportation and a lack of parking spots, can cause lots of discomfort not only to your developers but to business partners alike. What is more, malfunctioning ventilation and electrical systems can lead to additional expenses if overlooked during office lease negotiations. Other common problems associated with a remote IT office setup include contractual terms and legal compliance. 
The best way to build your offshore development center is by cooperating with a BPO company that has commercial lawyers and operational managers who are well aware of local market peculiarities. They will make a checklist of the office buildings matched with your requirements, consult you on the lease structure, legal liabilities, and negotiate a commercial rent for you. 
Time-consuming Hiring
Apart from the difficulties associated with the remote work office setup, it's not uncommon among IT companies to face a protracted recruitment process. As practice shows, one of the main root causes of this issue is lack of brand awareness in the offshoring location. 
This exact problem was once encountered by a US-based IT company, Sift, which wished to expand to Eastern Europe. They planned to hire 6-10 programmers each quarter but instead suffered from an insignificant number of applications. Hence, to boost their recruitment pipeline, Sift reached out to a local IT recruitment company that conducted a powerful employer branding campaign with the help of video & social media marketing, as well as compiled an attractive employer value proposition (EVP) and handled the recruiting process. As a result, Sift got 30 dedicated offshore developers in under a year! Their trusted partner also covered other IT BPO services, including real estate, legal operations, and IT infrastructure integration. 
Team Management Issues
Another common pitfall of having a remote development office is connected with effective team management. Maintaining fruitful cooperation between the company's headquarters and its offshoring IT branch can be quite challenging, especially when having a considerable time difference. Therefore, to avoid any complications, you should focus on organizing a decent workflow with the help of remote team management tools, keep constant and direct communication with your offshore team, and promote your corporate culture to sustain team motivation and dedication. It's also important to provide your programmers with a competitive salary, social benefits, and decent work-life balance to increase staff retention.  
Where to Establish Your Remote Software Development Office?
Poland
If you are looking for a business-friendly destination with an optimal price-to-quality ratio, Poland is your cream of the crop pick. You'll be able to tap into the pool of over 430,000 software engineers who are well-educated and possess a high level of English proficiency. Polish developers charge much less than American tech experts. For instance, you will pay only $48,000 for a Polish Back-End Developer and $70,000 for a Data Engineer annually, while the same specialists in the US ask for double the price. In addition, taxes in Poland won't cost you an arm and a leg, as you'll need to cover just 12% of developer's personal income tax (if hiring them on B2B terms). 
When it comes to choosing an IT powerhouse for a new development office, there are 6 options for your consideration: Warsaw, Krakow, Wroclaw, Tri-City, Poznan, and Lodz. At the end of 2022, the total stock of modern office space in Poland was around 12.7m sq.m, with Warsaw, Kraków, and Wrocław topping the list. The average cost of renting offices in Warsaw ranges between $13,5 to $29 sq.m/month. The rent price usually consists of the rate per square meter, 23% VAT, and an administrative maintenance fee per square meter (on average $6/sq.m./month). Due to the growing popularity of hybrid work, more and more landlords offer hybrid office lease solutions (the combination of traditional leases with flexible/coworking space) in Poland.
Romania
Another popular choice among western IT companies is Romania. This outsourcing destination possesses the third largest talent pool in the EE region – 143,000 skilled programmers who take a modest sum for their high-quality tech services. For example, the annual salary of a senior React.js developer reaches $70,000, while in the USA it exceeds $160,000. If employing Romanian engineers as independent contractors, their income tax equals 10%. What is more, Romania offers a whole bunch of tax incentives for businesses that have software development offices. Among them is 0% income tax for R&D companies for 10 years. Sounds like a bargain, don't you think?
Most IT companies tend to open their software R&D centers in Bucharest, as this tech hub has the most developed infrastructure. Even though Bucharest provides the highest office rates ($9 to $21 sq.m/month for an office in the A class building) in Romania, they are still about 2 times lower than in other European countries. If you'd like to save on office rental even more, I recommend picking Cluj-Napoca or Iasi where competition for both developers and office premises is much lower than in Bucharest.
Bulgaria
One more offshoring destination with modest office rent among European countries is Bulgaria. Due to speedy growth of the local real estate market, office premises can be found in a variety of cities, such as Plovdiv, Varna, and Burgas. Still, the number 1 location for building a software development office remains Sofia. The total stock of modern office space in this Bulgarian IT center constituted 2.2 million sq.m in 2021. The average rates for an office space in a B class block span from $9 to $12 sq.m/month, while in class A – $13-$15 sq.m/month. 
Apart from moderate office rental, foreign IT companies can benefit from low corporate and personal income taxes that constitute only 10%. Bulgaria is home to over 110,000 talented programmers who are particularly skilled at software engineering, cloud computing, mobile and web development. A senior Full-Stack Software Developer in Bulgaria chargers about $65,000 annually – a rate that would be impossible to find in the US IT domain.
Consider Alcor BPO Solution for Remote Office Setup
As you can see, establishing a software development office abroad is not a walk in the park, since each offshoring destination has its own real estate, legal, and recruitment specifics. Therefore, to avoid potential challenges and pitfalls of this arduous process, many IT companies cooperate with local experts. That's what a US-based tech company People.ai decided to do when they were expanding to Eastern Europe. At first, People.ai worked with multiple service providers which didn't bring the desired results. So, they switched to our one-stop shop Alcor, and within just a few months got a fully backed remote development office with 25+ programmers on board! So, how did we do that?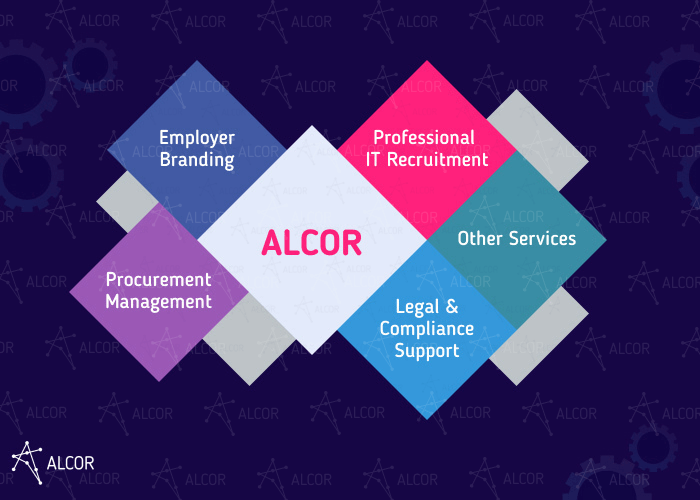 Alcor's real estate managers focused on finding a suitable location for the client's office. Once the premise was picked, our lawyers negotiated a lease agreement to rent the office on the best terms. Meanwhile, our team of 40 headhunters were conducting full-cycle IT recruitment, making great use of our 600,000+ talent network. On average, it takes us 8 CVs to get to 1 accepted offer, while 98,6% of all candidates that we hire for our clients successfully pass the probation period. 
Would you like to achieve the same results? The Alcor team will be glad to make your ambitious goal a reality!