Outsourcing and its variations in the IT domain have become a generally accepted management tool for tech businesses. However, driven by the interests of reducing labor costs and redirecting tasks, software companies risk increasing their dependency on offshore and outsource development units. Consequently, new unexpected challenges might come along with the delegation of secondary processes to an external offshoring party. What are the benefits and risks of offshoring? Which methods can be used to mitigate them? Let's move on and answer these burning questions.
Offshoring Risk Management
I have prepared detailed instructions on how to mitigate possible force majeures by dividing them into internal and external aspects of offshoring. The algorithm is easy: apply the following principles of offshore risk management in IT to have a successful experience overseas.
Internal risks
1.Managing Remoteness Risks
Distant locations are common triggers for offshoring to go wrong. Therefore, a useful IT offshoring risk management plan is to think first about the means of establishing effective communication and data sharing. This objective can be reached through Cloud computing technologies and weekly meeting scheduling. Select the main messengers and video conferencing tools that all your employees would use. What is more, it might be hard to delegate tasks and control the daily activities of your colleagues due to different time zones. Such easy applications as Trello, Jira, and Doodle are proven to be good for managing teamwork. 
2. Managing Synchronization Risks
Sometimes the manner of approaching tasks at work differs from country to country. Think about the software your offshore team would use for coding. Is it the same as your in-house employees use? This is an important technical point, which requires good engineering management skills, and a great tip for the automatization of working processes. It's essential to agree with foreign IT specialists on both product development methodology and basic principles of working style. Whether it's a matter of short-term priorities or the overall business focus, get your point across. As long as both teams share common goals, they should stick with the same working guidelines.
3. Managing Communicational Risks
Bear in mind that your employees abroad are not likely to be native English-speakers. If you prefer, you can use the sophisticated vocabulary within an in-house team, but it's better to keep your language simple with foreign colleagues to avoid misunderstandings. Nevertheless, you shouldn't worry about that while working with Ukrainian software developers, as about 80% of them have an intermediate+ level of English language proficiency or higher. This is one of many reasons why companies define Ukraine as a perfect offshoring spot.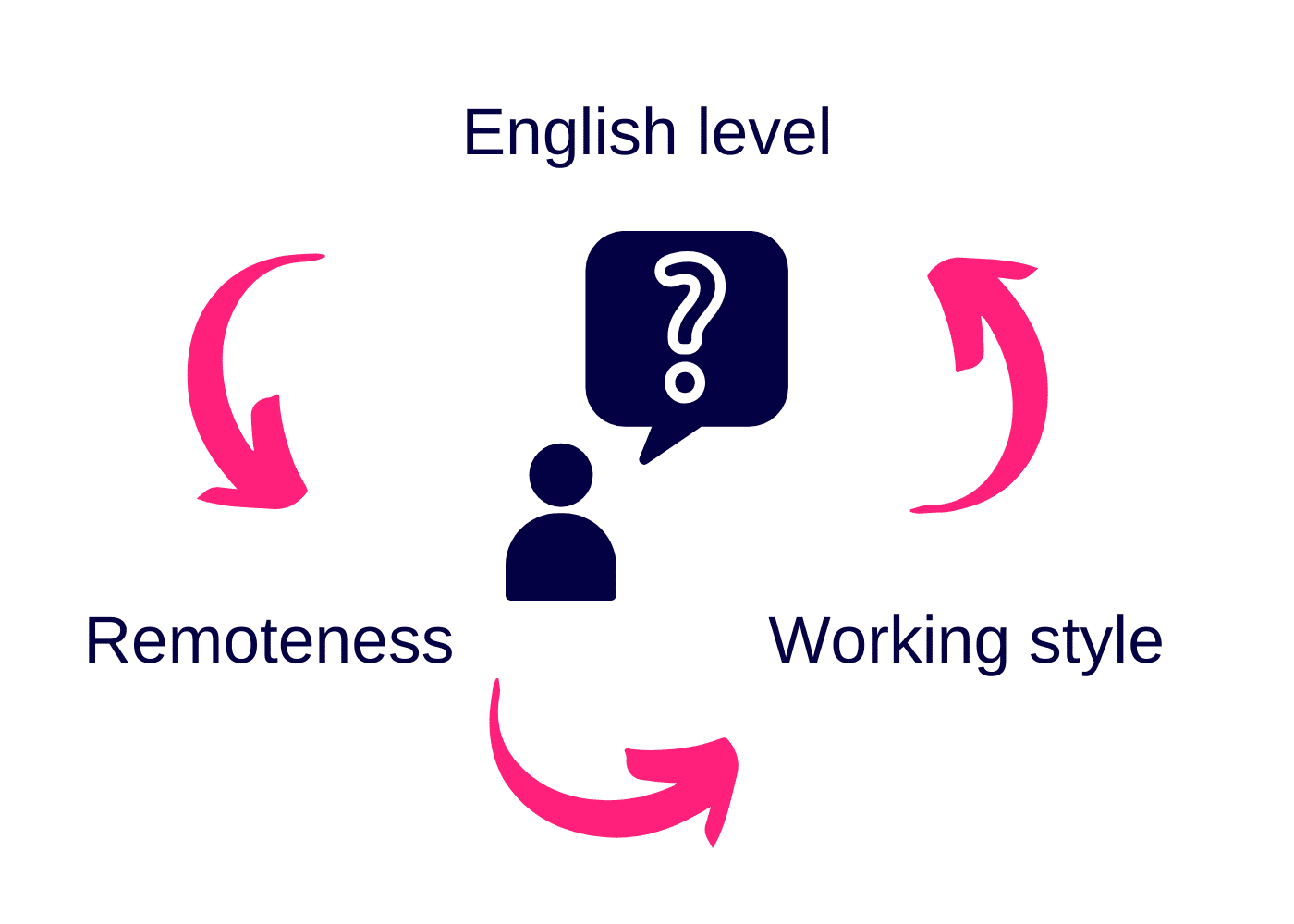 External Risks
4. Managing Legal Compliance Risks
In case of expanding to a new market, you may find yourself confused dealing with national legislation. For example, if launching an offshore development unit without any intermediary assistance, you'll have to manage cash flow, pay salaries and office rent, buy equipment, and keep track of your entrepreneurial activities, which also includes tax planning and payment. 
Alternatively, Alcor can manage this process for you. What is more, we know how to make the best use of government tax incentives. When launching an offshoring hub in Ukraine with our help, you engage developers as independent contractors (also called "private entrepreneurs" in Ukraine). Accordingly, each of them pays only 5% of their monthly income (contrary to the US, where the tax makes up about 30-45% of salary). Simultaneously, Alcor can get you prepared for any inspections because this model ensures full transparency and compliance with Ukrainian law.
5. Managing Provider Selection Risks
Another external risk is connected with the selection of the wrong service provider. In order to check tech expertise sufficiency, it's better to do research as regards potential partner's ratings, reviews, relevant cases, and references. For instance, loads of handy information can be found at Clutch. In addition, a reliable partner is the one who gives you regular updates and first-hand information in terms of possible changes in the local IT ecosystem. They can build a bridge between your enterprise and a foreign team of developers, an unfamiliar labor market, and complicated business policies.
Apart from that, a trustworthy partner can always provide you with guarantees and emergency plans for an unexpected crisis. In March of 2020, it became clear to us that many companies did not need their office premises during the national lockdown. That's why the Alcor team was actively negotiating with landlords to provide our clients with rent discounts. Additionally, we ensured a smooth transition to remote offices by delivering all the essential equipment.
Risks of Outsourcing
Outsourcing practices are often criticized for being challengeable, ambiguous, and unpredictable. What to undertake then if your in-house team can't manage the ongoing tasks anymore? Let's clarify the top risks and ways to diminish them.
6. Team-Based Risks
To begin with, the first risk of outsourcing is an indifferent team with a dedication to nothing but money. In essence, they're just strangers who agreed to work with you for the short term and have a bunch of other IT projects. Usually, they provide IT services to get revenue, not to stimulate your company's growth and development. Accordingly, once the final product is ready, the mismatches between expectation and reality are quite common.
Contrary to that, an R&D office enables you to assemble a committed team of developers, who will represent your company overseas. They are specialists you can rely on. They are as much interested in product success as your in-house employees. Therefore, launching your offshore development center in combination with the best team & project management practices can bring your business to the next level and minimize offshore risks. 
People.ai has set an example of effective offshore team management since launching their R&D hub in Ukraine. It's an IT product company which develops an innovative business tool for B2B sales with the help of machine learning technology. Andrey Akselrod is the company's CTO and responsible for managing the offshore team in Ukraine. He advises companies to hire a country manager first, someone who can help in understanding local mentality, hire, and retain the right talent.
7. Intellectual Property Risks
Another offshore risk is the violation of intellectual property rights. You should keep in mind that tech security differs from state to state. Accordingly, little attention to this matter might result in data leakage. When you launch your software engineering center, no third party has access to your product development. Therefore, it significantly reduces risks for revealing confidential information. Additionally, I recommend signing non-disclosure and intellectual property rights agreements. Such actions can prevent massive conflicts and protect corporate insights.
One of the best offshoring examples in high-tech is BigCommerce. This is a software development company that opted for creating an R&D center in Ukraine with Alcor's full assistance. This company provides outstanding solutions for e-commerce brands. Our legal team has accompanied all BigCommerce activities in Ukraine to ensure their transparency and legitimacy in compliance with GDPR requirements. BigCommerce is the 100% intellectual property owner of their product that helped the company go public in the summer of 2020. 
8. Financial Risks
Offshore risk management in software development also includes gaps in the transparency of pricing. For instance, involving additional resources might seem unreasonable for you but presented as compulsory by the service provider. There is also the possibility of becoming a victim of crafty agencies, because office life at a vendor's premises may imply a wide range of hidden fees and upfront investments. Unfortunately, the cases of overpayment for office equipment, utility costs, and furniture are quite common. 
If an idea of blind invoice payments doesn't sound appealing to you, an R&D center is the best risk management solution. You don't have to rely on intermediaries in decision-making due to your full independence. Your own branded office gives you full control over your operational expenses. Apart from financial benefits, you can also improve your employer branding by setting up the "heart" of your corporate culture. And if you don't want to deal with lease agreements on your own, Alcor can find, verify, negotiate, rent, and get an office ready for your development team. 
 Is There a Better Option? Software R&D Center vs. Outsourcing Offshore IT Company
Outsourcing and outstaffing models presuppose a lot of financial and team management risks that could tremendously impact your business. If you wish to keep all the benefits of IT staff augmentation but at the same time have more freedom and influence on the offshore team, consider R&D. 
A software R&D center is a team of your own developers that are employed to your company but receive operational services from a BPO provider in Ukraine. This includes payroll accounting, legal compliance, employment agreements, equipment purchases, office accommodation (if required), etc. 
At Alcor, we launch development offices and provide supporting services for R&D teams of foreign companies in Ukraine. We can start from scratch by renting an office, recruiting 10+ engineers, or we can help you switch your outstaffed team to their own office premises. Get independence that will help you scale and grow your in-house team at lower costs!  
When you open R&D center in Ukraine, you get really skilled developers and manage them directly. Apply your corporate culture, practice your methodology and enjoy full control! Unlike with an outsourcing offshore IT company, you become the only employer of your R&D team and get just back-office support from a service provider like Alcor. 
Final Thoughts
All in all, there are loads of things a CEO should do before the start of the offshoring process. Nevertheless, these points should not stop you from implementing your big ideas because the benefits of offshoring give many opportunities for scaling and development. I hope that the methods that were mentioned in this article can significantly reduce your risks of offshoring. The next step is up to you: choose a trustworthy service provider who will ensure your company's success overseas.
Alcor would be happy to take care of all your operational processes because we clearly understand how to orchestrate them and provide a compliant risk mitigation solution!