The full-scale russian invasion of Ukraine has changed the world's reality, including the global IT sector. Ukraine had been one of the most attractive offshore destinations before February 24, 2022; but since then, engaging in software development in Ukraine has been associated with risks. But what if I told you that now is the best time to start collaborating with Ukrainian talents?
I am Dmytro Ovcharenko, CEO of Alcor, with over 15 years of tech business structuring experience in the tech industry. At Alcor, we provide Western IT companies with software R&D as a service, helping with IT recruiting in Ukraine and other countries in Eastern Europe and LatAm. In this article, I'll walk you through the current state of the software development industry of Ukraine, share relevant Ukrainian software developers' salary rates, as well as describe an efficient and safe way to work with local tech talents.
 
Software Development Industry in Ukraine
Before the beginning of the full-scale war, the Ukrainian IT sector had been a go-to offshoring destination for both tech giants and startups. In 2021, the Ukrainian software development industry grew by 36%, reaching $6.8 billion in exports. This growth, in turn, solidified Ukraine's position as a top outsourcing destination, being recognized as the #1 choice by the Global Sourcing Association. At the same time, the country also hosted more than 100 R&D centers, including offices of such companies as Google, Amazon, Microsoft, and others.
In 2022, despite the backdrop of war, Ukraine's IT was the only sector that managed to grow and demonstrate exceptional resilience. According to IT Ukraine Association, Ukrainian IT exports brought $7.3 billion to the country's economy last year. During the first eight months of 2023, the tech industry of Ukraine generated $4.5 billion in export revenue. Even though this was 8.9% less than in 2022, the outlook remained promising. In August 2023, the sector saw a 1.3% increase in total IT service exports, reaching nearly $566 million, contributing significantly to the national budget.
In addition, The Ministry of Digital Transformation in Ukraine is actively working to create a military technology hub with the aim of consolidating military tech initiatives and providing support to entrepreneurs in this specialized field. These stories underscore the continued growth of the Ukrainian tech scene, presenting fresh opportunities for global collaboration and foreign investment.
Moreover, 96% of companies planned to continue their operations in Ukraine this year. The forecast for the future is also quite promising; the Ukrainian software development sector is expected to reach $5.49 billion by 2028 with an 11.89% annual growth rate.
Is Ukraine a Good Choice for Your Business to Outsource Software Developers? 
Ukraine is an Eastern European country that has 363K IT specialists, with an additional 25,000 people graduating from tech universities every year. In the midst of the war, the Ukrainian IT sector is growing exponentially every year, while local tech businesses also benefit from other perks in terms of legal compliance, accounting, and taxation. 
Ukrainian Software Development Hubs 
The country boasts a solid number of IT hubs, with Kyiv, Lviv, Dnipro, Odesa, and Kharkiv being the most prominent ones.  
According to the 2023 survey by DOU:  
36% of local IT specialists live in Kyiv, 
18% — in Lviv, 
6% — in Dnipro, 
4% — in Odesa, 
3% — in Kharkiv.  
Interestingly, product companies in Ukraine tend to be concentrated primarily in the bustling cities of Kyiv, Odesa, and Dnipro. At the same time, cities like Lviv and Kharkiv tend to specialize more in outsourcing and outstaffing services.  
However, because of the war, 10% of the latest DOU survey respondents temporarily live abroad and plan to return to Ukraine; their countries of choice are currently Poland, Spain, Germany, and Portugal. Luckily, their percentage is currently lower by 3% compared to 6 months ago, which means they are actively moving back to Ukraine. 
Life in Ukraine 
For more than one and a half years of ongoing war, Ukrainians managed to adapt to new realities.  
A typical favorable location in the country for Ukrainian programmers is now defined by the key factors: being at a considerable distance from the frontline, which applies mainly to cities in the western and central regions like Lviv, Uzhgorod, Chernivtsi, Vinnytsia, and the well-protected capital city, Kyiv. They are gravitating towards these safer cities for relocation to ensure smooth task execution and productive workflow without interruptions.  
IT professionals also play an active role in supporting the Ukrainian Armed Forces. 80% of developers, regardless of their expertise, income, or where they live, contribute to the cause. Experienced programmers, particularly those with a Middle+ title and higher salaries, are the most consistent in lending their support. As of September 2023, the average monthly donation from Ukrainian developers stands at approximately $190.
 
Yet after russian missile attacks last fall and winter, Ukraine's energy infrastructure was damaged. To prevent long blackouts, the government implemented scheduled power cuts and established safe spots for people to charge devices, get online, and stay warm. In response, businesses and entrepreneurs invested in generators and power banks, as well as harnessed the advantages of uninterrupted Internet and advanced PON (Passive Optical Network) technology to keep their operations running smoothly. 
Thus, drawing from the experiences of the past fall and winter, Ukrainian businesses and developers are well-equipped to adapt to a range of potential scenarios and maintain their operations effectively. 
Legal Aspects
In order to abide by the law while outsourcing or offshoring IT services to Ukraine, most companies contract programmers who are registered as private entrepreneurs, also known in the US as independent contractors, and cooperate with them under the service provision agreement.  
Companies ensure that IT outsourcing or offshoring is successful by utilizing legal and compliance services in Ukraine. For example, our BPO company can supply the needed legal services to you – from your intellectual property protection to business visa support for your Ukrainian developers and guarantee that your tech business is 100% compliant with local and your home country laws.  
Taxation System and Accounting
Ukrainian software developers who work under the private entrepreneurship model benefit from tax incentives introduced by the Ukrainian government. They are subject to a simplified taxation system, namely group 3, and should pay only 5% income tax once a month and 22% social security tax of a minimum monthly salary in Ukraine once in three months. Companies often cover the taxes of their outsourced or offshored developers in Ukraine. This sum is so small that it even helps companies save up to 70% of costs. 
In order to be efficient in terms of tax planning, paying, tax returns preparation, as well as financial management, document maintenance, bookkeeping, and other operational functions, companies take advantage of payroll and accounting services in Ukraine. By delegating these and other administrative functions to trustworthy providers like Alcor, our customers save tens of thousands of dollars and avoid loads of paperwork in-house. 
Ukrainian Software Developer Portrait 
According to the most recent analysis conducted by DOU, Ukraine's largest software developer community, the majority of local software developers are typically in their early thirties, with over half of them being middle and senior-level specialists.
 
Approximately 86% of software engineers hold Bachelor's and Master's degrees in STEM and continue enhancing their skills and qualifications even after completing their studies. The most popular programming languages and technologies among Ukrainian engineers are JavaScript, Java, Phyton, C#, TypeScript, PHP, Kotlin, and others.  
Ukrainian tech talents also demonstrate a strong command of the English language, with over half of the qualified workforce attaining Upper-Intermediate or Advanced-level proficiency. According to the EF English Proficiency Index, Ukraine ranks 35th among 111 countries in terms of language skills.
 
When talking about Ukrainian developers' soft skills, their remarkable adaptability stands out as a defining trait. 85% of IT professionals managed to keep working full-time, proving their resilience in the face of war. Apart from that, local programmers excel in exceptional teamwork, communication, critical thinking, creativity, problem-solving, and time management.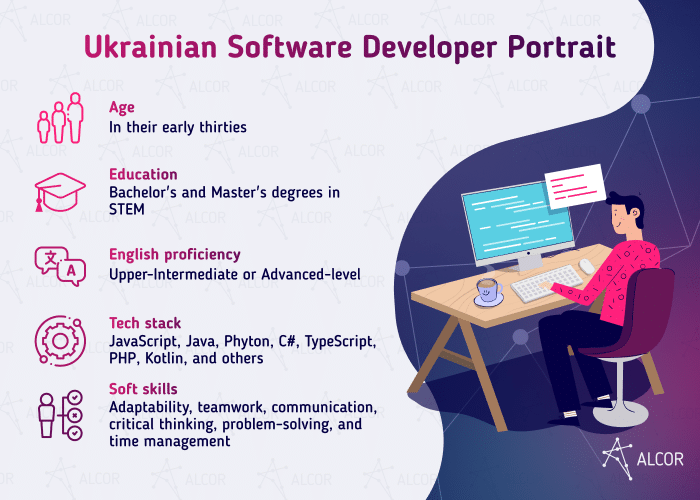 Ukrainian Developer Salaries
The main reason why business leaders choose IT outsourcing/offshoring to Ukraine is the salaries of local developers. They are 2-3 times lower than in the United States and Western Europe. Here, the salaries of software engineers, either working on a full-time or remote basis, start from $30,000 a year for middle specialists and $54,000 annually for senior programmers. 
In the table below, you can find the salaries of software developers with different tack stacks and roles according to our jobs market research and data from one of the most popular IT community websites in Ukraine: DOU. 
| | | | |
| --- | --- | --- | --- |
| Median annual salary, USD | Junior | Middle | Senior |
| JavaScript developer | 11,000 | 30,000 | 57,000 |
| Java developer | 12,000 | 32,000 | 60,000 |
| Phyton developer | 12,000 | 32,000 | 62,000 |
| PHP developer | 12,000 | 30,000 | 54,000 |
| Golang developer | 12,000 | 40,000 | 73,000 |
| C++ developer | 12,000 | 31,000 | 54,000 |
| Ruby developer | 12,000 | 40,000  | 66,000  |
| TypeScript developer | 11,000 | 31,000  | 60,000  |
| QA engineer | 10,000 | 22,000  | 40,000  |
| DevOps | 19,000 | 42,000  | 72,000  |
| ML engineer | 18,000 | 34,000  | 68,000  |
Your Own Software R&D Center: a Turnkey Business Solution 
If you're looking for a reliable partner to team up and enter the Ukrainian market, Alcor is at your service. Such companies as Sift, Ledger, and Dotmatics have already reaped countless benefits from cooperation with us! 
At Alcor, we help Western tech companies establish their R&D offices in Eastern Europe and Latin America. Our services include IT recruitment, legal compliance, payroll & accounting, office lease, and others. We take care of all administrative questions while you stay focused on your core operations. Our team can also assist you with procurement management, quipping your team with generators, as well as finding offices and co-working spaces with Starlink. Thus, you get your own R&D office with a team of skilled Ukrainian developers and maintain full control over the software engineering process. 
That's what we did for People.ai, a US-based company that opted to extend its operations into Ukraine. Within just a month, the company had its brand-new office launched while Alcor's IT recruiters took care of hiring developers for its team. As a result, Alcor helped People.ai hire more than 25 Ukrainian software engineers, including developers with rare skills. We also provided the client with legal compliance and transparent payroll. As of today, People.ai's office performs very well while the company builds ambitious plans for the future.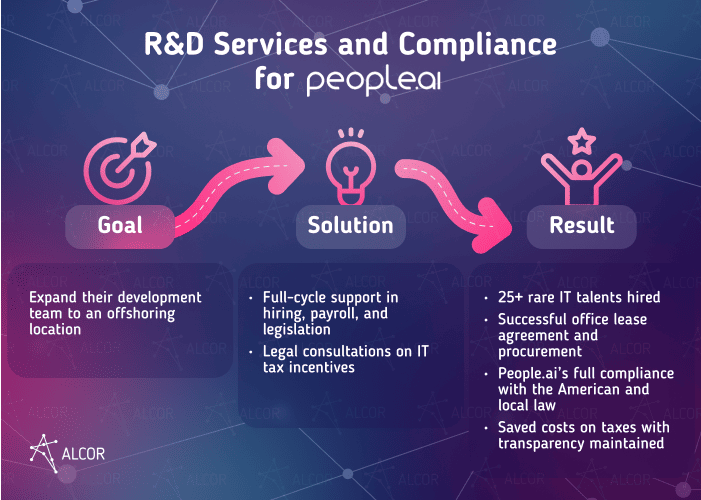 10 Steps to Hire Ukrainian Engineers
Going to a country like Ukraine to engage talent might seem frightening if you haven't worked with remote teams or adopted team extension models before. Whether you're hiring freelancers or establishing a local office, the challenge lies in finding and convincing local talents to work with you. You have two options: source talent independently or partner with a local agency. Going solo may lead to a lack of understanding of the local market and developers' interests, making recruitment agencies a more efficient choice. 
How to choose and work with one? The whole process will look the following way: 
1. Plan your team  
First of all, you should identify how many specialists you will need for your Ukrainian development team and what skills and tech stacks they must possess. This will help you see the scope of the work. 
2. Shortlist several vendors  
Pick 3-5 local recruitment agencies that offer recruiting services and understand how to hire Ukrainian developers. To create this list, you can use either review websites like Clutch or the recommendations of your friends and colleagues. 
3. Research the services of chosen agencies  
After creating a shortlist of companies, thoroughly research their operations, services, experience, work processes, pricing, and support for tech interviews and English proficiency checks. Ensure they offer guarantees, like candidate replacement for three months or commitments to hire a specified number of developers within a set timeframe (e.g., 5 developers in 4 weeks). 
4. Prepare a job description  
In your job description, offer detailed information to attract top talent who will help you bring your product to the next level. That's also when you should come up with the benefits you'll offer to your new hires. And in case you need assistance with this, turn for the help of local recruiters.  
5. Sync up with the recruiter  
Make sure that you're in tune with recruiters and that they understand all your requirements. At this stage, discuss with the recruiter the number of interview stages, the interviewers, and the additional candidate information you require beyond their CV. 
6. Conduct interviews  
Working with a recruitment agency gives you the chance to conduct interviews on your own. The recruiters may provide you with the best candidates, but you will assess their skills. Moreover, it completely depends on you regarding the number and type of interview stages. 
7. Share feedback  
After you've interviewed the candidate, share your opinion with the recruiter. They need your feedback to know what to say to the candidate as well as to understand if they need to fine-tune something (i.e., to find better candidates). 
8. Make an offer to appropriate candidates  
Once you've found a software developer for hire, think thoroughly before making a final decision. Nevertheless, you should avoid unjustified delays while you're considering so your candidate doesn't accept another offer meanwhile. 
9. Work with counteroffers & offer rejections, if any  
At this point, you may encounter counteroffers and rejections. It happens when the candidate's current employer tries to retain them with better pay, position, or other benefits. Professional recruiters often address counteroffers by discussing the developer's motivations and goals, emphasizing how your company aligns with them.
10. You've got a hire and can start working.  
The process is quite straightforward and brings outstanding results if you find a vendor who can perform to the promised standards. 
Where to Look for Developers in Ukraine 
1. IT communities & marketplaces 
Nowadays, it's easier to hire developers in Ukraine than ever before since the country has well-developed IT communities like DOU and tech marketplaces like Djinni and dev.ua. They give employers access to software developers from over 20 IT clusters in Ukraine, including those in Kyiv, Lviv, Kharkiv, Dnipro, Odesa, Zaporizhzhia, Vinnytsia, and others. 
2. Freelance platforms  
You can also find local developers on Ukrainian and global freelance platforms like Freelancehunt, Freelance.ua, Upwork, Freelancer, and Toptal. Yet this method is best for finding short-term team members for specific tasks and projects. 
3. Job boards  
Job boards are a popular option for finding Ukrainian developers, with classic choices like Work.ua, Robota.ua, Jobs.ua, Jooble, and more. To attract the right candidates, it's essential to create a compelling job ad, have a strong EVP, and establish a distinctive employer brand in the Ukrainian market. 
4. R&D providers  
Another way to work with Ukrainian developers is to hire them with the help of R&D providers. Such companies have large IT recruitment departments and internal networks with hundreds of thousands of candidates. These candidates always stand out from the rest since they are already verified and pre-screened and, hence, are of higher quality. An R&D vendor typically handles the entire hiring process, but the final decision is still up to you. 
Alcor is an R&D services company that can hire 20 developers in 3 months for you, as this is one of our main guarantees. Our rapid recruitment translates to exceptional quality – 98.6% of our candidates successfully complete the probationary period! Ready to hire Ukrainian A-players with Alcor?