Ukraine's IT market has been gaining a lot of attention for the last few years due to its rapid development and constant growth. Ukraine is now considered one of the best tech places in Europe, providing endless possibilities for foreign IT businesses. In this article, I'll dwell on key topics regarding Ukrainian IT market development, i.e. perspective & services provided.
Ukraine Keeps Its Economy Afloat in 2021
The year 2021 has been rough on the global economy. Many countries have been struggling with the consequences of the COVID-19 pandemic, leaving behind the chances of a quick economic bounce back. Ukraine is not an exception. However, despite numerous pessimistic forecasts about its economy, Ukraine has been able to withstand the period of darkness, even showing impressive results. The figures indicate that Ukraine's GDP has increased by 3,8% in 2021. Economic experts claim the following year will see Ukraine's GDP rise by more than 4% – which will accelerate the development of business. 
Recently, the Ukrainian government has been directing its focus towards the creation of better business conditions by implementing vital reforms. That appeared to be highly effective as the World Bank Doing Business 2020 report shows that Ukraine has gone 7 positions up and is now ranked #64 out of 190 States. Due to such dynamics, Ukraine appears as a luring place for international enterprises. 
The Ukrainian economy has also been fueled by its growing economic sectors. Among the top 3 are agrarian, metallurgy, and IT industries. According to IT Ukraine Association, the IT sphere has significantly contributed to the country's economic growth, being the 3rd largest exporter of Ukrainian services. The PwC forecast states that the Ukrainian IT market will reach $8.4 bn worth of exports by 2025.
Ukrainian IT Market Overview
In recent years, the IT market of Ukraine has been expanding drastically, growing at a 26% rate. That's why a lot of experts call it a driving mechanism of the Ukrainian economy. According to the Ukrainian IT market report, since 2012 the IT contribution to the Ukrainian's GDP has risen from 0.8% to 4% due to the growing export of tech services. 
Nowadays, there are about 4,000 Ukrainian tech companies on the market that mostly specialize in software engineering, QA testing, application support, research & development. In terms of types of IT companies, there are 1,142 product companies and 858 service vendors in Ukraine. The latter ones are mostly specialized in IT outsourcing. Besides that, Ukraine is also recognized for its booming IT startups (around 2,000), among the widely known ones being Grammarly, People.ai, Readdle, Attendify, MacPaw, and others. In 2021, Ukrainian startups have attracted a record-high number of investments, namely $571 million, providing good opportunities for Ukrainian IT business development. 
According to Outsourcing Journal, Ukraine is now the №1 IT outsourcing destination in Central & Eastern Europe. In addition, it was listed in the top 20 offshoring destinations in the EMEA region; therefore, Ukraine is viewed as a potent tech hub where the IT industry is gaining momentum. This upward trend has attracted the attention of the world IT society, inducing more and more foreign companies to hire developers in Ukraine.
Ukraine is known not only for its IT outsourcing industry but also for providing offshore development services. There are a lot of countries that are interested in Ukrainian BPO services, but its permanent clients remain in the United States and Western Europe. The main factors which attract foreign companies to the Ukrainian IT market are the following:
– a huge pool of gifted IT specialists;
– convenient location;
– low taxes (5%) and wages;
– high-quality work;
– cultural similarity.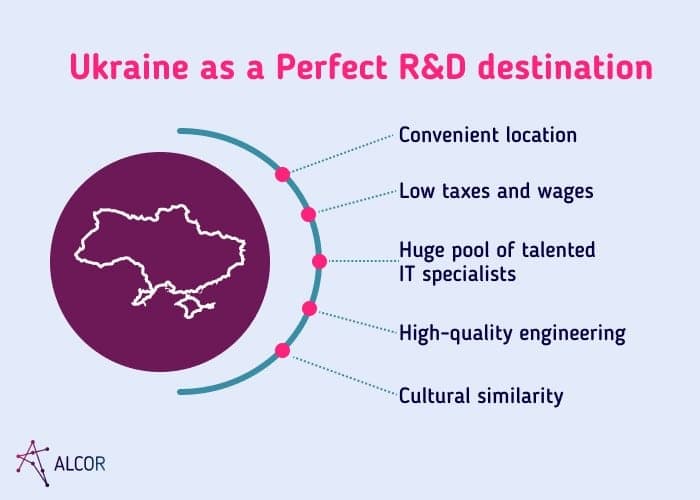 Ukraine also has a proven success record in establishing R&D offices for such tech giants as Google, Oracle, Samsung, Amazon, and Huawei. And It's not only foreign companies that open their R&D centers in Ukraine. Some of the Ukrainian startups, based abroad, are also into creating offshore offices in their motherland to make the working process more efficient. One such vivid example is People.ai, a software product company that decided to collaborate with a local BPO recruitment agency in order to establish its R&D center in Ukraine. Such a decisive move provided them with the essential opportunity to access rare AI developers and enhance their core development team by 25+ employees. And the results were impressive! Within just 3 years the company's value increased from $400 million to $1, 1 billion, which made People.ai a unicorn. Moreover, the company received $100 million in foreign investments, enabling it to develop its product and enhance its business capabilities.
Coronavirus Impact on Ukrainian IT Market 
Even though most businesses have been suffering from dramatic COVID-19 after-effects, there is one industry that benefited from this unpleasant situation – the IT domain. Since the majority of businesses have gone digital-only because of the quarantine, product software companies started to scale up quickly and technical specialists have appeared to be in high demand. Since the end of 2020, more and more tech companies have been seeking developers in Ukraine in order to boost their businesses. For example, the largest online resale platform of second-hand clothing ThredUP not only survived the coronavirus world crisis but also was able to steal the show by raising $168 million in funding from the IPO this year. Moreover, ThredUp is one of those companies which has been working on advancing its business capabilities by having its own R&D center in Ukraine. The company has already reaped benefits from such cooperation, enjoying the fruitful work of talented IT specialists and receiving legal support from our team.
As for the Ukrainian IT outsourcing industry, the sharp rise in IT services has greatly influenced the IT market as well. According to the National Bank of Ukraine, the amount of Ukrainian IT exports has grown by 20.4% in 2021, pushing the sector's annual export total beyond the $5 billion mark for the first time. 
Ukrainian IT Talents Pool Overview: Skills & Salaries
It's impossible to talk about the IT market of Ukraine without mentioning its driving force – tech talents. While there is a deficit in IT specialists throughout the world, Ukraine is flourishing with its growing number of tech graduates – bringing up more than 16,000 new coders each year. According to BRDO, these figures are expected to increase to 37,400 IT specialists each year by 2030. The largest community of developers in Ukraine, DOU, states that there are about 200,000 Ukrainian tech professionals, and 67,000 of them work in the Top 50 largest Ukrainian companies. In terms of talent dislocation, there are three Ukrainian cities with the largest number of software developers – Kyiv (42%), Lviv (15%), and Kharkiv (12%), making up 69% of all IT professionals of the country. 
Ukrainian Developers' Hard and Soft Skills  
What really makes Ukrainian IT developers exceptional is their high level of tech education. It provides students with deep knowledge and integral skills, which allows graduates to be flexible enough to adjust to fast-pacing tech trends. In terms of programming languages, JavaScript is considered number one in the Ukrainian IT community. Recently, Java (14.7%), C# (14,3), Python (12,1%), and TypeScript (6,9%) have been gaining significant popularity among tech specialists as well. Living in an environment where IT is constantly developing provides Ukrainian software developers with lots of opportunities for gaining multilateral expertise. 
Apart from tech competence, Ukrainian IT professionals also have high English proficiency. Around 70% of tech talents know English at the intermediate or upper-intermediate levels, which helps them to establish a common ground with foreign clients easily. Furthermore, Ukrainian tech specialists are extremely hardworking, dedicated, organized, communicative, and friendly, which makes their working process immensely productive.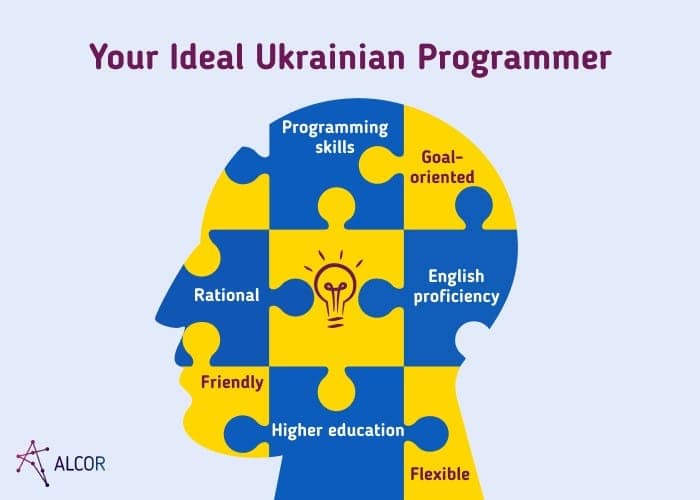 Average Wages of Ukrainian Developers
According to Alcor's recruitment team research, the average salary rate of middle and senior developers in the Ukrainian IT market is between $3,000-$7,000 per month, which is several times lower than in the USA or Western European countries. This is another reason why foreign companies consider Ukraine as the best option for their IT offshoring. Considering the Ukrainian IT talent pool, around 15% are junior-level programmers, 36% of middle, and 31% of senior developers on the market. These impressive figures, as well as the proven recognition, have made Ukraine one of the top European destinations for IT offshoring. 
Ukrainian IT Industry Prognosis for 2022
The Tech market of Ukraine is steadily growing from year to year. The export of IT services in Ukraine doubled since 2013, bringing in 5 billion dollars in profits in 2021. Moreover, since 2018 IT services have enriched the Ukrainian treasury by almost UAH 10 billion in taxes. These figures are increasing by an average of 20-25% each year, making it possible to come up with a positive prognosis for the following year. 
– Ukrainian Government Support  
As the tech field has become one of the top 3 industries in the Ukrainian economy, the government decided to support its progress. Therefore, in the draft State Budget of Ukraine for 2022, the state is going to allocate UAH 11.1 billion to the digitalization of economic sectors and the development of the IT industry in general. The government is going to focus its attention on the elaboration of their innovative software for state services "Diia", cyber security, cloud systems, fintech projects, and the protection of intellectual property in programming.
– Mounting Number of M&A Deals
Another vital aspect of the Ukrainian IT industry is its tech resources. More and more foreign companies show interest in IT outsourcing in Ukraine, finding it a perspective place for the development of their businesses. Some of them are interested in opening their own R&D centers, others are into M&A deals – a new economic trend – which have mutual benefits. By having such a deal, a foreign party gets an excess to a wide pool of talented Ukrainian software developers, while a Ukrainian party can get an opportunity of taking its business to the next level. According to experts of the IT Ukraine Association, if the amount of foreign companies entering the Ukrainian IT market continues rising, the market will have a steady growth of 22-30% annually, and the number of specialists will also double by 2024. 
– From Outsourcing to Your Own R&D Center
Ukraine is widely known for its outsourcing services. However, more and more companies avoid traditional outsourcing and opt for recruitment process outsourcing benefits (under the R&D model), as they open more opportunities for company growth. In comparison with the IT outsourcing or outstaffing models, having your R&D center has multiple advantages:
– 2-3 times cheaper than working via an IT outsourcing provider;
– your own team of trustworthy and qualified developers;
– protection of your intellectual property rights;
– own branded office;
– full control over your software development.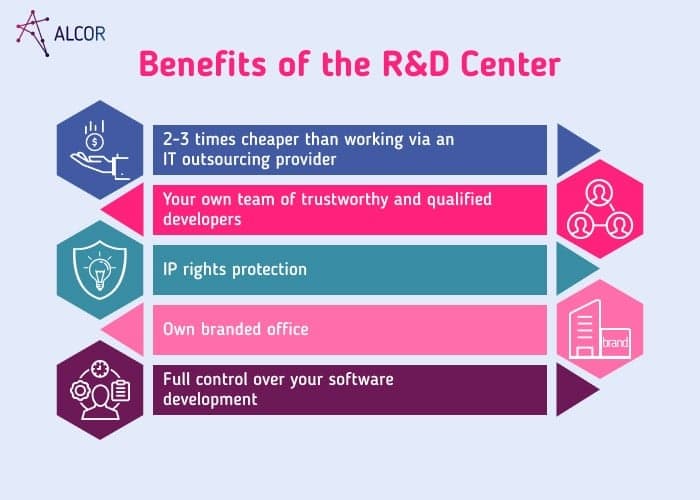 BigCommerce is one of those companies that decided to improve its working process by leaving behind fishy outsourcing services and opening its own R&D center in Ukraine. By doing so the company was able to get its own team of top-notch programmers as well as receive legal and accounting support from a local BPO company.
Looking for New Opportunities for Your Business?
It's been just a few years since the time when Ukraine started to make massive steps in information technology development. Nowadays, this country is considered to be a hot spot for foreign investment and a perfect destination for opening an offshore development center. When it comes to establishing your own R&D office, it's essential to make the right decision in terms of choosing a reliable IT recruitment agency in Ukraine. 
What you can expect from a good BPO company is adequate pricing, financial transparency, non-interference in IT programming (protection of intellectual property guarantee), coverage of all back-office operations, as well as access to a wide pool of talented programmers, low taxes, and full-time support. 
Alcor is one of the few Ukrainian companies which provides a whole spectrum of services in order to help you open your own offshore software development center in Ukraine. We can help you with hiring top-notch software engineers,  finding a nice office, managing HR payroll, and legal compliance for your offshore development team. As for additional services, we offer our clients business travel support, stock option planning, employer branding, and work permits for foreigners. Here at Alcor we care about our clients, and that's why one of our main guarantees is that we vow to hire 5 developers in the first month, 20 in a 3-month period, and 100 within a year. And if we do not meet the deadlines, we will hire the rest at no charge to our client. We can also assure you that all pricing is completely transparent because you pay only for those services that you use (with no hidden fees). 
Final Thoughts
The IT sector in Ukraine is growing exponentially, becoming a leading industry in the country. Its rapid development is not just mere words but hard and dedicated work which has led to impressive results. Even though Ukraine's IT industry is not as developed as in some Western countries, its steady evolution is impossible to deny. Moreover, due to Ukrainian IT business statistics, Ukraine is going to become one of the main tech hubs in Europe – with modern IT infrastructure and possibilities for international business development. Therefore, more and more foreign companies choose Ukraine as their R&D destination, as it offers a large tech talent pool, convenient location, low prices, and opportunities for growth. Don't hesitate to expand your business by opening your own software R&D office in Ukraine!