The global IT market is developing by leaps and bounds, as a dire shortage of software engineers becomes more evident. While the demand for tech specialists is growing, more ventures seek help from external parties. This trend has turned outsourcing and offshoring into the buzzwords heard from every corner, and many people use them interchangeably. 
However, they are not the same and describe different aspects. Offshoring specifies the location (meaning abroad) as opposed to onshoring (in home country), and nearshoring (in a nearby country). Outsourcing, on its part, is not defined by a destination country and rather implies a kind of delegation mode unrelated to physical distance. 
Still confused? Let's now clarify the main difference between outsourcing and offshoring, so that you could better understand which option might be of more use to your business. 
What's Offshoring?   
The topic of offshoring versus outsourcing requires a deeper investigation of these terms separately and in combination. We'll start from the basic definitions, examples of offshoring, and move on to their comparison. 
Offshoring is about engaging specialists abroad, either your own company's employees or ones employed by a service provider to perform specific tasks.  
Around 10 years ago, its primary aim was to reduce costs, so lower salaries – as well as reduced taxes and decreased maintenance costs – were the most popular reasons to go offshore. Nowadays, tech companies are rather looking abroad for talents as they feel the lack of qualified human resources in the home country. 
For instance, American job markets are in dire need of tech specialists. With numerous openings every month, software companies in the USA are struggling to find and hire talented engineers. According to The APP Association, nearly a quarter-million software developer vacancies are open in the US alone. Meanwhile, only around 62,000 computer science students graduate and join the workforce annually. With such numbers, tech companies experience significant problems with hiring, even if they have sufficient funding. 
And that's where offshoring comes in handy. Today, product and service tech companies, as well as manufacturers, shift their activities to distant locations to fill the talent gap, for instance, opt for IT outsourcing to Latin America, as well as other locations or approaches. Many world-famous corporations are, in fact, considering offshoring vs outsourcing models. They set up offices, launch factories, or build teams abroad. When a company decides to move offshore, they can start their own office and take care of all operational issues on their own. Alternatively, they can engage a vendor to set up everything for them. 
In fact, you can involve a vendor only for non-core business activities. For example, it's possible to open your own software development office abroad and get back-office support from your operational management provider. In this case, you stay focused on your product, while your local vendor takes care of HR payroll & accounting, recruitment, office procurements, and IT legal & compliance services, etc. 
At Alcor, we know how to orchestrate operational processes.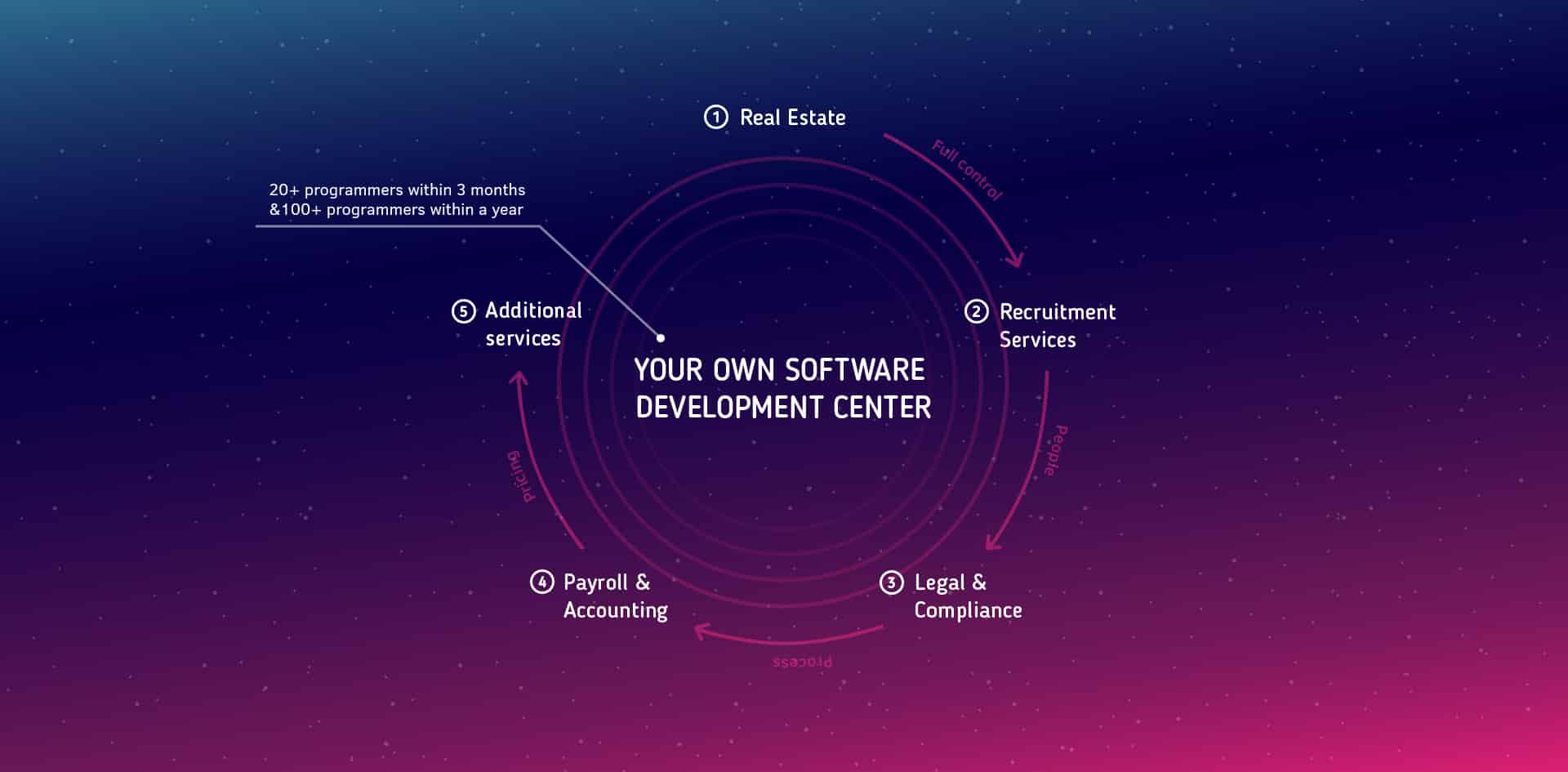 When describing offshoring, we cannot skip such important concepts as onshoring and nearshoring. Companies that opt for onshoring often hand their tasks to vendors in the same country, which might carry fewer risks but also fewer financial benefits. Nearshoring includes delegating tasks to another country, but in the case of nearshoring, companies choose nearby countries (as its name suggests). Basically, the whole difference between the off-, near- and onshoring for a US-based company may be summarized as follows: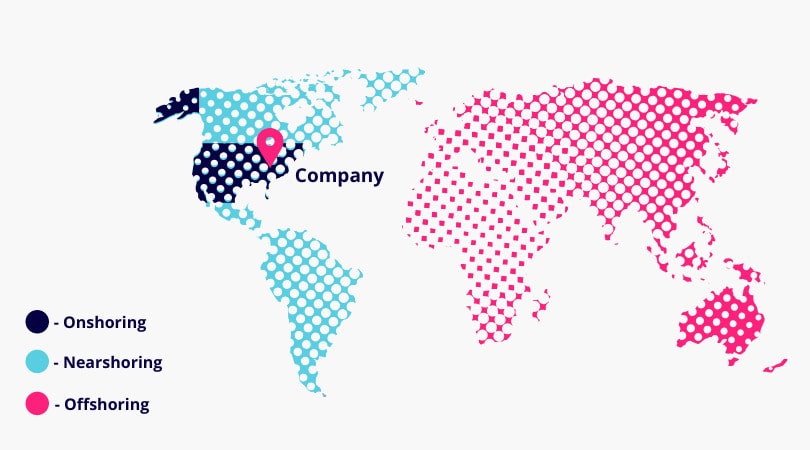 What's Outsourcing?  
The next step of learning about outsourcing vs offshoring is characterizing the outsourcing model in the context of IT delivery. 
Outsourcing is about delegating tasks to external professionals, whether in your country or abroad.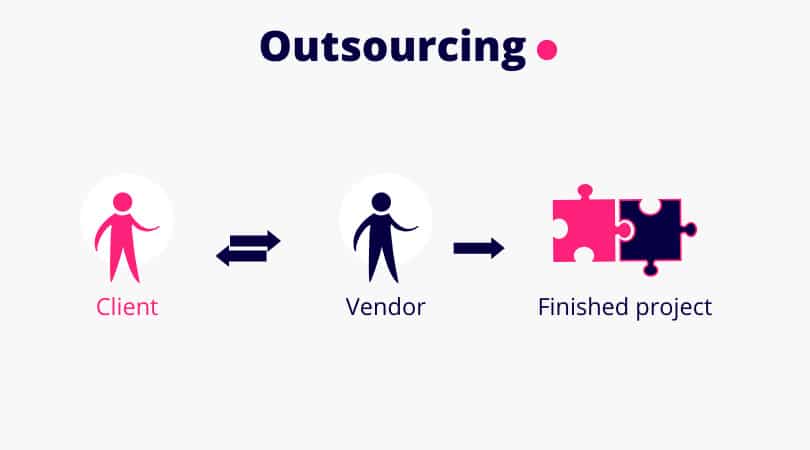 It primarily aims at increasing human resources flexibility by engaging more talents and compensating for deficient expertise. Outsourcing is also a great way to have one-time tasks completed without hiring a new person. A major principle here is that the client hires a vendor to create a particular result from the beginning to the end. With the outsourcing business model, the client isn't interested in how or who specifically performs the task – but just delegates it and expects it to be completed. 
As a client, you turn to a vendor with a project. The vendor has its own team and provides workplaces and equipment, rewards, and human resources outsourcing activities. Your provider also organizes workflow, technologies and assigns a project manager to the task. The vendor's employees complete the project as agreed and deliver an outcome to the client. All communication happens through a project manager. 
For instance, you have a banking or automotive business and need an online banking app (or an onboard computer system). If you lack expert knowledge in software development, then outsourcing software development will be a valid solution for you. But in case you're a startup and the product you're working on is your main business, outsourcing might not turn out to be the best solution and you would better consider other business models. For example, check out the risks and advantages of outsourcing java development and learn about a decent alternative to it.
Difference Between Outsourcing and Offshoring 
The major outsourcing vs offshoring difference lies in the aim and location. Depending on the results you desire to have in your business, you need to consider other specifics which we're going to discuss now.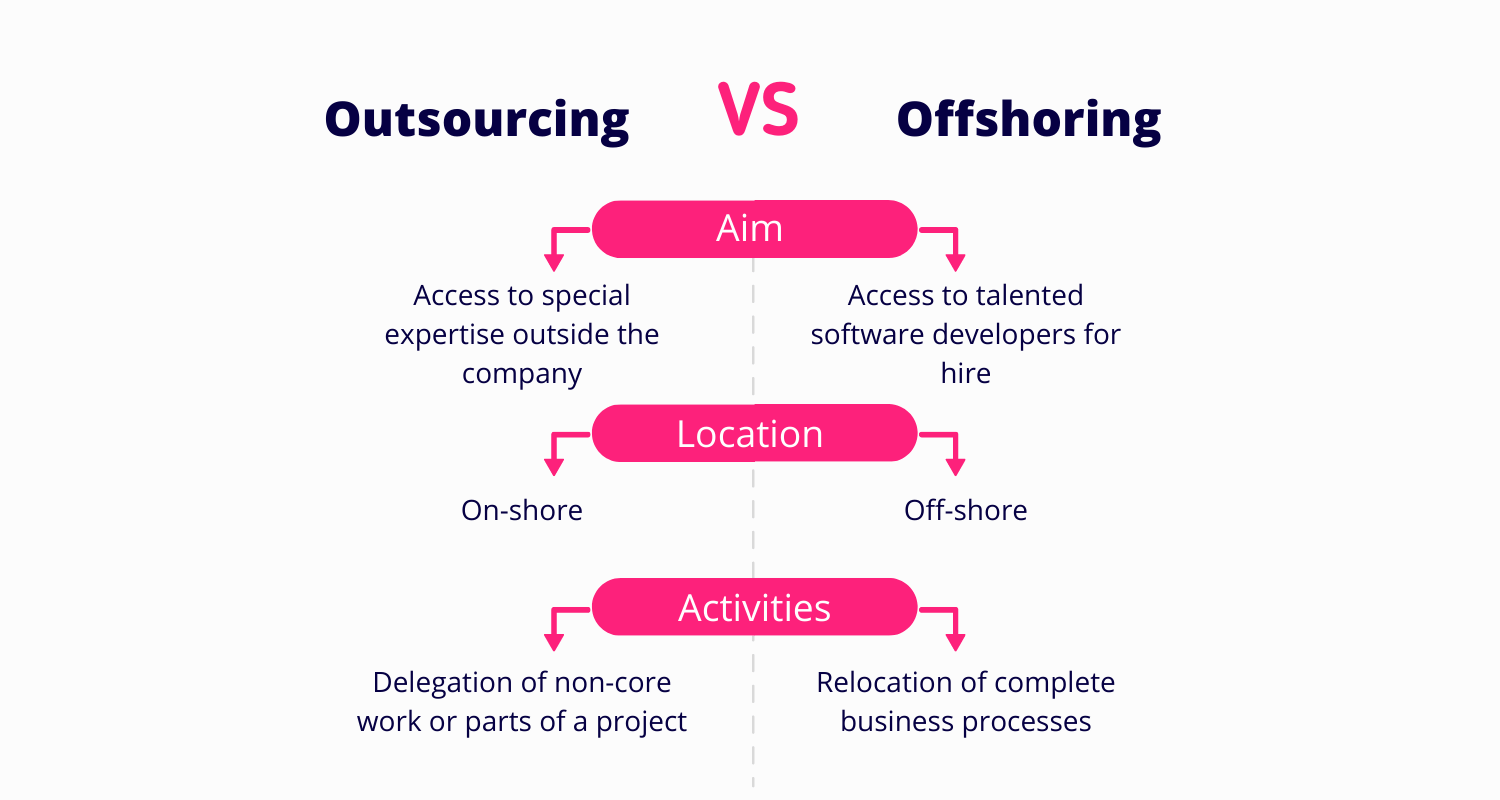 Aim
For software tech companies, offshoring opens access to talented software developers who are in high demand now. By outsourcing some of your business functions, you focus on the essentials and achieve short-term goals. The outsourcing model also follows the lack of specialized expertise in the company and solves the problem of high costs of in-house employees. Given the fact that both models were primarily designed to reduce expenditures, offshoring and outsourcing give companies an opportunity to cut down business costs as well.
Location
Offshoring involves the decision to go abroad and hire foreign professionals, while outsourcing can be realized within one country, which means geographic proximity.
Activities
While offshoring implies the relocation of complete business processes, like moving a factory to another country, opening a software development center, or hiring a vendor there, outsourcing suggests delegating non-core works or projects that must be completed from A to Z.
Cultural specifics
As a vital part of communication, tech businesses pay special attention to cultural specifics. Since not every startup is ready to deal with extreme diversity in time zones or work ethics, this point may affect the productivity of your business. Your values might clash when offshoring to a foreign culture, while outsourcing takes place in your country, so you shouldn't encounter significant cultural differences.
Political undertones 
On the one hand, new workplaces are being created in a foreign country, which leads to some political undertones in offshoring. On the other hand, this isn't a matter of concern if you choose a country that has a good reputation for investments. Countries in Eastern Europe have reliable tax incentives, effective digitalization reforms, strong IT communities, and an affordable pool of IT specialists. For these reasons, many US-based IT companies decide to hire developers in Poland and other East European countries. Speaking about outsourcing, it's characterized as being free of political concerns as you create new jobs in your own country.
To conclude the difference between "offshore" and "outsource", let's look at the examples below: 
Offshoring – Citigroup is a US leading financial corporation that has tested delegating tasks offshore, and currently they are present in the Philippines, India, and Poland.  
Outsourcing – Alibaba is a Chinese corporation that has a long and interesting history of becoming a major force. According to Alibaba (a book by Liu Shiying and Martha Avery), the owners initially outsourced development tasks to a service firm – as they needed unique talent to create a product able to compete with e-commerce giants.
Offshoring vs Outsourcing: Pros and Cons 
We are getting now to discussing the point of outsourcing vs offshoring: pros and cons. Although writing about outsourcing vs offshoring in a general aspect, we are going to focus on the tech industry and how these models may be useful for software tech companies. 
Pros 
Unlike outsourcing, the offshoring model enables software companies to keep full control over their product development. It's also easier for them to hire talented engineers because developers are eager to work for product tech companies and feel involved in the business. Additionally, companies that use offshoring can open new markets for themselves and establish their own brand in a new country. There are also common outsourcing vs offshoring advantages that include cost optimization and access to an extra workforce. 
Cons 
Since intellectual property is highly vulnerable, software companies are attentive to delegating important tasks to third parties. Despite signing non-disclosure agreements, outsourcing providers may have a weak system of IP rights protection (which could lead to leaks or cybersecurity breaches). For this reason, it's recommended to keep core business in-house without involving external providers in your engineering.
In the case of offshoring, the main disadvantage is operational management because it's a burdensome function that is hardly doable alone in a new environment. As a rule, tech companies prefer to delegate this to a local service provider. By hiring a vendor, a software company will free up its resources to focus on product development and core front-office functions. 
Offshore Development Center ODC as an Alternative Model
As can be seen, the difference between offshore and outsource verbs lies in the location and delegation mode. If you're not interested in entrusting your business to third parties, think about other engagement models like IT outstaffing, or an offshore development center (also called software R&D center).
At Alcor, we provide IT BPO services in Eastern Europe. We specialize in opening software R&D centers for foreign product tech companies with full operational support. Watch the video to learn more! 
Normally, companies reject IT outsourcing in favor of their own offshore development center when it's necessary to increase the level of control over product development processes & operational costs. It's important to mention that this offshoring model is perfect for software companies that work on their own products. Since the ODC model allows for more independence and protection of your IP rights, lots of renowned IT companies decide to open an R&D office in Poland and other Eastern European countries. BigCommerce (NASDAQ: BIGC), People.ai, Snap, Ring (Amazon), Grammarly, and ThredUP are already running offshore development centers in this country.