The global IT market is developing by leaps and bounds, as a dire shortage of software engineers becomes more evident. While the demand for tech specialists is growing, more ventures seek help from external parties. This trend has turned outsourcing, outstaffing, and offshoring into the buzzwords heard from every corner, and many people choose them interchangeably.
However, they are not the same and describe different aspects: offshoring specifies the location (meaning abroad) as opposed to onshoring (in home country) and nearshoring (in a nearby country). Outsourcing and outstaffing describe the mode of cooperation between the vendor and the client (outsourcing stands for a turnkey solution developed by external service provider while outstaffing refers to engaging the team to work on your project).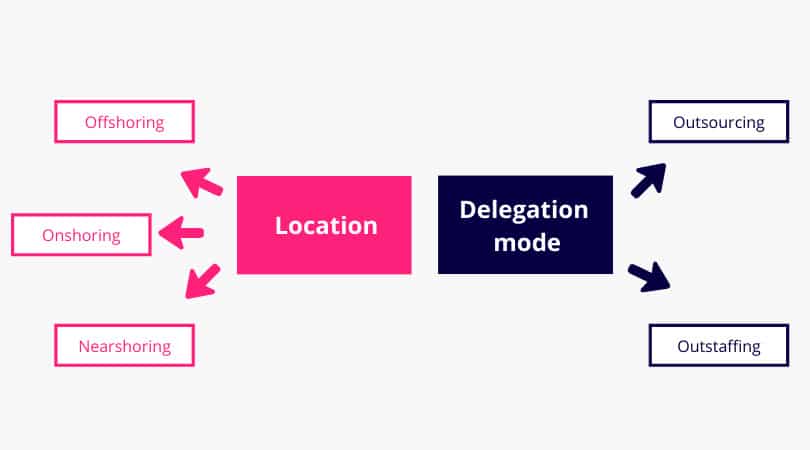 Still confused? Let's now clarify the primary difference between them and what activities each one performs, so that you could better understand which option might be of more use to your business.
What's offshoring?  
Offshoring is about engaging specialists abroad, either your own company's employees or the service providers' to perform specific tasks. Around 10 years ago, its primary aim was to reduce costs, so lower salaries – as well as reduced taxes and decreased maintenance costs – were the most popular reasons to go offshore. Nowadays, tech companies are rather looking abroad for talents as they feel the lack of qualified human resources in the home country.
For instance, American job markets for tech specialists are in dire need of specialists with numerous openings every month. According to The APP Association, nearly a quarter-million of software developers' vacancies are open in the US alone. Meanwhile, only around 62,000 computer science students graduated and joined the workforce. With such numbers, tech companies experience significant problems with hiring, even if they have sufficient funding.
And that's where offshoring comes in handy. Today, tech and service companies, as well as manufacturers, shift their activities to distant locations to fill in the talent gap. Many world-famous corporations have chosen this model and set up offices, launched factories, or built teams abroad. When a company decides to move offshore, they can start their own office and take care of all operational issues on their own. Alternatively, they can engage a vendor to set up everything for them.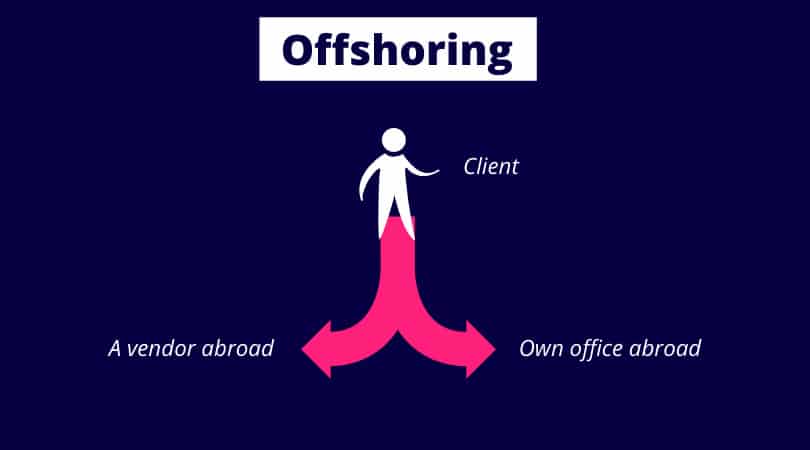 One example is the CITI group. This leading financial corporation has tested delegating tasks offshore, and currently they are present in the Philippines, India, and Poland. Another example is Alibaba in China. According to Alibaba (book by Liu Shiying and Martha Avery), the owners initially outsourced development tasks to a firm in the United States – as they needed unique talent to create a product able to compete with e-commerce giants.
When describing offshoring, we cannot skip such important concepts as onshoring and nearshoring, which also refer to the location to which you choose to delegate your tasks. Companies that choose onshoring hand their tasks to vendors in the same country, which might carry fewer risks but also fewer financial benefits. Nearshoring includes delegating tasks to another country, but in this case companies choose nearby countries.
Onshoring


Nearshoring

Offshoring


Definition

Delegating activities to third-party specialists in your country
Delegating activities to specialists in a nearby (neighboring) country
Handing tasks to specialists located in a distant country
Example

A company from Dallas delegates tasks to a firm in San Francisco
A company from Germany delegates tasks to a vendor in the Czech
Republic
A company from Australia delegates tasks to a vendor in Ukraine
The whole difference between the off-, near- and onshoring for a US-based company may be summarized as follows: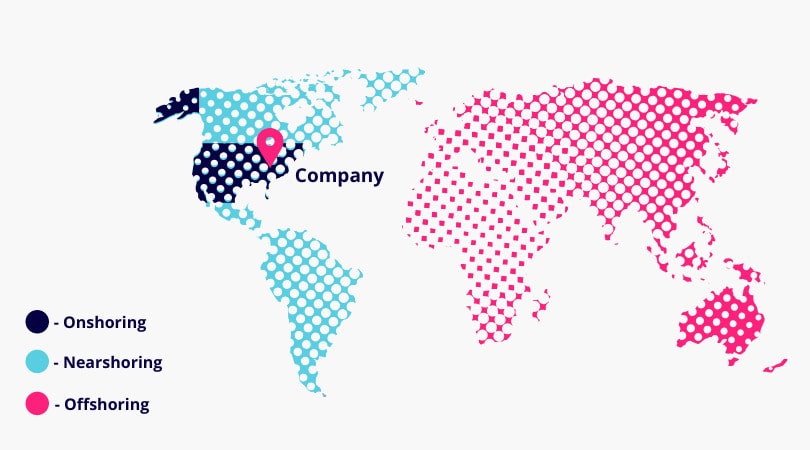 Now that you understand this difference, let's move on to outsourcing.
What's outsourcing? 
Outsourcing is about delegating tasks to external professionals, whether in your country or abroad. It primarily aims at increasing human resources flexibility by engaging more talents and compensating for deficient expertise. Outsourcing is also a great way to have one-time tasks completed without hiring a new person. A major principle here is that the client hires a vendor to create a particular result from the beginning till the end (i.e. from requirements to the product). With the outsourcing business model, the client isn't interested in how or who specifically performs the task but rather delegates it and expects it to be completed.
Basically, the client turns to a vendor with a project. The vendor has their own team and provides workplaces and equipment, rewards, HR activities, organizes workflow, technologies and assigns a project manager to the task. The vendor's employees complete the project as agreed and deliver an outcome to the client. All communication happens through a project manager.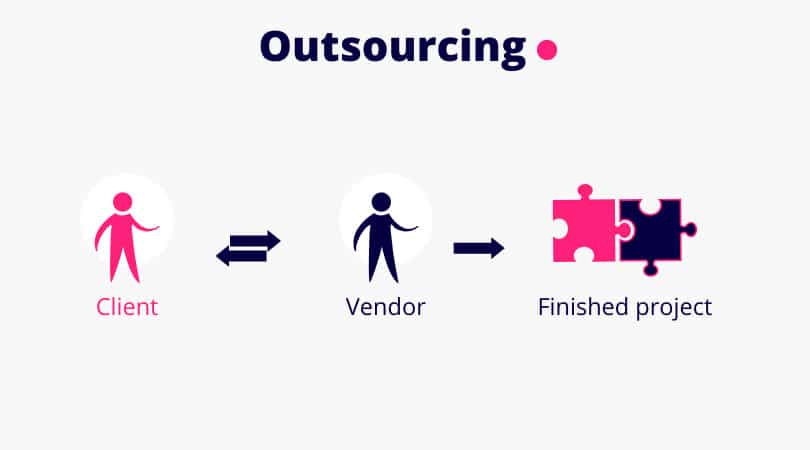 For instance, if you have a banking or automotive business, and you need an online banking app or an on-board computer system, but you lack expert knowledge in software development, then outsourcing software development will be a valid solution for you. But in case you're a startup, and the product you're working on is your main business, outsourcing might not turn out to be the best solution and you should better consider other business models.
A bright example is Slack. Its team succeeded while engaging an external service provider. At the early stage, Slack hired a design firm to help with their product. MetaLab has contributed both to the website and the app. They have also redesigned Slack's logo and created most elements customers see when interacting with the messenger.
Offshoring vs Outsourcing
The major difference between outsourcing and offshoring lies in the following:
| | | |
| --- | --- | --- |
| | Offshoring | Outsourcing |
| Aim | For tech companies, it opens access to talented software developers who are in high demand now. Another important goal is cutting off business costs. | Usually follows the lack of specialized expertise in the company, high costs of in-house employees, short-term goals, and the wish to focus on the essential. |
| Location | Involves the decision to go abroad and hire foreign professionals. | You engage specialists from your country, which means geographic proximity. |
| Activities | Relocation of complete business processes, like moving a factory to another country, opening a development center or hiring a vendor there. | Mostly implies delegating non-core work or parts of a project, or projects that must be completed from A to Z. |
| Cultural specifics | Your values might clash in case you offshore to a foreign culture. | Takes place in your country, so you shouldn't encounter significant cultural differences. |
| Political undertones | Might have political undertones since new workplaces are being created in a foreign country. | Doesn't imply any political concerns as you create new jobs in your own country. |
What's outstaffing?
Outstaffing is a model for engaging specialists to work on the company's tasks without employing those experts and creating a workspace for them. Basically, it's about the involvement of a dedicated remote team that is officially employed by another company. Something like a leasing agreement, but you lease the whole team.
With this model, the client doesn't have to worry about any operational issues, just like with outsourcing. However, the specialists are required to meet the customer's requirements, so one gets an extension of the team who work according to given instructions/workflow/technologies. Basically, the client "rents" developers who are officially employed by another company and work from another office. This ensures closer and more dedicated cooperation as well as stronger control over project performance and completion.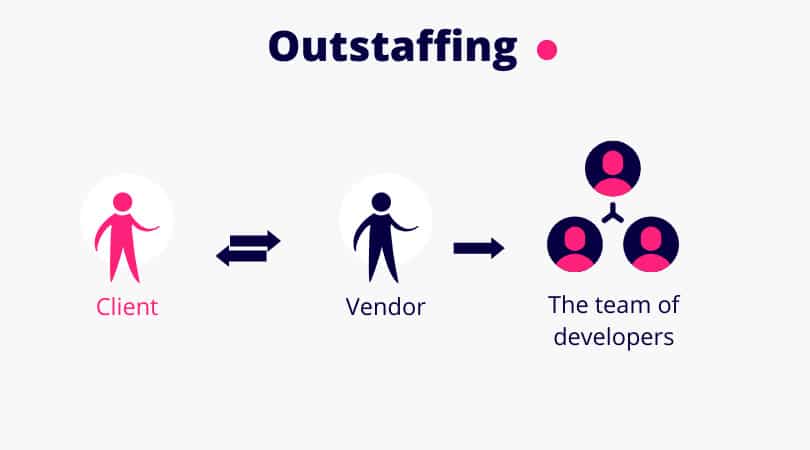 Consider OVPN – a Swedish VPN provider. They turned to the assistance of a Ukrainian company (due to the local talents) to create an extended team of developers. The vendor has taken responsibility for hiring, onboarding as well as HR and administrative support. The team now works at the vendor's location, but they focus solely on the OVPN project and function as their remote team.
Outsourcing vs Outstaffing
Let's now make the difference between the two models for the delegation of activities clearer.
Outsourcing

Outstaffing


Vendor is completely responsible for work results and quality.
Client controls the quality of work and the results they get.
Team management is on the side of the vendor.
Client is responsible for management of the team.
Client isn't involved in hiring at all.
Hiring is flexible for the client with easy team extension or shrinking.
Client has no access to team members and communicates with project manager.
Client has access to any team member without limitations.
Vendor takes care of equipment and workspace organization.
Vendor takes care of equipment and workspace organization.
Communication with the vendor is vital as they must perfectly understand all
requirements.
Direct communication with the team allows to solve arising issues fast and efficiently.
Vendor's employees can work on multiple projects simultaneously.
The team working with the client is dedicated to a single project.
Turning back to the difference between onshoring and offshoring, it is vital to mention that there may exist various combinations of delegation modes and locations. For instance, if we speak about outsourcing, you can outsource your activities to a vendor in your country (onshoring) or to a foreign company (offshoring). In a similar way, if you're considering outstaffing, you can either hire a dedicated team in your location (onshoring), in a neighboring country (nearshoring), or in another country (offshoring) to handle all the issues more cost-efficiently.
We can summarize the relationships between the concepts discussed and the different combinations of outsourcing, outstaffing, and offshoring as follows: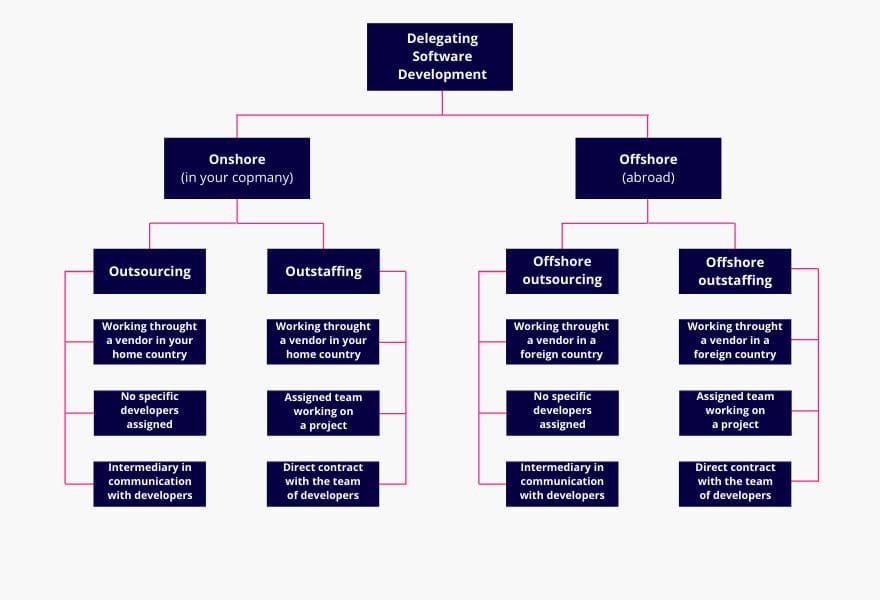 Can outsourcing or outstaffing replace in-house employees?
Any variation could help you develop your venture faster. Yet, some companies prefer in-house teams to manage everything.
For instance, if you're selling, let's say, home appliances, you can easily delegate work on a website to a third party. However, if you want to create a messenger like WhatsApp, it's usually more reasonable to engage in-house developers and get stronger control as well as higher security of confidential information and trade secrets.
Home teams are usually a great fit for software product companies and startups. In most cases, ventures working on own product prefer having employees committed to a single project. It's true if you develop, for instance, an e-commerce or a trading platform that must be as safe as houses. Since it is your core task, you might feel better about controlling the development process and making changes instantly. But this is possible with outstaffing, isn't it?
The above is also possible with outstaffing. However, it's also better to invest in the training of your employees rather than the third party's ones, right? And as a final thought, many companies want people who work on their projects to feel a part of their team. This is impossible with outsourcing and outstaffing, where the specialists are officially employed by the vendor and consider themselves a part of that culture.
For such cases, offshoring offers another solution we haven't discussed yet. The alternative model does not actually involve outsourcing or outstaffing. This is referred to as an offshore development center, and this variant combines the benefits of offshoring with the advantage of having your own team.