Latin America keeps proving itself as a strong and promising region for software development. A huge pool of skilled programmers, affordable software engineer salaries, and a convenient location are just a few factors that lure international IT companies to this region. At the same time, it's IT outsourcing to Colombia that has become one of the frequent go-to options among foreign businesses. But is it worth your consideration?
I'm Sergey Ovcharenko, CBDO at Alcor, a professional IT hiring agency that helps Western tech companies scale up via IT recruitment in Latin America. In this article, I'll give you a holistic picture of software development in Colombia. You will also learn about an alternative and reliable way of hiring Colombian developers cost-effectively. So, let's dive in!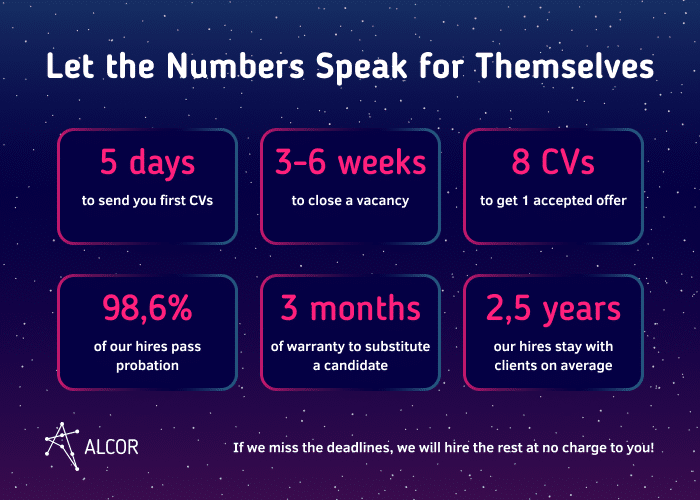 Colombia IT Outsourcing: Industry Overview
Colombian IT industry development is truly a marvelous phenomenon. In just a decade, this country has emerged as the fourth-largest tech market in Latin America. Since 2010, the Colombian tech sector has seen cumulative growth of 24.5%, currently contributing almost 3% to the country's GDP. Valued at $8.52 billion in 2021, this thriving industry is projected to reach an impressive $12.98 billion by 2026, with a CAGR of 8.8%.
The driving force behind rapid IT sector development is the government's ambitious vision to transform Colombia into the Silicon Valley of the LATAM region. By implementing favorable regulatory decisions and launching national initiatives, IT outsourcing in Colombia started to swiftly pick up steam. Within just two years, this destination attracted a staggering $1 billion in investment from 60 countries. As a result, the Colombian IT services market soared to $8.2 billion, with its exports growing to $218.8 million in 2021. Notably, the United States (33%), Ecuador (14%), Mexico (8%), and Spain (6.4%) top the list of countries availing software development services from Colombia.
And the financial stream from foreign investment has sparked a surge in digital and startup scenes. According to Statista, there are over 300 startup companies in Colombia, with the largest cluster found in Bogotá (190), Medellín (56), and Cali (44). Among these innovative ventures, the country also boasts several unicorns: Rappi, LifeMiles, and others. The leading sectors in terms of venture financing are fintech, logistics & distribution, proptech, and marketplaces. In addition, many international tech companies, such as Microsoft, Google, IBM, Accenture, and Oracle, have already chosen to offshore software development to Colombia. 
So, keep reading this article to find out which factors distinguish this offshoring location from others in South America. 
Software Development Outsourcing Rates in Colombia
The outsourcing cost in Colombia is probably one of the core aspects that lure North American tech companies to this market. With an average US developer salary of over $110,000, many American IT employers opt for Latin American destinations, where they can save up to 70% on labor costs. 
Colombian outsourcing rates generally range from $12,000 to $70,000, depending on the tech position and expertise level. For instance, the annual compensation of a middle Front-End Developer varies from $25,000 to $31,000, while a Data Scientist salary keeps within $32,000-$45,000. When it comes to Mobile App Developers of the same expertise level, they usually earn $30,000-$40,000 per year. 
Software Development Outsourcing Rates in Colombia

 Junior
 Middle
Senior 
Full-Stack Software Developer
$17,000-$23,000
$26,000-$40,000
$33,000-$65,000
Front-End Software Developer
$17,000-$23,000
$25,000-$31,000
$30,000-$50,000
Back-End Software Developer
$17,000-$25,000
$30,000-$42,000
$40,000-$55,000
Mobile App
Developer
$17,000-$23,000
$30,000-$40,000
$35,000-$48,000
Game
Developer
$17,000-$22,000
$30,000-$40,000
$35,000-$45,000
Data
Scientist
$19,000-$27,000
$32,000-$45,000
$40,000-$62,000
DevOps
Developer
$17,000-$31,000
$33,000-$50,000
$45,000-$70,000
Software Development Engineer in Test
$12,000-$18,000
$17,000-$25,000
$20,000-$42,000
Embedded
Developer
$17,000-$23,000
$25,000-$31,000
$30,000-$48,000

Colombian salaries were converted to US dollars at a relevant exchange rate for August 2023.
Another reason why foreign tech companies go with nearshore software development to Colombia are Colombia's business taxes and incentives. According to Colombia's Tax Reform Law, IT companies that invest in research, technological development, and innovation get a 25% discount and 100% tax deduction on income tax. 
Colombia vs other Latin American Countries
Colombia boasts one of the biggest talent pools in Latin America — about 150,000 qualified IT specialists, which expands with 13,000 tech graduates each year. Most of these software developers live in such IT hubs as Bogotá, Medellín, and Cali, which have a well-developed infrastructure for doing business. In fact, Colombia ranks 13th in Kearney's 2021 Global Services Location Index, which is well above most of the other Latin American outsourcing destinations. 
Another advantage of outsourcing software development to Colombia is its convenient location and time zone overlap with the USA. Having only a 2-hour difference with the US West Coast, American IT companies can keep their programming process uninterrupted, while enjoying instant communication. 
Colombia vs Mexico
One of the main outsourcing competitors of Colombia is Mexico. Sharing the border with the USA gives Mexico a substantial advantage in the market. It takes about 4 hours by plane to travel from San Jose, CA to the major IT hubs in Mexico. This enables face-to-face meetings and fosters closer cooperation between the development teams. 
The tech talent pool in Mexico is also more prominent than in Colombia — 225,000 developers. They are particularly well-versed in PHP, Java, Python, C#, and Ruby. High availability of skilled talents secured Mexico the 11th spot in Kearney's 2021 Global Services Location Index. 
Colombia vs Brazil
Another strong competitor of Colombia in the LATAM region is Brazil. Its IT outsourcing sector is one of the most outstanding in the region, expected to reach $8.54 billion in 2023. This robust development of the industry is fueled by Brazil's enormous talent pool of over 500,000 IT professionals, the largest in Latin America. But it's not just the quantity; the quality of services provided by Brazilian software engineers is what truly sets them apart. Their expertise in JavaScript, CSS, Python, Java, C#, and PHP is particularly impressive.
Foreign IT companies that outsource to Brazil can also benefit from its business-friendly environment. This Latin American destination is ranked 5th in Kearney's 2021 Global Services Location Index and 27th in the Global Startup Ecosystem Index (which is well above Colombia). Overall, Brazil boasts more than 13,000 startup companies, about 60 accelerators, and 100 tech parks. 
Colombia vs Argentina
One of the most common outsourcing destinations in South America is Argentina. While its tech talent pool is about two times smaller than Colombia's, Argentinian coders rank first in the English proficiency index among LATAM countries. The Coursera Global Skills Report 2021 highlights the exceptional skills of these software developers in mobile development, computer programming, and database development. 
Argentina's business landscape is also experiencing positive growth, further enhancing its appeal for outsourcing endeavors. The Entrepreneurs' Law, for instance, enables business registration in a day and guarantees a 75% tax deduction. In this way, Argentina is steadily catching up with Colombia in the Global Startup Ecosystem Index, holding the 47th position.
Colombia vs Peru
Peru is also among LATAM destinations where foreign companies outsource their software development. Its IT industry is not as developed as the Colombian one, but it's still making progress. According to Statista, this tech industry saw 9% growth in 2021. While its tech talent pool may be smaller than that of Brazil or Colombia, Peruvian software developers possess a diverse skill set that makes them stand out. They are well-versed in a wide range of technologies, including PHP, Java, Python, ASP.NET, SQL, and Go. Additionally, Peruvian programmers excel in specific areas such as cloud computing, operating systems, databases, and mobile development. 
What else lures many tech companies to outsource software development in Peru is its business ecosystem and IT infrastructure, which are constantly improved by massive governmental allocations. This propelled Peru to the 36th spot in the Global Services Location Index and the 76th spot in the Ease of Doing Business.
Colombia vs Costa Rica
Unlike Colombia, Costa Rica is an emerging IT market. Still, this outsourcing destination has already earned the trust of Fortune 100 companies like IBM, HP, NBC, and Intel. The main reasons for choosing this Latin American location over others are low-cost services, skilled IT workforce, convenient location, and the absence of a time difference with the USA. In addition, Costa Rica offers decent business conditions, overtaking Brazil and Argentina in the Ease of Doing Business ranking. 
The government of Costa Rica is actively addressing challenges in the IT industry to promote growth and progress. Initiatives like STEM training programs for women and the San Jose Tech Pole Project for infrastructure modernization reflect the country's dedication to IT industry advancement.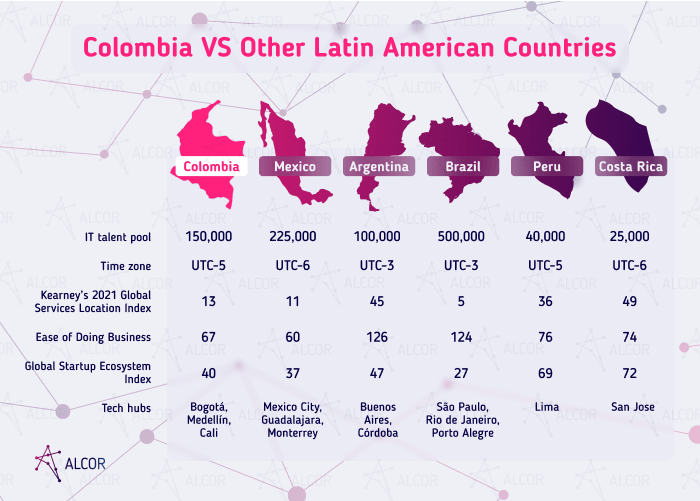 Top 5 Software Development Companies in Colombia
For non-tech businesses, the prospect of outsourcing one-time tasks and projects to Colombia can be quite beneficial. With 370 software development firms to choose from, the area of their expertise mostly centers around custom software development, web development, mobile app development, and IT staffing services. Among the top-ranked outsourcing providers on Clutch are:
Koombea,
BairesDev, 
CodeNinja, 
Moove It,  
NaNLABS. 
But why do businesses outsource software development to Colombia? The answer lies in the cost-effectiveness it brings to non-tech companies. Instead of hiring in-house IT specialists, these businesses can tap into the vendor's pool of outsourced developers in Colombia, saving a decent sum on expenses. Here are a couple examples when the strategy of IT outsourcing to Colombia can work out well:
a retail business can outsource the mobile app development to expand its customer reach;
a car manufacturer can outsource the VR test drives creation to enhance customer experience;
a healthcare institution can outsource the development of a website to promote its medical services.
For tech companies, though, outsourcing solutions can be a tricky and risky endeavor. By exposing sensitive data to a third-party, you could jeopardize your IP rights. Moreover, hidden costs are not a rare occasion either, not to mention team indifference, possible control loss, and indirect communication with developers. The obvious result of these drawbacks is a poor end product. Continue reading to learn about a reliable solution to successful IT outsourcing to Colombia. 
IT Outstaffing in Colombia
A similar model to software development outsourcing in Colombia is IT outstaffing. It's based on the principles of staff augmentation i.e., filling the expertise gaps in the development team by using services of external specialists. Unlike outsourcing, IT outstaffing implies the integration of remote programmers into your in-house team. However, this model doesn't presuppose official employment of the experts, as they are employed by the outstaffing vendor. The advantages of such cooperation include direct communication, team management, and project supervision. Moreover, the outstaffed service provider takes care of the employees' equipment, workspaces, and social benefits. 
Still, this model is not devoid of pitfalls just like the Colombian IT outsourcing strategy. As for IT startups, IT outstaffing can deprive them of receiving additional funding. That's because investors value the products developed internally, without using a temporary workforce. Meanwhile, buy-out fees can cost startups an arm and a leg.
Unlock a Better Way of Working with Software Developers in Colombia with Alcor!
If you want to avoid common challenges of IT outsourcing and outstaffing, there is a better way to implement the Colombian IT outsourcing strategy. You can use the tech recruitment services of a local staffing agency — just like the US-based product company Dotmatics did. Their work with our IT hiring agency Alcor started with consultations on recruitment process outsourcing (RPO), vacancy adjustments and EVP creation. Then our headhunters sourced applicants and interviewed the best-matching candidates. As a result, we hired 30 dedicated software developers in just a year, filling many positions with the first candidate.  
Alcor is an international IT recruitment company that specializes in hiring senior- and lead-level software developers for western product companies. We provide IT recruitment in Colombia and other Latin American countries as well as in Eastern European destinations. The Alcor team has already hired top-notch programmers for such leading tech companies as People.ai, Sift, BigCommerce, and ThredUP. 
To get perfect fits in clients' software development teams, Alcor's 40 IT recruiters make great use of the available network of Colombian candidates and workable practices to identify high-potential employees. As a result, 98% of our candidates successfully pass the probation period. We also vouch for the high-quality of our IT recruitment services, providing a 3-month warranty for each of our candidates.