With 2022 called the 'Year of Work Culture' by Forbes, the question of which approach is better inevitably arises. Culture is vital to a company's success, because even when business strategy and execution are impeccable, a badly built culture can make everything go south. 
In this article, I'll answer the question 'What is startup culture?', outline its benefits, factors and challenges. Moreover, you'll discover how to foster such an environment. And since the importance of startup culture cannot be overestimated nowadays, let's dive in!
What Is Startup Culture?
Let's define startup culture through what it encourages and discourages. 
Startup culture is a work culture that encourages unleashing creativity, communicating openly and establishing a flat hierarchy — and discourages rigidity, bureaucracy and absence of passion.
Startup Culture Value
The value of startup culture lies in its positive impact on the efficiency of your team thanks to fostering a motivating and fast-growing environment. 
Benefits of Startup Culture
Team Power
Driven by a common goal and open communication, employees are able to contribute, thus demonstrating higher motivation. And the more valued they are, the longer they will stay in your team. What is more, a supportive and empowering team culture will attract future professionals.
Adaptability
Startups are the epitome of tapping into creativity. This, along with having fewer rigid rules & employees than large corporations, allows them to do a 180 if market conditions shift, i.e. change their product, business model, target audience and more.
Room for Experiment
Nothing ventured, nothing gained. By definition, startups are about innovations and taking risks. In the flat company hierarchy, if a team member suggests a crazy idea, it may actually be implemented thanks to a certain margin for error in startups compared to well-established institutions. 
4 Key Factors of Startup Culture
Passion
The atmosphere in a startup is like no other. You're about to develop something unique and change the world for the better, so you can't wait to start and think about the idea all the time. That's why passion is one of the key factors of startup culture. 
Flexibility
Along the way to success, a startup team faces numerous obstacles, as most startup businesses pivot several times. Flexibility helps them stay afloat and move faster, leading to outstanding results. 
Transparency
Whether in hot water or riding the wave, you should keep your team informed about current matters. Open communication and flat hierarchy allow startups to see if their hypotheses failed — and change strategies to aim for growth. 
Empowerment
In a startup, any team member's idea can become the next big thing. Individuals can pitch in, wear many hats and follow different career paths. Such engagement provides invaluable experience in professional and decision-making skills. 
How to Build a Successful Startup Culture?
1. Define your values and mission
In order to build startup culture, you need to decide on the core values of your company. Startup culture values are about collaboration, empowering others, creativity, growth, transparency and mutual support. If you incorporate at least a few of these and follow them, it will become the cornerstone of desired company culture. 
For instance, the company Spotify speaks of its team as a band, dependent on each other, in sync and following the guidelines — their values. These are: innovation, sincerity, collaboration, passion, and playfulness. As Spotify argues, these values result in building trust within the team, and ensures the company stays the same at its core. 
The process of shaping your values goes deeper than just choosing fancy names, because you need to attach your own meaning to them. For Spotify, innovation is about taking risks, whereas for you it may be about changing the world.
2. Reflect your values through actions
Instilling company culture through its values is a unique path for each team. Your team members should understand what they stand for and how to apply them to their work environment.  
At the company Boundless — a free digital textbook provider from Boston — co-founders Ariel Diaz and Aaron White came up with a way to make values achievable, fun, and clear. The idea is in presenting a 'Cultural Achievement Award' to those who embodied one of the four main values — working hard, strategizing effectively, being experiment/result-oriented or a charismatic individual. Employees get the awards of The Beast, The Architect, Indiana Jones/Lara Croft and The Most Interesting Person in the World accordingly. This procedure defines missions and expectations, as well as keeps the team motivated. 
Also, the leaders themselves should practice what they preach. Since a startup environment is about transparency, everybody should be equal in following core team values. 
3. Recruit the right people
Attracting people that match your values is the linchpin of culture in startups. You should look for diverse candidates to add a fresh perspective. That is to say, your employees shouldn't just be the same but united by culture. 
With recruitment not being a core skill in a startup, you can try using ChatGPT in recruitment to enhance your HR team or lean on a hiring outsourcing agency. Provided your requirements are communicated clearly, you can achieve astonishing results. That's how it went with one of our clients — Dotmatics, a US scientific software company. They aimed at expanding to Eastern Europe and, knowing that IT outsourcing for product startups may often go wrong, started looking for tech recruitment experts to hire developers in-house — and thus reached out to Alcor. Together we hired 30 developers within a year, with most positions filled with the first candidate. Additionally, we ensured legal compliance, so eventually the company was transparent both in Europe and the US. 
The bottom line is that recruiting the right people from the start is the best way to go, so outsourcing may come in handy. After all, it's people who define the culture and not vice versa.
4. Build a close-knit team
In his interview, Nenad Milanovic, Coing Inc. CEO, shares how listening to his employees largely contributed to their success. 
At first, they worked on 8 products, but those repeatedly failed. Desperate for results, they almost gave up when one of their projects, Clockify, finally hit. With tons of time-tracking platforms on the market, they made it stand out by sharing their previous experience with other tools within the team and respecting each other's ideas. 
Later, the team members suggested Milanovic to share the tool with external teams, which brought Clockify its first 17,000 users. And by offering this high-quality service free of charge to meet customer needs, they increased the numbers further.
5. Put people and customers first
One of the leadership styles defined by Harvard Business Review is a caring style. It emphasizes collaborative and welcoming work environments where leaders focus on sincerity, teamwork and positive relationships. 
A great example of this is StackBlitz, a company that gives you a full development environment in your browser. In March 2022, StackBlitz reached a milestone of 2 million developers using their product, while having a only small team. They managed to approach the distribution of key roles in a software development team in a smart way and ideate with their customers in mind. According to their Head of Growth, working at StackBlitz is a pleasure because duties are shared based on skills rather than titles, which also means people are at the core.
Indeed, when your team is there for you, their ideas and support can help you go through highs and lows. Building such a team requires attention, trust, encouragement, smart leadership and persistence. It's a way to go but quite possible with startup company culture. 
6. Focus on feedback
Finally, when creating a tech startup culture, listen to the feedback of your colleagues. It may not be linked to the values, but communication matters if you strive to build an inclusive IT startup culture. 
Essentially, that's how it's done at Figma, a design-building web tool. One of their values is to lift each other up, i.e. help others improve their skills through honest and respectful feedback. With weekly tech talks, mentorship and encouragement, they shape their company culture at all levels of communication. 
When your employees are that much feedback-oriented, it creates a solid foundation for going deeper into transparency and empowerment, which are keys for building culture in startups. 
Startup Culture vs Corporate Culture
Harvard Business Review summarizes that cultures can be classified along two dimensions: people interactions and response to change. When speaking about startup culture vs corporate culture, the differences lie in their reaction to change. Corporate cultures thrive on stability, consistency, predictability. That's why hierarchy, seniority, and efficiency are top priorities. Startups opt for adaptability, hence they favor innovation, openness, and diversity. 
In practice, such cultural differences are reflected in responsibilities and routine. While corporate culture attributes one particular role with a defined routine, in startups, employees can assume multiple roles, contribute in alignment with their passions and have a creative mix of tasks rather than just routine.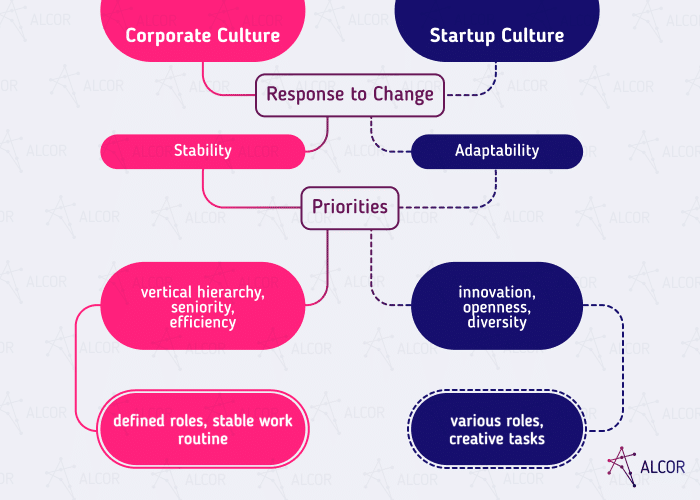 If your company is originally not a startup, but you want to foster a similar work culture, start with step one — determine your values. At the same time, while you're engaged in such deep work, you can encourage more autonomy and initiative among your employees at your meetings.
Challenges of Building Startup Culture
Running a tight ship
According to National Business Capital, 9 out of 10 startups fail due to insufficient funds. With all the financial pressure, developing a startup work culture may become a burden and seem insignificant. How to lay the foundations of your company culture in such circumstances? 
Solution: Hire managers who share your values
When Sift, a US-based fraud detection company, reached out to Alcor with an ambitious IT recruiting goal to hire 30 developers, we started by hiring the Head of R&D. Our client was looking for a cultural fit that would positively impact the rest of the team they were going to hire. We closed this position from the second CV, and then hired 30 talented programmers. The Head of R&D inspired people to work and his proactive attitude helped pass the values to the team. That's why recruiting professional managers who are your cultural match is paramount.  
Keeping the flame alive
It's time to celebrate when you've built startup culture, but it's not time to stop. In a high-pressure environment, people may lose the initial spark and get tired of contributing and collaborating even when they're great cultural fits. What should you do then?
Solution: Keep improving your existing culture & work on employee retention
There's always a way to go regarding improving communication, shaping your company's identity through values and turning your team into a community. Spotify comes to mind again: despite its growing popularity, the company isn't dizzy with success and keeps promoting its main attributes within the team. Furthermore, analyze your employee retention rates and provide your team with opportunities for growth and financial perks, as these are the main factors that influence career decisions. 
Facing crunch time in recruitment
In any startup, there comes a time to scale. And you might need to grow both your team and business model fast. However, how can you recruit many professionals quickly? 
Solution: Consider engaging external partners
If you have ambitious goals and want to expand to other markets without disrupting your current culture, leverage the expertise of staffing agencies, especially if offshoring is in your strategy. As I mentioned before, we at Alcor hired 30 developers in just a year for Sift, and all of them fit into the team perfectly. We also launched a dedicated offshore development center for our client, which was a further step to streamline hiring. All in all, external recruiting partners can give you a hand should you need to recruit at breakneck speed. 
Final Thoughts
In conclusion, startup culture is worth implementing thanks to the results it brings, namely increased motivation and productivity. However, it may be challenging to change your corporate culture if your company is large or its rules have remained unchanged for too long. No matter what road you take, we're here to support you with excellent hires that will match your culture.
Alcor is a leading IT recruitment company in Eastern Europe. Our recruiters pay special attention to the culture fit, so you'll get highly skilled candidates who share the same values with your team. We also provide RPO services, employer branding and payroll & legal support. Our guarantee is 20+ developers in 3 months, and if we don't meet the deadlines, we hire the rest at no charge to you!