70% of major transformation projects within companies fail when decision-makers lack the capabilities to drive transformation, neglect necessary skills, and most importantly, fail to allocate dedicated personnel to the task. But how can companies ensure high-quality product development in these times of talent shortage and economic crises? When it comes to developing a new product, my answer would be an integrated team model. 
In this article, I'll explain about setting up an integrated team in the IT sphere. We'll cover what it is, when you might need it, and how it can contribute to your company's success. By the end of this piece, you'll know all about integrating developers and attracting talent. Without further ado, let's dive in!
What Is an Integrated Team in the IT Industry?
An integrated development team is a group of software developers with complementary tech skills that are joined to the client's product development team. In this way, these specialists fill gaps in the client's expertise, contributing to productivity and the final outcome. 
Key Roles and Responsibilities of an Integrated Team
A classic integrated IT team should be managed by a tech lead specialist. 
As such, the tech lead in an integrated team is responsible for the tech & project management part, namely:
overseeing integrated developers and adjusting their workload according to company goals;
participating in development on demand by providing feedback; 
monitoring performance to align it with goals and budget.
Depending on the particular product and its development stages, you may need various roles in a software development team. Here are the top 4 most sought-out specialists in the US and beyond, based on key IT trends for 2023:
1. Full-Stack Developers
These software engineers focus on both the front- and back-end, thus developing servers and managing user interactions on a website. They may also ensure cross-platform optimization, check application or website responsiveness, and troubleshoot customer queries through programming. 
2. AI/ML Engineers
AI/ML developers design software that automates artificial intelligence and machine learning models in cooperation with a data science team. This process includes sourcing and preparing data and designing, training, and deploying models. Such complex tasks require good knowledge of ML algorithms and, among Python, Java and C++, more specific programming languages — i.e. Lisp, R, Huskell.  
3. VR/AR Developers
These programmers create AR/VR products with their unique skillset, based on Python, Java, Rust and C++, as well as 3D modelling and computer vision. Usually, they assess and debug AR/VR prototypes, closely cooperating with QA specialists and other engineers.
4. DevOps Engineers
A DevOps software developer is in charge of enhancing and automating software development within a company. They build functional systems, shorten software delivery cycles, uncover production issues and solve them. In more detail, their job involves analyzing errors, deploying updates, building tools to tackle production errors, and implementing requested integrations.
Integrated Team: How Does It Work in IT Businesses?
The very model of integrated product development allows you to, first of all, diversify your team by filling gaps in technical needs with the vendor's developers. Secondly, you can change the experts in this additional team while developing your product, as the model allows for quick replacements. Thus, by integrating other programmers you'll make your tech workforce flexible and up-to-date. 
Offers You Access to Vendor Resources
Having a great company & vendor relationship gives you access to their talent resources, so the pool of software engineers to choose from will expand. What's more, bringing in some developers for a few projects instead of hiring full-time or contract employees is another perk of IT team integration, available among other vendor services. 
Enhances Your Internal Expertise
An integrated product team helps bring your team collaboration to another level, which points out its difference from IT outsourcing. Most importantly, you can learn from their best practices. That is to say, while developers from your team and the integrated one cooperate, their diverse expertise merges into a unique set of skills for your business, thus your in-house developers will enhance both their hard and soft skills.
Ensures Excellent Product Understanding
One more benefit of joining forces with a vendor is the way they can help in introducing the product and onboarding new team members. Thanks to such cooperation and streamlined communication, integrating a team will be smooth and efficient and you can rest assured that these programmers will have a great understanding of your product. 
Balances the Developers' Workload
Hiring more programmers to blend in with your in-house team helps to alleviate their workload big time. Given the peaks of tasks common for software development, integrated teaming can balance it all out. How does it work? For instance, your in-house team stays laser-focused on strategic tasks, while the integrated developers undertake automation, systems integration and other tasks. Such an organizational structure is key to maintaining a healthy workload coupled with high team performance. 
Improves Client-Team Communication
Unlike similar recruitment approaches, e.g. IT staff augmentation vs IT outsourcing models, software team integration ensures direct communication between you and your team. That means, you don't need an additional manager and can involve your integrated programmers in goal setting, process mapping and project planning, as well as communicate regarding performance metrics. Efficient collaboration between your in-house team and integrated specialists can be further achieved through team building. Such direct control helps avoid miscommunication and makes it easier to hand over product development.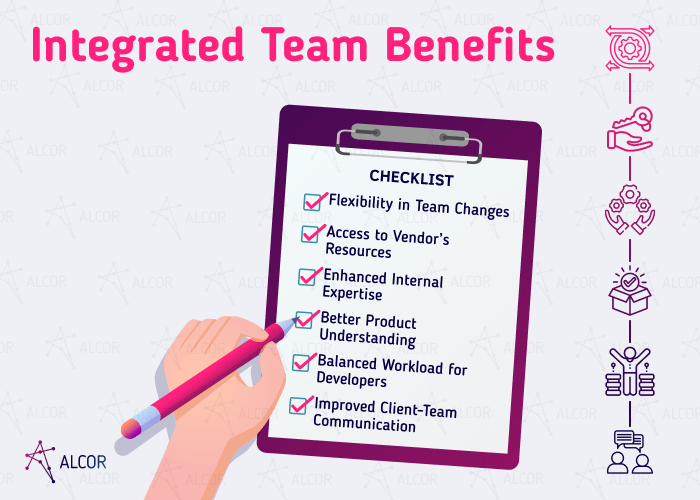 Who Really Needs an Integrated Team?
Although the benefits of product team integration are undeniable, how to understand if you actually need it? 
Let's begin with when you don't. I wouldn't recommend relying on an integrated project team when your company doesn't require a large team. Similar small and standalone projects are completed best with a skilled in-house team. If you feel daunted by setting up even a small team on your own, a professional IT recruitment firm can help overcome this hurdle. 
The types of businesses that may reap the benefits from team integration are startups and IT product companies. What they have in common is product launches. In a startup, the team is dealing with a never-ending flow of tasks, some of which are unpredictable, so integrating more specialists helps manage the constant influx. This model will also ease up launches and significant projects for already well-established product companies. Such type of workplace collaboration is mutually beneficial for quality, pricing, and flexibility. How? Just because your vendor will be able to add in-demand specialists any time, tackling personnel change management stress. However, if integrating a team is your preferred solution, you should also be aware of its risks, which we'll discuss below. 
Challenges in Using an Integrated Development Team Model
Flawed Team Management 
At times, integrated teams don't work for startups and tech product businesses. For instance, some of them mention that problems in such a team arise not only due to the lack of tech skills, but also because of faulty management. The vendor is the official employer, unlike you, so managing a collaboration team is bound to be tricky. To complicate matters further, your and the vendor's management style can be like chalk and cheese. All that may eventually result in misunderstanding and poor performance. 
Solution: Be thorough in evaluating your current needs. 
Assess your management, budgets, product requirements. If you feel challenged by integrating more professionals into your team, consider assembling it with a reliable IT recruitment & operational services vendor. 
Finding the Right Vendor
Your vendor is your most trusted companion in collaboration work. What matters most here is that your partner is skilled not only in recruitment, but also in operational management, i.e. employment, payroll, legal compliance, etc. Lack of this knowledge can stall the whole process or, even worse, entail legal consequences. 
Solution: Choose not just a vendor, but a strategic partner. 
Your reliable vendor will not only work with implementation, but also be also engaged in problem solving, necessary risk analysis and strategic planning. They should be open to sharing best practices and processes with you, methodical in updating everyone on progress, and well-versed in project management. At the same time, look for solid expertise. For instance, at Alcor we "wow" clients with an 80% CV pass rate and 98% of candidates successfully finishing the probation period. Your preferred vendor should have some metrics to prove their efficacy, too. 
One of our clients, a French cryptocurrency software product company called Ledger, was in need for a team for the next stage of their product. As such, it needed a lot of testing, so the company decided to hire 20 QA engineers and turned to Alcor for assistance. Their management team was in Paris, and a new development department in Eastern Europe certainly needed a lead. Alcor's 40 expert recruiters managed to fill the position of a QA Lead in just 2 weeks. All this time, we communicated closely with our client to ensure all their requirements were met. Additionally, we provided all reports & invoices along with managing legal compliance. As you can see, an integrated team is not the only option. 
Estimating Costs
Flexibility of the integrated team model in question is a great asset. However, one of the main pitfalls is that you can't estimate final costs. It makes sense, because if you keep adding and replacing specialists along your product development process, there's no fixed rate you can project beforehand. Moreover, some integrated team vendors factor in onboarding costs, which results in even higher fees. 
Solution: Explore everything there is on the market. 
That is, before finally settling for an integrated software development team.
One more model is a dedicated team. Let's compare the two of them below. 
Integrated Team vs Dedicated Team
A dedicated development team is a team of tech professionals hired to enhance the engineering team. It works best for companies struggling to find talent or striving for expansion on the market. In this model, you collaborate with an IT recruitment provider. 
It sounds similar to an integrated team, doesn't it? Let's see what differences they have: 
In the integrated team model, you as a client only pay a fee to your vendor. However, the risks of not being able to estimate your final budgets must be reckoned with, so it's a double-edged sword. Since you won't be able to calculate your expenses (unfortunately, a software team cost calculator won't help here) you face the risk of overspending on talent. 
If you opt for a dedicated team, you'll have to cover recruitment fees, salaries and taxes, which you can minimize by choosing a more lucrative location for your new team. For example, you'll pay much lower taxes and salaries if you hire a dedicated development team in Eastern Europe. In addition to the cost benefits mentioned, you'll certainly know the final fees. 
A dedicated team is aimed at the long-term perspective. By cooperating with your company on multiple projects, such developers are more likely to fit into your corporate culture, in contrast to an integrated team. While you can be flexible with it, changing developers on a regular basis and the project-centered nature of such collaboration may not always be as effective as needed. 
Hiring a dedicated team also doesn't take long if your recruitment provider performs well. We at Alcor hired a full-stack development team for GoTransverse, a cloud-based software company, in just 6 weeks. On top of that, our recruiters headhunted a top-notch product manager. In other words, you'll get a dedicated team fast and it will stay with you for the long run. 
Following the distinction between short- and long-term collaboration, a dedicated team leads to higher motivation and company loyalty. It's only fair, since you will be investing in your dedicated developers during your cooperation, thus offering more opportunities for their professional development. For an integrated team, your project will be only one of many.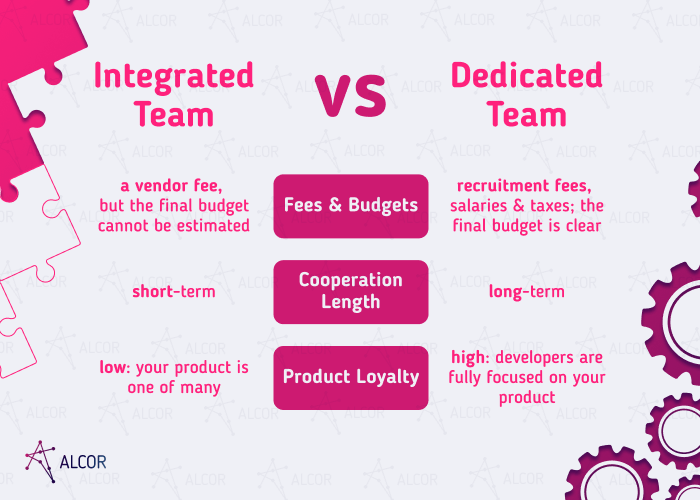 Final Thoughts
In a nutshell, an integrated team is a way to add more programmers to your development process by cooperating with a vendor. This model is flexible, beneficial for client-team communication, and efficient thanks to constant tech expertise exchange. Despite these benefits, you should think twice regarding its challenges, such as properly managing an integrated crew, choosing a reliable vendor and estimating overall costs. 
We're Alcor, a renowned IT recruitment provider in Poland, Romania and Bulgaria. Our talent pool numbers more than 600,000 experienced developers. In addition, our client feedback proves we go the extra mile in terms of service range & quality, because, once again, highlighting that we "rose to the challenge and surpassed expectations". 
Leave us a message if you want to find out more!