Business process outsourcing of IT services is an effective way to cut finances. You delegate some (or all) of your business activities to providers that have special expertise. But many business leaders are afraid of losing control over the tasks that they outsource, plus don't believe that overseas BPO vendors can deliver high-quality results on time.
In this article, you'll find out why that prognosis is incorrect and what a smart tech business manager must consider about BPO & IT services.
What is Business Process Outsourcing (BPO)?
Business process outsourcing services means entrusting BPO providers with some/all operations of your company. You may outsource the talent acquisition process, legal, accounting, employer branding, software development, marketing, and other business functions.
Many companies prefer BPO since it can be both cheaper and more efficient than investing in extending the key inside expertise that performs a supportive role. You may also decide to delegate a certain business task when you realize that another vendor can perform it better than your in-house team.
Yet when you're trying to outsource several non-core operations to different providers, you're likely to stress out as you work with a huge number of documents and requirements. So, what if I told you that you can do everything in one place? BPO companies like Alcor are happy to help you manage all the operational work that you need. Just stay focused on your product – we'll take care of everything else!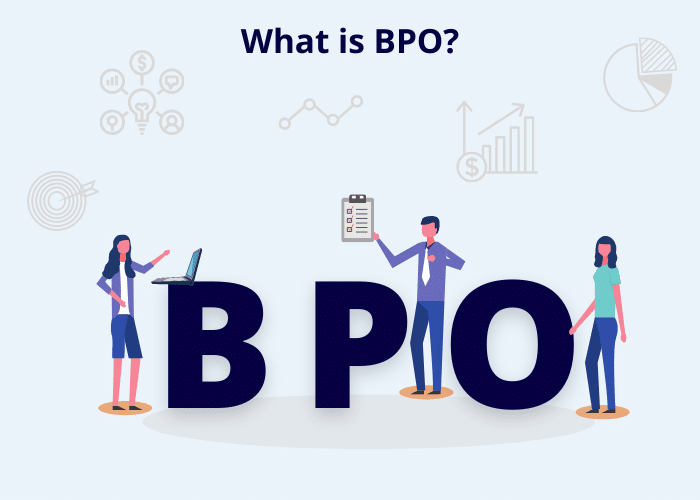 Types of BPO Every CTO Must Be Aware of
Offshoring, nearshoring, and onshoring
Offshoring, nearshoring, and onshoring are the geographical types of BPO that puzzle business leaders when they want to choose where to outsource.
Offshoring is when you outsource your business functions to distant countries. For example, if you're a US-based tech company that outsources talent acquisition to Ukraine.
Nearshoring presupposes outsourcing some company operations to neighboring countries. It's like having a business in America and working with Canadian lawyers.
Onshoring means cooperating with BPO providers from your country.
Back-office vs. front-office
Back-office operations, also known as internal operations, include recruitment, accounting, auditing, HR management, administrative tasks, employer branding, and other functions that do not include working with clients.
Front-office operations are sales, marketing, customer support, software development, and other activities that impact your enterprise revenue goals. These operations are best to deal with on your own to avoid data leakages, IP rights violations, and related risks.
Horizontal vs. vertical
Horizontal outsourcing means that a BPO provider specializes in a certain task. For example, they carry out the recruitment of talents. Their clients may be IT companies, digital agencies, banks, travel agencies, construction companies, and clients from other industries.
In the case of vertical BPO, you deal with a provider that performs different functions for one industry. For example, if your company is a big player in the IT product sector, you might come to a BPO provider and get talent recruitment, payroll outsourcing, bookkeeping administration, real estate services, tax planning solutions, compliance support, and other additional services in one place.
Benefits of BPO in IT
– Cost-efficiency
With BPO services, not only is it easy to deal with operations like IT recruitment, accounting, and HR management but also way cheaper. You save on BPO products as you outsource them to vendors with lower prices.
Outsourcing business processes to developing countries, i.e., countries with cheaper labor markets, can save businesses tens of millions of dollars. That's because salaries and taxes are much lower there than in the U.S.
– Faster delivery
You can delegate administrative business processes that other providers might do better than you. As a result, you have more time to focus on your core product improvement, work more with developers, boost resources, and receive results in a shorter timeframe.
If your BPO provider has a different time zone than you do, enjoy the benefit of having work done round the clock. This way you know your onsite team works during the day, while your offsite team performs the tasks at night.
– Access to global expert markets
Now, you understand that IT BPO for business could make your life easier and save you tons of money. If you need IT recruiting services in an offshoring country, just delegate this to your BPO provider and establish a team of engineers within a month or so. In this way, you get the chance to work with leading experts in the field regardless of their location.
For instance, Ukraine is considered to be the top outsourcing destination by Gartner. Besides, it's noted as the 5th European country by software development skills, according to the SkillValue report. And the most talented students in Ukraine rank #4 in International Math Olympiads. So the only question is, "What are you waiting for?"
– Economy growth
When you're setting up your development hub in regions like Eastern Europe, you need to manage procurements. You may use American equipment, thus boosting sales of USA-based tech companies – so you not only generate more revenue but facilitate the economy of your home country.
On the other hand, you also create more workplaces in the country of your BPO vendor. Their local engineers land higher-paying jobs and improve their living standards.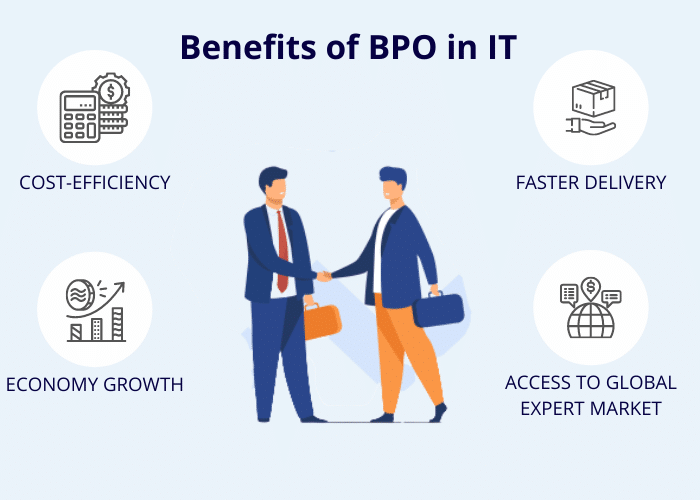 When Does It Make Sense to Use BPO and When Not
BPO works well if you're up for saving considerable funds and enhancing your product at the same time.
It makes sense to outsource non-core business activities, i.e., business processes that don't directly affect your revenue generation. They include such operational processes as legal support, recruitment of IT talents, payroll, accounting, advertising, customer support, administrative tasks, and others.
What you must leave for yourself, though, is core business activities such as software development, sales, and marketing. Since these business units bring revenue and influence your business directly, you should be highly interested in keeping them in-house.
I suggest that you start BPO with one operation at a time. For example, ask your overseas provider to source and hire software engineers for your company as a sample BPO. You'll first see that everything goes smoothly, then can consider other operations as well.
BPO: Process and Main Stages
Usually, companies apply business process outsourcing of IT services individually. They may delegate accounting, branding campaigns, or software development. The latter is always the hardest thing to outsource since you want to keep full control of your end product.
Losing control is what will never happen if you choose to set up your own R&D center. This is because a dedicated offshore team becomes officially employed by your company and works on your tech product (engineering, design, QA, etc.). As a result, you no longer just outsource these activities but appoint them to your overseas team.
So, what are the main stages of adopting an IT BPO model in an offshoring location?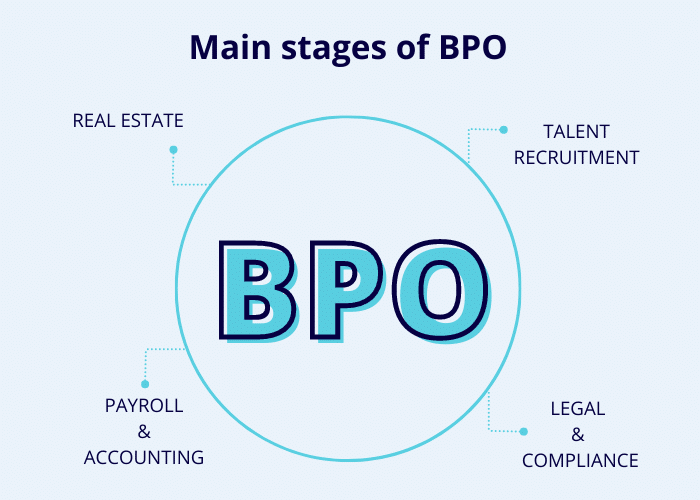 1. Talent recruitment
The right people are often a major asset for smart business owners. When you nurture the relationship with your employees and encourage them to adopt your company values, you'll always get high-quality results. The top IT researchers and recruiters of your BPO provider look for the most professional developers for your company.
2. Real estate services
The second stage that is also a part of IT business process outsourcing for business is real estate services. Your loyal BPO provider will find you an office, do all the renovations/decorations, manage procurements, negotiate with the landlord, and perform other support you'll need in your office. Or your vendor can set up some offices for your developers, as well as an IT infrastructure.
3. Legal support
You need to make sure that you and your foreign colleagues abide by local laws and pay taxes. Experienced lawyers will help you with the employment agreements and NDAs for your offshore development team, as well as negotiate the most favorable terms of a lease agreement and advise you on taxation procedures.
4. Payroll & accounting services
Once you have a team, it's time to pay salaries and come up with a good financial model to allocate your funds properly. To do this, enable BPO of IT payroll & accounting from a reliable provider.
Other additional IT BPO services are employer branding, business travel support, and administrative assistance. Some tech companies often ignore the importance of employer branding but it's vital nowadays. If your company is unfamiliar with local developers, you may end up receiving offer rejections. This is what Tonic Health had been going through until they started their employer branding campaign with the help of Alcor.
With talent recruitment, real estate services, legal support, payroll & accounting, and additional services like employer branding, you'll get prepared to start your own R&D office in overseas locations like Eastern Europe. This is how you keep software development to yourself and leave all back-office functions to your BPO process provider.
The Brightest Business Process Outsourcing Examples
In my experience, every company that went for BPO won out in the end. Some of them succeeded in sales, others in profits, yet others in international recognition and influence. The most vivid business process outsourcing examples in my practice were People.ai and BigCommerce.
People.ai is a software product company that automates and optimizes sales processes in B2B business through their AI-powered Revenue Operations & Intelligence platform. They needed an engineering team overseas and decided to partially outsource this process to Eastern Europe because of the large talent pool, as well as lower wages and taxes.
Because they worked with different providers, deadlines kept being postponed and the results were poor. Thus, People.ai decided to partner up with Alcor, and thereupon nearly 25 professional software engineers joined their team. As well, in only 4 weeks they also received an equipped office in Eastern Europe – fully backed up by accounting and legal BPO experts.
BigCommerce is a globally recognized e-commerce company and leading online trade solutions provider in the USA that recently went public. At some point, the company decided it was time to create its own R&D office in Eastern Europe and outsourced operational management for this.
It took Alcor 1 month to establish such a place for BigCommerce in Eastern Europe and attune all operations to their needs. In 6 months, our recruiting specialists hired more than 30 experts for the BigCommerce team. Keeping engineering expertise in-house, the company could enjoy all the benefits of outsourcing back-office functions in an offshoring country.
Final Thoughts
BPO IT services can save you both energy and money. If you correctly establish your offshore R&D center and outsource business functions such as recruitment, payroll, accounting, real estate, legal support, and others, you will:
– keep offshore software development in-house;
– spend less money on back-office support;
– get qualified operational services;
– deliver your tech product faster;
– keep your IP rights secured.
To become as successful while adopting BPO in IT as People.ai and BigCommerce, choose a vendor that has IT business process outsourcing experience, provides you with guarantees and performs all the non-core operations in your niche. Don't worry, Alcor has got you covered!