In case you run a large corporation, it can get pretty complicated overseeing all strategic and profit-driving activities. Therefore, CEOs need to hire a plethora of managers just to stay updated on current matters. But wouldn't it be easier to have only one, or maybe just a handful of applications that automate, streamline, and analyze all this data? 
Such programs are called enterprise web applications, but they require specific programming skills, time, and funds to be created. So, if you want to know for sure about how to develop enterprise-level software efficiently and effectively, this article is for you! 
What is Enterprise Web Development? 
Enterprise web application development is the process of programming an application for a large-scale business that is aimed at in-house usage and helps to be in control over all operational functions. This software is different from off-the-shelf web technologies because it's designed for the needs of a specific company, not its clients. 
Enterprise web custom solutions can be corporate learning management systems (LMS), human resource management platforms (HRM), enterprise resource planning apps (ERP), customer relationship management software (CRM), business continuity planning programs (BCP), and many others.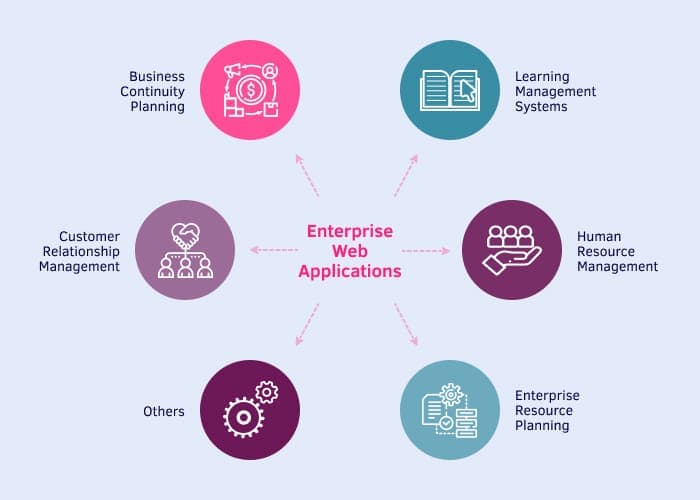 Enterprise Web App Development Costs Estimation 
It's hard to say how much you will have to invest in enterprise app development without taking into account the size of your corporation, your needs, and desirable functionality. In addition to that, you need to choose a contracting model to hire developers: in-house, outsourcing, outstaffing, or offshoring, and decide on the exact number of programmers needed for the project. 
To find out the exact price of this kind of project, let's learn about the three types of features that you can obtain from enterprise software, a traditional team structure needed to develop and maintain such an app, their salaries, timeframes, and the main stages of enterprise app like the ERP software development process. 
3 Different Types of Enterprise Application Features 
Enterprise software differs from traditional apps because it must have certain features that help the whole team be informed of all internal operations.  
There are three types of such specifications: 
1. Basic features
– Cloud-based software 
Enterprise web development usually presupposes building apps using cloud computing, because it doesn't restrict you to a certain location. It means that no matter where you or your team members are or what kind of device they use, they can easily access your corporate app.  
Beyond that, a cloud-based management system allows for organizational scalability, so you can hire developers from distant locations and manage them just like your on-premises employees. 
– Automation of administration processes 
With enterprise website solutions, corporations forget about manual entry and sorting of data. The system does this for them. That's why your managers will no longer have to update the client information, payment details, accounting data, and other useful information. Moreover, such business applications automatically upload and streamline your Excel sheets, so that you don't lose the previous data. 
– App design adaptability 
Intuitive design is one of the advantages of all enterprise apps that let your team members use the software without problems. However, these enterprise-level applications must also be adaptive in terms of adjustments to make this corporate management system integration barrier-free.  
2. Optimal features 
– Security of corporate data 
Custom enterprise web development not only offers automated and adaptable data entry and organization but also safekeeping and exchange of this information. Protective measures of this software cover the defense of your sensitive data against malware, cyberattacks, ransomware, and other malicious activities. 
– Recovery of information 
Another essential feature of flawless enterprise web application performance is the ability to restore your data in case of an unexpected system shutdown or other circumstances. As a business leader, you can rest assured that your data will not be lost, damaged, or deleted forever. 
– Mobile compatibility 
How to develop an enterprise web application and make it convenient for the whole team? You should also create a version of this application for smartphones. This way your developers and other employees will be able to enter or obtain the needed information anytime and anywhere. 
3. Top features 
– Analytical tools 
It's great to have analytics experts in place who report to you about the latest operational tendencies and help you make rational business decisions. Nevertheless, it's more reliable to have a smart application that does the same thing using embedded data analytics – and people who properly interpret this data and provide important insights. 
– Digital payments support 
To simplify payments processing and accounting, some enterprise web development services incorporate online payment methods. They enable you or your company managers to make payments at any time and track your expenses in one place. You won't even have to make any entries yourself since your app will do it for you. 
– Social engagement functionality 
Enterprise web application engineering can foster more social interactions among your developers or clients. This will help them be in touch and even find common ground, which creates trust. And trust improves your chances of striking a profitable deal with your customers. 
What Team is Needed to Build an Enterprise Web Application 
Before starting to look for developers and other team members, you should choose a programming language and framework to build a web application for an enterprise.
Once you've done this, it's essential to hire a Project Manager or Team Lead and a Local Manager who will be able to give correct estimates for this task, oversee the development process, and regularly report to you.
Furthermore, you'll need senior front-end and back-end developers to create an enterprise web application according to the task of your UI/UX designer. Once you've hired the core team, it will be easier to recruit other team members like middle or junior engineers.
When the technical part of the app is ready, you should appoint a seasoned QA engineer (manual/automation) to run the necessary tests, identify possible bugs, and make sure your application meets task requirements. Many enterprise software teams use the services of QA testers at each development stage of the project because it's faster to fix bugs step-by-step rather than doing this before production.
Average Web App Development Rates in Different Countries 
If you haven't decided on the location to delegate enterprise software development, I suggest you learn about developer salaries in different IT countries, such as the USA, Germany, Great Britain, and Ukraine.
At the same time, you need to be aware of taxes that you will have to pay for your programmers. For example, if you opt for IT outsourcing to Ukraine, you will save on taxes because developers here can register as private entrepreneurs (independent contractors) and pay only 5% of income tax to work legally.
On the example of the Web Application Developer job, I've compiled a chart with gross salaries in San Francisco, Berlin, London, and Kyiv: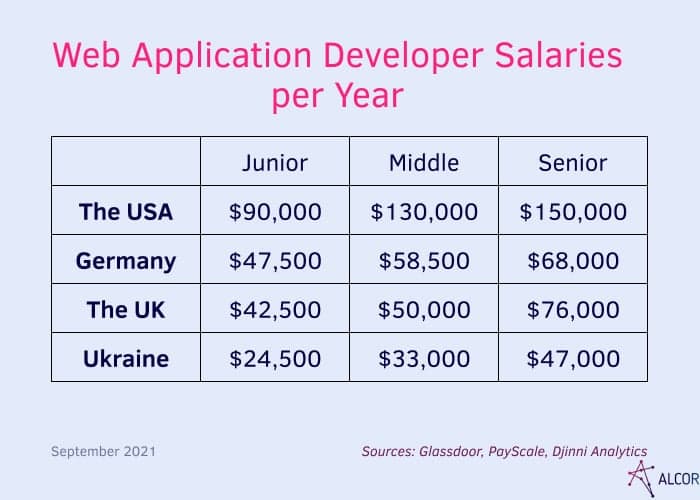 However, I recommend checking the wages of other specialists as well. For example, UX developer salary ranges from $7,000 to $9,000 per month in North America, while in Eastern Europe they earn $3,000-4,000 monthly.
Enterprise Web App Development Process  
As a rule, enterprise web application development consists of the following steps:
1) Recruitment of developers;
2) Onboarding;
3) Project estimates planning;
4) Design creation;
5) Web app development;
6) Software quality assurance;
7) Code corrections;
8) Production.
The number of these stages depends on the experience of your team and may change in the development process.
How Long Enterprise Web Application Development Takes 
To calculate the time that your team needs to spend on the application for your enterprise, you need to find out the time spent on each development stage.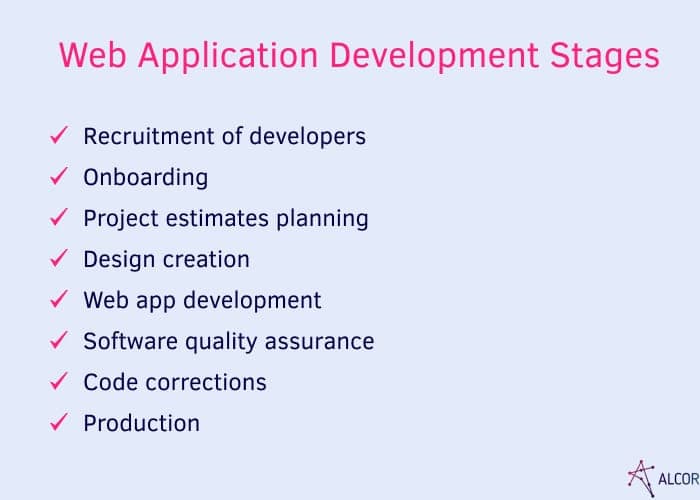 For instance, many corporations admit that it's easier to hire a team of IT specialists via a recruitment provider who can find you from 5 professionals in 1 month and up to 100 developers in 12 months. Then you need to introduce these developers to your existing team and engage them in your corporate mission, values, goals, and tasks. Usually, employers give around 3 months for the trial period to evaluate the overall performance of newcomers and complete their onboarding and training process.
During the probation period, your new team of coders can start designing the interface of your software and developing software for your company, then you may either reduce or increase the number of these programmers as needed. This requires extra time since both the firing and hiring processes can be cumbersome.
Depending on your needs, you may have different project estimates – from 3 months to 1 year, so at this point, you'll certainly need to consult with your project manager. The final stages of app creation are unlikely to take too much time if you have tested software after the implementation of every feature. When the application is ready, all you need to do is initiate its production.
Overall Estimation of an Enterprise Web App Development Process 
To create high-performance error-free software for your internal operations, you should hire a seasoned development team that typically comprises a team lead/project manager, front-end and back-end engineers, UI/UX designer, and QA tester. The composition of a web software team may change depending on the customer's requirements.
However, what remains constant are basic, optimal, and top features of this software, development stages of such apps, and the need to choose a location for programming that determines the final project price and terms.
Support and Maintenance Costs 
In order to come up with the exact price of your company's web software, you need to choose a country where you're going to delegate development. For example, if you decide to develop such a product in Eastern European countries, you will benefit from low salaries, taxes, and other operational costs.
In terms of salaries, a middle React.js Front-End Developer in Eastern Europe with an upper intermediate level of English makes $43,000 per year on average. At the same time, a middle annual UX Designer salary here is $42,000 in general, while the middle indie game developer salary is $27,000.
Other costs, such as office rent, procurements, insurance, or other employee benefits/bonuses are calculated separately since they depend on the company. However, if you want to know the final sum for web development, there are pricing calculators that compose a price according to the number of developers, their skills, and additional services that you'll need to ensure the legality of your operations.
Consider Alcor BPO if You Need a Trusted Enterprise Software Development Partner 
You can develop an enterprise web app by hiring a full or part-time in-house team of coders, outsourcing this process to some enterprise web application development company, or delegating this task to an offshore R&D team.
The first option is time-consuming and expensive because you will need a lot of time and money to recruit, onboard, and train your on-premises developers. Not to mention that you will be restricted to your city, plus it would be complicated to adjust this team.
The second option presupposes collaboration with a provider that might charge hidden costs and have vague pricing, so you may spend considerable resources to get the job done. You will need to pay for the training of outsourced developers and share confidential information with them. However, since they treat you like another project on their list and don't have any ownership over the product, you're likely to eventually expose your IP and receive code quality below expectations.
Our BPO company Alcor has learned all the downsides of cooperation with in-house and outsourced web app developers and has come up with an alternative solution – your software research and development center in Eastern Europe. This is a facility that can either be established in a physical location or be 100% remote.
The main value that you receive from enterprise web programming via our model is that only you will have access to core development, not us. Alcor will just hire experienced Polish developers, Romanian programmers, and coders from the rest of Eastern Europe lease a perfect office for your team or set up the proper IT infrastructure for them, take care of their salaries, taxes, and other financial and accounting matters, and make sure your operations fully comply with local laws.
You will be able to focus on your core business, completely control your cash flow, participate in the recruitment process, track down all office arrangements, and adopt your corporate governance in your Eastern European R&D center, while we manage everything else!
We have already helped many foreign IT product companies to create an offshore development center in Eastern Europe. For example, People.ai is one of such companies based in the United States that develops a smart AI-based platform for B2B sales optimization. Before we started our cooperation, they tried to set up their development office with several vendors, but it ended up in delayed deadlines and extra fees for services.
After we signed a contract, our lawyers offered the most reliable legal model for doing business in Eastern Europe. Real estate managers at Alcor quickly found the perfect office for our client which was fully set up in just 1 month! Apart from that, our IT researchers and recruiters hired more than 25 developers for People.ai, at the same time collaborating with our financial department regarding the management of operational costs.
If the brand of our client is unknown to local software engineers and they reject offers, our BPO services company will address this problem by conducting an employer branding campaign. This activity includes creating your company profile in the local media and our website to tell your company story and post relevant vacancies. What is more, our marketing experts will create PR articles and other promotional materials for social media and help you incorporate your values and internal culture in your Eastern European unit.
Final Thoughts 
Your company's activities, namely administrative functions, may be redundant and take a lot of your time as a CEO or CTO. To change this, you may consider creating software that can handle the day-to-day tasks of your whole corporation. Such a program or application might even offer features to automate everything from databases maintenance to payments processing, plus save you millions of dollars on traditional management positions.
Enterprise web apps are exactly what you need to free up your valuable time, save funds, and receive better efficiency on business. You will need an expert tech team to develop such software, but how to do it properly? If you're up for fast hiring and long-term cooperation but don't want to recruit them yourself, entrust a reliable provider that specializes in IT recruitment, legal compliance, accounting support, and other functions for companies like yours with this task.