Companies have lately been pushed to rethink their team structure, which has taken the concept of remote work to an entirely new level. The pandemic made everyone realize that office tasks don't have to be physically done in the office. Thus, more and more business leaders now perceive a distributed workforce as the new norm and enjoy its benefits. According to Gartner, by 2023 75% of companies that today use a distributed team model will increase revenue 25% faster than competitors.
I guess nobody wants to be left behind in the dust, but it's not that easy to decide whether this approach is indeed a good one for your business. In this article, I will give a definition of globally distributed teams and tell you about their advantages, disadvantages, and many more. Let's begin!
What the Distributed Team Model is
and How It's Different from Other Team Extension Models
A distributed team model stands for a group of coworkers who are located physically away from each other and communicate through virtual means. They may work either from home or co-working areas, within one country or many, but the main point is that they don't share an office space.
Example: A tech company that provides a cloud-based workplace management platform recently reached out to us. They have development centers in the United States, Australia, Romania, China and Croatia. In Ukraine the company doesn't rent actual office premises, so they requested us to assemble a fully distributed team of software developers. We successfully hired 11 specialists, including QAs, Front-Ends, DevOps, UX engineers, and others. They work from Kyiv, Kharkiv and other Ukrainian cities, but communicate frequently with team leaders in the U.S. The client enjoys fully remote work, as our IT managers provide all necessary equipment according to the developers' wish lists.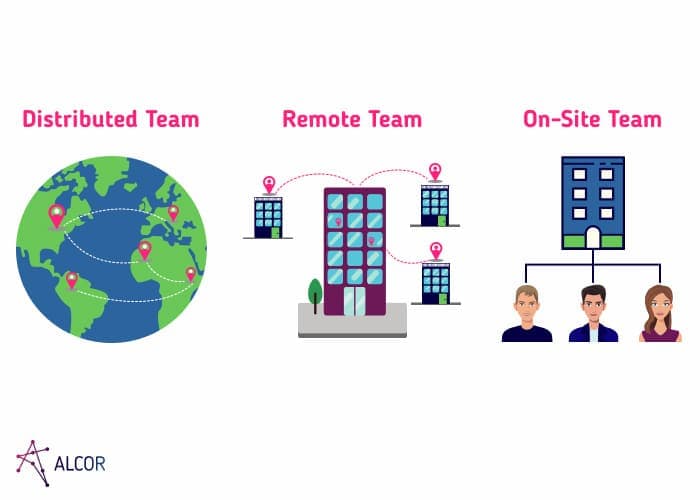 Contrary to that, members of the on-site team work together in the same office space. Because of that, their daily routine includes frequent offline meetings and those "good old coffee breaks" with colleagues.
Example: BigCommerce is an IT product company that chose an on-site model for doing business in Ukraine. The client decided to grow its team at a rapid pace to bring their e-commerce platform to the next level. Alcor managed to find an office in Kyiv in the shortest time and hired over 30 specialists in just half a year. With our help, BigCommerce received a fully backed-up R&D center for its entire software development team.
Finally, a remote team is somewhere in between the distributed and on-site team models. It implies both the presence of a main office or headquarters and a group of employees who work from distant locations. In other words, there's a mixture of office-based colleagues and remote coworkers.
Example: To illustrate that, let's have a look at the People.ai case. It's a tech company from the United States that owns a platform for B2B sales acceleration based on machine learning technology. The decision to expand their engineering team abroad brought them to Alcor. We assisted the company in this task and took care of every minor step in setting up a remote IT office in Kyiv with a team of over 25 programmers. Our BPO company ensured complete operational comfort for doing business and expansion. Today, People.ai keeps growing and employs over 40 Ukrainian developers. Due to pandemic restrictions, some R&D team members work remotely while others are frequent office visitors. In this sense, we can say that the company sticks to a remote team model.
As you can see, Alcor offers a turnkey solution for starting offshore software development in Ukraine. We can either find outstanding office premises for your team or establish remote workspaces with custom facilities. We will do everything possible to find a model that fits your business in terms of efficiency, as well as pricing.
Why the Distributed IT Team Model is on the Rise
Benefits of Distributed Teams
No doubt, distributed IT teams offer a bunch of advantages and are becoming extremely popular today. First of all, this model enables access to foreign talent pools. Thanks to that, you can significantly ease the recruitment process by selecting rare engineering talents overseas. For instance, countries of Eastern Europe offer an abundance of software developers with broad experience and deep technical knowledge. Therefore, it became a popular offshoring destination among Western companies.
This work setup also provides a decent amount of flexibility for employees in addition to extra hours per day that they would normally spend on commuting. I've noticed that a flexible working schedule is now on top of most developers' expectations. What is more, it's good for employee satisfaction and reduces turnover. For these reasons, the model of distributed software teams could help you hire in a competitive market and retain top talents.
And due to the increased time people have in their day, they often show a higher productivity level. There are fewer distractions and unproductive conversations, so more time to focus on tasks and get creative.
Challenges that Distributed Teams Face
An obvious drawback of distributed tech teams is the lack of in-person interaction. For sure, it's much easier to keep in touch with colleagues through casual chats in the office and small talks in hallways. Because of the absence of face-to-face communication, misunderstandings could arise and impact the projects of virtual teams. Therefore, they should make an extra effort to ensure smooth interaction.
However, there could be other hardships – cultural differences in distributed teams and time zone mismatches. These aspects might complicate real-time communication. Thus, you ought to apply special project management techniques to succeed. Keep reading and you'll find out how to turn these distributed team challenges into competitive advantages.
Has COVID-2019 Influenced the Effectiveness of Distributed Teams?
It's no wonder that imposed social restrictions related to the COVID-19 pandemic have given a rise to geographically distributed teams. Millions of companies from small startups to huge enterprises were forced to become more agile and review their way of doing business. Soon they realized that as all of us communicate via Google, Zoom, or Slack, the actual location of an employee doesn't make much difference. In other words, the pandemic boosted offshore software development and created an ideal environment for distributed development teams.
Does a Distributed IT Team Model Fit Your Business?
1. You need to access global talent
The model of distributed software development teams fits those businesses which face a lack of local specialists. Companies get the chance to hire professionals with rare IT skills from all over the world. Cooperation with distributed contractors could also be the first step to global expansion and reaching new markets.
Today more and more tech enterprises based in the USA decide to step back from the overheated American market and get IT services from abroad. For instance, IT outsourcing to Ukraine gives them access to over 250,000 software developers, enables financial benefits in the form of wage and tax incentives, and many other perks.
2. You're looking for ways to cut costs
Working as a distributed company could significantly reduce your business expenses on real estate. There's no more need to sign a long-term lease, handle negotiations with landlords, and pay for the office administration. Nevertheless, you may still need to provide your programmers with remote offices at their homes, essential equipment, and custom working facilities to ensure the smooth operation of your distributed team.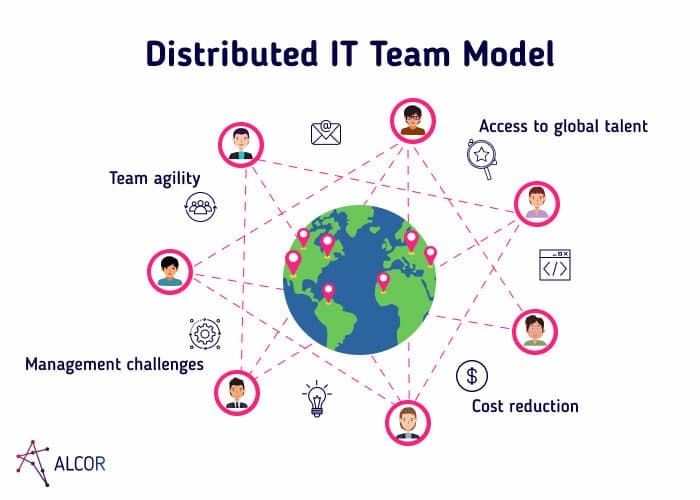 3. You want to improve team agility
Software companies with distributed teams have one more competitive advantage. Specialists from different time zones keep the business working round-the-clock by passing off the projects to teams that are just starting their workdays. This "follow the sun" methodology speeds up product development and enables effective customer support.
4. You're ready for management challenges
Project management in distributed teams can be backbreaking due to the challenges I've listed above. When your employees are scattered around the globe, you could easily lose connections with them. Accordingly, they might have a fear of missing out on the company's news and updates. This feeling of being left out can have a significant impact on the working process and the team's overall spirit. Therefore, I'd say that a distributed model fits smaller teams better since this phenomenon is much less appreciable within them.
Whether you want to hire a bunch of IT specialists or just a few, Alcor may be of help. We provide custom BPO services in which you pay only for what you need. An offshore development center (ODC) is our comprehensive solution, which makes it easier to build corporate culture, scale your business and most importantly – focus on your product!
3 Distributed Development Teams Best Practices
1) The first piece of advice for managing distributed teams is to prepare a well-planned onboarding process. It's crucial for the engagement and efficient start of a remote employee. Allocate some time to check whether they have all the necessary tools and information and make sure they feel welcomed and appreciated (don't forget to take cultural differences into account). Tell them about your company's mission and let them immerse themselves in your corporate culture. Another great idea is to assign them a mentor for every small question that could appear during their adaptation period.
2) The secret of dealing with distributed teams lies in their everyday activities. Therefore, the list of distributed teams' best practices necessarily includes daily scrum meetings, where you discuss the tasks that have been already done and define future areas of focus. I see that it's easy to get distracted by non-work-related topics when you don't have a lot of face-to-face communication. If you have talkative colleagues, prepare some extra minutes to catch up on how everyone is doing, but then get back to the working agenda.
3) Last but not least, schedule in-person activities throughout the year to create an exciting team culture and inclusive environment. That helps to build rapport and improve teamwork. It became clear to me when Alcor assisted some of our clients, including Ledger and Ring in organizing corporate events for their offshore development teams. Alternatively, you can plan virtual parties through Zoom, Skype, etc. to share funny stories and life updates.
In this regard, I've noticed a new trend of foreign tech companies renting an office for their distributed teams located in one city. Such teams are usually mid-sized (10-30 people) so they need a small shared space to support team-building activities. This helps them not only increase the level of communication on a regular basis, but also enhance rapport, develop trust, and build out the culture.
Consider Alcor BPO if You Need a Trusted IT Business Process Outsourcing Provider
If you want to exploit the benefits of offshore software development but doubt which exact model to choose, consider opening your own ODC. With your own software research and development center in Ukraine, you will leverage the benefits of a distributed team model but significantly reduce its drawbacks.
Picture this: you manage your foreign team of programmers with no intermediaries, control all expenses and create a corporate culture that will bond all your employees. According to this scenario, you receive secured IP rights, fast IT recruiting, and a committed team that will root for the company's success.
Sounds appealing? Then Alcor can be helpful to you! We're a BPO company with deep expertise in the IT industry that is ready to provide full-cycle support for the operation of your office in Ukraine. Our team of experienced recruiters will hire the best IT talents, the financial department will take care of payroll and accounting processes of your remote team, while Alcor's professional lawyers will be navigating you throughout an unfamiliar legal environment – all of this being 100% transparent. We know how all processes of your offshore development center should work, so you'll be able to focus on your product instead of operational and administrative matters.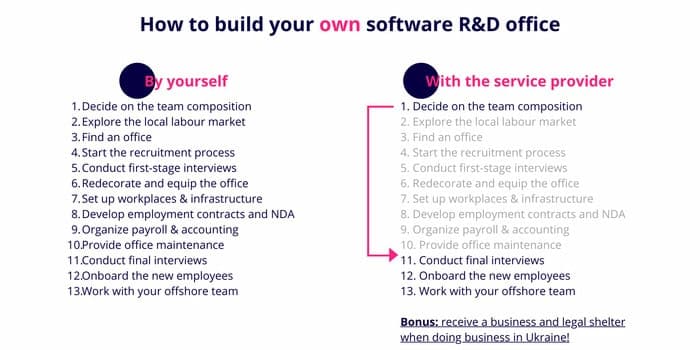 Final Thoughts
All in all, there are unique pros and cons that eventually make distributed teams a key to business success. If you want to avoid indifferences and communication gaps within the team, build a corporate brand, and have your own presence overseas, then go for your own ODC.
To make your experience less stressful, build a partnership with a reliable service provider like Alcor – an all-in-one place to assemble a brilliant development team and get the rest of back-office support. Sounds appealing? Let's start the collaboration!