In the dynamic realm of technology, where IT talent fuels innovation, businesses are constantly seeking ways to tap into a skilled workforce beyond their immediate geographical boundaries. 
An increasingly popular choice for many is outsourcing to Bulgaria. This strategy allows companies to access high-quality services at a much lower cost. 
So, is this approach right for you too?
I'm Sergiy Ovcharenko, CBDO at Alcor. We have strong expertise in R&D services and IT staff recruitment in Bulgaria, Poland, Ukraine, and other Eastern European countries. 
In this blog post, I'll give a holistic picture of the Bulgarian IT outsourcing market, delve into the potential challenges of this approach, and provide alternative models for your consideration. So, let's get started!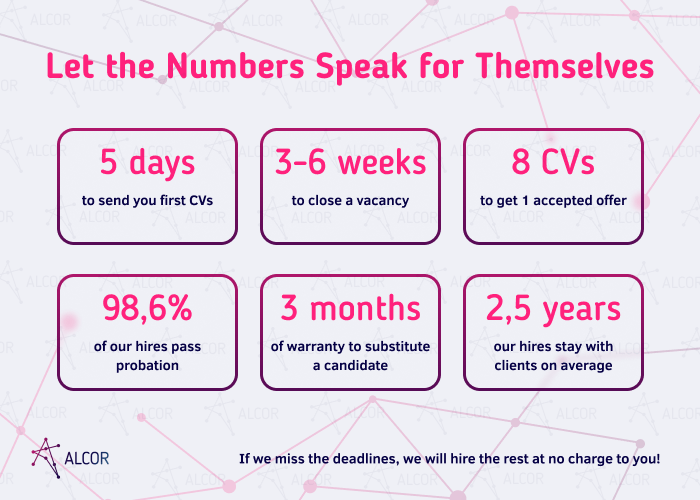 Bulgaria IT Outsourcing: Industry Overview
The Bulgarian ICT industry has grown by 300% in the last seven years, standing at an impressive 2.5 billion euros in value, the International Data Corporation (IDC) reports. 
And the most vivid sector of Bulgaria's IT industry is software development outsourcing. If you look at the IT outsourcing stats in Bulgaria, it has shown remarkable growth at a CAGR of 15.6% over the past few years.
This makes it the fastest-growing sector in the country's economy, contributing a significant 5.5% to the national GDP. Currently, the Bulgarian software development outsourcing sector ranks 21st across Europe with $900 million in revenue.
There are over 2,400 software development companies in Bulgaria; 322 of them are IT outsourcing firms, and 288 are BPOs. Most specialize in IT strategy consulting, custom software development, web development, IT managed services, and mobile app development.
The USA, UK, and Western Europe are the main foreign customers of software development outsourcing in Bulgaria.
Why Tech Companies Outsource to Bulgaria
Skilled IT workforce
Bulgaria has an IT workforce of over 110,000 talents, growing annually with 5,000 STEM graduates from 50 national universities. 
These tech experts are proficient in various modern technologies and coding languages like JavaScript, C#, Java, C++, PHP, .NET, and Python. 
According to the Global Skills Report 2023, Bulgarian developers excel with a technology proficiency score of 76%, ranking them among the top 20 European countries for IT expertise. 
Whether you need to develop a website or mobile app, outsourcing software development to Bulgaria is an excellent choice. Bulgarian programmers excel in software engineering, mobile, web development, and cloud computing.
So, foreign IT employers can easily find a well-versed coder here to complete any development task.
Modest labor costs
What else lures international IT businesses to get software development services in Bulgaria is its cost-effectiveness. 
The median compensation for a software engineer in Bulgaria is approximately $58,000 annually. 
This represents a significant cost advantage, amounting to 60% in savings on labor expenses for US IT companies and roughly 30% for Western European tech businesses. 
For a more in-depth analysis of Bulgarian salary rates, continue reading this article.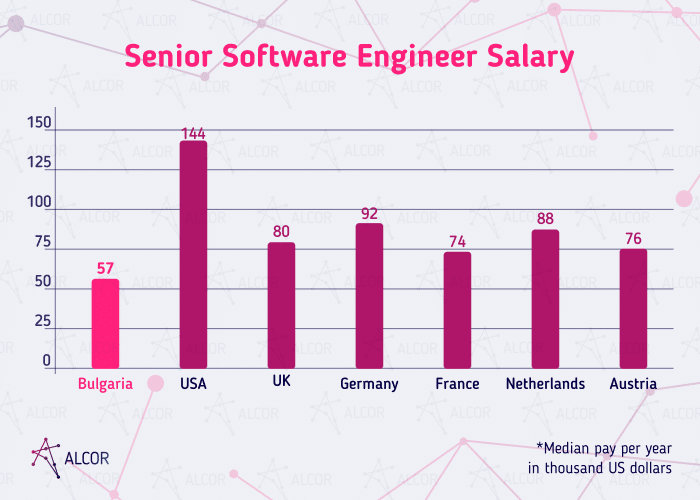 Cultural & geographic proximity
Bulgaria has a strategic location in Southeast Europe near major European IT hubs like Germany and France. 
The mere 1-hour time difference with Western European countries facilitates real-time communication, process monitoring, and quick issue resolution.
Suppose a tech business chooses IT outsourcing in Bulgaria. In that case, it will benefit the multilingual capabilities of Bulgarian tech experts — 71% of them use English as their primary working language, ranking 21st in the English Proficiency Index. 
Additionally, they are proficient in other languages, with 16% speaking German and 10% speaking French.
Moreover, Bulgarian software engineers live and breathe Western business ethics and values like dedication, teamwork, and punctuality. These coders exhibit exceptional independence, efficiently resolving problems and managing workflows.
Favorable business climate
Another compelling reason foreign IT companies outsource software development in Bulgaria is its favorable business environment. 
The country boasts the EU's lowest corporate and income tax rates, set at just 10%. 
Bulgaria also ranks 17th in the Kearney Global Service Location Index, demonstrating solid indicators in terms of financial attractiveness and overall business conditions.
Unsurprisingly, major global tech giants like Oracle, HP, IBM, CISCO, SAP, Uber, VMware, and Atos opted for software development in Bulgaria. 
Many of these companies have established R&D teams in Sofia, the primary IT hub in Bulgaria. A significant 85.9% of all vendors have a presence in this destination. 
This concentration is due to the city's abundant talent pool of over 50,000 IT experts, advanced infrastructure, and ease of business. Other notable IT hubs in Bulgaria include Varna, Plovdiv, and Burgas.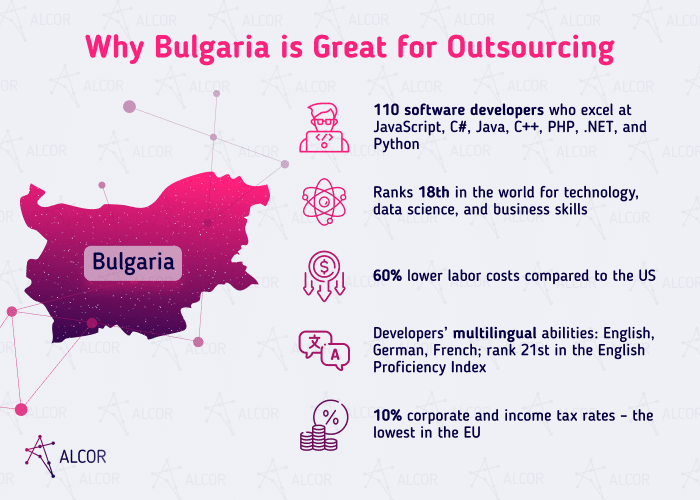 Software Development Outsourcing Rates in Bulgaria
As mentioned earlier, outsourcing IT to Bulgaria offers substantial cost savings for international tech product companies, even compared to other EE countries. Just have a look at the table below. 
In Bulgaria, a Full-stack Developer earns about $45,000 a year, notably $8,000 less compared to their counterparts in the Czech Republic, who typically receive $53,000 annually. 
The same cost dynamics can be observed for Blockchain developers in Bulgaria, whose average annual salary is around $55,000. In contrast, their Polish counterparts earn a yearly average of approximately $67,000.
Positions
Bulgaria
Poland
Romania
Czechia
Ukraine
Full-Stack
Software Developer
$45,000
$52,000
$50,000
$53,000
$47,000
Front-End
Software Developer
$38,000
$44,000
$42,000
$40,000
$40,000
Back-End
Software Developer
$43,000
$45,000
$45,000
$45,000
$45,000
Mobile
App Developer
$35,000
$37,000
$37,000
$33,000
$35,000
DevOps
Developer
$42,000
$52,000
$52,000
$45,000
$42,000
AI
Engineer
$43,000
$42,000
$42,000
$57,000
$40,000
Blockchain
Developer
$55,000
$56,000
$56,000
$60,000
$58,000
Software Development
Engineer in Test
$33,000
$30,000
$30,000
$38,000
$30,000

Developer salaries were converted to US dollars at a relevant exchange rate for October 2023.
Challenges of Outsourcing Software Development to Bulgaria and How to Overcome Them
Ensuring IP Rights Protection
One of the prevalent challenges in IT services outsourcing is ensuring the proper security of sensitive data. 
Alarming statistics from CybelAngels reveal a 63% increase in data leak incidents within outsourced development projects. 
But why does this occur? 
Some outsourced providers may resort to unethical practices to expedite the development process, potentially repurposing clients' unique solutions for other IT projects.
Solution: While including a non-disclosure agreement in the contract is a step in the right direction, it doesn't guarantee 100% protection. 
The most effective solution is hiring your own software developers, ensuring their employee loyalty, and enhancing data security.
Getting Transparent Pricing
When IT companies outsource developers in Bulgaria, there is a high chance of facing cloudy pricing. 
It's not uncommon for providers to add extra charges for unnecessary IT services, equipment, or developer training. 
Additionally, potential software adjustments and fixes may strain your budget in the long run, becoming a costly endeavor.
Solution: Explore more suitable engagement models for IT companies, like an R&D solution. 
It will allow you to retain control over expenses and ensure greater transparency and cost-effectiveness.
Achieving Developers' Loyalty 
Another common issue in IT outsourcing is the lack of team commitment. 
This happens because, despite working on your project, outsourced developers are officially employed by a service provider. 
They operate under the provider's brand, within their premises, and follow their corporate culture. 
Consequently, it can be challenging to establish a firm commitment from such a team of engineers, potentially impacting your end-product's quality.
Solution: To address this challenge effectively, consider forming a dedicated team of developers who are fully committed to your project and willing to go the extra mile to deliver outstanding results. 
One viable approach is collaborating with a local agency specializing in IT RPO in Bulgaria. 
This way, you can tap into a vast pool of skilled developers, streamline your hiring process, and enjoy flexible pricing options.
IT Outstaffing in Bulgaria
A common alternative to software development outsourcing is IT outstaffing in Bulgaria. This model involves a temporary collaboration with programmers or development teams provided by an outstaffing vendor. 
Like IT outsourcing, it offers team flexibility, allowing you to scale up or down as needed. Additionally, the vendor handles social benefits, employee equipment, and workspaces. 
Unlike IT outsourcing, this cooperation model allows companies to retain direct control over the development process and team supervision, eliminating the need for intermediaries.
It's important to note, though, that teams provided by IT outstaffing vendors may exhibit a degree of indifference to your product since they are not official employees of your company. Consequently, there may be concerns about potential compromises in product quality and data security. 
To avoid the pitfalls of IT outstaffing and outsourcing, product companies may take advantage of their dedicated teams in Bulgaria. There are two primary approaches to achieve this:
1. The IT recruitment agency manages the entire process of finding and hiring developers in Bulgaria. Your hiring partner can also offer Employer of Record (EoR) services, so you won't need to establish a legal entity in the offshoring destination. Instead, you can engage with your developers directly. Additionally, they can help with payroll and legal matters in the local market.
That's what a software development company, Gotransverse, chose when expanding to Eastern Europe. Not only did their IT recruitment partner hire 6 Full-stack Developers in a mere six weeks, but they also provided EoR services as well as legal and procurement support. 
2. The R&D service provider, on the other hand, serves as a one-stop-shop for foreign tech companies looking to expand abroad. Such a partner can handle various services, from IT recruitment in Bulgaria and employer branding to accounting, compliance, procurement management, and office leasing. 
A US-based IT company, People.ai, opted for this when offshoring to Eastern Europe. The company wanted to avoid typical IT outsourcing challenges, so they contacted Alcor. Impressively, within just one month, we successfully established a fully operational R&D center for People.ai, complete with a team of 25 skilled software developers.
| | | | | |
| --- | --- | --- | --- | --- |
| |  IT Outsourcing |  IT Outstaffing | Tech Recruitment | R&D Solution |
| Product quality | low | moderate | high | high |
| Team loyalty | low | low | high | high |
| Cost | low* | low* | moderate | moderate |
| Data security | low | low | high | high |
| Process supervision | low | moderate | high | high |
                                                                                                                                                                                      *Possible hidden fees
Build Your Own Team of Developers in Bulgaria with Alcor!
As you can see, there are quite a few risks and challenges which IT outsourcing entails. My recommendation for software development companies is to opt for a more reliable and comprehensive approach, which is setting up an R&D team. 
By choosing this path, you gain access to a wide range of operational services, retain control over decision-making, and protect your IP. You can achieve this with Alcor!
We are an experienced IT recruitment and R&D services provider specializing in hiring from senior- to C-level programmers in Eastern Europe and Latin America. 
Our solution covers every aspect of the process, including full-cycle tech recruitment, payroll, legal and compliance, office lease negotiations, procurement management, and other field support. 
When you work with us, you'll have a dedicated account manager to facilitate smooth business navigation in the local market.
With Alcor, you can count on rapid scalability. We guarantee to hire 20 perfectly fitting developers in just 3 months. And as the icing on the cake, we offer a 3-month warranty to substitute our candidate free of charge if needed!