If you want to develop a fail-safe IT product, you should not only involve experienced programmers but also professional quality assurance engineers who will assess the performance of your software and prepare detailed QA reports. But is it possible to use the services of such specialists without attracting, hiring, onboarding, training, and further maintaining them in-house?  
In this article, I'm going to describe the top benefits of QA outsource testing and some of its downsides, provide sound pieces of advice on how to find good recruiting vendors, and share a better alternative to outsourced testing teams! 
3 QA Outsourcing Benefits and The Critical Disadvantages to Consider 
In a nutshell, quality assurance is a process of assessing software according to technical specifications. To do this, QA engineers apply manual or automated testing and use various tools. If you outsource this process to reliable providers, you could receive these software QA outsourcing benefits: 
1. Boost of productivity 
Quality assurance outsourcing allows your programming professionals to concentrate on development since error detection is taken over by software testing specialists. Such an effective delegation of responsibilities lets both the QA and development teams spend maximum time on their focus tasks which always contributes to better productivity levels. 
2. Access to international expertise 
Outsourced QA testing blurs all boundaries between countries no matter what size your company is – a startup, SMB, or enterprise. This model enables you to work with testers from different parts of the world, easily hire top-notch QA remote testers and receive the highest-quality services for affordable prices. 
3. Better flexibility 
A qualified software assurance outsourcing agency adopts standardized testing strategies to always meet deadlines on time and adjust to any staff changes in the shortest time possible. In this way, they can also substitute one QA engineer with another one in case someone gets sick, quits your project, or goes on vacation. By hiring offshore QA engineers, you'll also enjoy the benefits of connection with foreign talents and better productivity of your developers. 
Yet the advantages of outsourcing QA are doubtful when it comes to the engagement model. For this reason, I suggest you studying the main disadvantages of QA outsourcing services below. 
1. Overpricing 
With outsourcing, you're supposed to pay invoices according to the Time&Materials or Cost+ pricing model. However, do you check the time spent or who is really working on your project? I often see how tech product companies get frustrated when they find out about the real price of a software QA outsourcing specialist. It turns out they overpay by 3 times for a Middle Automation QA engineer! There's hardly an outsourcing vendor that doesn't charge their clients for junior engineers as middle ones, and middle specialists as senior. Such unreasonable substitution also results in poorer quality. 
2. Lack of control 
When delegating your QA to the third party, keep in mind that they also overtake responsibility for the engineering team. Hence, as a client you don't have direct access to the outsourced engineers and can't communicate with them properly. 
3. IP rights leakage 
It's not a myth that your intellectual property is sensitive to breaches when working with a QA outsourcing company. Not only can the cyber system be unstable, but also the people you hire via outstaffing – as they are prone to using your code for other projects or implementing their new knowledge from your product with further clients.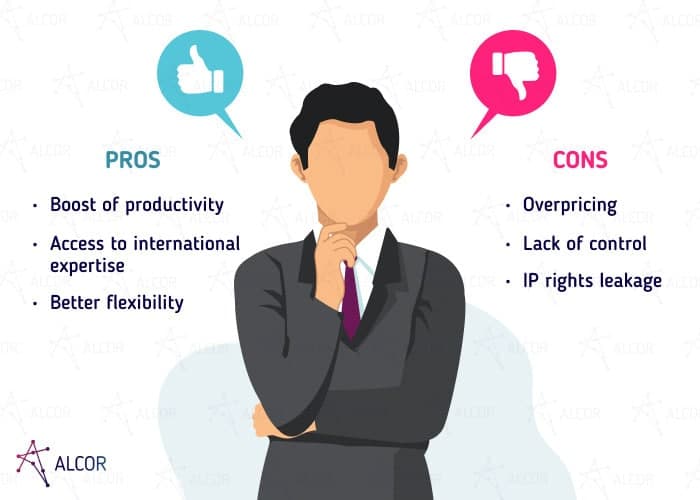 Tips to Outsource QA Services with Less Pain 
If you go in for successful QA testing outsourcing, your company is certain to accelerate web or mobile app development and production, plus be flexible in terms of team adjustments. To prevent any mistakes and use only the best practices of QA outsourcing, you should follow these tips: 
– Choose the most favorable outsourcing location 
If you're from the United States, Western Europe, or any other location that lacks professional QA testers, you should probably consider IT outsourcing to Eastern European countries.  
Why? 
First of all, there you can access a huge talent pool – the Eastern European IT market has over 500,000 developers. Secondly, this region has a developed IT community where QA testers and software engineers speak English at Intermediate+ levels. Last but not least, developers in Eastern Europe have lower salaries and taxes, so you can invest this money in other strategic processes. 
– Thoroughly check the background of your vendor 
Once you have chosen the outsourcing region, you should start looking for providers that are experts in software testing for your industry. Contact agencies with real testing case studies of similar products to yours, since QA outsourcing for games is different from the quality assurance for fintech or e-commerce sectors.  
For instance, Ledger is an IT product company that develops security solutions for crypto assets. When they needed help with recruitment in Eastern Europe, they started evaluating different firms on their experience in crypto and blockchain hiring, communication culture, price, and ideas to make Ledger more successful. Eventually, the company chose Alcor as their partner and our IT recruiters/researchers hired 4 offshore QA specialists in less than a month. 
– Clarify the working terms 
Before you start cooperation with a QA software analyst outsourcing vendor, you should lay out the conditions of service delivery. For instance, you may start with an introductory call to discuss your needs with your provider. Then, your partner should send you a business proposal based on your requirements and other documents (a service agreement, an NDA, etc.) drafted by lawyers and legal consultants with expertise in IT law. 
Are You Looking for QA Analysts to Outsource? We Provide Another Turnkey Solution 
People.ai, a USA-based IT product company that provides machine learning solutions for sales in B2B, has established an offshore development center in Eastern Europe through our Alcor BPO company. We helped them reach this goal in 1 month, using the whole set of our solutions – from finding the perfect office space to recruiting over 25 developers. If you're also up for hiring outsourcing QA analysts and engineers in Eastern European countries like Poland or Romania, Alcor will gladly help you with this task.  
Being an international recruitment services provider with over 10 years of experience, we are ready to hire you the best IT talents from middle to leading roles – and get your own R&D center in Eastern Europe. All of this is supported by our back-office services like HR payroll and legal compliance 
Our model is different from outsourcing or outstaffing because we don't "lend" and then "take back" your programmers but hire from scratch and establish a full-fledged software team with loyal coders for you. Our clients find it more useful to create permanent overseas teams that adopt their values rather than entrust third-party vendors with their development tasks.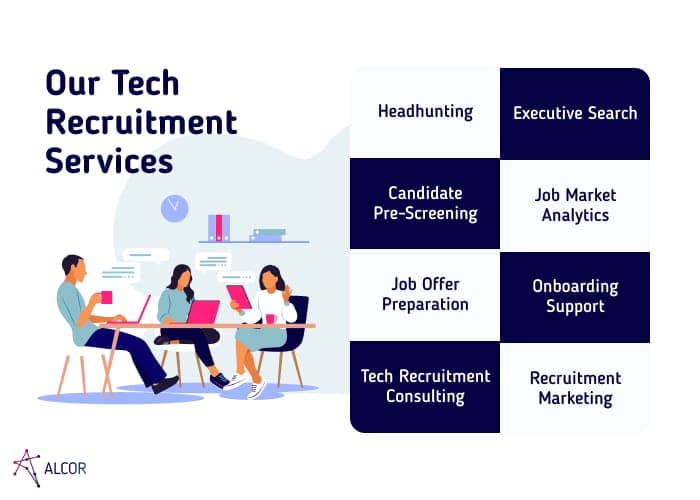 Final Thoughts 
Quality assurance engineers will track bugs, test API, map agile processes, apply DevOps and/or IoT methodology, check software performance, and provide developers with detailed feedback. This is the key to creating a flawless product. In order to get this, you may outsource QA automation or hire your own team.  
But before opting for outsourced quality assurance services, weigh the flexibility in team structure and security of your commercial information as pros  & cons. That is why such companies as BigCommerce, Wargaming, Grammarly, and others declined QA outsourcing and instead chose Alcor as their trusted offshoring partner – to hire in-house IT specialists and get operational back-up in Eastern Europe.