Unprecedented talent shortages is the burning issue of the tech sector today. The Korn Ferry Institute warns that by 2030, the tech sphere will be short of 4.3 million employees, resulting in production losses of $449.70 billion. For that reason, two-thirds of Fortune 500 companies are looking for talent abroad, either hiring on their own or relying on IT recruitment agencies. With the rising need for diversity and a steadily growing trend of working remotely, hiring remote overseas staff for your company is definitely an attractive option. 
However, where to begin and what to do if you have already built a team across the ocean but struggle with managing overseas staff? In this article, I'm going to share the best practices, actionable tips, possible pitfalls, and the most attractive locations to both hire and manage an overseas team. 
Main Points About Overseas Teams
An overseas team, as opposed to domestic, refers to employees working abroad, with more than a 2-3 hour time difference. 
In the globalized world, you can hire overseas staff from different continents mainly to cut costs on salaries, taxes and office premises (see for yourself using a software team cost calculator). For IT companies, however, there's one more game-changer — the opportunity to find coders with rare tech stacks. More than that, various IT technology markets around the world are booming and even superior to the US in terms of education. 
6 Tips for Managing an Overseas Team
1) Participate in the hiring process
An outstanding leader should personally participate in recruiting an overseas IT team. It doesn't imply overseeing every single stage, but taking part and involving your current team in technical and final interviews. This step increases the likelihood of hiring a programmer with matching hard & soft skills and similar values, which results in more chances for a successful probation period and steady career growth. In other words, such an in-depth approach ensures the new members of your software team will stay with you longer. 
At Alcor, we help companies to make the most of their IT hiring process. From our experience of recruiting for Ledger, a French product company that develops crypto wallets, we know how well this tip can play out. When the company asked for help in finding talented programmers in Eastern Europe, we engaged our experienced IT recruitment and legal teams, crafted candidate profiles and started looking for software developers. Once we selected the candidates, our team suggested that Ledger conduct all the interviews in our office in one day. The managers from France came to Alcor, and together we interviewed 5 candidates and made an offer to a QA manager in just one day. Not only did such involvement speed up hiring, but also led to great fits: the Junior QA Manual Manager we hired for Ledger became a QA Automation Specialist in 1.5 years, not to mention that our cooperation continues and more "wow" results are yet to come. 
2) Ensure comprehensive onboarding & training
Statistics illustrate that workers feel 18 times more committed to their company if the onboarding is effective. What's more, SHRM states that 20% of new hires quit during their first 45 days at the company, and poor onboarding is to blame. Your task as an employer aiming at establishing a team overseas is to map out a holistic onboarding and training strategy. Make sure to reduce the amount of unnecessary paperwork, assign mentors, and make sure that every team member is on the same page about your product management methodology. When it comes to IT employees, it's essential to set SMART goals and define reasonable KPIs to ease their adjustment to your workflow. 
3) Use effective remote team management tools
A remote overseas team will be efficient only when properly managed. I recommend using effective team management platforms available on the market. We can divide them into the following groups:
Task management (Trello, Jira, Asana, Worksection)
Time tracking (Timely, Clockify)
Collaboration (Zoom, Slack, Microsoft Teams)
Performance tracking (IDoneThis, Engagely)
Remote Sharing (Dropbox, TeamViewer)
Recognition (Bonusly)
With the help of these tools, you can monitor your workflow, be aware of how much time your overseas development team spends on their tasks, communicate with your programmers, assess their performance, share all files and appreciate their achievements.
4) Be regular with feedback, team meetings and one-to-ones
One of the indicators of successfully managing an overseas team is how connected you are with your overseas staff. That is to say, how well your software engineers know the current product goals and how well you know whether or not they're satisfied with working at your company. In order to make your communication seamless and productive, you should provide feedback and conduct individual & team meetings on a regular basis. Gallup reports that employees who have weekly 1:1 meetings with their manager are the most engaged. As for the approach itself, the C.O.I.N. feedback formula may come in handy. This way, you'll address the situation (context), share your observation about the employee's behavior or action, clarify the impact and get to the next point — suggesting a solution.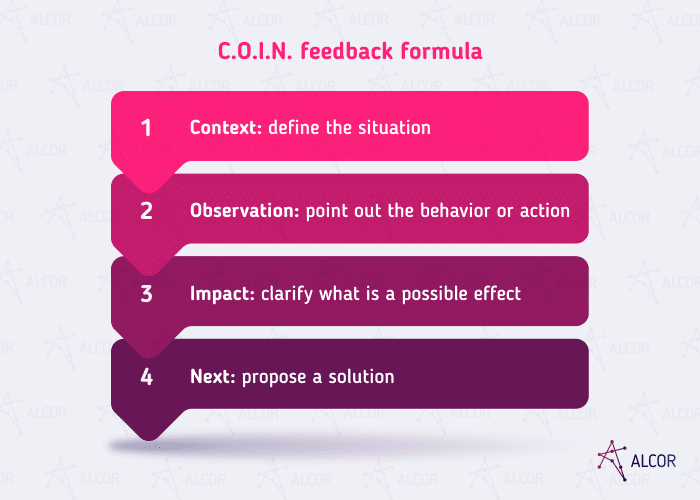 5) Invest in your team
Building an overseas team requires a lot of care. My advice is to invest in the growth and well-being of your IT staff. You can do this by providing internal training, access to virtual libraries, professional course discounts, English lessons, setting up their workspace, gym membership, childcare perks, company merch packs and more. Another way is to offer company stock options, as did Sift, a US-based fraud detection company. Our Alcor team helped to do so for their overseas staff even though it was a complex process in terms of compliance. The next thing we did was highlight all the benefits of this additional perk for the new hires of our client, so they realized how valuable such a bonus could be. All in all, additional overseas team support will motivate your IT workers and contribute to their career growth. 
6) Create an employee retention strategy
A thought-out employee retention strategy is a must in the times of great resignation — a global job-quitting trend especially noticeable in the IT sphere. Having assembled an overseas team from scratch, you should focus on keeping them onboard. For this, it's essential to provide your programmers with what motivates them. The 2022 State of Software Engineers report shares that rigorous and regular learning is an appealing factor for software developers, as well as problem-solving and having an impact on global issues. Other aspects include earning potential, work-life balance and career stability. In conclusion, the first 5 tips show how to build an overseas team, while this complex step is about how to keep it.
Challenges of Managing Your Overseas Staff
Different Time Zones
If you're in the US, while your overseas software team is on other continents, the issue of different time zones will definitely arise. This is one of the most common challenges of managing an overseas team, which entails lots of management, production, and communication issues. Ideally, you should always keep the time difference in mind and work out a project management system, i.e. plan all the tasks ahead, schedule regular calls and sync-ups and potentially adapt your working routine. Taking a step further, you can assign team leads abroad and ensure your in-house and overseas teams work around the clock. 
Language Barrier
You know all those colloquialisms, so familiar to you that you don't even notice using them? Well, they may be baffling to your new team members, even if their English is up to scratch. If it's only about small talk, then no reason to worry, but it can also result in a bottleneck in production, thus impacting company expenses. To avoid that, of course, opt for specialists whose English is fluent, but also develop a neutral vocabulary for communicating with your team overseas and double check their understanding of tasks. 
Contrasting Values
On your team meetings, there's a software developer who is always silent and asks no questions, but after four weeks of working on the project, there's no sign of progress. How did that happen? Considering all the pros and cons of remote teams and tips on how to manage an overseas team, culture values seem to be the least concerning. But let me assure you, they are still crucial. The story above is shared by Harvard Business Review and is a perfect example of how one employee from abroad manages conflict – by avoiding it and not risking damaging their reputation. If you hire developers from another culture, you should be mindful of cultural differences in communication & feedback, attitude to conflict, perception of power and so on. Typically, the solution lies in finding cultural fits, and for that you should be crystal clear on your own corporate values and ideal candidates for your team. 
Countries Where You Can Hire an Overseas Team
The Eastern European market has been showing stable annual growth thanks to investing in their IT sector. These countries rank high in technology and data science, as the Global Skills Report 2021 shows, as well as have lower taxes than the USA. As for the local devs, they are highly skilled thanks to comprehensive tech education offered at universities, speak proficient English and are exceptionally good at their work while receiving lower salaries. You can see more details in the picture below.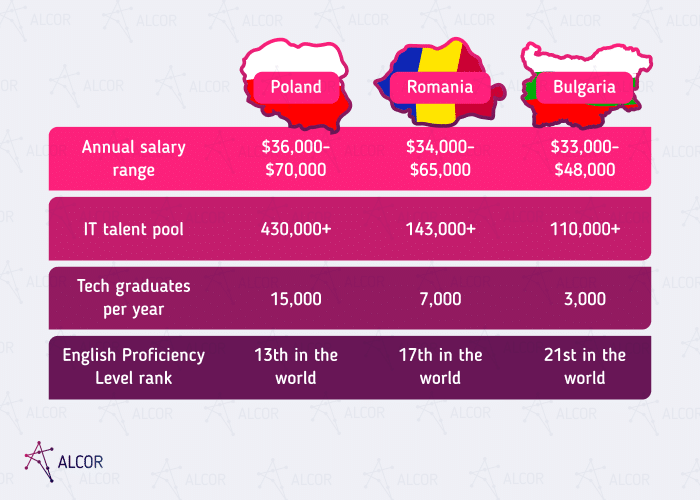 Wrapping up
Finally, an overseas software team does require even more involvement than domestic teams, but ultimately it boils down to a structured and caring attitude towards your employees — everything else can be managed. If you're looking for diverse talent and lower costs, then the game is worth the candle. 
At Alcor, we offer exceptional IT recruitment services in Bulgaria, Poland and Romania. Our 40 tech recruiters manage the whole hiring process – from employer branding to getting you verified candidates in up to 5 days – to build a dedicated development team in Europe. Moreover, we provide advice, weekly reports, take care of payroll, equipment procurement and other field support. With an 80% CV pass rate, we're ready to "wow" you!