We live in a fast-paced world where business conditions are changing day by day. In order to keep up with the emerging trends, as well as to meet the impermanent customers' needs, more and more product tech companies expand their business capabilities abroad. However, they often struggle with choosing the right IT engagement model. So, in this article, I am going to give you detailed information about varying IT engagement models to help you decide which one is the best match for your tech business.
What is the IT Engagement Model?
Product tech companies are largely focused on the enhancement of their software by engaging additional IT resources in a low-cost country. This process is generally called offshoring software development and it allows IT companies to save money and at the same time immensely contribute to business upscaling. Thus, it's essential to explore the existing IT engagement models to decide which one best corresponds to your needs.
The engagement model in IT is a foundation of business relations between a client and a foreign software vendor which defines the mechanisms of their cooperation and conditions of project execution.
It's essential for any tech company to pick the most suitable engagement model, as their project performance greatly depends on it. Before choosing the right engagement model for your software development, you should consider all the advantages and disadvantages of each existing model.
Types of IT Engagement Models
Most technology companies are willing to have such an engagement model which would be smart, cost-effective, and highly efficient. To bring more clarity to the issue, I'll dwell on 3 classical engagement models in software development: fixed price, time & material, and dedicated team, and present you a new one – the R&D engagement model. So, let's have a look at these IT engagement model examples and identify their distinctive features.
#1: Fixed Price
This is an extremely structured model which is based on determined requirements, a well-thought plan, and a pre-set budget. The fixed price model is a good fit for short-term small- and medium-sized projects, because it doesn't require any client involvement. It's essential to provide your software development vendor with all the project details and a predefined single-rated bill since no alterations to the plan or to the sum assigned can be made. With a fixed price model you can retain full control over the money spent, but the absence of project flexibility can become a real issue for IT companies trying to advance their product.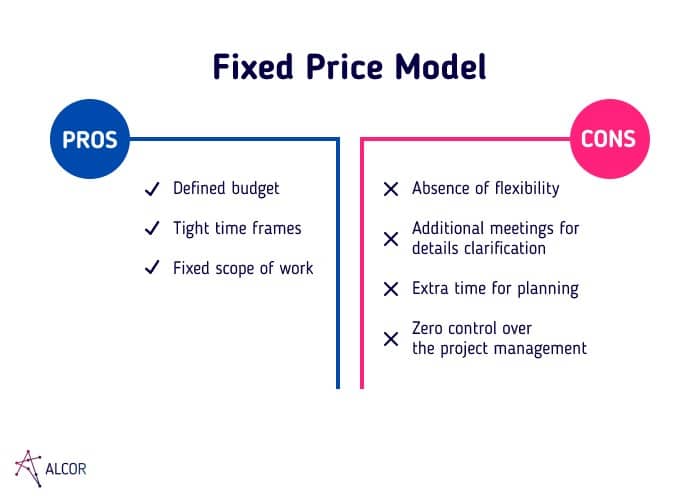 #2: Time & Material
T&M is another IT engagement model where the budget corresponds to the resources and time used for project execution. In this case, you are billed for actual working hours, based on negotiated hourly, daily, or weekly rates. However, it doesn't mean that the final cost can be set beforehand, as the project presupposes an option of flexibility – modification of the scope of work which requires additional time or/and resources to be used. The absence of definite planning can put you in a risky situation where you would be charged with additional fees. Therefore, you should be extremely cautious when choosing this model. In terms of management, you can be engaged in the process and introduce relevant changes to the project, if needed.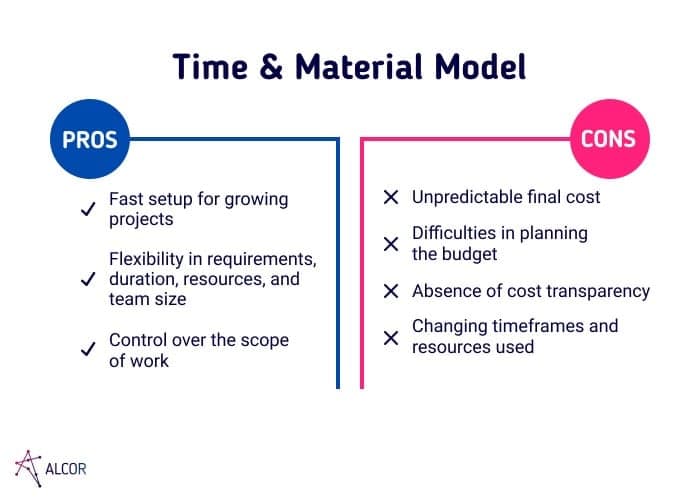 #3: Dedicated Team
Dedicated team is a type of engagement model which is suitable for long-term evolving projects. It doesn't require any strict planning and allows the client to shift the requirements, budget, duration, resources, and team size of the project at any given time. You can also retain full control over the execution of your project.
However, there are some peculiarities that you should consider when opting for this model. You are supposed to hire a vendor's team of foreign programmers, paying a given monthly invoice (which contains the remuneration of the team and provider's fee) instead of setting a project budget. You should also keep in mind that in a dedicated team model the hired engineering team is employed by the outstaffing company, which means they can't be in full subordination to you. Moreover, there is a high chance that these employees may not take the assigned task as a special project. Therefore, neither extra effort would be spent, nor the level of work would be excellent. In addition to this, you can be charged extra fees for technical equipment and additional services. Another drawback concerns the IP rights violation, as the outstaffed specialists may accidentally share some of the internal details with their colleagues from other projects.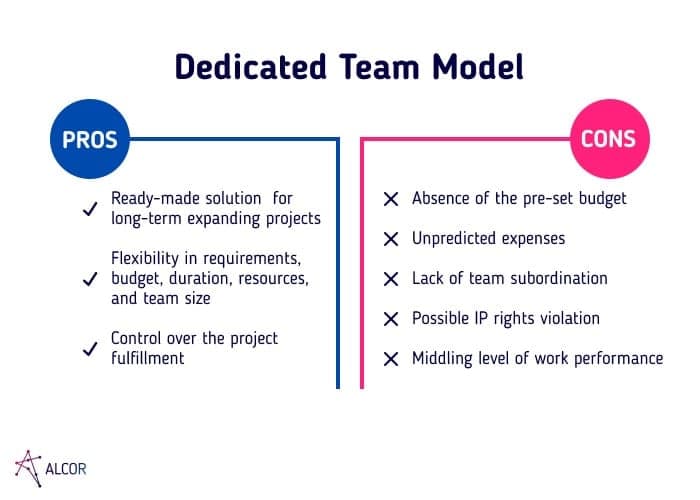 #4: R&D Model
The fact that the existing engagement models can't provide IT companies with the desired results has become a turning point, bringing to life a new groundbreaking approach – the R&D model. It is a unique engagement model in software engineering, which can give you the best of both worlds – offshore development services and your own R&D center. This IT engagement model can provide you with adequate pricing, financial transparency, non-interference in programming, provision of BPO services, as well as access to a wide pool of talented programmers, low taxes, and full-time consulting on business-related issues. Furthermore, it allows you to maintain full control over your software development, altering its requirements, KPIs, budgets, etc.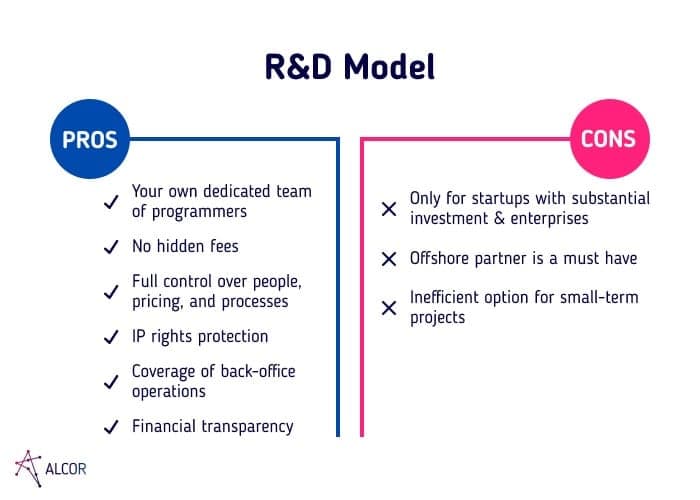 Nowadays, more and more enterprises are choosing the R&D model, since they find it extremely profitable and reliable, compared to the classical ones. People.ai, a software product company, is one of those businesses which has already benefited from the R&D engagement model. After entrusting its operational processes to various service providers, the company decided to opt for a more effective engagement model, which made it possible to delegate all the back-office operations to one local BPO company. This decisive move helped People.ai to focus its attention on product elaboration, making it one of the most successful companies on the world market.
4 Questions to Choose the Right Engagement Model for IT Business
I know that executives can have a hard time deciding between the most suitable engagement models in IT for their projects. Therefore, I compiled a table where you can compare the features of the models presented.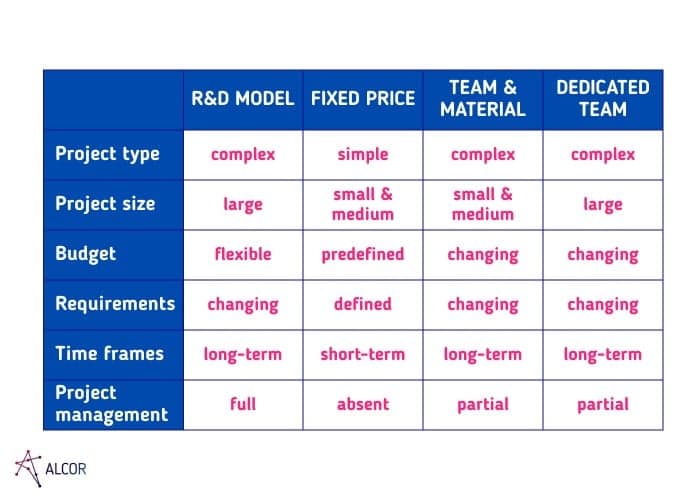 To bring more clarity to this issue, you can also have a look at the below-stated questions, which can pave you the way to the right IT engagement model.
Is flexibility important for your project?
If you are a technology company that wants to undertake a long and progressing project for business growth, a fixed price model is not your ideal choice. Even though it's viewed as a very consistent and elaborated engagement model, it still has a considerable drawback – the absence of flexibility. It means no integration of changes in your plan, budget, duration, or team size would be possible, which is essential for all software development projects. Instead, pick an R&D or a dedicated team model that presupposes an option of integrating constant changes.
Do you want to have a determined project budget?
When devising a plan for a future partnership, you should also think of the sum you could allocate to it. Think twice before choosing T&M or dedicated team models, as they can't provide you with a pre-set final cost of the project. It means that you would be charged additional fees for unpredictable services. By increasing your expenses, the vendor can gain extra money, which wouldn't be spent on your project fairly. So don't hesitate to ask your potential offshore provider about pricing models, additional fees, and other costs to choose a trustworthy partner.
Do you need a dedicated team of IT professionals?
When you delegate your project to an offshore team, you expect to get high-quality results. However, it's not always the case. Take, for example, a dedicated team model. These programmers can't be adapted to your company's values, goals, or priorities, because they are still subjected to an outstaffing company. They wouldn't treat your project as a high priority one, since for them it would be just another task to fulfill, Therefore, opt for such an engagement model, which can provide you with a committed offshore team.
How will they transmit the IP rights to you?
If you want to diminish the risks of IP rights violation, you better refrain from hiring an outstaffed team, because in this case your IP would be transmitted indirectly, leading to a possible breaching. Instead, select an engagement model, where you can keep ownership over your product elaboration from the very beginning without even a need to let any vendor into your intellectual property.
Looking for New Opportunities for Your Business?
The selection of a good IT engagement model goes hand in hand with finding a trustworthy vendor, who not only fulfills the assigned tasks but also can make a huge contribution to your performance in the business arena.
Alcor is one of a few Ukrainian BPO companies that uses the R&D engagement model in cooperation with product companies. It offers turnkey services that include recruitment of your own team of talented programmers, office and IT infrastructure arrangement, accounting & payroll, and legal compliance management. As for additional services, we offer our clients business travel support, stock option planning, employer branding, and reports on countries with lowest tax in Europe. You can choose the desired services and start expanding your business by opening your R&D office in Ukraine.
We know that the process of recruitment is the primary factor in establishing an offshore development center. Therefore, we vow to hire 5 developers in the first month, 20 in a 3-month period, and 100 within a year. And if we do not meet the deadlines, we will hire the rest at no charge to our client.
One of our prominent clients is BigCommerce, an IT product company from the USA, which switched to a more cost-effective R&D model after having an unsatisfactory experience with outstaffing vendors. The company chose Alcor as their BPO recruitment agency to hire developers in Ukraine and establish their own R&D office in Kyiv. We swiftly covered all the back-office operations which had a positive impact on the client's product development. Within just a month BigCommerce was able to move to its new office, and enjoy the productive work of its 30+ developers, who were hired in a 6 month period thanks to the Alcor team's vast experience in recruiting.
Final Thoughts
More and more businesses choose to cooperate with foreign vendors to spend less and get more. However, the success of their software development greatly depends on the right choice of the IT engagement model. The classical models give in to the advanced R&D model, which can provide product companies with unlimited possibilities for business growth. Achieve mind-blowing results by opting for the R&D engagement model with Alcor! We will hire a top team of programmers, find a cozy office, offer a flexible pricing model, and cover all the additional operations, so you could concentrate solely on programming.