A "virtual team" is a term that appeared several decades ago as a result of globalization and the development of information technologies. Throughout the years, the trend for remote work has been on a gradual rise but the COVID pandemic significantly accelerated the process of digitalization. It made companies adjust to a WFH mode and brought  the remote work enthusiasts' dream into reality overnight.
Thus, today many CEOs consider using a virtual team model to drive the effectiveness of software development. Yet you might wonder: how should the remote workforce be managed? What are the keys to successful virtual teams? In this article, we will look at examples of virtual teams, including Google, SAP, Globality, and other companies. Then I'll tell you everything you need to know about this model to ensure the high performance of your distributed developers.
What's a Virtual Team?
Virtual teams are groups of employees who work from different geographical areas and collaborate entirely through online channels. Contrary to the traditional team, virtual co-workers don't share office premises and usually work from different time zones. Therefore, the key aspect that differentiates a virtual team from a co-located one is the active usage of online communication and project management tools as well as the possibility of never meeting face-to-face.
However, a tech business can use diverse engagement models to work with remote developers. For instance, a company can go for outsourcing or outstaffing for short-term projects. Alternatively, you can hire your own remote software team for long-term cooperation and development of your IT product.
How do companies with successful virtual teams manage effective communication across diverse regions and continents? Let's have a look at prominent case studies to discover the secrets.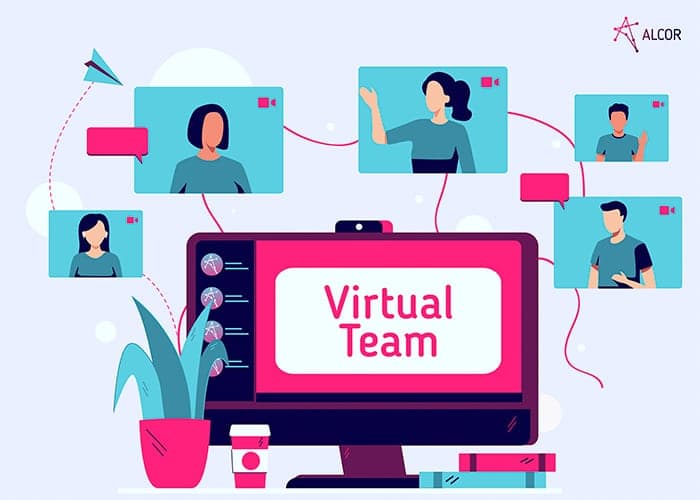 3 Examples of Successful Virtual Teams
Google
This tech giant is among those who were well prepared for the global shift to remote work back in March 2020. Even before the pandemic broke out, Google had spent several years researching what makes successful virtual teams. The enterprise claims that traditional management methods still apply but they have to be adjusted to a virtual workplace.
For instance, Google suggests developing certain norms within your virtual team regarding regular meetings, schedules, and communication across time zones. That's how the company acknowledges the work-life balance and well-being of its employees. For the purpose of establishing rapport, they also encourage team leaders to get to know their team members and make an effort to connect on a personal level. These are some of the tips that helped the enterprise set up comfortable working conditions for nearly 140,000 employees in 50 countries and 5 continents.
SAP
SAP is another large software company with thousands of employees in 60 countries. They have developers based in Germany, China, Israel, India, and the USA. Each area has unique narrow expertise, so managers engage specialists from around the globe to assemble full-fledged virtual teams.
According to SAP, "virtual trust" is one of the most important aspects on how to maintain staff moral in a remote work. To leverage it, the enterprise advises assimilating new team members by introducing them via weekly calls and team–building activities. SAP even launched a training program that included online learning, coaching sessions, conferences, and briefings.
Globality
Globality is an American IT product company that develops a revolutionary AI platform which matches businesses with the best suppliers. Having offices in the UK and US, Globality decided to assemble a virtual team in Eastern Europe with the help of Alcor. The company has 250+ employees in total, with 20+ developers in Eastern European locations who value the opportunity to work remotely (and not waste time commuting).
Software engineers from all these countries collaborate closely with each other, as almost all information is in open access within the company. The developers from Eastern Europe can see what the London or California teams are working on: recordings of their meetings and notes in project management tools. Any Junior or Middle developer who wants to grow professionally can join different Slack channels, see internal Wiki pages, and easily reach out to colleagues for necessary information. Even engineers who came from huge tech enterprises, such as Apple or Microsoft, are impressed with this level of transparency. Thanks to this, the company easily goes through the onboarding process of both remote and co-located employees.
3 Unsuccessful Virtual Teams
Fintech Company & Outsourced Virtual Team
Recently, I was contacted by a fintech company that used to work with a virtual team of developers via an IT outsourcing provider. The client needed to develop a new product feature rapidly. Unfortunately, the outsourced team was unable to do it in the short term, since those engineers were also involved in a project for another client. Moreover, the outsourcing company was the only one to communicate with the team, give tasks and assign IT experts to projects and companies. Because of that, developers perceived the vendor as the real employer while the client didn't have decision-making power. With no dedication from the virtual team, the deadline was missed and the client didn't achieve the desired goal.
AI Product Company & Lack of Cooperation
I also know another case where a software development company with a product based on machine learning technologies failed to build a successful virtual team. The reasons were a lack of cooperation among particular groups of programmers and no efficient leadership. Two-thirds of that team's members were located in Pennsylvania and the rest of the team was distributed across the United States. Accordingly, developers from the same state got closer to each other and worked independently, whereas other colleagues didn't know about project updates. Moreover, the company didn't set clear roles among the team members which made the situation even more confusing. Thus, a lack of collaboration and no distinct accountabilities sabotaged their chances for success.
E-commerce Platform & Cultural Barriers
In yet another scenario, an attempt by an E-commerce company to create a strong virtual team resulted in a fiasco due to dramatic cultural differences and language barriers. The leaders of this US-based business decided to assemble their team by hiring South Asian developers with quite good programming skills. But there was no compatibility with the team in terms of approaches to work, habits, and even humor. In addition, several team members had poor English language proficiency which made it especially difficult to articulate new ideas, current tasks, and long-term goals.
In order to avoid misunderstandings on the grounds of contradicting views and values, I suggest you consider countries of Eastern Europe as a destination to look for brilliant programmers. They have many cultural similarities with Western nations and sufficient knowledge of English for fulfilling job responsibilities and holding a conversation on non-work matters.
2 Lessons to Learn
Hire your own team of developers
The key lesson when it comes to building successful global virtual teams is to work with your own employees instead of external contractors. Tech companies that work brilliantly under this model highlight the need to create a supportive working environment with an atmosphere of trust and collaboration. If you choose to partner with an IT outsourcing provider, you probably won't overcome the common challenges of a virtual workplace, such as communication gaps and lack of dedication.
In addition, at some point you could find yourself overpaying for the outsourced IT services, as agencies usually don't inform clients about their exact price composition and charge hidden fees for team maintenance. 
Choose a partner country carefully
Another lesson refers to selecting a country that will fit your business needs. Firstly, pay attention to the number of developers with the necessary engineering skills. Then do some research as regards pay rates and the availability of governmental incentive programs to receive financial benefits as well. Apart from that, I suggest checking the current state of the local IT industry, including the number of events, tech communities, and companies that have already established their presence there. Finally, consider remoteness and time differences to ascertain whether you'll be able to synchronize with remote colleagues.
In the beginning, many IT companies don't have an idea where to look for perfect remote IT specialists. However, after thorough consideration, many of our US and European clients decided to hire developers in Eastern Europe. Even enterprise-level companies such as BigCommerce were astonished by their deep knowledge of programming and problem-solving skills. Another pleasant bonus is cost reduction which can be achieved not only by lower salary rates but also tax incentives. 
For example, in Romania developers and R&D employees pay 0% income taxes, while R&D companies are exempted from income taxes for 10 years. A tax deduction for R&D activities is also available in Poland: companies that generate income from their IP rights pay only 5% tax. All these factors in combination with geographic proximity, extensive experience of working with foreign clients, and a similar work ethic make software developers in Eastern European countries just perfect to collaborate with.
Habits of Highly Successful Virtual Teams
Frequent team–building activities
Examples of successful virtual teams prove the necessity of getting to know remote colleagues and building trust within the group. To improve internal communication, many companies opt for virtual team–building events, training on cultural sensitivity, group games, exercises, and icebreaker questions via platforms like Zoom, Skype, Microsoft Teams, and others. 
Check the time zones every time
While working with foreign colleagues, it's important to establish time-zone boundaries to avoid any confusion about work hour availability. Be specific when you plan a conference meeting or schedule submission dates. Alternatively, discuss the deadlines in both of your time zones. Once you agree on that, be mindful of other teammates' work hours. By respecting those schedules, you'll boost the team's overall performance and relieve group stress.
Conduct regular meetings
Successful virtual team case studies show that effective cooperation within this model requires mutual efforts from team leaders and developers. Managers are responsible for engaging their employees and organizing structured meetings, where all members would discuss their current matters and possible solutions. Implementation of such brief calls is helpful for setting up clear accountabilities and leveling up the engagement level of the team. You can make great use of virtual HR assistant tools for automatic scheduling of these meetings.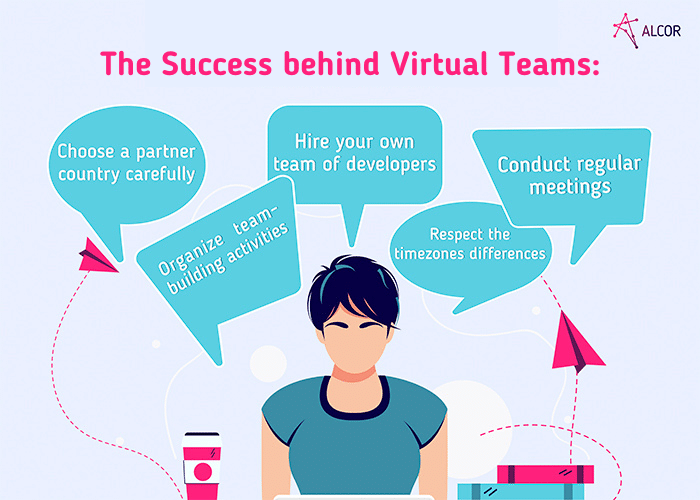 Looking for an IT Virtual Team?
Consider Software Developers in Eastern Europe
In order to have a successful business experience overseas, consider hiring programmers in Poland, Romania, or another Eastern European country with Alcor BPO services. Our model has numerous advantages in comparison to virtual teams. To begin with, you'll be able to manage your team directly, without any intermediaries who usually hinder communication. Thus, you'll be able to decide on team composition, use convenient work approaches, and influence team spirit. Additionally, with your own remote team you'll be able to control all business expenses, people, and software development.
People.ai is a software development company that already enjoys the perks of having its own team in Eastern Europe. They own an AI platform for B2B sales acceleration. Based in San Francisco, the company decided to expand its programming team overseas. Our professional recruiters operated as a BPO recruitment agency and provided the client with a large database of candidates along with analytical reports on pay scales and benefits. They managed to hire over 25 IT talents with rare tech skills, who formed the core of the People.ai software team in Eastern Europe. With our comprehensive assistance, the client managed to set up its R&D branch from scratch in just one month! Today the company employs 125+ specialists around the world and keeps growing further.
Final Thoughts 
By comparing successful versus unsuccessful virtual teams, we've come up with the main factors of their effectiveness and failures. Hire your own team of developers, choose a partner country carefully, organize team buildings, conduct regular online meetings, and respect different work schedules to manage the work of remote employees effectively.
In case you want to have a successful experience with a virtual IT team, consider hiring remote software developers with Alcor! On average, it takes us sending 8 CVs to get 1 accepted offer and 3-6 weeks in total to close a position. You will enjoy rapid and quality talent acquisition since we have 40+ tech recruiters on board to support your ambitious growth plan. With our offshore development services, you'll forget about time-consuming recruitment and instead focus on the core business.