Do you have a great product idea to bring to market or want to grow your product aggressively? Then, you should probably hire one or several software programmers, especially if there are not enough IT specialists in your home country (to meet the growing demand for skilled developers). For example, the labor market in the United States will add over 300,000 jobs in tech over the next 10 years – a 22% increase. Will you be able to compete?
Under such circumstances, you might have come up with the idea of hiring software engineers from popular offshoring destinations, and one such location is Ukraine. Developers here attract foreign IT businesses, and companies like Grammarly, People.ai, Samsung, Google, and Reddit have already cut down on expenses and hired IT talents by opening their R&D offices in Ukraine. You can do it as well.
Is Ukraine a Good Choice for Your Business to Outsource Software Developers?
Ukraine is an Eastern European country that has over 250,000 working developers with an additional 25,000 people graduating from tech universities every year. The Ukrainian IT market is growing exponentially every year, while local tech businesses also benefit from other perks in terms of legal compliance, accounting, and taxation.
Legal Aspects
In order to abide by the law while outsourcing or offshoring IT services to Ukraine, most companies contract programmers who are registered as private entrepreneurs, also known in the US as independent contractors, and cooperate with them under the service provision agreement.
Companies ensure that IT outsourcing or offshoring is successful by utilizing legal and compliance services in Ukraine. For example, our BPO company can supply the needed legal services to you – from your intellectual property protection to business visa support for your Ukrainian developers – and guarantee that your tech business is 100% compliant with local and your home country laws.
Taxation System and Accounting
Ukrainian software developers who work under the private entrepreneurship model benefit from tax incentives introduced by the Ukrainian government. They are subject to a simplified taxation system, namely group 3, and should pay only 5% income tax once a month, and 22% social security tax of a minimum monthly salary in Ukraine once in three months. Companies often cover the taxes of their outsourced or offshored developers in Ukraine. This sum is so small that it even helps companies save up to 70% of costs.
In order to be efficient in terms of tax planning, paying, tax returns preparation, as well as financial management, document maintenance, bookkeeping, and other operational functions, companies take advantage of payroll and accounting services in Ukraine. By delegating these and other administrative functions to trustworthy providers like Alcor, our customers save tens of thousands of dollars and avoid loads of paperwork in-house.
Ukrainian Developer Salaries
The main reason why business leaders choose IT outsourcing to Eastern Europe, particularly to Ukraine, is the salaries of local developers. They are several times lower than in the United States and Western Europe. Here the net salaries of software engineers, either working on a full-time or remote basis, start from $3,000/month for middle specialists, $5,000/month for senior programmers, and $6,000/month for team leads. The wage rate also depends on the tech stack. For instance, a Senior PHP developer salary ranges from $5,000 to $6,500, a Senior Ruby programmer earns from $6,000 to $7,000, the iOS developer salary of Senior specialists is $4,750, while a Senior Django developer salary constitutes $5,000 per month.
In the table below, you can find the salaries of experienced software developers according to our jobs market research, and data from one of the most popular job-seeking websites in Ukraine: Djinni.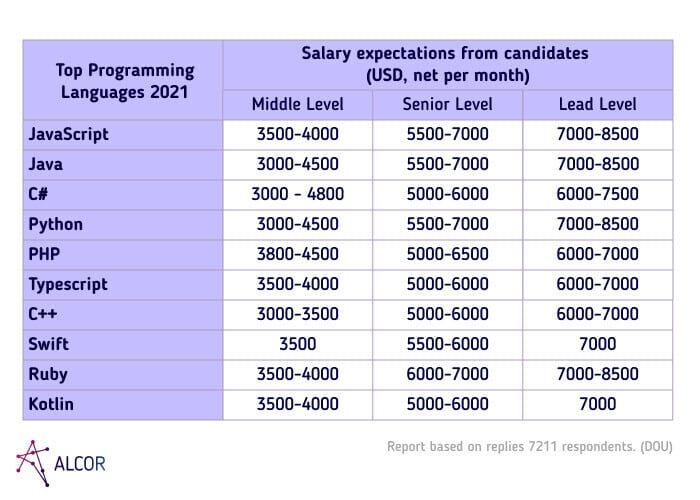 Developers' Hard Skills
You will not only save costs on lower salaries and taxes but also receive a high quality of code if you cooperate with Ukrainian programmers. As a business owner or hiring manager, you certainly want to bring in specialists who have the necessary expertise. You must already know how to set goals for engineers and what tech skills you need to achieve them, but what about ascertaining if the local talent can handle those needs? Assessing candidates' competencies is a focal task, and any mistake could end up costing lots of extra time and money! Check out our list of questions for a developer interview and engineering manager interview questions to hire a perfect Senior/Lead programmers.
Here are just a few important facts about software developers in Ukraine: their hard skills and tech expertise.
– They use a wide range of coding languages and technologies. JavaScript and Java engineers make up the most numerous group, followed by C#, Python, PHP, Typescript, C++, Swift, Ruby, and Kotlin programmers, according to DOU. The popularity of programming languages is as follows: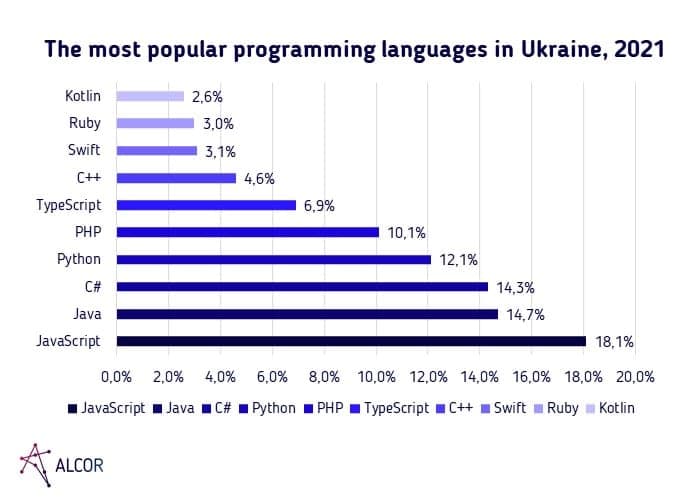 – More than half of Ukrainian programmers work in the back-end, almost 20% in web or front-end, and about 8% in mobile development. Others specialize in data processing, desktop, system, QA, and other spheres.
– In Ukraine, a developer can easily master skills with both short- and long-term projects, as many of them start their careers in outsourcing companies. Thus, they collect expertise in various fields and can contribute (with this knowledge) to product tech companies.
– They have high qualifications, with about 42,2% of Ukrainian developers ranking mid-level and 26% at senior level.
Software Outsourcing and Offshoring Destination
As for offshore software development, Ukraine shows outstanding results, and local developers earn recognition over a global scale. They are recognized as the top choice in various rankings, and local IT specialists often win in competitions that concern programming or software development. This serves as evidence of Ukrainian programmers' top performance and high expertise.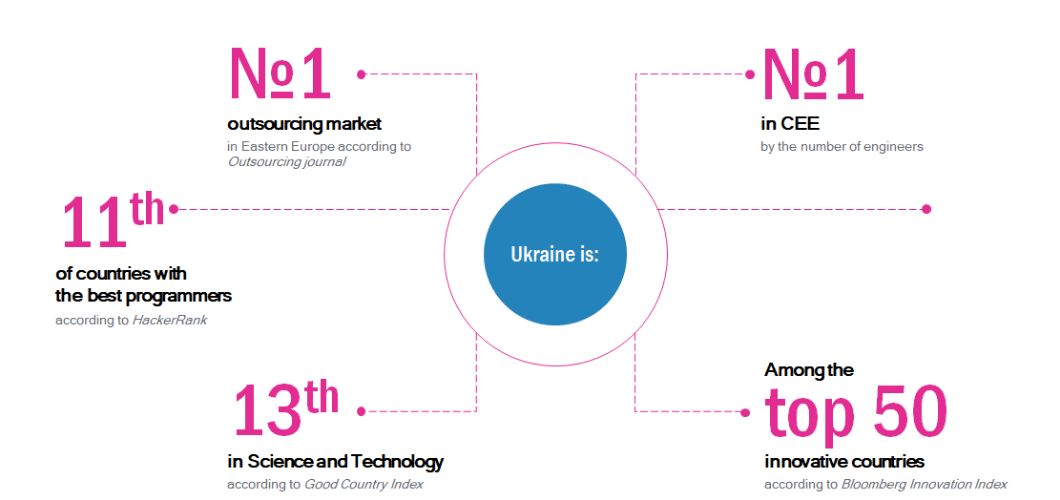 Soft Skills of Ukrainian Developers
A lot of managers from the USA and Western Europe who work with Ukrainians share the opinion that local developers make great employees. To better understand just what kind of people you'll meet here, check out the 10 prevailing characteristics below.
1. Effective Communication
In Ukraine, developers feel comfortable communicating with foreigners and have experience with international clients, mostly from the US and Western Europe. Many tech specialists have a foreign education or experience working abroad. Additionally, around 85% of Ukrainian engineers speak English at minimum Intermediate+ levels, about 50% of them having Upper Intermediate and Advanced levels of English.
2. Efficient Time Zone Adjustment
There's a considerable time difference between Ukraine and countries in the Americas. However, Ukrainian developers have long gotten used to adjusting their work processes in such a way that their clients enjoy an uninterrupted workflow. When it's already night in the US, it's the beginning of a workday in Ukraine, so local developers can work and deliver results. Beyond that, Ukraine has only a slight time difference with other European countries (1-2 hours on average) which helps Ukrainians effectively communicate with their counterparts from Europe.
3. Cultural Similarities
By being located in Eastern Europe, Ukraine shares many cultural similarities with the US and Western Europe. For instance, local programmers have similar values as their western colleagues and a strong work ethic: they are hard-working and take their responsibilities seriously.
4. Upfront Approach
Sometimes, foreign clients may feel that they receive less respect or attention from Ukrainian engineers than expected. Usually, such an impression has no grounds. Ukrainian developers may not seem easy-going and talkative at first sight, but they treat their employers with proper respect and are very friendly. Even more, if something goes wrong, local people will let you know about it since they are straightforward and tend to openly share their feelings and emotions.
5. Drive, Motivation & Interest
Ukrainian software engineers show a deep interest in technologies. Over three-fourths of them are enthusiastic about technologies and driven by what they're doing in their job. The most important thing is that over 70% of IT specialists in Ukraine would work in IT even if they didn't need to earn money. This being said, Ukrainian developers are very motivated.
6. Fair Assessment of Abilities
Ukrainian developers are fair when assessing your tasks and offering help. They will analyze your needs and honestly say if they can assist. You may get the impression that Ukrainian engineers will give a negative answer but they only do so if they see no other way that they can be of service. If this happens, you should understand that what seems a negative answer for now could save you both time and money in the long run.
7. Independence
Local dedicated Ukrainian software developers are outstanding independent contributors. Their creativity also allows for offering "unconventional" yet effective solutions. So, if you think about how to find a developer who can give you a valuable piece of advice, going to Ukraine is the right option.
8. Reserved Nature
In general, software engineers tend to be more reserved and appreciate personal space. The Ukrainians are not an exception to this rule, yet this doesn't mean you won't build good relations with them. Developing a relationship with your local software development team in Ukraine may take a bit longer, but they do value good leaders, teams, and teamwork. Once you learn more about them, you'll see that they are as open-minded as any others.
9. Teamwork
In Ukraine, a developer can work well both in a team or on their own. They can solve even the most complicated tasks using the support of their colleagues. They understand that results may depend on other team members and are ready to join the effort to reach success. Many of them are also positive about working in distributed teams, as they have much experience in outsourcing or outstaffing projects.
10. Learning Capabilities
Almost every Ukrainian software engineer has one or two higher education diplomas. 85% of programmers in Ukraine take different courses, attend lectures/seminars, read professional literature, and participate in events. Local developers pay special attention to education and self-development and allocate a lot of their free time to develop their skills.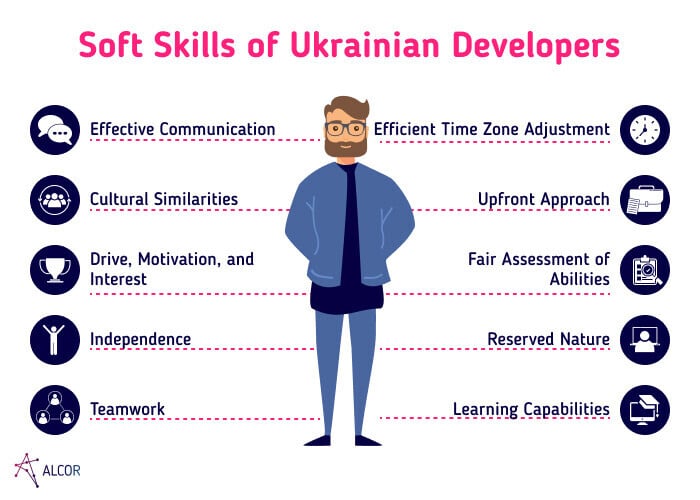 10 Steps to Hire Ukrainian Engineers
Going to a country like Ukraine to engage talent might seem frightening if you haven't worked with remote teams or adopted team extension models before. And whether you hire a freelance programmer or want your team with a local office, a large problem would be to find local talents and persuade them to start working with you. Here, you also have two options: source talents on your own or engage a local partner in Ukraine. When working on your own, you might fall victim to the lack of understanding of both the local market and software developers' interests. So, it might be more efficient to engage a recruitment agency.
How to choose and work with one? The whole process will look the following way: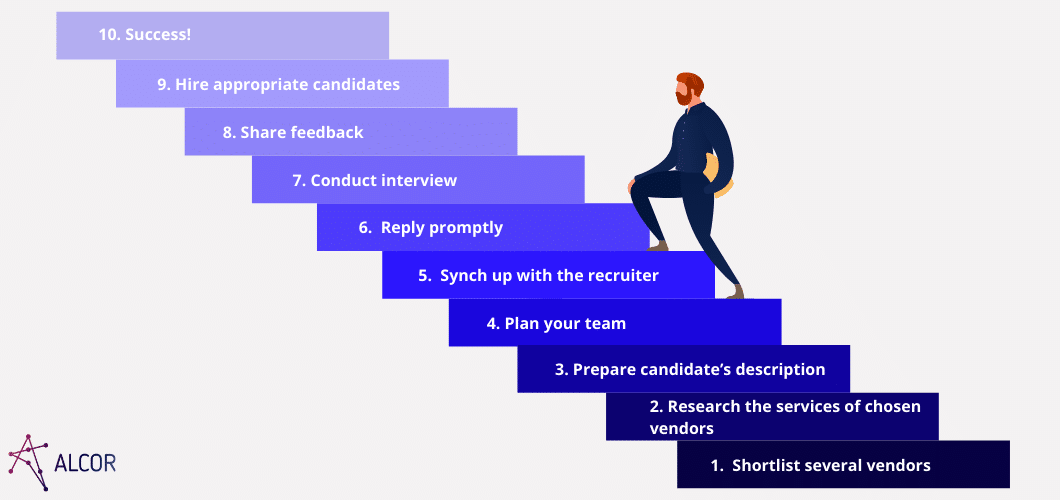 1. Shortlist several vendors
Pick 3-5 local recruitment agencies that offer recruiting services and understand how to hire Ukrainian developers. To create this list, you can use either review websites like Clutch or the recommendations of your friends and colleagues.
2. Research the services of chosen agencies
Once you've come up with a shortlist of companies, learn as much as possible about their operations and results. Check which services they deliver, how much experience they have, how they work, their pricing, and whether they assist you in conducting tech interviews and check English knowledge. Moreover, make sure that your partner provides guarantees, such as a 3-month candidate replacement guarantee, or a guarantee to hire a certain number of developers during a specific period (for example, 5 developers in 4 weeks).
3. Prepare a job description
After choosing a recruiting agency to proceed with, come up with a clear understanding of who you want to hire. In your description, provide as much detailed information as possible to ensure that the new hires will help you bring your product to the next level. That's also when you should come up with the benefits you'll offer to your new hires. And in case you need assistance with this, turn for the help of local recruiters.
4. Plan your team
Identify how many specialists you will need for your team in Ukraine. Define the number of Ukrainian development team members to see the scope of work to conduct. You can start with a single developer or search for several at once.
5. Sync up with the recruiter
Make sure that you're in tune with recruiters and they understand all your requirements. At this stage, you should also come clear with the recruiter about how many interview stages are expected and who will interview the candidates as well as state what kind of information about candidates (besides a CV) you would like to receive.
6. Reply promptly
In Ukraine, the software engineer unemployment rate is quite low, as these dvelopers are in high demand and may sometimes receive several messages about new job opportunities per day. Thus, you need to act as fast as possible so that you appear the most viable option for a candidate.
7. Conduct interviews
An opportunity of working with a recruitment agency lies in a chance to conduct the interview on your own. The recruiters may provide you the best candidates, but you will assess their skills. Moreover, it completely depends on you regarding how many interview stages there are (and which).
8. Share feedback
After you've interviewed the candidate, share your opinion about the interviewed candidate with your recruiter. They need your feedback to know what to say to the candidate as well as to understand if they need to fine-tune something (i.e., to find better candidates).
9. Hire appropriate candidates
Once you've found a software developer for hire, think thoroughly before making a final decision. Nevertheless, you should avoid unjustified delays while you're considering, so your candidate doesn't meanwhile accept another offer.
10. You've got a hire and can start working
The process is quite straightforward and brings outstanding results if you find a vendor who can perform to promised standards.
Where to Look for Developers in Ukraine
Nowadays it's easier to hire developers in Ukraine than ever before since the country has a well-developed IT community with over 20 IT clusters. The largest of them are situated in the biggest cities of Ukraine: Kyiv, Lviv, Kharkiv, Dnipro, Odesa, Zaporizhzhia, Vinnytsia, and others. Over 70% of all local developers live in Kyiv, Lviv, and Kharkiv. At the same time, most professional Senior Ukrainian programmers choose Kyiv.
According to several resources, there are about 5,000 IT companies in Ukraine, 100 of which are Fortune 500 companies. They mostly hire software developers either via in-house recruiters, staffing firms, or BPO providers like Alcor. For instance, our IT research and recruitment team uses our internal database with more than 170,000 candidates, business social network LinkedIn, local job-seeking resources, and other tools.
Consider the Alcor BPO Software R&D Center Solution
If you want to efficiently outsource IT recruitment and avoid providing other operational functions on your own, our BPO company Alcor can do it for you! We help you open your software R&D center in Ukraine, hire the best IT specialists for your team, then support you in terms of legal compliance, accounting, payroll, and additional functions.
You can open R&D center in Ukraine starting with us finding the perfect office space for your team, negotiating lease terms and an agreement with the landlord, making renovations/redecorations, supplying procurements, and providing office management. Or we may just set up home offices for your programmers and establish the IT infrastructure if you need.
Then, you will get outsourced IT recruitment support from our team and receive developers that meet your requirements the most. Our IT recruitment professionals will organize the whole recruitment process and get the best specialists onboard for you!
When the best engineers join your team, we give a 3-month warranty to replace the candidate for free if you are not satisfied with them.
To boost the recruitment process for your team in Ukraine, you can use employer branding services. This is what one of our clients Tonic Health opted for after they failed to hire from 5+ top IT specialists in one month on their own. Candidates were not aware of the company, so our team took over the task to promote the company brand in the Ukrainian IT market. We started by launching a social media marketing campaign on Facebook and LinkedIn and performed PR activities for Tonic Health on the most popular local IT media. All of this ended up with no offer rejections (even from Senior programmers) and fast accomplishment of recruitment KPIs.
After you've received offshore software development services like real estate support and recruitment, we can offer you our legal assistance services as well as accounting and payroll. In this way we take care of tax planning, developers' salary processing, your IP rights protection, document workflow & maintenance, financial statements, and statutory reports, etc. Even if you want to legalize your foreign programmers in Ukraine or get M&A deals support, we could assist you in these matters.
We are confident in the services we provide, so in case there's any kind of mistake from our side – we compensate 100% of your fines.
One of the most successful examples of IT offshoring is People.ai, an American-based company that develops an AI platform to streamline B2B sales. When they wanted to offshore IT to Ukraine, at first they used the services of several vendors which as a result delayed all the deadlines as a result. Then they found our solution and we set up their R&D office in Kyiv, hired over 25 engineers, and provided all back-office functions as needed.
Final Thoughts
More and more technology companies, such as Apple, Google, Samsung, Huawei, Siemens, BigCommerce and others, are moving their research and development to Ukraine. And with the help of companies like Alcor BPO and their professional recruitment team, product IT companies are receiving more benefits from local tech talents. They recognize that IT developers from Ukraine have the necessary hard and soft skills to be part of a global team.
Would you like to try working with Ukrainian software engineers? Share your recruiting needs with us, and we will provide you with solid assistance!