Do you have a great idea for a product to bring to market, but not a clue where to find the needed IT specialists? Or maybe you want to grow your product aggressively? In both cases you need to hire a software programmer, or maybe several, but…
In the United States, tech specialists are in high demand, with nearly a quarter-million unfilled job openings for software developers (according to The App Association). Whereas the shortage of IT experts is a major issue in the US, in contrast, the Ukrainian IT market has over 160,000 working developers (2018 statistics) with an additional 20,000 people graduating from tech universities every year.
Under such circumstances, you might have come up with the idea of hiring software engineers from popular offshoring destinations and one such location is Ukraine: developers here attract foreign IT businesses and companies like Grammarly and People.ai, Samsung and Wargaming, Google and Reddit have already cut down on expenses by opening their R&D offices in Ukraine. Yet if you've never encountered Ukrainian developers, you might lack knowledge about the local market for tech specialists.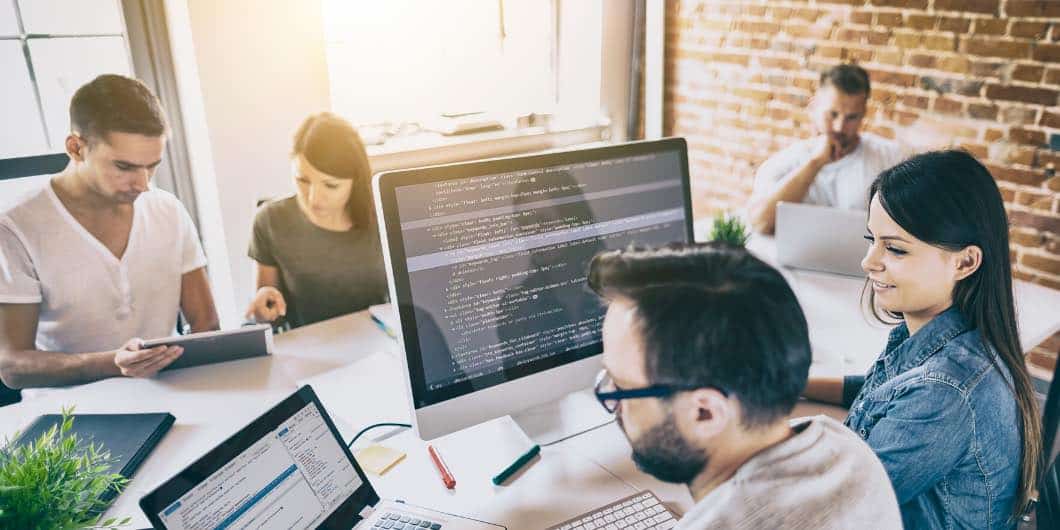 How to Hire the Best Ukrainian Software Engineers
Going to a country like Ukraine to engage talent might seem frightening if you haven't worked with remote teams before. And whether you hire a freelance programmer or want your own team with a local office, a large problem would be to find local talents and persuade them to start working with you. Here, you also have two options: source talents on your own or engage a local partner in Ukraine. When working on your own, you might fall victim to the lack of understanding of both the local market and software developers' interests. So, it might be more efficient to engage a recruitment agency.
How to choose and work with one? The whole process will look the following way:
Shortlist several vendors
Pick 3-5 local recruitment agencies that offer recruiting services and understand how to hire programmers. To create this list, you can use either review websites or the recommendations of your friends and colleagues.
Research the services of chosen agencies
Once you've come up with a shortlist of companies, learn as much as possible about their operations and results. Check which services they deliver, how much experience they have, how they work, their pricing, and whether they conduct tech interviews and check English knowledge. Then it's time to compare.
Prepare a job description
After choosing a recruiting agency to proceed with, come up with a clear understanding of who you want to hire. In your description, provide as detailed information as possible to ensure that the new hires will help you bring your product to the next level. That's also when you should come up with the benefits you'll offer to your new hires. And in case you need assistance with this, turn for the help of local recruiters.
Plan your team
Identify how many specialists you will need for your team in Ukraine. Define the number of team members to see the scope of work to conduct. You can start with a single developer or can search for several at once.
Sync up with the recruiter
As soon as you've handled all the issues with the company, it's time to get to know the recruiter who'll look for local IT talents. Make sure that you're in tune with them and that they understand every letter of your requirements. At this stage, you should also come clear with the recruiter about how many interview stages are expected and who will interview the candidates as well as state what kind of information about candidates besides a CV you would like to receive.
Reply promptly
In Ukraine, developers are in high demand. They may sometimes receive several messages per day about new job opportunities, so make sure you act fast. In case a candidate who fits your need gets another offer while you're still deciding, you might need to start the search over (while a prompt decision could be a win).
Conduct interview
An opportunity of working with a recruitment agency lies in a chance to conduct an interview on your own. The recruiters will provide you only with the best candidates, and you will be able to assess their skills. Moreover, it completely depends on you regarding how many interview stages there are (and which).
Share feedback
After you've interviewed the candidate, share your opinion about the interviewed candidate with your recruiter. They need your feedback to know what to say to the candidate as well as to understand if they need to fine-tune something (to find better candidates).
Hire appropriate candidates
Once you've found a software developer for hire, think thoroughly before making a final decision (but avoid unjustified delays), as while you're considering, your candidate might already accept another offer.
You've got a hire and can start working.
The process is quite straightforward and brings outstanding results if you find a vendor who can perform to promised standards. But what will you get in return for your effort?
Why hire Ukrainians: Cost-Effectiveness and Salaries
If you still have concerns about going to Ukraine, the developers that live and work locally serve as the best reason to consider hiring specialists in a remote location. And the primary reason lies in cost-efficiency for engaging such talents.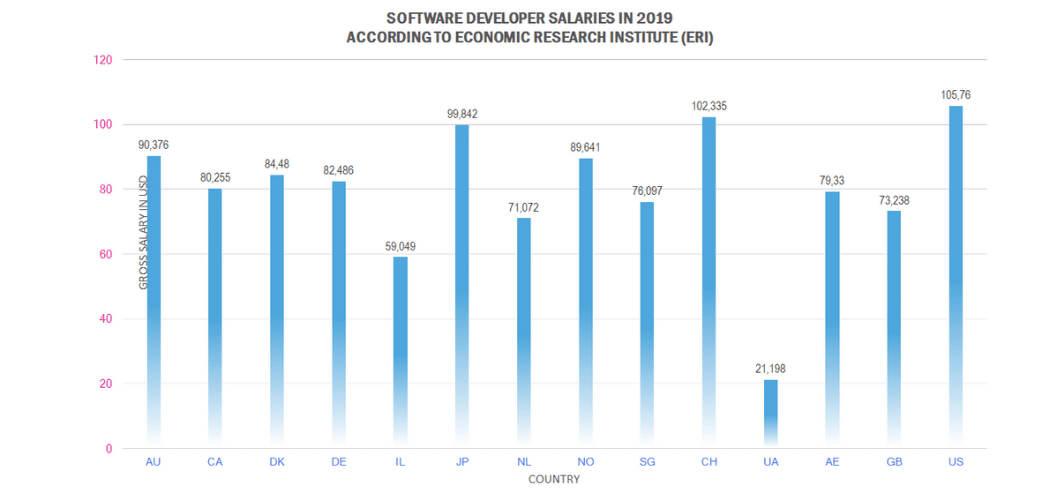 Salaries of software engineers, either working on a full-time or remote basis, in Ukraine start from $750 for junior specialists and reach $4500 for seniors. In the table below, find the salaries of experienced software developers, according to the data from our own jobs market research.
| | |
| --- | --- |
| IT specialist | Salaries in Ukraine  |
| Java | $1820-4500 |
| JavaScript | $1850-4600 |
| C#/.NET | $1750-4240 |
| PHP | $1400-4000 |
| C++ | $2000-4200 |
| Python | $1700-4200 |
| Swift | $1900-4500 |
| Ruby | $2000-4500 |
| QA | $1220-3500 |
| Objective-C | $1760-4000 |
No matter how attractive local salaries seem, we bet you're not ready to sacrifice on quality just to cut down your costs. The most important thing is that you won't have to (in the case you decide to engage Ukrainian developers).
Why Hire in Ukraine: Software Outsourcing and Offshoring Destination
As for offshore software development, Ukraine shows outstanding results, and local developers earn recognition over a global scale. They are recognized as the top choice in various rankings, and local IT specialists often win in competitions that concern programming or software development. This serves as evidence of programmers' top performance and high expertise.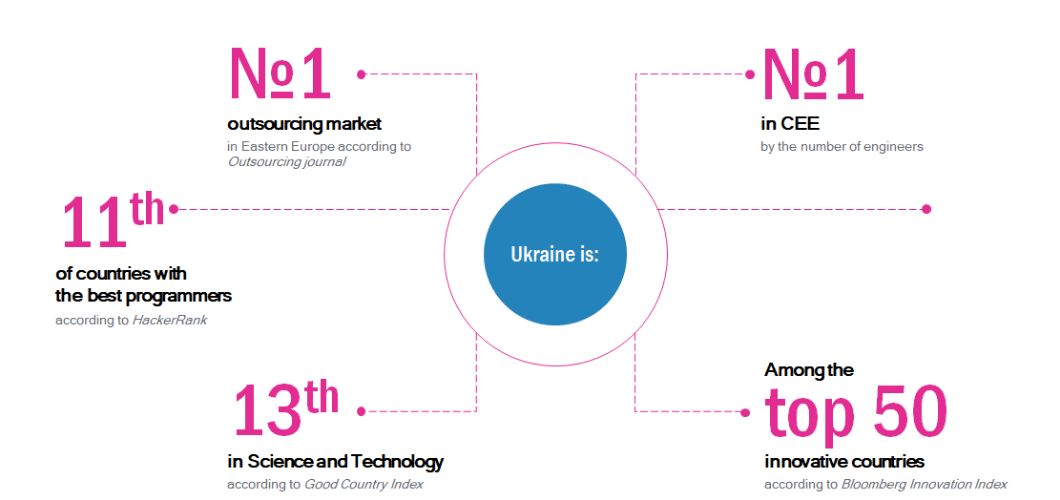 Benefits of Offshoring to Ukraine: Developers' Hard Skills
As a business owner or hiring manager, you certainly want to bring in specialists who have the necessary expertise, and you definitely know what tech skills you need and how to assess them – but what about ascertaining if the local talent can handle those needs. Assessing candidates' competencies is a focal task and a mistake could end up costing lots of extra time and money!
Here are just a few important facts about hard skills and tech expertise (regarding Ukrainian software engineers and their hard skills).
They use a wide range of coding languages and technologies, the most common being Java, JavaScript, C#, PHP, Python, C++, Swift, and Ruby. The popularity of programming languages is as follows: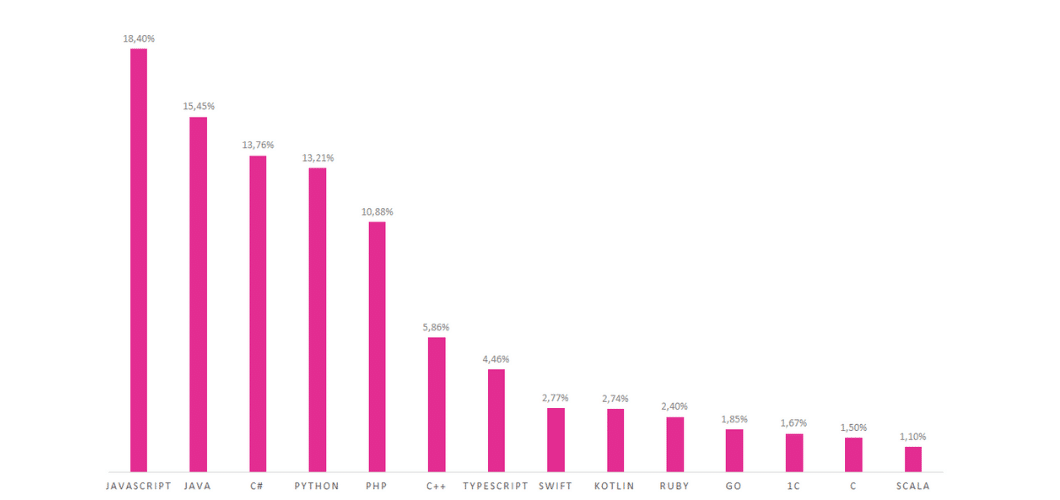 On average, over 50% of Ukrainian software engineers have 5+ years of professional experience. In Ukraine, a developer can easily master skills with varying projects, as many of them start their careers in outsourcing companies. Thus, they collect expertise in various fields and can contribute (with this knowledge) to different spheres and products.
They have high qualifications, with about 35% of Ukrainian developers ranking mid-level; 20% senior level; and 10% team leads.
No doubt those tech skills are essential, but personal qualities and soft skills are also growing in importance, so one should better understand what to expect when involving Ukrainian developers. This knowledge will help you simplify the hiring process, increase the quality of your hires, and ensure a more effective work environment.
Soft Skills of Ukrainian Developers
Despite all concerns, western managers who work with Ukrainians share the opinion that local developers make "great" employees. To better understand just what kind of people you'll meet here, check out the 9 prevailing characteristics below. As they say, "Forewarned is forearmed."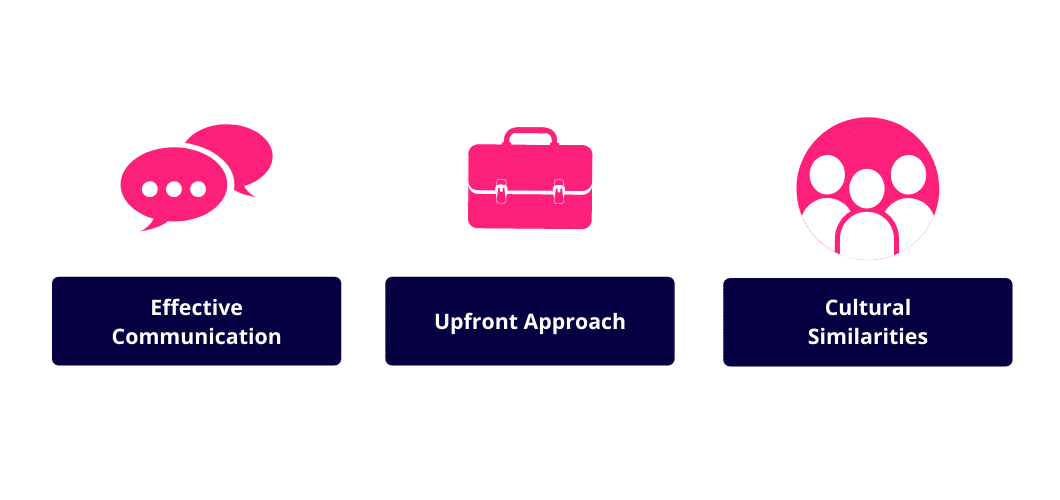 Effective Communication

In Ukraine, developers feel comfortable communicating with foreigners and have experience with international clients, mostly from the US and Western Europe. Some tech specialists have foreign education or experience working abroad. Additionally, research by a main local developer portal has found that 80% of IT specialists in Ukraine speak adequate English. So, you'll understand one another well and stay on the same page.

Cultural Similarities

By being located in Eastern Europe, Ukraine shares many cultural similarities with western countries. You'll notice that most local tech specialists grew up enjoying western culture, movies, and music. This means that you'll face similar values and a strong work ethic in Ukraine: developers are hard-working and take their responsibilities seriously (like their colleagues from western countries).

Upfront Approach

Sometimes, foreigners may feel that they receive less respect or attention than expected, but usually such an impression has no grounds. Ukrainian developers may smile less than their western colleagues, but they still treat you with proper respect. Even more, you'll notice if something goes wrong, local people are straightforward and share what they think or feel.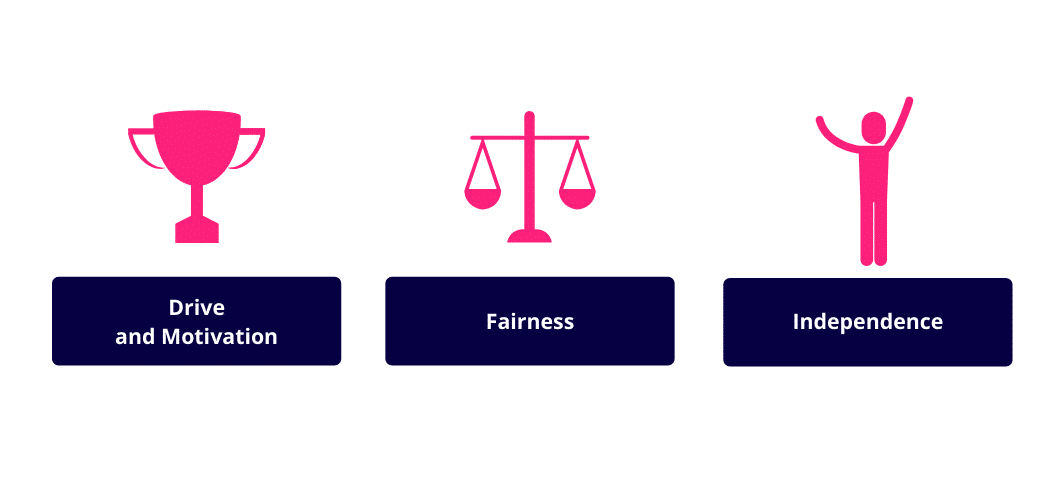 Drive, Motivation, and Interest

Ukrainian software engineers show a deep interest in technologies. Over three-fourths of them are enthusiastic about technologies and driven by what they're doing in their job. The most important thing is that over 70% of IT specialists in Ukraine would work in IT even if they didn't need to earn money (according to research conducted by the local developer portal DOU). This being said, in Ukraine developers are very motivated.

Fair Assessment of Abilities

Ukrainian developers are fair when assessing your tasks and offering help. They will analyze your needs and honestly say if they can assist. You may happen on an idea that Ukrainians would answer with "no," but they only do so if they see no other way that they can be of service. If this happens, you should understand that what seems a negative answer (before they start working on your project) in the long run could save you both time and money.

Independence

Ukrainians have often proven technical and engineering skills. Local software developers inherited this technical culture and transformed it into a written code. Their creativity also allows for offering "unconventional" yet effective solutions. So, if you think about how to find a developer who can give you advice, going to Ukraine is the right option.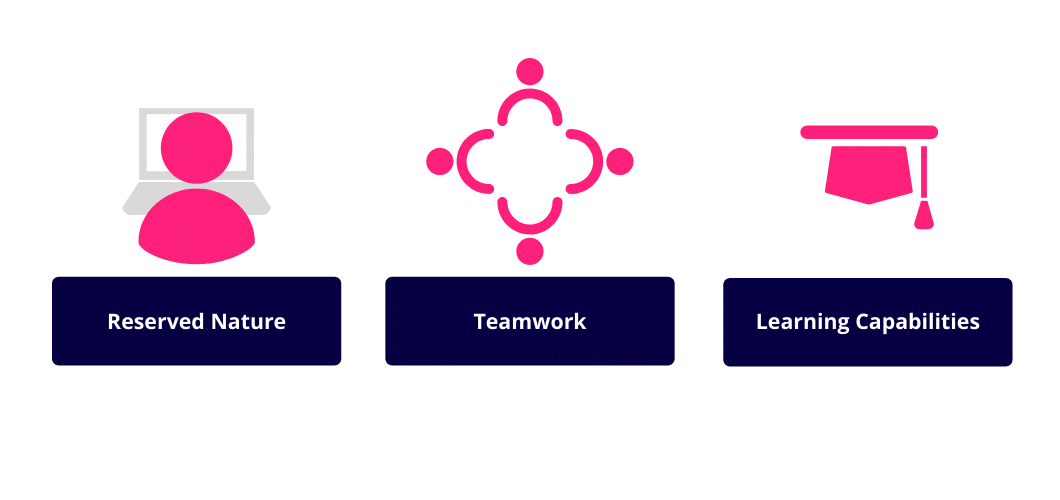 Reserved Nature

In general, software engineers tend to be more reserved and prefer being separated from others. Ukrainians are not an exception to this rule, yet this doesn't mean you won't "get along" with them. Developing relationships with your local team may take a bit longer, but they do value good leaders, teams and teamwork. Once you learn more about them, you'll see that they are as open-minded and friendly as any others.

Teamwork

In Ukraine, a developer can work equally well in a team or on their own. They can solve even the most complicated tasks with support from their colleagues. They understand that results may depend on other team members and are ready to join the effort to reach success. Many of them are also positive about working in distributed teams, as they have much experience in outsourcing or outstaffing projects.

Learning Capabilities

The IT world is evolving at a high pace, so developers must put a lot of effort into staying on top of their ever-changing environment (and remaining competitive). Hence, it is important to mention that Ukrainian developers are eager to boost their skills by visiting training, conferences, or reading technical literature. Even more, Ukrainian developers have diverse knowledge, so don't be surprised if they start discussing theatre, literature, or art in the kitchen.
Generally, western technology companies have been hesitant about moving their research and development to Ukraine, mostly due to the lack of knowledge of how to hire a software developer here. Yet with the help of companies like Alcor BPO and their professional recruitment team, product companies like Tonic Health, People.ai, and BigCommerce are taking advantage of the local tech talent. They recognize that Ukrainian developers have the necessary hard and soft skills to be part of a global team.
Would you like to try working with Ukrainian software engineers? Share your recruiting needs with us, and we will provide you with solid assistance!