The recent trends in the sphere of HR are both alarming and hopeful. On the one hand, Deloitte reports staggering new-hire 14% turnover rates, which is way more than the highest suggested rate for other spheres, which amounts to 10% at the most. This indicates a need for improving the existing hiring strategies. On the other hand, 60% of companies have purposely invested more in automation technologies in the past year, which means the change is already happening. 
So, we're facing the need of optimizing our approaches to hiring, which at times means even more work than before, i.e. diving into tech solutions, disrupting routine strategies, etc. Is there a way to make it simpler for your recruitment team? 
This article will fill you in on who (or what?) a virtual assistant recruiter is, as well as their roles & responsibilities and projected improvements of your talent acquisition process if you decide to hire a virtual recruiting agent. My bet is you'll get quite a few insights, let's check!
Who Is a Virtual Recruiting Assistant?
A virtual recruiting assistant stands for a professional or an AI-tool, commonly a chatbot, that is responsible for administrative tasks, thus reducing hiring workload and contributing to improving candidate job application process. 
Benefits of a Virtual Recruiting Assistant for Your IT Business
Lower Costs
Turning to a virtual HR assistant allows a business to save on most expenses associated with, let's say hiring an in-house recruiter to perform the same duties. These include training costs and employment taxes. Also, if you decide to delegate tasks to a chatbot, such as AllyO, Emerson or Mya, for instance, you'll cut down on overall expenses even more since subscription fees will be lower than employment costs. 
Higher Efficiency
Hiring a virtual assistant alleviates the burden of managing routine administrative tasks for your recruitment team. As a result, there's more free time for them to focus on strategically important tasks, such as: 
planning out your employer branding
getting in touch with candidates
engaging in active candidate search
fully immersing themselves in the interview preparation. 
That's an incredible boost to your recruiters' productivity. Even if they  use a chatbot as their virtual recruitment assistant, they'll be able to fully delegate candidate application updates to a conversational tool AllyO, candidate screening to Emerson and interview scheduling to Mya. So many tasks off of one's list, isn't that cutting-edge?
Better Candidate Experience
According to candidate experience statistics from LinkedIn, applicants definitely  appreciate feedback — 52% reported willingness to continue their relationship with a company when given feedback on their interview regardless of its success. A virtual IT recruiting agent can be immensely helpful in automating feedback responses. Also, 48% of candidates react positively to receiving details regarding their upcoming interviews, which can be easily delegated to the assistant. The better overall candidate experience, the higher the company reputation. Ultimately, it may lead to more applications, so it's an undeniable win-win.
Roles and Responsibilities of a Virtual Recruitment Assistant
Verifying Candidate Information
A candidate background check may take up to a week, as it involves confirming the education and work experience CV sections, obtaining employment references, making a criminal record check etc. Speaking about chatbots, both Mya and Emerson can do additional research into the candidate's background. However, they may not be reliable in contacting previous employers and other institutions to get employee references and other necessary documents. A virtual HR agent, on the other hand, can manage the entire process on behalf of the recruiter. 
Screening & Shortlisting 
Screening refers to the process of evaluating candidate applications, scanning resumes and selecting candidates whose skills and experience match the ones required in job descriptions. With a virtual IT recruitment assistant, your team can make such competency assessments much faster, thus leading to optimization of this part of technology recruitment. When in need to sort out a large number of applications, such help may come in handy. 
Communicating with Candidates
Prior to actually interviewing applicants, there are a few more administrative tasks to be done, i. e. answering their questions and scheduling interviews. Communication automation stands out among other recruitment solutions because it allows to reach out to multiple candidates at a time. As a conversational chatbot, AllyO can chat with your potential hires and send out updates on their applications, while Mya is of great help when carving time for a candidate interview. If you decide to hire a virtual HR assistant, you can also assign them another task, which is saving the data to your company's candidate database, allowing you to create your own talent pool for future job offers. 
Dealing with Onboarding
Recruitment isn't over when you finally hire a talented tech expert. Afterwards, you should thoroughly structure your onboarding. Essentially, it leads to higher employee retention rates, as argues Forbes. If you rely on AI instruments as your virtual recruiting agent, it can save the time of your team by sending out initial instructions, helping to set up their accounts, etc. If you hire a virtual recruitment assistant, then you'll have even more things taken care of, which is especially helpful when the interview schedule is tight.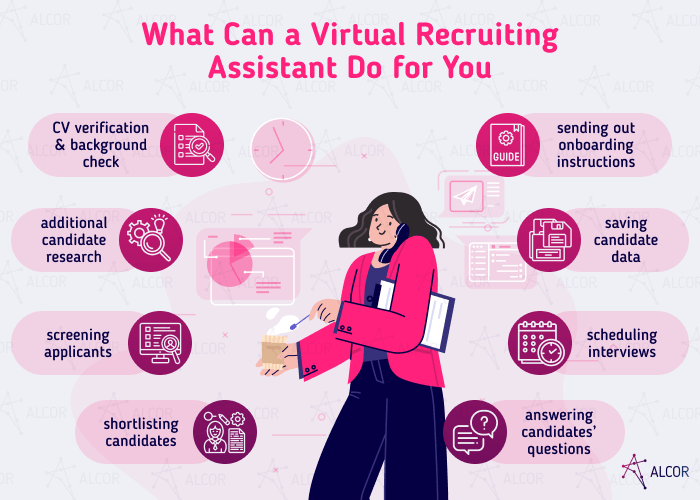 As you might have noticed, technical solutions based on AI offer various services, but cannot entirely replace a human professional if you need to have the administrative tasks managed in a structured and comprehensive way. For this reason and depending on your needs, I'd recommend you to consider hiring a virtual IT recruiting assistant. Here are some tips on how to succeed. 
How to Hire a Virtual Recruitment Assistant?
Hire on Your Own
The most straightforward approach is to stay in charge of hiring an HR virtual assistant. Such a decision is beneficial because you won't have to learn the ropes of other recruitment models, thus operating in a familiar way that may well bring some positive results. However, if you're seeking a professional with rare skills, e.g. your goal is to hire a virtual assistant that has a good understanding of Front End & Back End to be able to assess your candidates better, it might take more time to find one. 
Find an On-demand Recruitment Assistant
Within this approach, I mean outstaffing, i.e. temporarily getting a dedicated in-house recruiter onboard your team to focus solely on the tech hiring process. Outstaffing will allow the recruiter to get the hang of your corporate culture & internal processes, eventually resulting in them providing you with a good fit. However, consider the monthly costs of an additional team member.
Choose IT Recruitment Outsourcing Instead
The next solution to finding a qualified virtual agent is to outsource hiring to another agency. This way, you won't need to focus on recruitment that much, which is useful if it's not your first priority but is still an important task to increase the efficiency of your team. External IT recruitment can even replace a virtual assistant. Via this model, you partner with an entire recruitment team that can meet your hiring needs faster than one virtual helper. Another competitive advantage is the access to a large talent pool, plus a vast network of local IT communities. Besides, by choosing an IT recruitment provider, you can assemble a team, let's say, in an Eastern European country, where salaries and taxes are lower in comparison to the US rates. IT recruitment providers charge around 15-20% of an annual developer's salary which is far more affordable compared to a dedicated recruiting assistant onboard. Let's see how that cooperation looks in practice?
One of our clients, a US scientific software product company Dotmatics, was looking for IT recruitment in Eastern Europe, so they reached out to us and we started our cooperation. Our client's priorities were clear — superior hires within a short timeframe. In a year, we set up a team of 30 IT specialists for Dotmatics, filling most positions with the first candidate. If your need for a skilled virtual recruiting assistant is pressing, but hiring one is an additional burden, IT recruitment outsourcing can make it easier for you. 
Challenges of Hiring a Virtual Recruiting Assistant
Difficulty in Selecting Candidates
Suppose you were only getting familiar with the whole concept of a virtual recruiting assistant and what they should do for your team. In this case, you might be simply unsure as to what skills you should be looking for. Another pitfall is setting high expectations in terms of time-to-hire, which may not always be the case since you'll need more time to select the right candidate. 
Solution: Set reasonable expectations & adapt your approach if needed. In other words, treat it as an experiment and be ready to turn to other recruitment methods if needed. IT recruitment may help you out, especially if it's the first time you're attempting to delegate specific tasks to a virtual agent. 
Time-Сonsuming Hiring Process
Apart from being new to the practice of virtual recruiting assistants, you may find recruitment time-consuming due to other factors, such as a lack of talent or access to it. It may be rather complicated to mitigate them on your own. 
Solution: Turn to those whose talent network is larger than yours. In this case, IT recruitment outsourcing is the best way, as it gives you control over the recruiting process, but you don't have to be directly involved in all its administrative stages. That's why, if your needs are larger than what a single virtual recruiting assistant can cover, plus there's no time to lose, this model will come in handy.
For instance, Alcor's team recently found 6 software engineers for GoTransverse in just 6 weeks! This cloud-based software product company was aiming to set up a remote team of full-stack developers. Our team filled the vacancies with an astonishing 95% CV pass rate, which is even higher than our guaranteed 80%. Additionally, we helped our client hire in Eastern Europe without having to establish a legal entity. All in all, external IT recruitment shows you the perks of delegating without the need to additionally recruit an assistant.  
Final Thoughts
To sum up, a virtual recruiting assistant is a professional who manages recruiters' administrative workload, thus improving overall team performance and candidate experience while reducing costs. You may either hire an individual for this purpose or resort to AI-based tools to cover such tasks as candidate check, screening, shortlisting, interview scheduling, communication with applicants and optimizing onboarding. If it's a necessity to manage the whole process from top to bottom, it's better to hire a human virtual HR agent. 
With this approach, you're likely to decrease your new staff turnover rates thanks to more efficient onboarding, as well as try out automation technologies for specific responsibilities. As a result, you stay in the loop of current trends and, come what may, are ready to face modern HR challenges. 
We're Alcor, an IT recruitment provider with 10-year expertise on the Eastern European market, including Poland, Romania, Ukraine, and Bulgaria. What we know best is how to hire top-notch programmers with rare combinations of skills. 
If you've never tried IT recruitment services, you have nothing to worry about. Being experienced in various types of IT engagement models, we're ready to compare them for you and find the best solution to fill your tech positions. For example, IT recruitment is often part of the Build-Operate-Transfer model. Eager to find out how it works? Don't hesitate to reach out — Alcor will have you covered on way more than one virtual assistant can.