For the last couple of years, the number of tech companies going digital-only has skyrocketed, as this approach enables them to remain competitive and operate efficiently in a fast-paced environment. However, along with such dramatic changes in doing business, the issue of maintaining effective recruitment of software developers arose. Some tech companies successfully started to implement virtual hiring strategies which led to reaping the benefits of this process, while others encountered issues of transferring their classical recruitment online.
In this article, I am going to talk about this new hiring approach, present its pros & cons, and share some valid virtual recruitment ideas and best practices. This will help you to devise a workable strategy for hiring engineers remotely. However, if this option is not your cup of tea, you can always delegate virtual hiring to a professional IT recruitment company like Alcor. We have more than 10 years of tech market experience and can hire Polish developers, as well as IT talents from other Eastern European countries for your remote team. Keep reading this article to find out more about our unique solution.
Virtual Recruitment Pros and Cons
Virtual recruitment is a modernized way of hiring professionals via the Internet. Unlike classical hiring, it presupposes the usage of multiple recruiting technologies needed to carry out video interviews, online hiring events, candidate assessments, and to maintain effectiveness in general.
Online recruitment gained popularity during the last couple of years, as face-to-face communication was heavily restricted. That's when IT companies started to integrate virtual hiring strategies. Even though the world is steadily moving towards the post-pandemic era, both remote work and virtual recruitment are here to stay. According to Microsoft 2021 Work Trend Index, 70% of employees want remote work options to continue, while 66% of business decision-makers are considering the implementation of a hybrid work environment. Hence, let's take a closer look at the pros and cons of online recruitment. 
Advantages
– Access to a broader pool of candidates. The proliferation of virtual recruiting solved multiple problems and even boosted the hiring process. Technological companies now have the possibility to tap into a bigger pool of candidates, as they are no longer limited by their immediate area. By overcoming geographic barriers, IT entrepreneurs opened a whole new world where scaling up is more cost-effective. For instance, if hiring Polish or Romanian developers, product companies from the US can get access to a larger pool of well-versed programmers (over 800,000 tech talents). They can also hugely cut their expenses, as the average salaries for IT specialists there are approximately 3 times lower than in the USA. The same thing concerns payroll taxes which range from 5% to 16% in Eastern Europe. 
– Time-effective candidate screening. Virtual recruitment also enables tech businesses to speed up the employment process by means of fast candidate screening, such as one-way video interviews and online assessment tools.
– Improvement of candidate experience. By moving candidates more quickly through the process, remote recruitment reduces administrative work for headhunters. In this way, they can focus more on building connections with talented applicants, thus improving the hiring experience. Social media, emails, and virtual event tools enable recruiters to contact potential candidates with ease, while chatbots are always there to provide job seekers with answers to basic questions.
– Convenient interview scheduling. Since remote recruitment is done via the Internet, there is no need in booking conference spaces or wasting time and money on commuting. Instead, hiring managers can easily plan online job interviews with a virtual recruiting assistant that selects the most convenient time for both parties.
– Minimization of bias. One of the fundamental differences between in-person and virtual recruiting is the degree of objectivity. Unlike in-person hiring, virtual recruitment provides IT companies with a more diverse candidate base by reducing bias. For instance, blind CV screening can shift your focus from applicants' ethnic backgrounds or marital status to such essential aspects as qualifications and experience. Skill testing tools can eliminate age and gender prejudice, while video recording can be used to reduce the influence of in-the-moment reactions and restore memory gaps when comparing candidates.
Disadvantages & Limitations
Even though remote recruitment has a whole bunch of advantages, there are some ambiguous factors that should be considered. 
– Technological acumen problems. Virtual recruitment technologies play a crucial role in reaching online hiring goals. However, it's vital to bear in mind that some people can learn on the fly, while others may struggle with mastering new digital-related skills. Thus, it's essential to stay patient and give some time for your recruiters to expand their knowledge and optimize the hiring process. 
– Possible technical issues. It's not only humans who make mistakes. Even the most reliable online tech tools will not work properly if one of the parties has connection problems. Therefore, it's vital to always be prepared for such an unexpected issue by having a backup plan and phone number of the candidate.
– External distractions. Most candidates attend virtual interviews from home which increases the possibility of being distracted by the surrounding noises and voices. Moreover, a familiar setting may not allow candidates to set themselves on a formal vibe, leading to a more laid-back attitude in some cases. 
– Difficulties in reading non-verbal signs. While candidates may face outer distractions, virtual recruiters could have a hard time reading nonverbal signs, which constitute around 80% of human interaction. Body movements, gestures, and facial expressions indicate what candidates truly mean when answering this or that question on the job interview. Thus, the inability to read non-verbal signs can sometimes result in getting a misleading portrait of the applicant.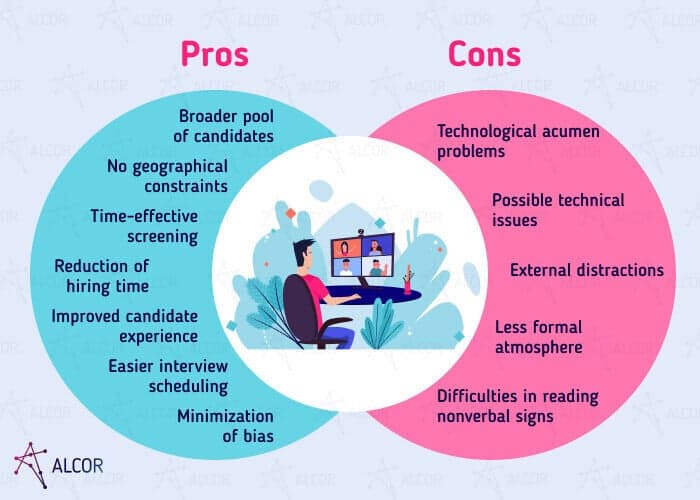 3 Most Effective Virtual Recruiting Ideas
Remote recruiting provides IT companies with multiple benefits. However, to boost online hiring, it's vital to incorporate the best virtual recruitment ideas to attract more candidates and facilitate each lifecycle of recruitment. 
1. Perform virtual recruitment events
Recruitment events have always been a successful means of extending the talent pipeline, building brand awareness, and connecting with potential applicants. To maintain these benefits, IT businesses are transferring classical recruitment events to the virtual environment. I'd like to introduce you to the top 5 virtual hiring event ideas that you can incorporate in your recruitment strategy. 
– An online job fair is a great means of expanding the talent pool. During the job fair, candidates can learn more about your company, while your remote recruiters can filter CVs and conduct screening interviews on the spot.
– Online info sessions are designed to inform your potential candidates about the specifics of a profession and the field your company is engaged in. You can invite IT industry leaders, your company's executives, HR specialists, IT recruiters, or just software developers of various expertise levels.
– Remote workshops are some of the most attended virtual recruitment events. You can carry out presentations on resume writing or skill-building exercises to assist motivated software developers with landing a job in your company.
– Virtual hackathons can help you find truly talented coders for your remote team. You just need to carry out competitions where candidates will be able to demonstrate their professional knowledge and skills. 
– A virtual office tour is a wonderful opportunity to show your company from within (if you have a hybrid work format). It's a fun and captivating way to give a good first impression of what a usual working routine looks like, plus demonstrate how the corporate culture is implemented in your company.
2. Conduct an employer branding campaign
In case you'd like to expand your IT business by having a remote development team abroad, then you'll need to build a strong employer brand in that region. Sometimes product companies face time-consuming recruiting when they enter new markets. Therefore, to avoid possible recruitment challenges, make sure you conduct an employer branding campaign. Alternatively, you can delegate this very task to a virtual recruitment partner — just like Sift did. This US-based product company wanted to hire 30-35 software developers in a year. To achieve this ambitious goal, they decided to collaborate with Alcor. We instigated and managed a video shoot and social media campaign for the company's promotion. In this way we vastly increased candidate awareness about Sift in the local market, which led to applicant base enlargement and acceleration of the employment process. As a result, Sift's remote team was enlarged by 30 programmers in a year.
3. Invest in online hiring technology
The above-mentioned ideas won't work without appropriate virtual recruiting technologies. When switching to remote hiring, it's essential to identify a set of tools that can boost the productivity of your recruiters and improve virtual hiring results. Check out the list of useful technologies in the picture below.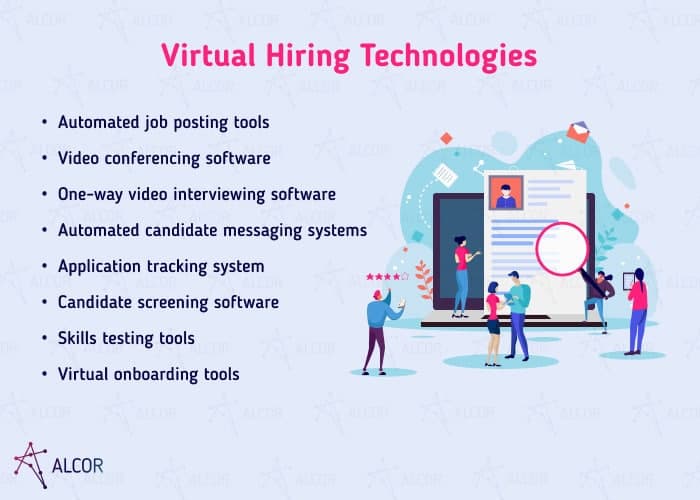 4 Virtual Hiring Best Practices & Tips
Sometimes tech companies struggle to devise a well-balanced approach to hiring remotely, as this type of recruitment is quite different from the classical one. Therefore, I prepared 4 virtual recruitment best practices that will help you to conduct successful talent acquisition abroad. 
1) Abide by the law
When using virtual recruiting software for employee data collection, be sure you abide by the law. For instance, if you hire IT specialists in the US, it's crucial to follow EEOC guidelines. And if in European countries, then your tech should be GDPR compliant. Another aspect for you to consider is making your recruitment process non-discriminatory. Assess candidates based on their merits and not their age, gender, race, religion, disability, or marital status. You can incorporate blind CV screening, DEI (diversity, equity, inclusion) dashboards, and AI-powered job matching to eliminate unwanted bias and ensure fair remote recruiting for all.
2) Keep your candidates informed
Another vital online recruitment tip concerns your candidates' awareness. Because of the lack of personal connection and feedback, your applicants may sometimes feel uninvolved when going through the remote hiring process. Make sure you inform them about each stage of virtual hiring, what they need to get prepared for and provide them with regular feedback. That's how you can ensure the best recruitment experience for the candidates and form a good first impression of your company. In addition to that, you should give the applicants your corporate contact info, so they could reach you whenever needed. Your team can also gather comments on the candidate's remote hiring experience to elevate your recruitment strategies.
3) Promote your corporate culture & values
Since online recruitment doesn't presuppose meeting on site, the only way for a candidate to have a glimpse of your corporate culture is by having an appealing virtual experience. For instance, you can create a video about your company: its team, mission, values, and incorporate it into the job post. Your web page and social media are other vital instruments of effective corporate culture promotion.
4) Develop a virtual onboarding program
Among other virtual recruitment tips is the creation of a virtual onboarding program. This process is far from being easy when carried on-site, which makes it even more complicated when transferred online. It's good to start with the creation of a personalized space for new employees to access information, company policy, training, etc. You should also prepare guidelines to enable a smooth authorization of newcomers on corporate email, HR software, time and project tracking tools. Apart from that, you can make use of virtual onboarding portals that keep new hires updated. Physical distance may aggravate the feeling of being lost at a new job during the first few days. Therefore, to help your virtual team cope with that, be sure to carry out frequent communication and appoint a mentor who can bring clarity to the working routine.
Is It Possible to Outsource Virtual Recruitment?
Remote hiring has a lot of nuances that every tech entrepreneur needs to be aware of when deciding to recruit IT talents virtually. But you won't need to worry about these issues if you opt for recruitment as a service that we at Alcor specialize in. We ensure fast and quality IT recruitment in Poland, Romania, and other Eastern European countries alongside additional back-office support.
Alcor's team of 40 researchers and recruiters utilize only well-tested practices and approaches to attract the best talents for IT product companies. Our clients get comprehensive support that covers all stages of hiring programmers in Eastern Europe. We provide assistance in ideal candidate profile compilation, pre-screening eligible candidates, conducting remote interviews, making job offers, and working with counter-offers if needed. Alcor vouches for its recruitment services, providing a 3-month warranty for candidate substitution free of charge.
There are a number of tech companies that have already taken advantage of our IT recruitment services. Dotmatics (acq. by Insightful Science) is one of the cases we are proudest of. This leading life sciences software company from the US wished to scale up swiftly by getting their own remote development team in Eastern Europe. They delegated the realization of this ambitious plan to Alcor. As a result, we managed to remotely hire 30 IT specialists within a year. Even though the process of recruitment was done entirely online, Dotmatics didn't encounter any delays or employment problems. Our team maintained direct communication with the client and provided regular reports on hiring progress. Apart from that, Alcor took care of payroll, procurement, and legal compliance to ensure the uninterrupted functioning of their offshore development team. Dotmatics continues to enjoy our productive partnership while its remote team keeps on delivering amazing results.