It's challenging to hire a team of Ruby on Rails developers because the community of RoR coders is relatively small. If you resort to setting up an in-house Ruby/Rails development team, you're likely to spend months searching for suitable candidates. Besides, it will cost you thousands of dollars to cover recruitment services in your country.
If technical officers try to hire Ruby on Rails programmers on their own, they usually get disappointed and resort to different team extension models. While some of these staffing solutions help IT companies to thrive and grow, others expose tech firms to many risks and limitations.
So, if you want to find out how, where, and when it's best to hire RoR programmers, this article is for you!
How to Choose and Hire Ruby on Rails Developers?
Hiring Ruby on Rails programmers is most effective if you recruit them in the country with the best IT market capabilities. If you're based in the US, compare your local RoR market with the Ruby/Rails market in countries like Ukraine, which is the top IT outsourcing destination in Eastern Europe that has an IT talent pool of 200,000+ specialists.
First of all, take into account the number of RoR developers vacancies in the States, which is more than 4,000 as of April 2021, according to Glassdoor. In Ukraine, this number is much smaller – 380+ job openings, which means that the demand for such professionals there is lower than in America.
Secondly, pay attention to the average salaries of Ruby/Rails engineers. While middle RoR developers make around $58,000-$155,000 per year in the United States, their Ukrainian counterparts charge from $24,000 to $132,000 for the same services, according to Djinni, the top IT market insights provider in Ukraine. If you also want to get Go or RN programmers in your offshore team, you can check our research on the average Golang developer salary and React Native developer salary worldwide.
Another interesting fact to consider is the popularity of Ruby in the United States and other countries. In 2020, Stack Overflow surveyed developers all around the world and concluded that Ruby ranks 14th in popularity in America. Similar research was made in Ukraine and showed that Ruby is the #9 most used language there in 2021.
As well, you might look for Ruby on Rails coders for hire in countries with effective tax incentives. For instance, Ukrainian developers work as individual contractors and pay only 5% in income tax. Moreover, you will have no communication gaps with them because local RoR programmers have either intermediate or upper-intermediate levels of English.
If you need a seasoned Ruby on Rails developer for hire, look for those who have already obtained relevant RoR development experience. For example, Ukrainian middle-level Ruby/Rails engineers have up to 3 years of working background under their belts, while their senior colleagues can boast of 5-6 years of experience.
By the way, professional RoR programmers in Ukraine are good at Ruby, Ruby on Rails, React, SQL, Git, GitHub, GraphQL, and other technologies that form a solid hard skillset. Also, soft skills like communication and upfront approach to work, independence, teamwork, learning capabilities, etc. are an essential part of Ukrainian Rails developers.
For example, one client of ours, a cloud-based software company for medical communications, couldn't hire several senior RoR developers for a long time. It translated into delayed project deadlines, so they needed to immediately find such specialists. That is why they contacted us to recruit Ruby professionals in Ukraine. In a few weeks, our IT recruiters hired 3 Ruby/Rails programmers that fully satisfied the client.
What Kind of Team Extension Model to Choose for Your Partnership?
Business executives choose different approaches to set up the best Rails software development teams. I've singled out the three most commonly used team extension models, along with the advantages and disadvantages of each of them.
Outsourcing
Outsourcing is a team expanding model that lets you hire a vendor in developing countries to perform your business tasks. Usually, startups and SMEs outsource RoR development because it's cheap, relatively quick, and lets them forget about management.
However, if you hire Ruby on Rails programmers for an IT product company using this staffing solution, you will face critical problems. Since you're not the only client of that outsourcing provider, there will be little commitment to your product. Besides, due to the limited control from your side, outsourced developers often deliver results below your expectations.
Outstaffing
This staffing solution enables you to hire RoR developers through third-party vendors abroad. Compared to outsourcing, outstaffing allows you to completely control development and be flexible in terms of team adjustments. That is why different tech businesses that want to supervise development themselves utilize this business practice from time to time.
Nevertheless, outstaffing exhibits a range of problems for product companies in tech. First of all, the provider may improperly share your vision of project delivery with the outstaffed Ruby on Rails development team, hence communication issues. Moreover, you will face hidden costs like buy-out fees if you decide to officially employ your temporary team.
Offshoring
Offshoring refers to relocating RoR development to overseas teams through providers of business process outsourcing services. This staffing solution fits any type of software company: startups, SMEs, and enterprises that build their products or services because they receive access to the top overseas Ruby/Rails developers, build loyalty with their offshore team, and save costs in the long-term perspective.
For instance, when a leading e-commerce software company BigCommerce was looking for Ruby on Rails developers, they decided to do it in Ukraine. The company's top managers asked us to find them the top RoR engineers and set up their Ukrainian R&D office.
In one month, we found and fully equipped the perfect office space, signed the lease agreement, made sure the company's business was legally compliant in the States and Ukraine, and provided accounting support for the new BigCommerce team of 30+ people whom we hired in less than half a year.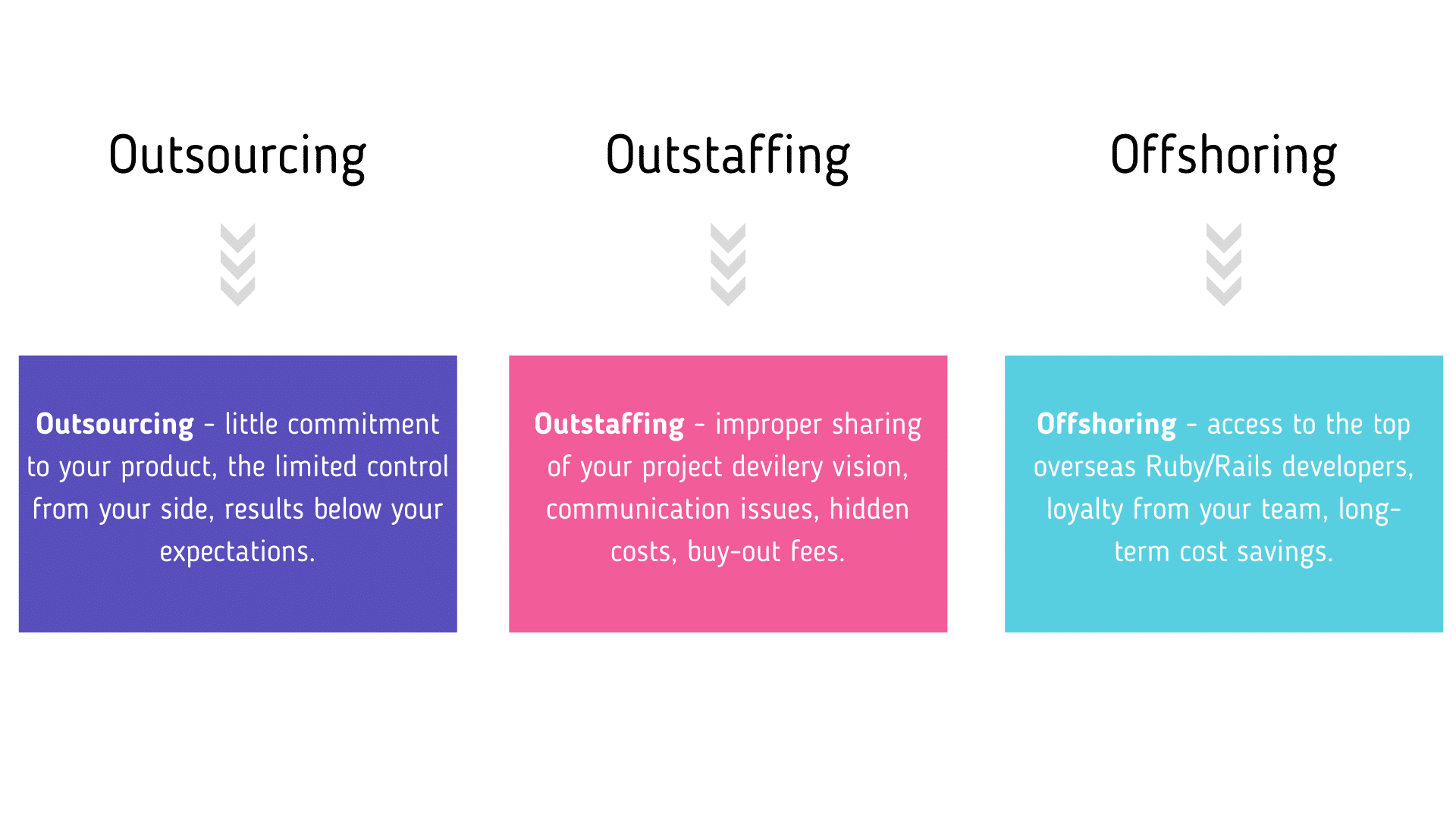 Hiring Ruby on Rails Developers the Best Way
Hiring Ruby on Rails programmers is most effective if you offshore this process. In this case, you can work with qualified employees who have international expertise. Beyond that, offshoring will help you shift your focus to business development since you delegate Rails implementation and administrative tasks to your vendor.
Every IT executive must know that successful offshoring is based on the professionalism of your offshoring partner, effective communication with the team, fruitful negotiations of cooperation terms, recruitment expertise of the vendor, and other important things. Keep these offshoring tips and tricks in mind to find the top talents to develop your product.
So, how exactly do you hire Ruby on Rails developers through offshoring?
You may do it by setting up your R&D office. This is an offshore development center where your Rails engineers work on your product. You may create such a place with a reliable BPO services company. Such a vendor could take care of recruitment, legal & compliance, payroll & accounting, real estate, and other back-office functions, so you focus only on your core business.
After that, it's time to hire RoR programmers for your business! For example, we do it in five easy steps:
We collect important information about the number of Ruby/Rails programmers you need and the skills they must have.
Then, our team of IT researchers and recruiters access our database of over 80,000 software developers and pick the best RoR engineers for you. Those who match your requirements get invitations for the first HR interview with our recruiter.
Before the first call with your potential Rails developer, the recruiter may come up with pre-screening interview questions for you, e.g.: "Explain how you would debug database requests that take too long?" or "How would you build a fault tolerance service/application?" I have noticed that a company that asks such questions looks more professional and trustworthy in the eyes of top senior and architect developers, which is why such programmers are more likely to accept the offer.
We suggest you either conduct a tech interview or an online coding session to test the hard skills of developers.
When you approve the candidates, we make final steps in the hiring process: legally employ them and provide payroll & accounting support. To make sure your new employees meet your expectations, you receive a 3-month employee warranty – we will substitute developers for free if you're not satisfied with them.
Beyond that, hiring Ruby on Rails developers is fast – you will receive over 5 such developers in only a month. Also, transparent pricing and no employee buy-out fees are pleasant bonuses to make sure you know where you allocate your funds.
Final Thoughts
There are not many Ruby on Rails experts on the market, both in the States and Ukraine. That is why it's challenging to hire Ruby on Rails programmers that will come up with expectations. To make it easier, tech business leaders should resort to offshoring that will let them access the biggest talent pools and manage RoR engineering performance.
To succeed in offshoring, choose a responsible partner to receive a whole cycle of back-office functions and spend your time on the core business. This is what People.ai, a US-based IT product company that provides an AI platform for B2B sales, did when they decided to set up their R&D center in Ukraine.