Being represented in more than 170 countries and making up 10% of total US e-commerce, Shopify is an e-commerce platform that allows companies to set up online shops in a pain-free way. Let's say, you want to launch an online retail store: on Shopify, you can sync everything — starting from a website page designed with the help of Shopify templates and all marketing-related functions, including transactions, shipping, in-built analytics and reports. On top of that, it hosts your website and ensures no one steals your data. These and other functions have enticed entrepreneurs all over the world to use Shopify for their business.
In this article, you'll find more details about the perks of the platform, as well as learn whether you need to hire a Shopify expert. Also, I'll share the most relevant skills to look for in such programmers and tips on how to find top Shopify developers. Without further ado, let's get to it!
Key Features of the Shopify Platform
Customizable Templates
Dreaming of a visually appealing website for your business? Shopify allows you to charm your clients with the help of highly customized solutions. With carefully designed themes and templates, it lets you make your page one of a kind. Standard templates need no coding, but if you want to create custom features you might need to hire Shopify website developers (or dedicate some time to acquiring more skills yourself). The user-friendly and stunning outcome is well worth the additional pains!
Marketing Analytics Tools
In-built analytics makes Shopify stand out among other platforms for creating websites. Not only can you segment your audience, but also send out personalized e-mails, convert abandoned checkouts and drive more sales by advanced features of real-time analytics. Gauging data-driven insights on your customers should help you optimize your ROI and grow your business at the speed of light. 
Secure Hosting 
The platform enables you to own your domain and rank high in search engines, as well as safely host your website with Secure Payment Gateways and SSL — a certificate that lets other websites know your page is reliable. With such a level of encrypting data, your customers will feel at ease when purchasing from you. 
Apps to Integrate With
With over 8,000 apps and other third-party services available for integration, Shopify can enhance your sales in no time. Having staff management, payment processing, omnichannel selling, plus inventory & customer management optimized for speed, you have more chances for growing your revenue, not to mention all marketing & analytic functionalities. 
Resources & Customer Support
Shopify has an extensive resource database: for any issue that might come up, you should be able to find a solution on Community Forums, Shopify Documentation or their Help Center. Moreover, its Customer Support is ready to come to your rescue 24/7, leaving no room for concerns. 
Why Do You Need a Shopify Developer?
So, if the platform is so unsurpassed, why would you need to hire Shopify developers? I'd recommend it if you want to streamline and fully customize your Shopify website in order to really boost sales. After all, it does take time to get the hang of Shopify, and if you need to pay attention to more pressing aspects of your company, it's best to delegate the online store to more experienced specialists. Here's what Shopify web developers can do for you:
Developing an Online Shopify Store
It's essential for your Shopify store to be interactive and well-built to help your sales skyrocket. With sufficient web development experience and extensive knowledge of Shopify tools, such as Payment Gateways, Integrations, Inventory management, Navigation and Checkout, programmers use best-practice code and develop an effective store from scratch. 
Being in Charge of Design Templates 
The responsibility that matters most is generating Shopify Themes for your business, and such a task requires experience and resources that only experts have. This will help you outshine your competitors who might be using the platform too, as well as leverage all the available features based on your company's benchmarks. 
Collaborating with UX and UI Design Teams
Shopify experts additionally specialize in UI and UX, which helps them to communicate with design teams and deliver better front-end outcomes based on in-built Shopify reports. 
Connecting Marketing Tools, APIs and Shopify Apps
If you find Shopify developers, you won't have to rack your brain over APIs while connecting all the marketing tools and apps. Proper connection will create a seamless experience for your users, resulting in better performance overall. 
Testing and Debugging the Website
It's worth looking for Shopify developers only for this to be handled. But jokes aside, testing and debugging go a long way in ensuring that website pages load quickly and all the elements are properly displayed, which will help in the next great task described below. 
Professional expertise helps in evaluating conversion rates and tweaking the website to adjust the results. As it requires a lot of time spent in trial and error, most likely you'll be in the dark without expert advice. A well-optimized Shopify website will most likely show lower bounce rates, prompt customers to spend more time on the page and increase the chances for a purchase. 
What Skills are Necessary for a Shopify Developer?
1. Diverse Tech Stack
While choosing Shopify developers, make sure they are experienced in Full-Stack Web Applications. Front-end knowledge allows them to build websites on Shopify and back-end expertise is needed for addressing arising issues. 
At Alcor, a trusted IT recruitment provider, we know full well that a large number of skilled programmers with these and other skills could be found in Eastern Europe (the talent pool of Bulgarian developers alone amounts to 110,000, and this is not the biggest one). Recently we leveraged that once again while hiring for Dotmatics — a US scientific software company with a goal of hiring a dedicated development team in Eastern Europe for business expansion. All in all, I'd suggest checking out this region when hiring Shopify developers.
2. Shopify Programming Skills
To get into more detail, qualifications in Liquid for Shopify Stores and Themes, HTML5 and CSS are necessary for the front-end of the website. Some time ago, we found a Shopify developer for our client, and they were specifically seeking a top-notch front end specialist, which proves the relevance of such skills once more. As for back-end, Ruby on Rails and PHP will ensure fast and efficient development. 
3. Expertise in Google Analytics
It will come in handy when optimizing conversion rates. Shopify programmers for hire should also be familiar with Google Content Experiments for better testing. 
4. Knowledge of Other E-Commerce Platforms
Having experience with other e-commerce solutions is a great addition to make the most of Shopify. Other platforms, such as Magento or WooCommerce, lose ground in technical aspects. BigCommerce, however, can give valuable insights into managing sales, as it has an edge in handling omnichannel growth. 
5. Strong Soft Skills
To deliver high-quality solutions, a Shopify developer should be well-versed in communication and negotiation, as well as show adaptability, self-motivation and confidence in their work. Besides, they should make a great cultural fit: for example, a US company would benefit from hiring Slovak developers from other EE countries with a similar mindset. 
What Trends is a Shopify Developer Expected to Know in 2023?
Improving Mobile Checkout
In 2022, 73% of Black Friday purchases on Shopify were made from mobile devices. At the same time, issues with mobile checkout are still considered to be a bottleneck on many websites. A Shopify expert for hire should be able to solve this through either UI Checkout Extensions or Shopify Functions. 
Since the main reason to hire Shopify app developers is to save time and increase efficiency, mastering the trend of cutting down on the time for design is their competitive edge. On Shopify, they should know how to adjust pre-designed themes and thus simplify further code updates.  
Leveraging Shopify Markets
Online store owners tend to create distinct shops for each region they manage. However, Shopify Markets can deal with payment, tax and payout in the shop for each region you select, making it unnecessary to create and manage each individually. That's why being on top of this trend is important.  
Benefiting from Metafields
As a customer moves through the stages in an online e-commerce store, they might want to check information about the product multiple times in order to buy with confidence. Metafields on Shopify are the tools for enabling this and much more. 
How to Find the Right Shopify Developers
Check Their Portfolio & Customer Testimonials
In order to find the best Shopify developers, you'll need to analyze their portfolio and feedback from previous employers. What to look for in their work? I'd recommend checking these key metrics: website accessibility, load speed, functionality and navigation. 
Favor Innovative Thinking
Going the extra mile and coming up with the best solution is of utmost importance when your sales depend on it. Take a closer look at the previous projects of your candidates. Did they deliver more than a satisfactory result? For instance, not only launching a website for a client, but also connecting all payment APIs even when not asked to do so. You can also assign a test task to see if they're brimming with ideas on how to achieve an over-the-top result. If this is the case, then they are the right Shopify developers for hire.    
Single Out Communication and Perseverance
98% of software engineers hired by our firm Alcor recruiters remain on board after the probation period thanks to excellent communication skills that add up to technical expertise, so I'd like to stress their importance once more. In addition, my key tip on how to find Shopify developers  is to look for perseverance. That means, striving for perfection and willing to adjust the website as long as needed to achieve a great result. Last but not least, if you decide to hire Shopify freelancers, for instance, ensure they're ready to provide post-development support of your website.  
Ways to Hire Best Shopify Developers
Cooperating with an IT Outsourcing Firm
This approach works for those who are thinking about how to find developers for hire fast, especially if you don't need long-term cooperation. Other benefits include not paying for recruitment, procurements, office lease, etc. On the flip side, you shouldn't expect loyalty from such a team, since you're only one out of many temporary clients for them. Additionally, there's a lack of control over the development process and a high risk of data breach and leakage. Finally, IT outsourcing agencies might overcharge you by setting above the market prices for Shopify developers' work or putting the services you didn't actually use on the bill. 
Building an In-House Team
If you need to find a Shopify developer team for a long-term project, assembling an in-house department may well be worth it. Keeping your data in-house will prevent any leaks, while development quality and company loyalty are expected to be high. The biggest disadvantages of in-house recruiting, though, refer to the high costs of forming and training an internal IT recruitment team, the time needed to hire the right Shopify developers and no candidate replacement guarantees. 
Working with an IT Recruitment Agency
IT recruitment with EoR support is by far the "golden middle" between IT outsourcing and in-house teams. Code quality, data security and brand loyalty are close to matching in-house development, while time and costs are lower, plus you receive guarantees. Some companies might think that IT outsourcing is a more lucrative option, but it's worth keeping in mind the hidden costs to be paid to providers, which can double or even triple overall expenses. 
At Alcor, we specialize in IT recruitment for Poland, Romania and Bulgaria. For over 10 years of operating in the Eastern European tech market, we've had a chance to set up a team for BigCommerce, a competitor of Shopify, so our recruiters are well acquainted with best practices for interviewing such engineers, as well as pros and cons of Polish developers to select the best candidates. Before turning to Alcor, BigCommerce faced bad results due to IT outsourcing to Romanian developers, so it was time to make a change. In the first 6 months of our cooperation, we managed to find more than 30 specialists for the client. Later on, we reached the result of 58 successful hires. One of our guarantees is to hire the rest of the team at no charge to the client if we don't meet the deadlines, so BigCommerce was relieved to delegate recruitment to our team. While also handling tax & payroll management, we provided the value of IT recruitment in combination with Employer of Record services. 
So, to get a final overview of ways to hire a Shopify developer team, take a look at the picture below.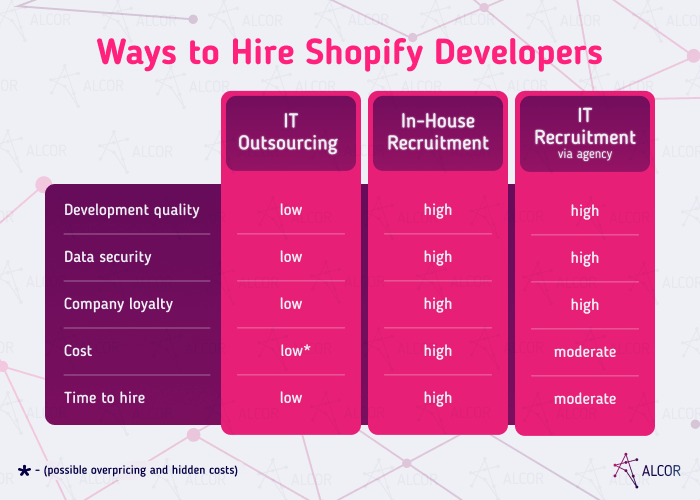 Final Thoughts
In this article, you learned how a Shopify e-commerce platform can help you launch your own online store and drive sales & revenue. I also advised hiring Shopify programmers for a more efficient outcome. They need to be skilled in web development, including Liquid for Shopify, Google Analytics, e-commerce platforms and have strong soft skills over all. Besides, they should keep up with the latest trends, such as enhancing mobile checkout, streamlining development, reaching international audiences more easily and leveraging metafields. Finally, you can now benefit from our advice for assembling your own team. 
We're Alcor, a professional IT recruitment provider in Eastern Europe. Ready to help you out any time, so just leave us a message!