Gaming is a fast-evolving industry that amazes the world with new products each year. Thanks to the work-from-home regime, actively practiced over the last 3 years, the gaming industry was able to generate as much money as movies and sports combined. With a total number of 3,243 billion gamers worldwide, the global gaming market revenue reached $180,3bn in 2021 and is expected to hit the $203.1bn mark in 2022 via consumer spending.
As the need for new games is rising, indie game developers will subsequently appear in high demand. In this article, I am going to dwell on the specifics of this position and give you some insight into the average salary rates worldwide.
Expertise and Education of
Indie Game Developer across the World
The indie game developer is an independent tech specialist who works on the creation of video games without the financial support of large publishers. Having a passion for games and love for coding, these enthusiasts usually work alone or in small groups or companies. For this reason, indies don't focus on a particular area of programming but control the whole game development process. It's especially noticeable in tiny engineering teams, where it's normal for individuals to wear multiple hats: from a game programmer, designer, and animator to product manager and marketer.
To make their creative ideas come to life, solo game developers are required to have a wide range of skills. That's why there's often much less of a distinction between the role of a programmer and designer when it comes to creating games in dedicated indie teams. Such developers should both know how to devise the structure of a game (its mechanics, systems, and gameplay) and be able to write code and assemble engines. Moreover, if working in a small team, each member should be aware of project management principles to effectively distribute tasks, track progress, and undertake quality checks. You can see the skill stack of an ordinary indie game developer in the picture below.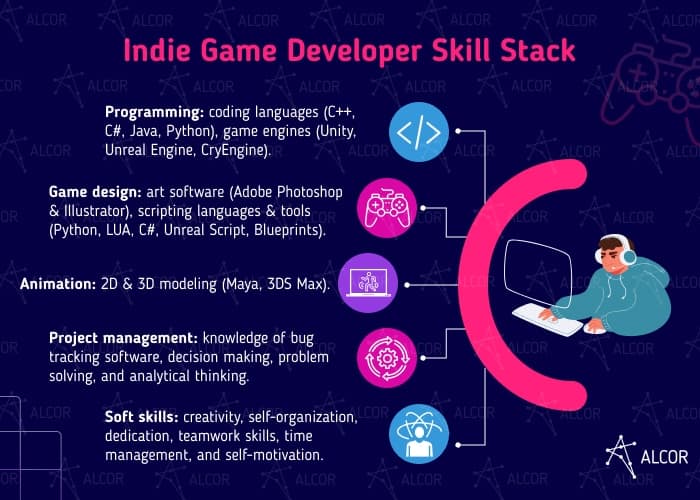 Core Factors That Determine the Indie Game Developer Salary
1. Desired Competence
A well-versed indie game developer should definitely have a genuine love for games. That's the main precondition to becoming a real professional in the field, as profound experience in gaming, knowledge of the industry, and a good understanding of game mechanics come in handy when learning how to code and design games. Most indie game specialists have a Bachelor's degree in computer games development / computer science / games design, etc.; however, almost all of them enhance their tech skills by self-educating and practicing.
2. Experience Level
Unlike other IT specialists, indies don't have a definite division into expertise levels, as their professional experience is pretty obscure. Usually, they start working on their own games at quite a young age. Later on, such developers may assemble their own team or join existing communities, companies or even AAA enterprises to take part in bigger projects. Thus, when hiring an indie, it's vital to find out about the years spent on amateur game development as well as their experience of cooperation with game studios.
3. Company
Game developers can work either independently or at AAA studios. Depending on the option, the income as well as the workflow can differ. For instance, AAA studios usually have teams of over 100 specialists who work on promising projects funded by large publishers. On the contrary, small indie companies enjoy their freedom, as they can develop the types of video games they are most interested in. Respectively, the budgets of the latter are generally quite modest (as well as the remunerations) compared to the former.
4. Location
It's possible to hire indies from a variety of countries. Each destination differs by the available pool of specialists, quality of education, fluency in English, taxes and salary rates, cultural proximity, and geographic convenience. When selecting a location, it's essential to pay special attention to price-to-quality ratio. Your ideal destination might become one of the European countries, as the game development in Europe has been gaining momentum for the last 5 years. According to the ISFE, the worth of the gaming industry in this region increased by 22% in 2020, reaching the $25bn mark and will continue to expand. Moreover, Europe provides its game developers with a high-quality education in more than 350 institutions. If you are seeking a competent game developer for an affordable price, consider Eastern European countries, specifically Poland and Romania. Keep reading this article to find out about the average salary an indie game developer makes worldwide.
In case you are curious about the payscale of other IT specialists, check out our research on the average Blockchain developer salary.
Indie Game Developer Salary: Key Takeaways
To give you an overview of the pay scale range of entry-level, middle and senior indie positions in different regions, my team collected some relevant data from reliable local resources. The local currencies were converted into US dollars at the exchange rate for July 2022.
Gross annual income, USD
North America
South America
Junior
Middle
Senior
Junior
Middle
Senior
Indie Game Developer
$40,500
$55,500
$69,000
$12,000
$16,500
$22,000
Gross annual income, USD
Western & Nordic Europe
Eastern Europe
Junior
Middle
Senior
Junior
Middle
Senior
Indie Game Developer
$47,000
$57,500
$68,000
$20,500
$27,000
$34,000
Gross annual income,
USD
Eastern & Southern Asia
Middle East 
Africa
Junior
Middle
Senior
Junior
Middle
Senior
Junior
Middle
Senior
Indie Game Developer
$30,750
$39,000
$51,500
$41,500
$57,500
$71,250
$16,750
$23,000
$28,750
Study of Indie Game Developer Salary Trends
Since the gaming market is predicted to reach a value of USD $546bn by 2028, it will push publishers to fund more in game development, leading to higher salaries on the market. But as it is known, most indies tend to work on their own and count on their resources (even sometimes raising money on crowd-funding platforms).
Indie game development is all about the creation of games for fun, thus not only for financial benefit. Indies continue working on truly cool games, hoping that one day they may steal the hearts of millions just like Minecraft, Super Meat Boy, Among Us or Hollow Knight. According to Game Developer, those indie teams that "made it" receive on average $4 million in revenue per game, which makes an impressive indie game developer success salary. Obviously, not everyone gets such a goldmine. Moreover, sometimes indies don't get any income from their games which is the reason why some of them still prefer working in companies, receiving a regular pay. So, how much does an indie game developer make? Let's explore the figures!
Average Indie Game Developer Salary in North America
USA
The United States is considered the birthplace of gaming. It has one of the most advanced game industries and leading gaming markets that generated $47.32bln in 2021. No wonder why the US ranks first as a provider of the highest average indie game developer salary in the world ($86K), with New York and California topping the list.
Gross annual income, USD
United States
California
Texas
Florida
New York
Indie Game Developer
$92,000
$88,000
$85,000
$94,000
Canada
Although the Canadian game market is quite elaborated, indies here earn much less than their US colleagues: around $64,000 annually.
Mexico
Mexican indie game developers are paid the lowest, compared to Canadian and American professionals. Their average annual salary is only $16,500.
Average Salary Indie Game Developer in South America
Gross annual income, USD
North America
South America
USA
Canada
Mexico
Brazil
Argentina
Indie Game Developer
$86,000
$64,000
$16,500
$21,000
$12,000
Brazil
The median salary an indie game developer makes in Brazil reaches $21K, which is $5,000 higher than in Mexico.
Argentina
Meanwhile, Argentinian indies receive the smallest compensation in South America, which is almost 2 times lower than in Brazil: $12,000.
Indie Game Developer Income in Western & Nordic Europe
United Kingdom
Gross annual income, USD
United Kingdom
England
Scotland
Wales
Northern Ireland
Indie Game Developer
$57,000
$50,000
$42,000
$45,000
The average pay scale of indie game specialists in the UK spans between $42K and $57K, with England providing the highest remunerations.
| | | | | | | | | | |
| --- | --- | --- | --- | --- | --- | --- | --- | --- | --- |
| Gross annual income,  USD | Germany | France | Italy | Spain | Norway | Netherlands | Sweden | Austria | Belgium |
| Indie Game Developer | $69,000 | $54,000 | $44,000 | $37,000 | $73,000 | $56,500 | $61,500 | $63,000 | $60,000 |
Germany
The average indie game developer income in Germany is second-highest in Western & Nordic Europe, constituting $69K.
France
French indies have a pretty decent annual compensation, reaching the $54K mark, which is $15,000 lower than in Germany.
Italy
Italian indie game professionals receive some of the lowest wages in the region: around $44,000 annually.
Spain
Just like their neighbor Italy, Spain has a modest average indie game developer salary: $37,000.
Norway
Norwegian indie game specialists are the most well-paid in the region, having an average compensation of $73,000.
Netherlands
The indie game developer salary in the Netherlands is quite similar to that in France: $56,500, with only a $2,500 difference.
Sweden
Sweden provides quite an appealing average salary of the indie video game developer in the region, which constitutes $61,500.
Austria
The average pay rate of indies in Austria is almost the same as the one presented in Sweden: $63,000.
Belgium
In Belgium, the average salary for an indie video game developer is decent enough, reaching $60K.
Salary of Indie Game Developer in Eastern Europe
| | | | | | |
| --- | --- | --- | --- | --- | --- |
| Gross annual income, USD | Ukraine | Poland | Romania | Hungary | Czech Republic |
| Indie Game Developer | $28,000 | $32,000 | $21,500 | $26,000 | $27,000 |
Ukraine
Ukraine doesn't provide the highest indie game developer annual salary in the region. However, it is still quite satisfactory at an average of $28,000.
Poland
Polish indie game specialists receive one of the largest remunerations among the Eastern European countries, constituting $32,000.
Romania
Romanian wage rates for indies are one of the lowest in the Eastern European region: $21,500.
Hungary
The average indie game developer income in Hungary is pretty similar to the one in Poland, reaching $26,000.
Czech Republic
The Czech Republic offers a decent reward for independent game developers: $27,000 per year.
Indie Game Developer Salary in Eastern & South Asia
| | | | | | |
| --- | --- | --- | --- | --- | --- |
| Gross annual income, USD | China | Japan | South Korea | Singapore | India |
| Indie Game Developer | $38,500 | $46,000 | $44,500 | $50,500 | $15,500 |
China
The Chinese game market provides quite moderate annual rates for indies, surpassing the $38,500 mark.
Japan
Japanese indie game specialists earn on average $46,000 per year, which makes their salary one of the highest in the region.
South Korea
The average reward of indie game professionals in South Korea is slightly lower than in Japan: $44,500.
Singapore
Singapore is an absolute leader in terms of average indie game developer rates in Eastern & South Asia, with annual remuneration exceeding $50,5K.
India
Even though India is considered a hotbed for indie game developers, their annual compensations are significantly lower than those of their Asian colleagues, constituting only $15,500.
Indie Game Developer Salary in Israel
Gross annual income, USD
Israel
Jerusalem
Tel Aviv
Haifa
Karmiel
Indie Game Developer
$60,000
$61,000
$58,000
$59,000
The average income of an indie game developer in Israel is comparable to the ones which are presented in most Western & Nordic European countries, ranging from $58K to $61K.
Indie Game Developer Salary in Australia
Gross annual income, USD
Australia
Sydney
Melbourne
Perth
Adelaide
Indie Game Developer
$84,000
$78,500
$72,000
$68,500
Australian salary rates for indie game developers are among the highest in the world. Such cities as Sydney ($84K) and Melbourne ($78K) offer the most generous compensations in the country.
Are You or Your Team Looking for an Experienced Indie Game Developer? Consider Alcor BPO Your Trusted Partner!
It's not an easy task to find a skilled indie game developer for a reasonable price. Luckily, Alcor knows where such treasure is hidden! Having over 10 years of recruitment experience, we can hire software developers from Eastern Europe with diverse expertise and rare skillsets (e.g., hire Unreal Engine developers or Django specialists). Such well-known tech enterprises as People.ai, Samsung, Dotmatics, ThredUP, Ledger, Tonic Health and many others have already been taking advantage of our IT recruitment services.
Alcor's team of 40 IT researchers and recruiters provides full-fledged assistance to our clients when searching for ideal candidates. We can also conduct a powerful employer branding campaign to attract more talents to join our clients' engineering teams. That's what we did for Sift, a US-based IT product company which had the ambitious aim to hire 30 engineers within 1 year. Not only did we help them achieve their recruitment goal, but also took over all the pains of setting up their own software research and development center in Eastern Europe. Alcor's specialists covered legal compliance, payroll & accounting issues and managed procurements. With our comprehensive support, Sift continues to enjoy a fast scale-up and focus on the elaboration of their IT product.