Nowadays, many companies encounter large amounts of big data which needs to be stored, processed, and analyzed. One of the most common ways enterprises can leverage data is via business intelligence (BI). By applying BI practices and tools, data professionals can glean insights for businesses. However, in order to do so, the raw data needs to undergo vital transformations to become actionable information. That's what ETL developers do. But where to find well-versed ETL engineers who can make a huge contribution to the success of a company? My team scrutinized this very issue to identify the perfect destination for recruitment of such specialists.
ETL Developers Market Trends and Forecast
An ETL developer is a type of IT professional who manages the Extract, Transform, and Load processes to store huge amounts of business information in the data warehouse that they create. When working as a part of the data engineering team, they also get involved in system testing and troubleshooting any problems before it goes live.
For the past several years ETL engineers have been in high demand due to the sharp increase of business data. The reason for that is the coronavirus pandemic which forced most companies to go online. Consequently, cloud technologies came to the foreground, generating tremendous volumes of data which had to be structured. According to Statista, data creation and consumption has doubled since 2020, and is predicted to reach the 120 zettabytes mark in 2023. This means that data engineers will remain highly requested on the world market. Currently, there are more than 16,820 ETL engineer job vacancies on Indeed, which are expected to increase by an average of 35% annually, according to 2020 U.S. Emerging Jobs Report.
Pivotal Factors That Influence the ETL Developer Salary
Since more and more companies are feeling the need for ETL programmers, it's essential for them to be armed with relevant information concerning the primary factors which influence an ETL developer salary.
1. Expertise 
The overall proficiency of an ETL engineer comprises strong hard skills, excellent soft skills, and deep knowledge of the industry and business principles. See the detailed expertise of such a specialist in the picture below.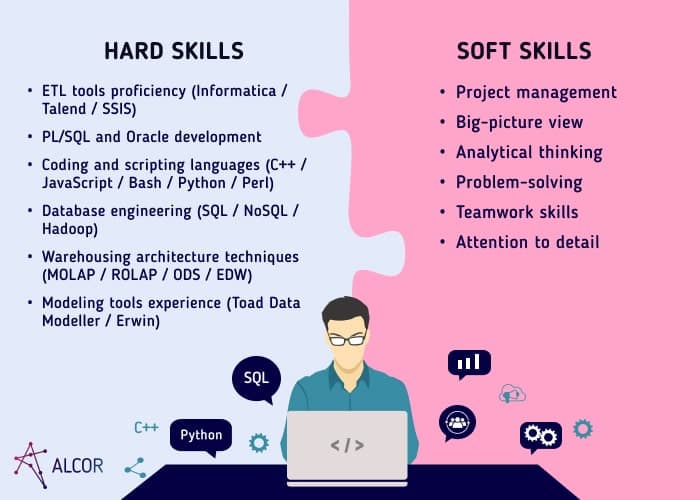 2. Experience Level 
When analyzing ETL developer job vacancies on Glassdoor and Indeed, my team concluded that all candidates, despite the position level, should possess SQL development and ETL tools (Talend, SSIS, etc.) experience. An average junior ETL engineer is expected to have 1-2 years of experience, a middle specialist — 2-4 years, and a senior professional — 5+ years, although some companies require such specialists to have at least 7 years of relevant experience.
3. Company 
Nowadays, there are a lot of enterprises which hire ETL engineers. However, product IT companies tend to offer higher wages with huge bonuses, social packages, possibilities to develop innovative technologies, and climb the career ladder faster. In turn, they receive the most ambitious IT talents.
4. Location 
Depending on the country, the compensation rates of ETL developers can differ. Therefore, to choose a convenient destination for hiring such specialists, it's crucial to scrutinize the labor markets and identify the prevailing salaries.
ETL Developer Salary: Key Takeaways
Let's have a close look at the average ETL specialist wages to identify those regions which offer the highest and lowest salary rates. The relevant annual remunerations are taken from Salary Expert and Glassdoor, presented in gross. The local currencies were converted to US dollars at a relevant exchange rate for April 2022.
Gross annual income, USD
North America
South America
junior
middle
senior
junior
middle
senior
Informatica ETL Architect
$53,915
$77,000
$95,684
$18,646
$26,223
$33,095
ETL Datastage Developer
$51,777
$73,625
$91,417
$17,100
$23,950
$30,192
ETL Engineer
$42,740
$59,325
$74,248
$14,790
$20,444
$25,676
ETL Developer
(SQL, Talend)
$49,660
$70,815
$87,925
$17,157
$24,095
$30,383
The salary rates of ETL specialists in the compared regions are very dissimilar. The wages of such professionals in South America are roughly 3 times lower than the ones in North America. For instance, the average junior ETL developer salary in the former is $14,790, while in the latter — $42,740. When it comes to senior level specialists, an Informatica ETL Architect has the highest compensation rates: $95,684 in North America, and $33,095 in South America.
Gross annual income, USD
Western & Nordic Europe
Eastern Europe
junior
middle
senior
junior
middle
senior
Informatica ETL Architect
$58,770
$83,984
$103,300
$22,378
$31,745
$39,525
ETL Datastage Developer
$62,835
$90,776
$109,940
$21,500
$30,430
$39,610
ETL Engineer
$46,563
$65,425
$80,890
$17,465
$24,372
$30,188
ETL Developer
(SQL, Talend)
$54,190
$77,345
$95,952
$17,820
$28,536
$35,520
The average ETL specialist wages in Eastern Europe are around $30,000 lower than in Western & Nordic Europe. An entry-level ETL developer salary in the former fluctuates between $17K and $22K, while in the latter it's kept between $46K and $62K. The most highly paid position in Eastern European countries is Informatica ETL Architect, with an average annual wage of $31,745, while in Western & Nordic Europe an ETL Datastage Developer earns the most — on average $90,776 annually.
Gross annual income, USD
Eastern & Southern Asia
Middle East
Africa
junior
middle
senior
junior
middle
senior
junior
middle
senior
Informatica ETL Architect
$40,076
$56,990
$71,123
$57,480
$81,895
$102,012
$21,076
$29,905
$37,405
ETL Datastage Developer
$37,131
$52,581
$65,558
$51,907
$73,640
$91,645
$18,660
$26,373
$32,945
ETL Engineer
$31,766
$44,393
$55,184
$45,569
$63,813
$79,160
$16,710
$23,315
$29,030

ETL Developer
(SQL, Talend)

$36,711
$52,128
$65,000
$52,950
$75,330
$94,757
$19,400
$27,485
$34,350
Africa has one of the lowest ETL engineer wages on the world tech market, which are 2 times lower than the ones in the Middle East and Eastern & Southern Asia. The average senior ETL developer salary in this region fluctuates between $29K and $37K, while their colleagues are paid 2 times more in Eastern & Southern Asia ($55K – $71K), and 2,5 times more in the Middle East ($79K – $102K). The Informatica ETL Architect has the highest tag in all the regions compared.
Now let's compare the average ETL developer job salary in each country to identify the most convenient location for their hiring.
ETL Developer Salary in North America
Gross annual income, USD
United States
California
Texas
Florida
New York
Informatica ETL Architect
$123,430
$105,740
$104,147
$119,170
ETL Datastage Developer
$118,518
$98,108
$98,345
$112,979
ETL Engineer
$96,166
$82,383
$81,142
$92,847
ETL Developer
(SQL, Talend)
$113,516
$97,246
$95,782
$109,598
The US IT market is considered to be one of the best paid ones on the global arena. The average ETL engineer salary ranges here from $81K to $123K, with Informatica ETL Architect topping the list.
The tech market in Canada is not lagging behind. The average salary for an ETL developer here ranges from $75K to $96K.
The Mexican IT market is not as developed as the above-mentioned ones. The average ETL developer salary in the country fluctuates between $19K and $25K, which is 4 times lower than in the countries above.
ETL Developer Salary in South America
Gross annual income, USD
North America
South America
USA
Canada
Mexico
Brazil
Argentina
Informatica ETL Architect
$109,188
$96,720
$25,083
$35,011
$17,435
ETL Datastage Developer
$105,445
$93,941
$21,492
$32,059
$15,846
ETL Engineer
$85,070
$75,362
$19,548
$27,276
$13,613

ETL Developer
(SQL, Talend)

$100,424
$88,989
$23,034
$32,165
$16,023
The Brazilian IT sector is rapidly growing, with an average salary of an ETL developer being approximately $9,000 higher than in Mexico: $27K – $35K.
Argentina has an emerging IT industry with low compensation rates. A median ETL developer salary here ranges between $13K and $17K, which is 2 times lower than in Brazil.
ETL Developer Salary in the United Kingdom
Gross annual income, USD
United Kingdom
England
Scotland
Wales
Northern
Ireland
Average
Informatica ETL Architect
$73,348
$70,663
$68,710
$61,404
$81,104
ETL Datastage Developer
$76,256
$72,790
$70,080
$63,344
$82,840
ETL Engineer
$57,128
$55,040
$53,517
$47,830
$63,191
ETL Developer
(SQL, Talend)
$67,435
$64,970
$63,175
$56,460
$74,553
The UK's IT sector saw an unbelievable rise in 2021, with tech investment growing 2,3x from the previous year's mark. Software developers are the most in-demand job across the UK, making up 9% of all tech jobs. The ETL engineers are paid on average $47K – $76K, with ETL Datastage Developer having the highest annual remuneration: $63K – $76K.
ETL Developer Salary in Western & Nordic Europe
Gross annual income, USD
Germany
France
Italy
Spain
Norway
Netherlands
Sweden
Austria
Belgium
Informatica ETL Architect
$93,146
$80,984
$72,075
$62,712
$108,322
$89,692
$71,123
$89,945
$90,740
ETL Datastage Developer
$99,879
$91,373
$80,336
$59,351
$120,726
$91,477
$86,865
$96,673
$98,242
ETL Engineer
$72,556
$63,085
$56,146
$48,848
$84,395
$69,874
$55,416
$70,059
$70,677

ETL Developer
(SQL, Talend)

$85,779
$74,589
$64,866
$57,762
$100,245
$80,740
$65,639
$82,857
$81,664
The IT sector is a major economic driving force in Germany, with an annual turnover of 178 billion euros in 2021. This country has one of the highest software developer compensation rates in Western & Nordic Europe, where ETL engineers are paid on average $72K – $99K.
The salaries of ETL developers in France are lower than in Germany. The price tag for such specialists here varies from $63K to $91K. French ETL Datastage Developers get the highest financial reward, which exceeds the $91,370 mark.
The Italian IT market offers one of the lowest ETL software developer compensation rates among Western & Nordic European countries. The median ETL engineer salary here ranges from $56K to $80K, which is about $9,000 lower than in France.
ETL developers in Spain have the smallest annual wages in the region. These specialists are paid around $48K – $62K. 
Norway offers a superior annual ETL engineer salary in Western & Nordic Europe: $84K – 120K, which is 2 times higher than in Spain.
Unlike its neighbor Germany — the Netherlands provides a lower median wage for an ETL developer, swinging from $69K – $91K.
The IT market in Sweden offers a pretty low median ETL developer job salary, fluctuating between $55K and $86K, which is similar to the one in Italy. These poor rates can be explained by the insignificant demand for such specialists in the country.
Austrian ETL developers make almost the same amount as their colleagues in the Netherlands: $70K – $96K, with only a $1,700 difference.
The median annual ETL engineer salary in Belgium is slightly higher than in the Netherlands and Austria: $70K – $98K.
ETL Developer Salary in Eastern Europe
Gross annual income, USD
Ukraine
Poland
Hungary
Czech
Republic
Romania
Informatica ETL Architect
$22,579
$37,763
$30,284
$43,268
$24,814
ETL Datastage Developer
$14,302
$36,374
$33,138
$44,071
$24,273
ETL Engineer
$15,807
$29,408
$23,600
$33,714
$19,332
ETL Developer
(SQL, Talend)
$17,479
$34,724
$27,853
$39,794
$22,834
The IT sector in Ukraine has been developing at an unprecedented pace for the last several years, offering modest software developer salaries. The annual ETL engineer wages here are the lowest in the Eastern European region: $14K – $22K.
The Polish tech market is a leading outsourcing destination in the region, with relatively low engineering salaries. In this country, ETL programmers are paid around $29K – $37K annually.
The average ETL engineer salary in Hungary varies from $23K to $33K, with ETL Datastage Developer topping the list.
The IT market in the Czech Republic offers the most appealing ETL developer remunerations in Eastern Europe: $33K – $44K, which are 2 times higher than the ones in Ukraine.
ETL specialists in Romania receive a pretty low compensation, fluctuating between $19K and $24K. It's only $3,500 higher than the one presented in Ukraine.
ETL Developer Salary in Eastern & Southern Asia
Gross annual income, USD
China
Japan
South
Korea
India
Singapore
Informatica ETL Architect
$54,377
$78,710
$51,683
$19,607
$80,573
ETL Datastage Developer
$44,831
$75,345
$52,269
$17,695
$72,769
ETL Engineer
$42,317
$61,325
$40,271
$15,276
$62,777
ETL Developer
(SQL, Talend)
$49,812
$71,380
$47,312
$18,032
$74,105
The Chinese IT industry is growing exponentially, becoming one of the leading markets in the East Asia region. However, the average ETL developer salary here is lower than in Japan: $42K – $54K.
The tech market in Japan offers the second-highest annual wages for ETL specialists in the region: $61K – $78K.
ETL professionals in South Korea receive a decent average base pay, reaching the $52,269 mark. 
The Indian IT sector provides the smallest wages for ETL engineers in Eastern & Southern Asia, varying from $15K – $19K, which are 2,5 lower than in South Korea.  
The ETL developers in Singapore receive the most generous remunerations in the region: $62K – $80K, which is 4 times higher than in India.
ETL Developer Salary in Israel
Gross annual income, USD
Israel
Jerusalem
Tel Aviv
Haifa
Karmiel
Informatica ETL Architect
$72,520
$73,028
$71,955
$71,201
ETL Datastage Developer
$69,114
$70,260
$67,687
$68,623
ETL Engineer
$56,500
$57,680
$56,061
$55,483
ETL Developer
(SQL, Talend)
$66,705
$69,090
$66,166
$65,490
Israel provides decent annual ETL engineer salaries, fluctuating between $55K and $73K, with Tel Aviv having the highest compensation rates in the country. Informatica ETL Architects are the most well-paid specialists in Israel, making on average $72,000 annually.
ETL Developer Salary in Australia
Gross annual income, USD
Australia
Sydney
Melbourne
Perth
Adelaide
Informatica ETL Architect
$108,367
$103,593
$98,186
$95,642
ETL Datastage Developer
$106,527
$101,665
$96,536
$94,373
ETL Engineer
$84,441
$80,709
$76,471
$74,516
ETL Developer
(SQL, Talend)
$99,675
$95,287
$90,269
$87,962
The IT sector in Australia offers one of the highest average ETL developer compensation rates on the global tech market: $74K – $108K, with Sydney topping the list. These wages are roughly $10,000 lower than the ones of corresponding specialists in the US.
Expertise and Education of ETL Developers
in Different Countries
Such countries as Argentina, Mexico and India provide low-cost software development solutions. However, when looking for an ideal location for hiring ETL developers, it's critical to consider not only the salary rates that exist in various labor markets, but also the expertise of the local IT specialists. Thus, when hiring ETL engineers, make sure they will be able to perform their duties with diligence and professionalism.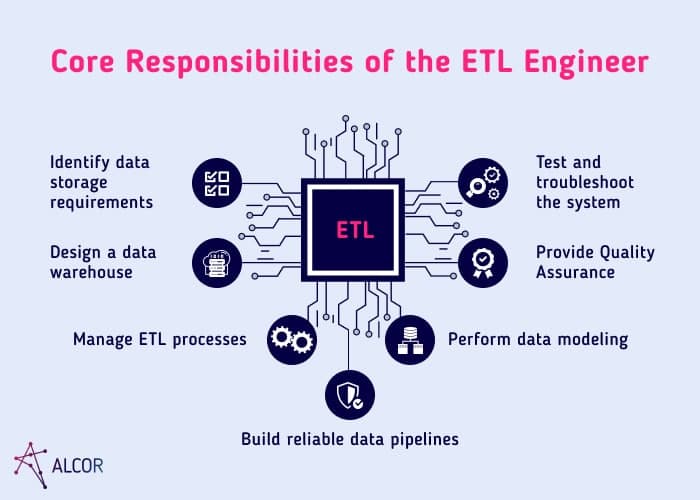 Now let's have a close look at Eastern Europe to find out whether highly qualified ETL engineers can be hired for a low price.
Eastern Europe is well-known for its huge pool of skilled software developers who have solid expertise both in popular technologies and rare specializations. Today this region accounts for more than 1 million programmers, with the highest share being in Poland (355,000) and Ukraine (285,000). Eastern European countries are famous for their all-round computer science education which sets a solid background for future software developers. It's no wonder why these countries always make it to the top charts of the world's best programmers. For instance, according to the HackerRank survey, Poland (3rd), Hungary (5th), Czech Republic (9th), Ukraine (11th) and Romania (20th) are in the top 20 countries in the world by programming expertise. Another report on the same topic by SkillValue ranks Poland in 2nd place, Hungary in 4th position, and Ukraine in 5th place out of 44 contesters.
These impressive results helped Eastern Europe receive world recognition as the best destination for hiring IT professionals. Having extensive IT knowledge and integral skills, allows these specialists to work pretty much in any tech company. Thanks to their flexibility, they can adjust to the variable market needs, mastering a new programming language or a vital tech tool at ease. Moreover, their proficiency in English (on average B1-B2 level) ensures smooth communication with tech leads, company representatives and employees, as well as foreign clients, contributing to productive work.
Another reason why product companies select this region is cost-effectiveness. It's possible to cut expenses by paying not only smaller wages but also lower taxes when hiring software developers in Eastern Europe. For instance, in Ukraine the employee tax is just 5% and in Poland — 11-19%, while in the US and Western Europe it usually fluctuates between 30% and 45%.
Consider Alcor BPO Your Trusted Partner
If you consider hiring ETL engineers in Eastern Europe, you should find a reliable recruitment service provider. Alcor is an international company with Ukrainian roots that can serve you as a trusted partner. We provide IT recruitment services to foreign product firms, hiring software developers from Ukraine, Poland, Romania, and other Eastern European countries. Among our clients are such leading companies as Grammarly, BigCommerce, Samsung, Huawei, Tonic Health, SBTech, and others.
Our team consists of well-versed tech researchers who constantly expand their knowledge of the Eastern European labor market, and experienced IT recruiters who carry out fast and effective hiring of top-notch programmers. Apart from recruiting, our team provides clients with market research, executive search for rare specialists, employer branding, recruitment marketing, and consultations on recruitment outsourcing.
People.ai, a US-based software product company, was able to enjoy our high-quality recruitment. We helped to expand their team, by hunting 25+ talented programmers, including IT specialists with rare skills. Since People.ai planned to scale-up even further, we offered them our turnkey solution for R&D center establishment in Kyiv, which didn't presuppose our interference in their software development. Alcor's team also took over payroll & accounting, as well as legal compliance to enable uninterrupted functioning of their offshore team.
By launching your R&D center, you can get transparent pricing by selecting those services which your business needs. You can also secure IP rights, since your offshore team will be the only one working on the elaboration of the product. Moreover, you will be able to liberate yourself from many back-office operations, focusing on the core task — software development.