Software developers impact the modern world ubiquitously: starting with small apps for delivery and ending with groundbreaking innovations like AI, IoT, and cloud services. Since programmers are the force for progress, they are always in high demand for product tech companies. Finding just the right software developer is not an easy feat due to certain challenges that arise during the hiring process, but there are some efficient tips on how to hire a software developer. Keep reading this article to find out the best ways to recruit software engineers. 
Challenges Facing the Software Developer Hiring Process Today
A software developer (or so-called software engineer) is a tech specialist who codes software or an application. This occupation has a relatively new history and only appeared after the first electronic computing machine had been created. Yet by the latter half of the 20th century, software developers were well-paid and this job was considered to be prestige. And nowadays the world can't do without programmers since they are involved in many spheres: medicine, finance & banking, government services digitalization, agriculture atomization, education, etc. Due to this, talented programmers are in high demand everywhere and this trend promises to keep growing. A professional software engineer knows several coding languages and frameworks, has expertise in databases & data structures, and has good English skills. Finding a talented developer is not easy and takes lots of effort. Thus, while recruiting a candidate who suits them best, hiring managers face the following obstacles: 
Scarcity of software developers with the needed tech stack
The first challenge you may face during the hiring process is the limited number of coders with the required skills — one of the main reasons for the growing software engineer unemployment rate. This is especially true of tech companies that work with rare technologies such as cloud security. The average time to recruit software engineers who have cloud security skills is 96 days, which is more than two times more compared to Glassdoor research, where 40 days is the optimal amount of time to hire a software engineer.
The salary question
Salary is a cutting issue to be discussed during the primary stages of a lifecycle recruitment process. The point is that postponing this conversation or ambiguous answers raise the chances that a candidate opts for another offer. You could be the most loyal employer in the world, but without offering competitive wages and being transparent on this topic a candidate might source for better options. 
Strong demand among big companies for cool specialists
Everyone wants to get a valuable teammate and tech enterprises are not an exception. Many talented coders willingly join big companies, often rejecting even good offers. The main reason for this are tempting job opportunities, competitive salary, prestige, and lots of perks & benefits. However, other developers value freedom and the opportunity to innovate & create from scratch more than perks. So use your strong points to win the tech talents.  
Time-consuming and costly recruitment
The recruitment process for software developers generally needs plenty of time and financial resources. Searching and vetting potential candidates take weeks or even months while posting job adverts and recruiters' salaries require constant budgeting. 
Cultural discrepancies
Hiring an offshore software developer is the new black among tech companies, but the cultural aspect is here to stay. Things that are okay for the hiring manager can be perceived in a different way from the candidate's standpoint. Since cultural peculiarities have a direct impact on the communication style, the interviewing process is at risk for misunderstandings and confusion. That's why pay attention to this factor when building your communication strategy for interviews. 
International market specifics
When the question of how to hire a software developer abroad arises, the recruitment team stumbles over local market nuances. Studying the foreign market is time-consuming and sometimes even puzzling: analyzing recruitment potential and salaries, figuring out the tone of the local hiring campaign, etc. Apart from that, different regions and countries follow different procedures when it comes to legal regulations on labor law, IP law, and tax planning. 
 
Yet with proper management, it's possible to come round these challenges. Read further to learn how to recruit software developers painlessly. 
Where to Find a Software Developer
As we've looked through potential challenges to face, a collateral issue is where to hire software developers. Here are the most popular resources and places for finding tech talents:  
Developer communities & blogs
These resources may give you an insight into the developer's technical skills, education, and communication style. Developers also ask for professional advice and the responses to it will show you the way a candidate solves a technical problem.  
Job boards
Job boards are the most popular way to find a software developer. There, product companies post their job ads and developers can apply for them. Catching the candidate's attention requires an appealing job advertisement and the reputation of a good employer. Some of the most well-known job boards are Glassdoor, Jooble, and Indeed.  
Recruiting platforms
Such software enables finding tech specialists you need for your company quickly by optimizing the hiring process. A vast database includes candidate profiles that are ranged in accordance with their experience, references, and education level. These platforms can assist in finding either an employer or software engineer, using the algorithms that search for the best match and taking into account the job requirements from both sides. Such platforms as ZipRecruiter and WayUp are much sought after.
  
Tech events
Conferences and events gather various software developers, so it's a good place to network and find talented specialists. In any case, you can follow the recommendations of a new partner to find the candidate you need. 
7 Top Practices How to Recruit Software Engineers 
1. Offer competitive salary
Providing tech specialists with a decent salary is a crucial factor that influences affixing the signature to the employment contract. Since talented software engineers are a desirable piece of cake, wage races are unavoidable. Depending on the region, the averages vary so before you start this topic, check what base compensation is relevant for this location. For example, the average JS coder income in America is $103,000 per year, while their colleagues from Eastern Europe tend to earn about $31,000+- annually. A significant difference, isn't it? That's the main reason why IT companies approach remote specialists from other countries, hiring coders with the same level of expertise and saving on the budget. Eastern Europe offers plenty of talented developers and the salaries are lower, yet specialists from this region are also attentive towards their reward. So, the first best practice in recruiting software developers is an attractive salary.  
2. Develop your employer brand
While speaking on how to recruit software engineers, dwelling on the employer brand is essential. The absence of an attractive employer brand on the market will make the hiring process more difficult, as candidates know nothing about your company and, hence, they are less motivated to join your team. This is especially an ordinary case when you decide to expand abroad. Software developers strive to work for tech companies that they have already heard about. That's why you cannot forget to be active on various platforms. Candidates choose you as an employer, so interact with them via social media and job boards to show who you are and why you are the right choice for them. Thus, another best way to recruit software developers is to turn job-seekers into your company's fans.
Have a look at Tonic, a product company from the United States that reached out to Alcor to ameliorate the hiring process abroad. The problem was job offers rejection that retarded the company's growth due to being new in the offshore market. Our team assisted Tonic with employer brand development using efficient marketing tools and social media. The result of this collaboration was prominent: 1 in 2 Ukrainian candidates said they had heard about Tonic and as a result accepted job offers eagerly! Being satisfied with this outcome, the client made use of Alcor's accounting and legal services as well.   
3. Outline the tech stack
Every technology or task requires a specialist who has expertise in it. As soon as you decide to hire a software programmer and make him/her a part of your team, outline the technologies this candidate will work with. What task is a coder going to solve? What tools and programming languages has an engineer to utilize? Thoroughly think of not only programming languages, but frameworks, databases, and front- & back-end tools as well. Describing the tech stack properly raises your chances of finding the coder you need from the first shot.
4. Speak on opportunities for professional growth
Another best practice in recruiting software developers is sharing their career perspectives with candidates. Tech specialists value professional advancement as one of the key motivators for them. Involve them in challenging projects, provide the possibility to enter training, webinars, and conferences. As an employer, make sure that the opportunities you provide are the ones candidates have been looking for. Creating an adjuvant ecosystem for self-development and progress will give you a dedicated professional who will make bigger contributions to your company.   
5. Value both soft & hard skills
Being a competent specialist is as important as having a solid set of soft skills. Since the development process implies working in a team, problem-solving, and time management, ensure that a candidate obtains these skills as well. If you decide to hire a software developer abroad, take into account cultural peculiarities that will impact his/her work ethic. For instance, while looking for developers from other countries, American tech companies choose engineers from Eastern Europe due to cultural similarities. Coders from this region are notable for their hard work, high motivation, and egalitarian working style. Besides, knowledge of the English language is another factor that makes Eastern European developers a good choice. Therefore, managing an offshore team for tech entrepreneurs is not an arduous task.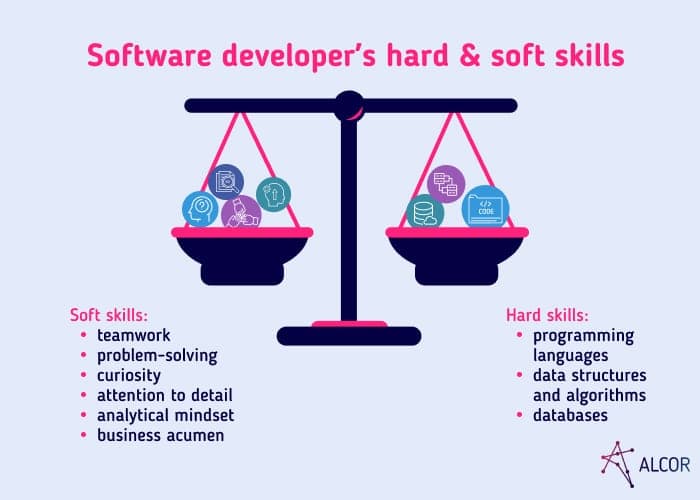 6. Conduct high-quality interviews  
Hiring a software engineer without a well-run vetting stage is impossible. Recruiters are the people who will technically prescreen and interview developers from the HR standpoint – why these specialists must have enough expertise to navigate the interviewing process with complete success. Make sure your recruiters understand the tech stack your company works with, so they can check the candidates' hard skills. In the case where your recruitment department doesn't meet the objectives, or you do not have one at all, you can opt for recruitment process outsourcing. Hiring via an external provider is a trend that acts as a good solution when it comes to proficient interviewing.  
7. Be up to date with industry trends
Professional interest is another driver that impacts choosing your company as a place to work. Tech firms that are enthusiastic about constant growth and development appeal to talented software engineers. They understand that in this company there is plenty of space for career, creativity, and mastering their skills. Implementing new programming languages and technologies arise as opportunities to grow as a specialist and for your company as a strong player in the tech arena.  

Consider Recruiting Solution from Alcor BPO 

Alcor is an international IT recruitment services provider that aims at hiring tech specialists from Eastern Europe. Here, at Alcor, we know how to hire software engineers, as our team of recruiters uses cutting-edge platforms and databases to find the tech talents you look for. We also conduct technical pre-screening and compile candidate reviews, but the final decision is up to you. Apart from that, at Alcor, we help with employer brand campaigns so that more candidates are eager to be in your team. More than 10 years of experience led to a successful collaboration with many top product companies. Tech giants from the USA such as BigCommerce, Grammarly, ThredUP, People.ai, and Globality have already experienced collaboration with us.  
For your offshore team, we orchestrate back-office operations such as legal compliance, payroll & accounting. You can choose these services separately or opt for your own software research and development center establishment. While you focus on your product development, we take care of everything else, so that you transparently run your business abroad with your team of dedicated developers!
I do hope that this insight on how to recruit and hire great software engineers was useful. At Alcor, we know how to put it into practice and find top developers for you! Sound like the start of some fruitful collaboration?