According to most research, the global shortage of software developers will reach a mark of 4.0 million specialists by the year 2025, forcing tech companies to widen their search for talented programmers to foreign locations with large IT talent pools. One such country is Argentina, which has emerged as a top destination for tech outsourcing. In this article, I explore five reasons why outsourcing software development to Argentina is a smart solution for tech companies looking to enhance their technology potential and stay competitive in today's market. Keep reading to learn about the benefits that already made tech giants like Google, Oracle, IBM, Salesforce, Meta, and Fiserv choose Argentina for software development outsourcing.
What You Should Know About Software Development In Argentina
Argentina has a rapidly growing software development industry and can be proclaimed a Latin American miracle without exaggeration. Argentinian developers have achieved a real boom in the IT and software sector since the early 2000s with an ongoing growth tendency. According to the research provided by Technavio, Argentina's IT market is expected to develop at an 8.3% CAGR between 2022 and 2027, expanding the market by $6,689.71 million. 
So, let's take a look at some of  Argentina's technology facts that caused such an avalanche of growth: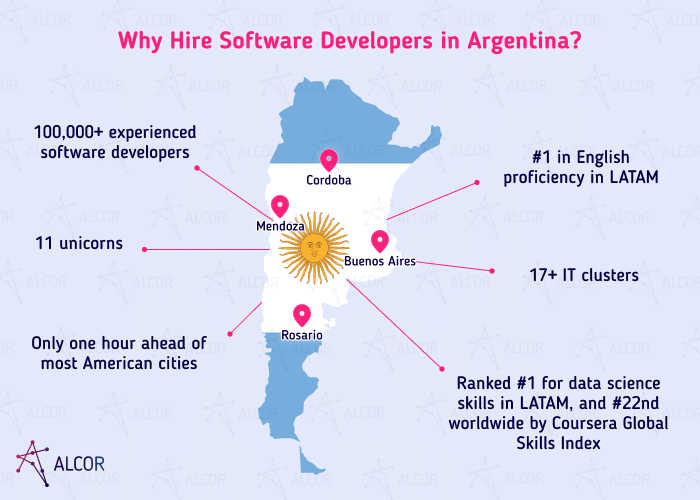 The pleasant climate for starting a tech business in Argentina turned it into the perfect destination to outsource operations and staff augmentation for top tech companies worldwide.
5 Reasons to Choose Software Development Outsourcing to Argentina 
Software outsourcing to Argentina has already become a solution for many IT businesses from the United States, China, and the European Union (EU) and has much promising potential. I gathered five valuable factors why outsourcing software development to Argentina can beef up things in your IT company:
1. Wide Argentinian IT Community
Argentina has developed a very rich and structured tech community. The country is a true greenhouse for 1,107 technical startups. Only in 2021, Argentina showed more than $466 million of high-technology exports. In fact, Argentina has established several tech parks, including the Catalinas Norte Technology Park which belongs to the world's largest tech parks. The tech park of the Litoral Centro, Santa Fe, is another destination for the blooming IT scene, with its massive R&D focus, technological transfers, and the Technology-based Business Incubator. The country is also home to 19 commercial structures and 3,8K tech businesses. Such a wide community palpably facilitates the process of hiring software developers in Argentina.
2. Strong Tech Skills
Software engineers in Argentina are widely recognized in the world's tech community. The country is ranked #1 for data science skills in LATAM and 22nd globally in coding languages like Python, TensorFlow, Cloud APIs, SQL, R, and NLP. In the same Coursera ranking, software developers in Argentina are placed in the leading positions in tech skills including Web Development, C, AI, JavaScript, UX Design, Cybersecurity, Convolutional Neural networks, Cloud Computing, Internet of Things, and Application Programming Interface. Moreover, the Argentinian government supports IT education and thus launched the 111Mil program to prepare 25,000 tech graduates a year. Argentinian Universities with the best computer science programs include the University of Buenos Aires, the National University of La Plata, and the National University of Cordoba.
3. Cultural & Geographical Proximity 
First of all, software developers in Argentina are known for high English skills – ranked #1 in the region in the language proficiency index. Secondly, working with a development team in Argentina, it wouldn't hurt to mention diligence, punctuality, and exceptional working ethics as an indispensable part of Argentina's business culture. Another generous bonus for choosing Argentina as the nearshoring location for a US company is geographical proximity to your R&D office and convenient time zone. Being only one hour ahead of most American cities allows you to schedule suitable meetups for both sides and establish common deadlines. 
4. Government Support  
Besides the invisible hand of the local tech community, the Argentinian government goes all out to set up favorable conditions in the local market for foreign companies looking how to outsource developers in Argentina. Thus a number of relatable laws and programs were launched. For instance, the Startup Buenos Aires and IncuBAte programs are fresh government-backed programs to support IT entrepreneurship. Also in response to Covid-19, Argentinian authorities created a law to protect the right of remote workers. Called the Legal Regime of the Teleworking Law it's related to remote work relationships specific to each sector and determined by social partners through collective collaboration. And the last thing to mention is that Argentina has made attempts to digitalize their bureaucratic system, which allows you to fully set up a business via the Internet in just 24 hours. 
5. Flexible Taxes 
A remote team in Argentina offers a great taxation solution for foreign IT staffing. Just like in many other countries, an employer must handle the employees' income taxes. In case an employee's gross monthly salary exceeds ARD150,000 ($750), then income tax is imposed at progressive rates from 5% to 35%. For the independent contractor, this form should be registered for Documento Nacional de Identidad with the Registro Nacional de las Personas which has jurisdiction over the area you live in. In the first five years after establishing a new IT company, the income surplus will be deducted from the overall tax amount. 
Costs to Hire Software Engineers in Argentina
For IT businesses seeking to hire programmers in a foreign location, price is often a critical factor in the decision-making process. In Argentina, software outsourcing comes at the lowest price in Latin America. Take a look at the comparison of the current salary ranges of a middle specialist in software development in Argentina: 
Annual Salary Ranges for Middle Software Developers

Argentina
Mexico
Brazil
USA
Canada
Germany
France
JavaScript
Developer
$16,000
$20,000
$17,000
$105,000
$77,000
$54,000
$52,000
Django
Developer
$32,000
$35,000
$37,000
$120,000
$107,000
$80,000
$68,000
UX
Developer
$27,000
$24,000
$33,000
$123,000
$96,000
$78,000
$63,000
Node.js
Developer
$17,000
$20,000
$20,000
$107,000
$84,000
$57,000
$57,000
React.js
Developer
$20,000
$35,000
$16,000
$136,000
$93,000
$63,000
$60,000
ASP.NET mvc
developer
$22,000
$28,000
$28,000
$111,000
$71,000
$70,000
$71,000
QA Software
Engineer
$16,000
$20,000
$17,000
$80,000
$53,000
$58,000
$48,000
Indie Game
Developer
$12,000
$16,000
$21,000
$86,000
$64,000
$69,000
$54,000
Cobol Software
Developer
$15,000
$27,000
$20,000
$75,000
$82,000
$60,000
$60,000
Argentinian salaries were converted to US dollars at a relevant exchange rate for April 2023.
It seems clear that employee outsourcing to Argentina turns out to be marvelous for IT companies' budgets, providing lower expenses compared to North American, Western European, and other LATAM countries. However, you should also pay attention to these major salary-formation factors:
Experience. If you think about hiring a software developer in Argentina, outsourcing costs will be greatly impacted by the amount of experience the specialist has. For instance, the Junior React Native Developer will earn 16% less on average than their Middle counterpart. Meanwhile, the Senior React Native Developer's salary increases by 44% compared to the compensation of their Middle colleagues. 
Level of Education. The level of education has a significant impact on a software engineer's salary in Argentina. Individuals with a Certificate or Diploma earn 58% less than those with a Bachelor's Degree, while Master's Degree holders earn 39% more than individuals with a Bachelor's Degree.
Type of company. Company type also plays a huge role in the cost of software hiring & application outsourcing to Argentina. For example, product tech companies usually pay more to Argentinian software engineers than outsourcing and outstaffing tech companies. Why? Because the former develop their own products which requires more advanced hard & soft skills and experience from programmers, resulting in higher compensation. At the same time, the latter provide software development services to other businesses, and in order to receive more profit, they tend to cut the pay for their coders.
Consider Alcor BPO Your Trusted Partner
In times of accelerating change in the tech world, hiring a team of qualified software engineers might seem like a big challenge. Yet, the process of hiring the right candidate can be facilitated with a reliable recruitment agency.  
Alcor IT recruitment outsourcing partner knows how to hire a software developer of any seniority level within just 3 to 6 weeks! Our team of 40+ recruiters has already found hundreds of the best tech talents for IT companies in Eastern Europe and become true experts in IT recruitment in Poland and IT recruitment in Bulgaria. We provide an open detailed pricing for our services, and clients can calculate how much they save on hiring software developers in the region by using our free software cost calculator.
For instance, the US company Sift turned to Alcor for candidate sourcing-as-a-service and further recruitment help in Eastern Europe. The stakes were quite high, as Sift planned on hiring software developers with rare tech stacks in 1 year. 10 researchers and 3 experienced recruiters from Alcor made it possible and staffed Sift's team with 20 strong programmers. 
As it happened in the case with Ledger, a French cryptocurrency company, our IT recruiting team hired 27 professional software engineers while our lawyers provided them with full legal compliance. As usual, we were confident in our services and guaranteed full reimbursement in case of any fines due to our omission.