Recruitment has always been a highly competitive field, which puts to the test a company's adaptability to changing market conditions and candidate needs. With the widening talent gap, this process has become even more complicated, as about 69% of American employers struggle to find and hire competent experts. However, in this regard the recent advent of AI automation technologies provides high hopes for recruiters and business owners alike.
If you are still unsure whether to implement this hot trend or not, this article is for you! Keep reading to find the answer to the question, "What is recruiting automation?" As well as explore its benefits, challenges, and how to automate a recruiting process.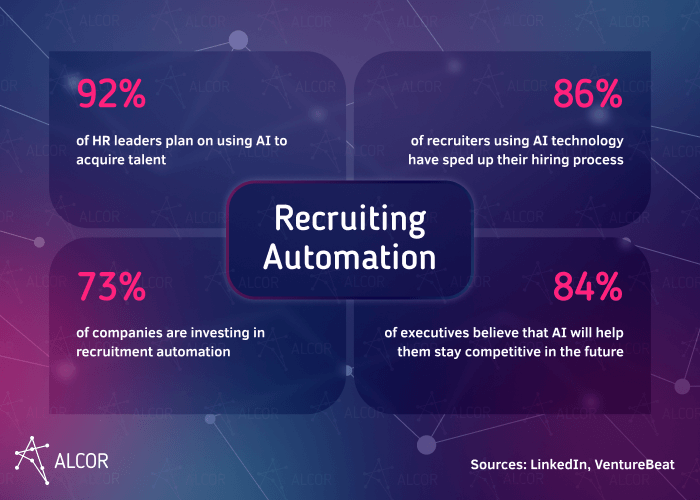 What is Recruiting Automation?
Recruiting Automation is a process of utilizing Artificial Intelligence (AI) and Machine Learning (ML) technologies to carry out manual recruitment tasks, thus improving the efficiency of the entire hiring process. It's essential to keep in mind that these smart tools are not for replacing HR experts but boosting productivity — and saving a great deal of time.
How Does Recruiting Automation Help Your Business?
Recruitment automation is like the silver bullet for companies that are on a quest to find workable ways of hiring top talents time- and cost-effectively. This technology provides businesses with a feasible competitive edge. According to a Deloitte report, those executives that implement hiring automation tools are more successful in their industry, achieving 30% greater profits and 18% higher revenue than their counterparts. In fact, about 73% of businesses are already investing in AI-powered recruitment technologies.
With these smart tools, hiring teams can automate candidate sourcing, CV screening, messaging, and scheduling, etc. Moreover, by analyzing vast amounts of valuable data, you can decrease time spent on recruiting tech talent, improve retention rates, identify key roles in a software development team that should be filled first, and even make long-term plans to stay ahead of future staffing needs. Let's have a closer look at recruiting automation advantages and identify its possible challenges.
Benefits vs Challenges of Recruiting Automation
Benefits
Time to hire is one of the main recruitment metrics that shows how quickly and effectively a certain candidate moves through the hiring stages. An extended time to hire can be indicative of an inefficient workflow or recruitment approaches, causing highly-qualified candidates to be disregarded and increasing the cost per hire. Therefore, it makes sense to opt for automated recruitment processes, which allow recruiters to streamline tedious, repetitive tasks and focus more on strategic, high-priority work. 
Increased talent diversity
Unlike traditional hiring methods which usually rely on subjective decision-making, automated recruiting tools select appropriate applicants based on data-driven algorithms. In this way, HR experts can minimize any prejudice towards age, race, gender, or religion, making their choice based on the candidate's qualification and skills. Consequently, they can avoid bad hires and contribute to the company's diversity and inclusion. In fact, 61% of hiring managers believe that recruiting automation helps them eliminate unconscious bias during the hiring process.
Improved candidate experience
It's not a rare occasion for recruiters to feel bombarded with numerous tasks that require a lot of time and great attention to detail. As a result, it's difficult for HR specialists to provide a superior hiring experience to each candidate. However, this is one of the decisive aspects that determines an applicant's willingness to join the company. Actually, 87% of candidates admit changing their mind about the company they previously doubted, while 38% of respondents are more likely to accept a job offer due to a positive candidate experience. So, what can you do? The best way to achieve a seamless candidate experience is by automating administrative tasks. This way, you will have more time to build strong connections with candidates, increasing hiring success rates.
Enhanced quality of recruitment
Quality of hire is a paramount recruitment KPI. For a long time, it was nothing more than a black box for hiring managers, as it was difficult for them to draw a holistic picture of approaches that contribute to job matching quality. Now, by automating recruiting processes, HR specialists can tap into invaluable data and get unique insights about hiring metrics and workable techniques, as well as detect possible flaws in the recruitment strategy. Keep reading this article to find out which hiring processes are the most suitable for automation.
Challenges
Lack of human interaction 
Sometimes too much automation can be harmful for your tech recruitment. About 42% of job seekers think that the overwhelming usage of AI-powered tools dehumanizes the hiring process. As a result, constant interaction with such machines can be off-putting for some candidates and even be treated as disrespectful. Meanwhile, 80% of applicants believe that face-to-face interviews and onboarding should always be carried out by humans. So, think twice before automating essential recruitment tasks. 
When using recruitment automation tools, it's important to remember that a machine performs its decision-making based on a predefined list of criteria. This means that it can pass over a good candidate if their CV is formed in a creative or obscure way. Moreover, such recruitment software is devoid of human judgment, which may seem like a good thing at first glance but in reality is a real drawback. For instance, a smart machine can easily skip on an applicant who has no bachelor's degree but obtains needed certifications and advanced coding skills for the job; or a candidate may not have enough professional experience but possess good personality traits that prove a person's determination to learn and grow. That's why it's always important to look over the results from AI-powered tools and try to feed it as much valuable data as possible, so the machine can do a better job. 
Just like any other digital program or tool, recruitment automation software can be hacked. Some applicants who are not so sure of their competence may use loads of keywords in their resumes to trick the hiring system. As a result, you can miss good fits for your company and accidentally approve a potentially bad hire.
10 Ways to Automate the Recruitment Process in Your IT Business
1. Job Description
While recruiters spend hours devising a compelling job description, potential candidates need only 14 seconds to decide whether this vacancy is worth their time. Yeah, you heard it right! So, why waste time on such mundane tasks if you can automate them? According to Capterra, description generators can save HR experts up to 75% of the time on writing job descriptions from scratch. Furthermore, with these recruitment technologies, they can also set clear job expectations, minimize bias, target the right candidates, and make vacancies sound more engaging. 
Learn how ChatGPT can help recruiters attract highly-qualified talents and minimize irrelevant CVs in our recent article.
2. Vacancy Posting & Advertising 
When a catchy job description is ready, it's time for posting. Most headhunters make great use of social media, as about 86% of job seekers prefer these means in their job search. However, if you need to target a particular audience or highly qualified candidates, recruitment automation tools can come in handy. By leveraging useful insights and analytics, you will not only create targeted job postings but also choose those social media and job boards that flourish with needed candidates. As ascertained, 70% of the global workforce consists of passive candidates. So, if you reach out to as many as possible, your IT recruitment process will move as fast as lightning. 
3. Candidate Sourcing
Do you know how much time you spend on sourcing candidates? LinkedIn has found that recruiters spend on average 13 hours (1/3 of their workweek) to find suitable candidates for a single role. Imagine the number of tasks you could have completed if this process was automated. With modern recruitment software this is more than achievable! Hiring automation tools can help you identify optimal channels for finding talents, while an AI chatbot can take on the initial interaction with applicants and even undertake the pre-screening phase to shortlist appropriate candidates.
4. CV Screening
According to Glassdoor, about 250 applications are received per one open position. This fact makes the process of going through each resume a time-intensive chore. Recruitment automation can liberate recruitment teams from manual screening and even improve that. Here is how to automate this recruitment process. First select the needed criteria such as job experience, hard and soft skills, education, certification, and other requirements you deem necessary. Then your recruitment software will filter applicants based on that information, adding the suitable ones to your talent pipeline. Moreover, with CV screening tools, you can avoid skipping great applicants because of some unconscious bias.
5. Background Check
Once you have selected candidates that perfectly match your job requirements, it is essential to carry out a comprehensive background verification to make sure these tech talents pose no liability risks to your company. This may include checking court, financial and public records, employment history, education verification, and other identity information about your potential employee. Instead of performing this task manually or paying external agencies to undertake the background research, you can automate this recruiting process. The results will be automatically submitted to you whenever you deem it necessary. 
6. Candidate Engagement
Selecting the right candidates is one thing, but sustaining their enthusiasm for your company and position is not a simple feat. In fact, around 78% of applicants say the overall candidate experience is a valid indicator of how a company values its people. Thus, it's crucial for recruiters to make a good impression by keeping in touch with candidates and moving them through the hiring stages promptly. One of the workable methods is AI-powered text recruiting, which covers a wide range of functions like instant text messaging, interview scheduling, and feedback sharing. With this automated hiring tool at hand, you always stay on the same page with your candidates and not leave them guessing.
7. Talent Assessment
There are multiple aspects that need to be checked when interviewing candidates, starting from professional qualifications to interpersonal skills. With recruitment process automation hiring managers can implement a variety of online tests including gamified assessments, cultural fit evaluations, skill and personality tests, all customized to your company standards. These AI evaluation tools not only save a bunch of time but also generate valuable recruitment reporting that can potentially improve the entire hiring process.
8. Interviewing Process
Handing over the interviewing process to a smart machine looks like a scene from some sci-fi movie (at least for now). Yet, with the growing popularity of virtual recruitment, automated hiring software can largely enhance the interviewing process and at the same time reduce human effort. For instance, your recruitment team can make good use of AI-powered interview platforms to conduct one-way video calls to speed up the pre-screening stage. Another example is to use smart tools that can analyze the voice and facial expressions, demeanor, and emotional state of a candidate to get a more comprehensive understanding of their personality and fit for the position.
9. Job Offer Generation 
As soon as you are done with the final interview and the candidate is approved for hiring, it's critical to make a job offer within the next 24 hours. Because of the software developer shortage and mounting competition for talent, the risk of losing a high-quality candidate is a real concern. Therefore, it's a good idea to use an automated hiring system to send the offer in a timely manner. 
10. Candidate Onboarding 
One more process that you can boost with the help of AI tools is onboarding. Introducing new employees to the team, acquainting them with company mission and values, navigating them through the workflow are just a few functions that recruiting automation can take over. This will enable a much smoother onboarding process and contribute to a pleasant experience for each new hire in your IT company.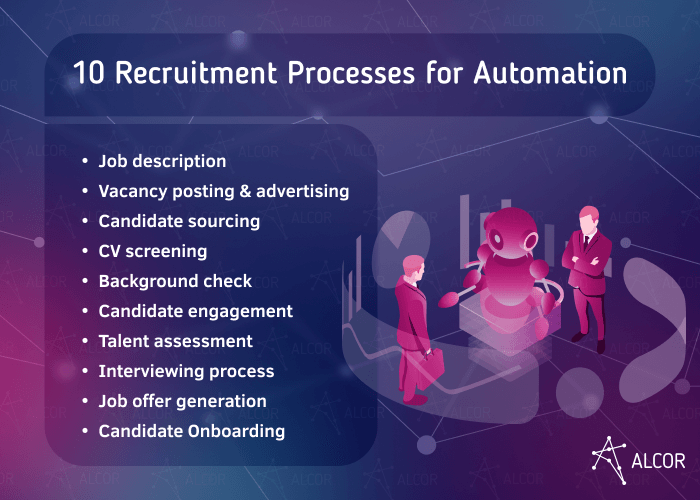 How to Use Automation in the Recruitment Process?
To get an idea of which recruitment functions are better to automate, you need to carry out an in-depth examination of your key hiring metrics and evaluate the effectiveness of each recruitment process. One of the common problems is increased time to hire a programmer (the market average is 44 days). There could be several reasons for that:
Malfunctioning candidate sourcing
Prolonged CV screening 
Long rounds of job interviews
Ineffective communication with candidates 
Ill-organized internal recruitment workflows
In this case, you could, for instance, make use of the applicant tracking system (ATS). This recruitment software helps to automate hiring processes like sourcing and screening, thus tracking candidate progress without a hassle. 
In addition, there is one more way to streamline your recruitment. You can seek assistance from professional IT staffing firms that already use the most effective tools and approaches to headhunt talents. That's what a US-based product company, Sift, did to make their ambitious staffing goal a reality. They reached out to our local recruitment agency, Alcor, and we took care of each hiring aspect, from creating an enticing EVP to interviewing the best-matching candidates. As a result, we hired 30+ Eastern European developers in just a year!
Enhance Your IT Recruitment with Alcor!
Overall, automation of the recruitment process is a smart move that helps IT companies elevate hiring performance. But if you have a mounting number of tech positions, while lacking internal HR resources, cooperation with an international IT recruitment company like Alcor can bail you out. 
For over a decade, we have been providing IT recruitment in Poland, Romania, and Ukraine. Among our successful cases are such offshoring examples as Grammarly, People.ai, Gotransverse, and ThredUp. Our team of 40 headhunters uses a 600,000+ candidate network, hiring Polish developers as well as other Eastern European programmers who perfectly fit clients' requirements. With Alcor you can get your first 5 devs in just a month, while benefiting from our 3-month candidate warranty!