Building software teams in attractive foreign destinations has been a widely accepted business practice in the IT environment for quite a long time. It came to the foreground when western tech entrepreneurs realized that this was the only way to deal with labor shortage and rising costs. Among the manifold IT markets, Poland climbed to the top of offshoring destinations. But why is it so? 
Our Alcor experts know the 10 main reasons why tech companies build dedicated development teams in this location, as we have broad experience in providing IT recruitment services in Eastern Europe. Continue reading this article to find out how to successfully assemble an offshoring team of Polish engineers.
Top 10 Reasons to Build a Dedicated Development Team in Poland
Large Talent Pool 
Software developers are the driving force of a successful scale up. That's why, before going offshore, IT business owners look for locations with huge talent pools. According to the Polish and CEE Ecosystem Outlook, Poland is accountable for one-quarter of all tech talents in the CEE region – that's over 401,000 tech specialists – and why tech entrepreneurs frequently opt for this offshoring destination to set up engineering teams.
Affordable Wages & Taxes
Another primary reason why foreign IT companies choose a dedicated development team in Poland is modest wages. Let's say you are an owner of a US-based IT company who wants to build a mobile application. Typically, you would need an iOS developer, Android developer, UX/UI designer, QA engineer, and team lead. If you decided to do it in-house, you would have to spend at least $569,000 on salaries annually. But if you assembled your offshoring team in Poland, it would cost you 2 times less – around $237,000 per year. Sounds like a good bargain, doesn't it? But lower remunerations are just one of the benefits of hiring a dedicated development team in Poland. You will also be able to pay lower taxes, which range from 8,5% – 12%.
Country
iOS developer
Android developer
UX/UI designer
QA engineer
Team lead
Total
Poland
$45,000
$43,000
$38,000
$37,500
$74,500
$237,000
USA
$120,000
$116,500
$103,000
$100,500
$130,500
$569,000

Average developer gross salaries per year
High English Proficiency 
Smooth communication is a vital aspect of productive cooperation. That's why, when it comes to offshoring, most IT entrepreneurs get concerned about this matter. However, if hiring a dedicated development team in Poland, you won't have to worry about it, as the majority of software developers here have high English proficiency (B2 level). This can be seen in the EF English Proficiency Index where Poland is ranked 16th out of 112 countries.
Booming Startup Ecosystem 
Poland is a real hotbed for high-tech startups. It is ranked 33rd in the Global Startup Ecosystem Index 2022, with a total number of startup companies being over 3,000, 499 of which are tech-related ones. Polish entrepreneurs are not afraid of starting innovative tech businesses, as they can always count on national and foreign investments. According to Statista, venture capital investment in Poland increased by 66% since 2020, reaching $811 million in 2021. That's probably one of the main factors that resulted in Poland having 10 unicorns – the biggest number in the CEE region. 
Western-oriented Mentality
In Poland, dedicated development team building is common among the international IT companies for one more reason – western-like mindset. Polish engineers are highly adaptable and flexible when it comes to working in foreign tech companies. The very moment you employ them, these guys swiftly dive into the programming process, offering the best technologies & practices to ameliorate the quality of your product. Moreover, they will demonstrate exceptional dedication, problem-solving, and thinking out of the box skills, as well as a passion for nonstop learning and knowledge dissemination. 
Exceptional STEM Education 
Poland has already proven itself as a country with high standards for tech education. This destination provides a well-rounded higher education in 40 state-owned universities and 20 public institutes of technology, 19 of which are included in the QS World University Ranking 2022 list. Computer science is a common field of study among young Poles, which results in 15,000 IT specialists joining the large developer workforce annually.
Developed IT Hubs 
What else attracts the US and Western European companies to assemble dedicated development teams in Poland is its IT hub diversity. There are 6 main tech centers which employ over 80% of all IT specialists in the country. Among them are Warsaw, Krakow, Wroclaw, Tri-City, Poznan, and Lodz. Such tech giants as Microsoft, Google, Amazon, IBM, Oracle, and Samsung have already opened their offices and R&D centers in these cities. 
Diverse Tech Stack 
Polish software engineers are frequently selected by foreign IT companies for their multi language skills. These professionals have no problem with mastering the newest programming languages and implementing high-tech solutions. The top three technologies among Polish specialists are JavaScript, Java, and Python. However, Typescript, PHP, and C# are regularly found in the arsenal of these professionals as well. The outstanding tech expertise of Polish developers is proven by different rankings, i.e. SkillValue, TopCoder, and HackerRank, where these specialists always take leading positions. 
Convenient Location 
Another reason to hire a dedicated development team in Poland is the beneficial location. Situated in the heart of Europe, the country serves as a bridge between Western and Eastern European countries. It makes Poland a strategically convenient place for doing business. In addition to that, there is no time difference between Poland and Western European countries, which is extremely convenient when it comes to direct communication and cooperation of Polish programmers with their foreign colleagues.
Thriving IT Industry
The Polish IT industry has been experiencing unprecedented growth during the last decade, becoming the leading tech market in the CEE region and taking 7th place in Europe. Polish IT sector revenue constituted over $9 billion, while its market value exceeded the $20 billion mark in the previous year. The demand for ICT services produced in Poland has also been increasing worldwide. As a result, its exports skyrocketed since 2016, amounting to $8.6 billion dollars in 2020. These ongoing positive dynamics of the ICT industry raised its share in Polish GDP to 8%, making it a potent accelerator of national economic development. 
All these impressive results wouldn't be possible without the productive functioning of Polish software companies. Their number has been growing by an average of 6,0% over the 2017 – 2022 period. Currently, there are about 63,058 IT businesses in the market that employ more than 430,000 people. 
Want to know more about the advantages of building engineering teams in Poland? Check out our other article: "Polish Developers: Pros, Cons, Rates & Insights."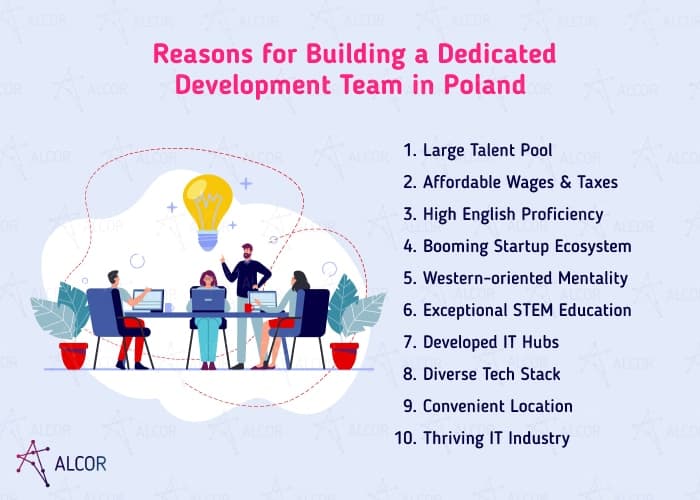 Best Practices to Hire a Dedicated Development Team in Poland
A tech company can create a dedicated development team in Poland in two ways: via outsourcing or offshoring. When choosing to outsource to Poland, the company collaborates with an an outstaffing vendor who "lends" you a team of developers temporarily. However, this option entails multiple disadvantages. On the other hand, offshoring means cooperation with a provider who only assists in administrative functions without interfering in the development process. What is more, you can streamline the process of offshoring to Poland via the list of the best practices to hire a dedicated development team in Poland. 
Devise a well-thought-out IT recruitment strategy 
The first and foremost thing any tech company needs to do is to compose an effective IT recruitment strategy, as it's the backbone of successful offshoring of software development in Poland.Your talent acquisition strategy should include the number of IT specialists, the type of tech expertise that you need, defined KPIs, budgetary limits, an ideal candidate profile, as well as recruitment approaches and hiring tools to enable a swift scale up. 
Set an appealing employee value proposition 
Another aspect to focus on is an attractive employee value proposition (EVP). It usually includes monthly/annual developer compensation, paid vacation, health insurance, gym membership, business trips abroad, and other company bonuses. The more appealing your EVP is to candidates, the more chances you'll have for recruiting the best tech talents on the Polish IT market.
Launch a powerful employer branding campaign 
In Poland, team augmentation can become extremely challenging if you ignore employer branding. The truth is that if local developers have never heard about your company, the hiring process is likely to be delayed. Therefore, it's vital to promote your business on the new market, providing information about your product, team, mission, values, and achievements. That's what the US-based company Sift did. A catchy employer branding campaign which was carried out by Alcor helped them broaden their applicant base and convince the already interviewed candidates to join their team. As a result, Sift got a fully functioning team of 30+ developers in Eastern Europe within just a year.
Delegate back-office operations to a service provider
What can be worse than a malfunctioning offshoring team that turned into a burden instead of being a source of cost-effective product development? That's something that tends to happen when IT companies build offshoring teams without properly handling operational functions. To avoid it, you should partner with a reliable vendor who can liberate you from time-consuming accounting, help you pay all the necessary taxes, provide your developers with timely paychecks, and make your business fully compliant with local legislation.
Hire a Dedicated Development Team in Poland with Alcor BPO
Recently, an American product company Dotmatics (acq. by Insightful Science) that develops scientific software for biologists discovered Poland as a wonderful destination for expanding their tech business. The company wanted to step back from traditional IT outsourcing and opt for a more cost-effective and reliable option. When they started looking for trustworthy local service providers, they found our IT recruitment company Alcor. We provided Dotmatics with full-cycle tech hiring and assisted them on each stage of this process. They also got an individual account manager who coped with all arising issues to enable smooth offshoring. After a year of fruitful cooperation, Dotmatics received a team of 30+ seasoned engineers (including Full Stack, React, QA Automation, and Node.js developers) as well as payroll, legal compliance, and procurement services coverage.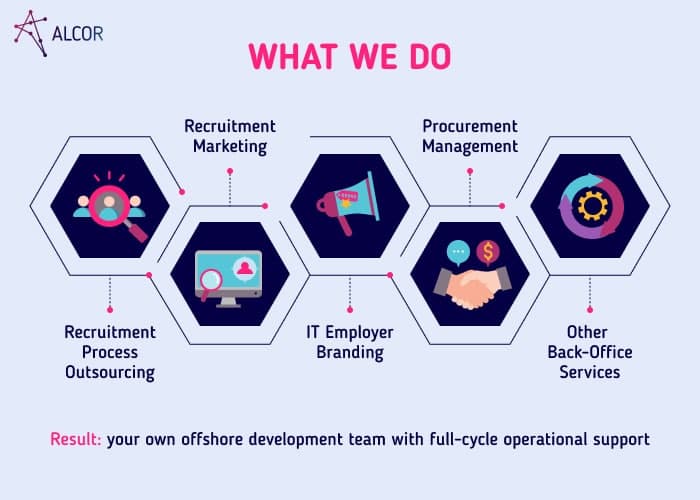 If you also want to successfully build a dedicated team of developers via offshoring, Alcor BPO can make it happen! Our company provides IT recruitment services in Poland, Romania, and other Eastern European countries. We have a professional IT hiring team that uses only up-to-date recruiting practices & technologies, as well as our internal database of 200,000+ verified candidates, to headhunt the best senior and lead talents for American and European product businesses. On average, it takes our recruiters 3-6 weeks to close one position, depending on its complexity. We also ensure customers with a 3 month warranty to substitute our candidates free of charge if they don't meet clients' expectations.