Qualified software engineers are the most valuable asset of any IT company. Along with decent wages, these tech specialists are also attributed high expectations and responsibility for the product's success. As the tech industry moves rapidly forward, it becomes a challenge not only to find a professional developer but to create such software engineer working conditions that would retain this tech specialist. According to LinkedIn research, the tech industry is considered having the highest turnover rate (13.2%) exceeding that of any other field by a solid 3%.
In this article, I'll help you explore how to make the developer loyal to your company by creating the perfect work conditions for a software engineer.
Typical Work Environment for a Software Engineer
So, what does the work environment for a software developer look like? On a daily basis they solve problems in web programs, write code, attend meetups, and collaborate with their colleges. As developers create a new software product that is supposed to bring the desired outcome, their work is usually well-paid, demanding, and challenging. The litmus test for ideal software developer career conditions includes three main things: trust, independence, and flexibility. Show your trust by providing faith in each developer's expertise. Give them freedom by assuring the ability to configure and upgrade the tools as they see fit. And here comes the most vital part: let them create their perfect environment on their own by picking out favorable hours and location to work at.
Despite the developer's profession being very respected and well-paid, there is a backside of the coin too. First of all, doing mostly intellectual work, developers often struggle with sedentarism and high screen time due to the tendency to overwork. In the long-term perspective, such a lifestyle results in back problems,  blurred vision, and even obesity. In fact, they also sacrifice mental health for their job. Thus, constant overwork, strict deadlines, and high number of duties may give rise to burnout and downright exhaustion. 
5 Tips to Create the Best Work Environment for Developers
According to the latest study from Microsoft, more than 40% of the global workforce are planning on changing their working places in the next 12 months. Quite often it's the poor software engineer career conditions that lead to increased staff turnover. Developers acknowledge the uniqueness of their skills and the high demand for IT specialists, thus they are willing to change the working place easily in search of better employers. Therefore, here are some tips to help you establish a congenial software engineer working environment.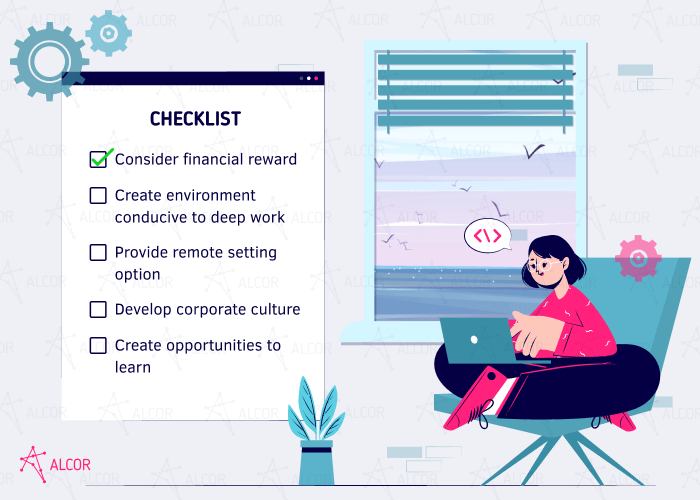 1. Consider financial rewards
To stay competitive and have the ability to attract the most prospective IT specialists you should offer decent wages along with regular salary rises. Typically, it is expected that the developer will get at least a 3% salary rise annually. In addition, consider promotion-related salary bumps, inflation rates in particular regions, and bonuses. Depending on the company, the average software engineer gets a 10-15% salary raise in case of promotion. Also, the bonus structure is considered a highly effective motivation tool for tech workers, thus a good bonus for a Software Engineer in the US reaches about $10,000 – which typically represents 9% of their annual salary. 
2. Create environment conducive to deep work
The proper software engineer work environment requires distraction-free office environments to boost cognitive capabilities and improve the quality of performance. Deep concentration is most likely to be achieved in a separate team room with a door to reduce distractions from other coworkers. Windows with daylight are also an essence. The research at Cornell University showed that employees exposed to sunlight experienced 84% fewer cases of headaches, eyestrain, and blurred vision. Another thing prioritized by programmers is the ability to customize their workspace. Studies proved that having some personal items in a workplace increases the sense of belonging to your company and makes a dedicated development team while enhancing overall quality of the software engineer career environment.
3. Provide remote setting option
As of 2022, only 14% of developers work fully in-person, while 42.44% give their preference to a hybrid mode, and 42.98% work completely remotely. Remote work offers many benefits in terms of time-saving, a decrease in commute-induced stressors, and increased flexibility of work conditions for a software developer. As I mentioned before – tech specialists value freedom, and remote work opens new horizons for traveling or living in a desired place. Yet, while letting your developer work remotely, you are still responsible for solving all their technical problems from providing devices like professional monitor, keyboard, and installing an operating system to their computer. 
The remote setting option also opens new horizons to IT companies by providing a wider pool of talented software engineers. Therefore, in 2020 one reputable recruitment agency, Alcor, established a developer hub for the Ledger company from France. The client received not only 27 hires in just two years but also a personal allocation manager who provided consultation on each cooperation stage and delivered weekly hiring progress reports.
4. Develop  corporate culture
A widespread myth about the work environment for a software engineer is that developers are highly introverted parts of the team (who prefer to work on their own). Yet just like any other employees, IT specialists value corporate culture and a team endeavor. Keep in mind that according to research from Harvard Business School, a strong corporate culture can enhance developer productivity by up to 30% and boost employee morale when remote working. 
5. Create opportunities to learn
The importance of developer training is paramount, as programming is not a static skill but requires constant learning and advancement. Being proactive in tech specialist development is essential when it comes to the software developer career environment. You can increase the motivation of your developer by offering professional training, startup courses, management workshops, plus free access to the newest books and magazines.  
Consider Alcor BPO Your Trusted Partner
The Alcor team recruits tech specialists by not only considering coding skills but also their values and personal aspirations – to create a great team for your dedicated offshore development center in Eastern Europe. Our CEO, Dmytro Ovcharenko, personally visited the main office of our client BigCommerce in the USA  to get the full picture of their software developer work environment. This face-to-face encounter allowed our recruitment team to acquire more knowledge about their product and built the needed trust between our companies. Since BigCommerce considered the model of build-operate-transfer for IT outsourcing, we created their own development office from scratch. Our recruiters hired 58 software engineers for them in a year, while the rest of the Alcor team took care of legal compliance, payroll management, office support, and other operational activities.  
Want to hire the best developers in the shortest time? Leave these duties to Alcor and feel free to concentrate on your product development!