When looking for an offshore location, you might find a range of articles claiming that Ukraine is the best place for offshoring and outsourcing. Being attractive for outsourced software development, Ukraine is also a great location for software development centers and development offices. In this article, we'll explore some of the reasons underlying such a situation.
Why Ukraine: Software Outsourcing in the Country
In Ukraine, IT outsourcing services play a leading role in software development. Some of the reasons behind such a situation include:
Availability of software engineers
While most developed countries experience a shortage of software developers, Ukraine can offer an abundance of engineering talents. According to data from the IT Ukraine Association, over 285,000 tech specialists deliver their services here. At the same time, the market is still not overly saturated with tech companies.
Moreover, you can also find seasoned programmers for hire in other Eastern European countries. For example, we have already discussed everything you need to know about Polish developers and Romanian developers.
Quality of software development
Companies that go for software development to Ukraine acknowledge the high quality of the services and strong independence of local specialists. As proof of this, global rankings also recognize that companies dealing with IT outsourcing in Ukraine create quality products.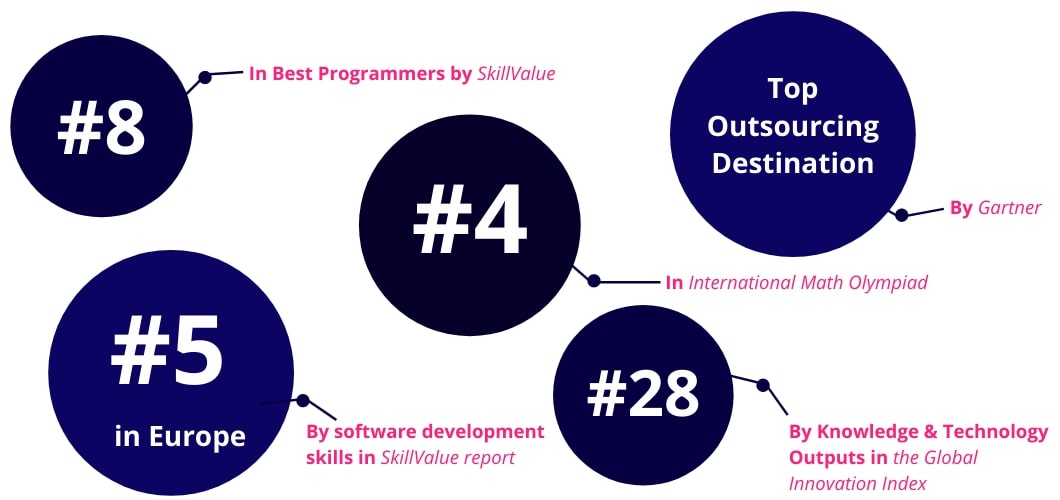 Some of the awards include:
– #8 in Best Programmers by SkillValue;
– Top Outsourcing Destination (for 7 years already) by Gartner;
– #4 in International Math Olympiad;
– #28 in Knowledge & Technology Outputs in the Global Innovation Index;
– #5 in Europe for Software Development Skills in SkillValue report.
Financial benefits
Besides the availability of developers and the quality of their work, the Ukrainian market also offers financial benefits to foreign tech companies. When compared with salaries in the West, Ukrainian wages are lower yet the service is at the same level. Another important financial factor is a special tax incentive. This is possible with a unique business model: when you engage developers who are also private entrepreneurs. For instance, in the West (EU as well as the US) if you employ a person on a full-time basis, the tax makes up 20-40% of the salary. In contrast, private entrepreneurs in Ukraine pay only 5% of income. Doesn't it sound attractive?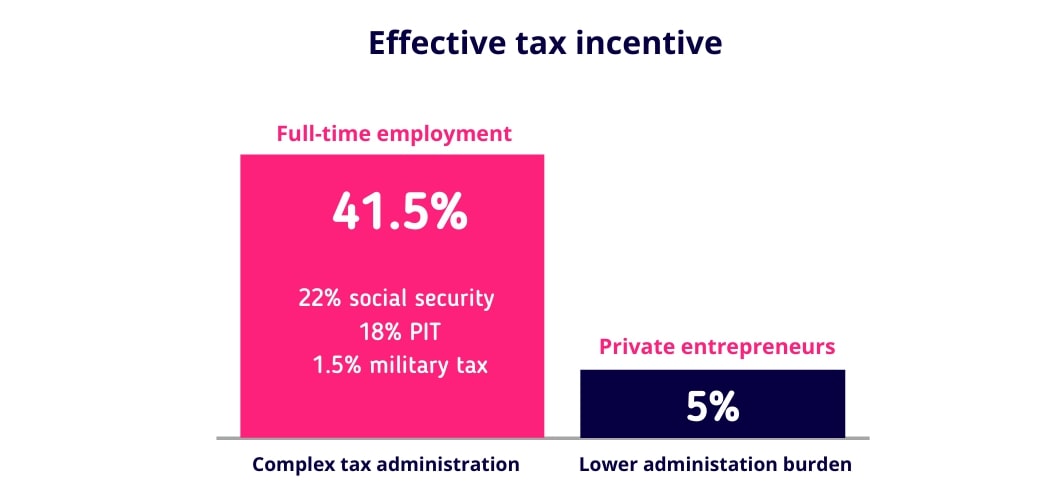 Geographic proximity
Among important benefits of Ukraine, the software outsourcing market offers foreign tech companies a perfect location. The time difference with the US is around 8 hours, which allows for convenient cooperation between onshore and offshore teams. At the same time, the difference with most European countries is only around 2 hours – and besides these traditional arguments proving that Ukraine is a worthy spot for software development, there are also some other aspects we'd like to emphasize.
Long-lasting engineering tradition
In Ukraine, software outsourcing offers a top-quality product. Innovative thinking and deep tech expertise (which stem from the long-lasting engineering tradition) contribute to it. For instance, Ukrainian scientist Sergey Lebedev built the first computer in Europe in 1951. In 1959 another scientist, Viktor Glushkov, decided to work on a machine for engineering calculations and offered to create a mathematical programming language for it. This machine became a forerunner of the PC.
Quality of Education
Ukraine is one of the countries with the highest literacy rates and high ratio of university graduates. As for tech education, around 16,000 tech specialists graduate from local universities with specialization in computer and information technologies and enter the workforce yearly. There are also many courses, trainings, and lectures from leading companies or special schools. Thus, you can be confident that you'll find educated and qualified software developers here.
As well in Ukraine, IT outsourcing has created the foundation for tech business and, without doubts, shows outstanding results in the international arena. However, several important facts prove Ukraine is not only an outsourcing destination but also a great spot for product companies that want to have own team and full control over their activities.
Software Development in Ukraine: Development Centers
First, we'd like to point out to companies that already successfully utilize Ukrainian talents to advance their products with their own development hubs.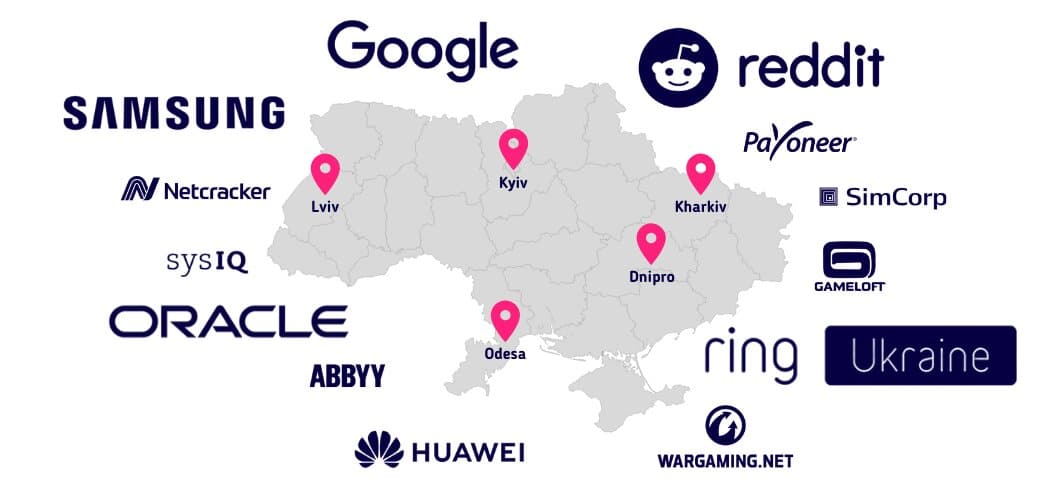 Amazon (Ring)
A couple of years ago Amazon bought Ring – a startup with a large R&D center in Ukraine. The local software engineers are working on the development of smart bells and surveillance cameras.
Samsung Electronics
Samsung's local specialists work on the development of innovative solutions in 3D graphics and recognition technologies, artificial intelligence, and natural language processing. The company is constantly looking for new talents.
Oracle
This tech giant has several offices in Ukraine and employs around 500 local specialists in 5 major cities. Local software engineers are working primarily on cloud solutions.
Recently, two other big players also joined the R&D scene in Ukraine. Those are Google and Reddit. Since January 2020, employees of a Ukrainian-based company CloudSimple have become employees of Google after an M&A. In February 2020, Ukrainian news sites also announced that Reddit has opened an office in Kyiv and is looking for software engineers to develop innovative solutions for the platform.
Overall, there are around 100 development offices of world-famous companies. But the local tech landscape is even more diverse. Aside from the growth of IT outsourcing in Ukraine and the presence of global companies, one can also observe the rise in the number of local startups that reach international recognition.
Successful Ukrainian Startups
In Ukraine, outsourcing is not the only successful part of the tech sphere. Many local-based startups are gaining the attention of the world tech community and creating complex products to simplify people's lives. Find some of them below.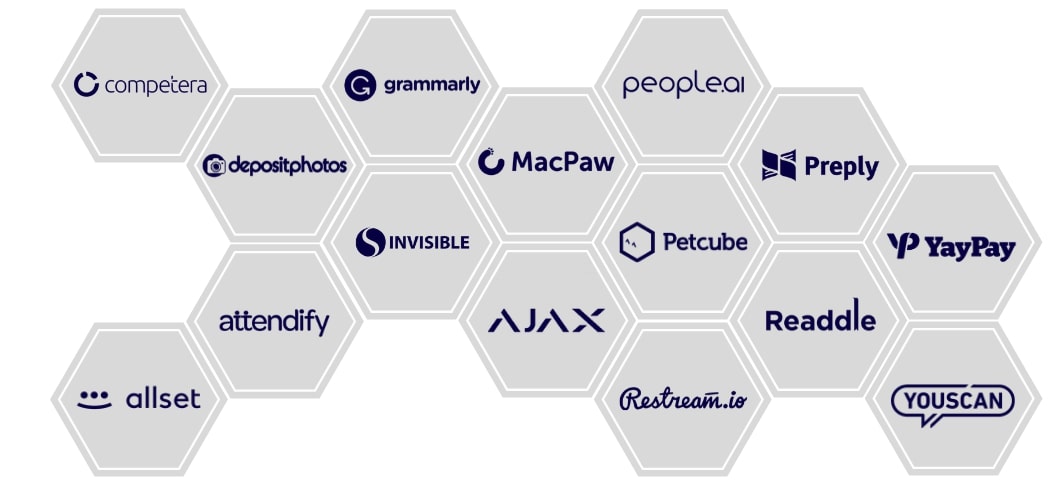 1. Grammarly
The Grammarly team has developed an outstanding digital writing assistant that helps about 20 million people around the world. They develop cutting-edge AI technology that uses advanced machine learning and natural language processing research.
2. Readdle
This company develops mobile applications for productive work on a smartphone and has earned over 100 million downloads. Some of its products include PDF Expert, Spark, and ScannerPro.
3. Attendify
This is an intelligent event technology that allows event planners and customers to get a better experience during conferences. Its clients include Google, Cisco, Facebook, UEFA, TEDx, Uber, PayPal, and Coursera.
4. MacPaw
Today, almost every fifth MacBook around the world uses the software developed by MacPaw. The most popular are CleanMyMac, SetApp, and Gemini 2.
5. People.ai
This startup uses AI to predict how much profit a customer can bring to the company and automizes the work of salespeople by analyzing information from databases to provide strong predictions. Some of its famous clients are Zoom, Zendesk, and Lyft.
Such a variety and high level of tech startups serve as a piece of evidence that in Ukraine outsourcing is not the only possibility for tech specialists. Local developers are successfully working on even the most complex solutions in product companies and creating outstanding technologies.
The Active Tech Community and Booming Tech Scene
In Ukraine IT outsourcing, as well as product development, plays a critical role. That's why Ukrainians strive to develop their tech culture and create better opportunities for tech companies here.
Infrastructure
Ukraine can boast several innovative centers that concentrate the development potential. For instance, UnitCity in Kyiv and Kharkiv, as well as Lviv.Tech City in Lviv, provide the necessary infrastructure for tech companies. By offering office spaces they concentrate much of the development talent in a single location. At the same time, they also add value by providing a spot for interactions, communication, idea sharing, and knowledge transfer to boost the sphere. Businesses that operate locally also enjoy cheaper office facilities and lower internet prices.
Conferences
Apart from attractive infrastructure, Ukraine can also boost a progressive and active tech community striving to get the latest information and share experience. Thus, in Ukraine IT outsourcing and product companies take an active part in some of the largest conferences in Europe. They include Games Gathering Conference, Agile Eastern Europe Conference, PyCon Ukraine, IT Arena Lviv, iForum, IT Weekend Ukraine, and Kyiv Outsourcing Forum among others. These events attract innovative leaders and tech enthusiasts from all over the world and serve as a great platform for the improvement of software development talents in Ukraine.
Associations and clusters in Ukrainian cities
Such organizations primarily aim at creating better opportunities for the Ukrainian tech business. For instance, the European Business Association, IT Ukraine Association, Ukrainian Venture Capital & Private Equity Association work with government, local authorities, and educational institutions to improve legislation, form favorable conditions, and promote Ukrainian companies on the international level. Large associations are supported by IT clusters that are present in most Ukrainian cities. Clusters serve as a platform for communication between local tech businesses, encourage experience sharing, and organize events to support the growth of the local tech scene.
Opportunities for Software Development in Ukraine
Ukraine is an attractive option for tech companies not only due to the talents of local developers but also due to the favorable business conditions.
Quotas for foreign specialists' employment
Recently, the Ukrainian government announced that Ukraine is ready to provide an immigration quota to 5,000 foreign IT specialists per year. Thus, companies that work in Ukraine (software outsourcing and product ones) will not only be able to hire local specialists, but it will also be easier for them to employ non-Ukrainian tech experts. They will be able to obtain residence cards, won't need to update work permits yearly, and will have a chance to choose where they will want to work.
Visa-free access for 90 days
Another great business opportunity for tech businesses is visa-free access to the country for 90 days. American and European citizens, and citizens of over 120 countries in general, don't necessarily need to obtain a visa to enter Ukraine (unless they need to stay for over 90 days). This allows for easy access to the local office and communication with the local team.
Overcoming Concerns
Ukraine is generally an attractive spot for an international tech business, but many company owners might have fears about entering the local market due to a range of reasons. The most popular of them include:
Uncertain political situation
Political instability often discourages companies from working in Ukraine, as they cannot be confident about the security of their business here. However, local authorities recognize the value of the tech industry (product development and IT outsourcing) for Ukraine. As a result, they are striving to create the best conditions for the growth of the sphere and are ready to cooperate with businesses.
Conflict
Another popular concern among foreign businesses is the conflict in Eastern Ukraine. For some, it might seem a significant disadvantage of Ukraine. However, it is crucial to note that the conflict is only partially located in two districts. It doesn't involve any of the largest IT hubs where most talents are concentrated, namely Kyiv, Odesa, Lviv, Kharkiv, and Dnipro. So, it should not be a reason to worry. All companies work in the "business as usual" mode.
Weak regulations
Besides political inconsistencies, some businesses may be worried about weak regulations in the country. For instance, NDAs and non-compete agreements with developers are common practices to protect your company. In Ukraine, outsourcing companies, as well as individual developers, working with Western businesses are accustomed to following contractual conditions.
English knowledge
Some businesses that have never had experience with Ukraine (software outsourcing services or local developers) might believe that they will experience severe language barriers when working with non-English speakers. However, most developers speak English at a solid level. According to research conducted by the local developer portal, around 80% of Ukrainian tech specialists have intermediate or higher English proficiency.
Final Thoughts
For those who choose Ukraine, they realize that the country is an attractive option for business growth. This offshore destination offers top talents, evolving tech scene, and opportunities for foreign specialists. Meanwhile, as Ukraine is improving its climate for foreign companies, it's worth considering starting your own development center and enjoying working with dedicated developers focused on your product.
Among the benefits of their own development team, businesses identify:
– Setting your own corporate culture and choosing people who fit into it (and share ownership over product);
– Promoting your brand in the offshoring location to simplify recruiting efforts;
– Eliminating the middleman in communication with software developers (and direct access to the team);
– Transparency in what concerns pricing. You hire the developers, check their skills, and set financial rewards (after assessing their knowledge);
– Easier recruiting with a local recruiting company that has expert knowledge of the local jobs market;
– Motivating your team to work better through training, stock options, and/or bonus systems.
Therefore, if you'd like to get Ukrainian talents, drop us a line. Our team of 40+ seasoned IT recruiters in Ukraine will help you attract and hire 20 well-versed software developers in just 3 months. In need of more? Not a problem. Moreover, we will be happy to discuss your needs and provide a viable solution, including legal compliance, office, and payroll.