In 2023, McKinsey expects the demand for tech talent to grow from 9.2 million jobs to 9.4 million in the US alone. So companies may need to seek talent elsewhere to satisfy the growing need for qualified tech specialists. Apart from the decision to outsource some tech tasks, it's worth checking other ways out of the talent gap. One of them is staff augmentation, also known as team extension in Bulgaria and other countries in regions like Eastern Europe. In this article, I'll walk you through this business practice's main merits and pitfalls. By the end of it, you'll know exactly whether or not it will work for your business and what to do next.
I'm Dmytro Ovcharenko, the founder and CEO of Alcor, a leading IT recruitment agency in Eastern Europe. Together with my experienced team of 40 recruiters and legal experts, we bridge companies from Europe and the US with top-notch talent and know how to navigate the IT scene.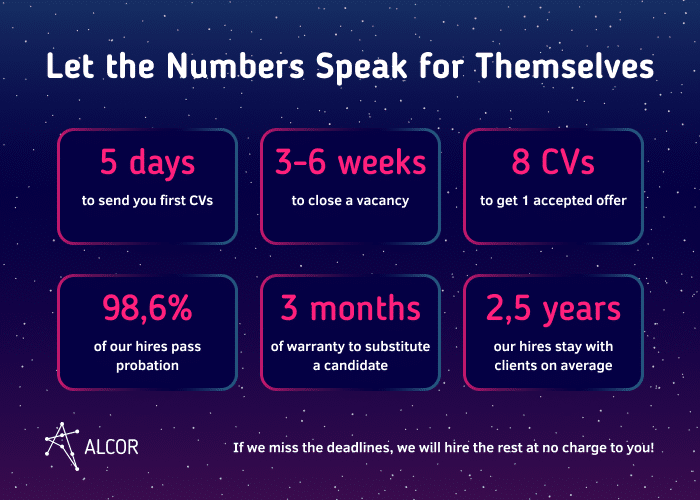 Definition
IT staff augmentation refers to employing temporary programmers with specific skill sets to enhance your workforce.
It saves the day when your in-house employees can no longer handle the pace of development, particularly during a product launch, or lack expertise in certain areas. Furthermore, this short-term model improves flexibility and scalability. The team can be augmented through collaboration with a third party, mainly an agency that supplies talent and ensures smooth recruitment, legal advice, and security.
Why Companies Choose Bulgaria for IT Staff Augmentation
Talent & Tech Scene
What is appealing about staff augmentation in Bulgaria is both the number and expertise of programmers. Currently, there are approximately 110,000 developers in Bulgaria. According to the Annual AI Report, Bulgaria is rapidly growing its presence in the AI tech scene and its overall IT sector makes up 5.5% of its GDP. As for the companies, there are more than 10,000 ICT businesses in Bulgaria, with Accedia, Coursedot, Storpool, and CloudCart leading the way.
Education & Expertise
Bulgaria boasts 50 STEM universities, adding thousands of programmers to the local tech talent pool every year. Moreover, software engineers in Bulgaria have high English proficiency, which ranks them 21st out of 111 countries in the English Proficiency Index. Bulgarian engineering expertise in C#, JavaScript, Java, Python, SQL, and PHP is highly praised by SkillValue and HackerRank, coming 12th in terms of tech competence. Therefore, communication and tech stacks make Bulgarian staff augmentation a viable solution.
Salaries & Taxes
Apart from stellar talent, Bulgaria is a favorable business location. Its personal and corporate income taxes only amount to 10%, one of the lowest tax rates in Europe. Besides that, opting for development team augmentation in Bulgaria is a way to cut salary costs. As of August 2023, the average Bulgarian developer's salary is $54,000 USD, according to Glassdoor. In the US, the average salary is $146,000, almost 2.7 times higher than in Bulgaria. This salary data refers to full-time employee costs, but it can be even lower with team extension in Eastern Europe.
Challenges of Team Augmentation in Bulgaria
As mentioned before, team extension is a way to temporarily fill tech skill gaps in your crew. However, your extended development team members may not be as dedicated to your product as you would want them to be. After all, your project is just one of many on their plate, and as soon as they're done with your tasks, they quickly move on to tasks of other companies. No strings attached. To overcome this hurdle, you will need a more thoughtful approach to recruiting and onboarding candidates to make sure they will bring their best to your development process.
Finding a Reliable Provider
Finding a team augmentation partner in Bulgaria who knows the ropes of the tech scene of your chosen country is key to attracting top-notch talent. But, is it even possible? First of all, your perfect match should have a vast local talent pool and be part of IT communities to promote your employer brand. Secondly, experience in navigating legal issues in Bulgaria is another strong suit you should look for in a trusted agency. Finally, your provider should be on top of client communication, which means appointing a dedicated account manager to assist you in any matters and keeping you posted about the recruitment process via detailed reporting. Finding all these qualities in one staff augmentation firm in any country is very difficult, not just in Bulgaria, yet. Nevertheless, you can succeed by hiring a professional local IT recruitment & R&D services agency.
Managing an Augmented Team
If you follow through with Bulgarian team augmentation, you should consider adjusting your management strategies. To begin with, it's essential to factor in the influence of time difference on your day-to-day communication and performance metrics. You should also prepare quick and efficient onboarding for your augmented development team to hit the ground running.
In case you want to keep working with the extended team in Bulgaria, you will have to pay a buy-out fee for each augmented worker you'd like to keep. So, in the long run, the costs you initially save can double precisely because of the buy-out fees staffing agencies charge for hiring the engineers they provide on a full-time basis. That's why you need to be absolutely sure that a short-term solution will work for you. Otherwise, I recommend taking a look at the alternatives below.
3 Alternatives to Staff Augmentation in Bulgaria
The first alternative to staff augmentation services in Bulgaria is an employer of record (EOR). It's a business that employs a candidate on behalf of your company, i.e. the candidate works for you but is directly employed by the EOR. It is especially handy in other countries, as you won't have to manage HR payroll, perks, and taxes. However, unlike team extension, EOR is suitable when you already have a candidate in mind, as this model doesn't include recruitment services or, if it does, high-quality IT hiring is rarely guaranteed.
I'd advise IT recruitment if you're hesitating about IT staff augmentation in Bulgaria because the outcome is short-term. This model completely lifts the burden of recruiting off your shoulders, while you still retain control over hiring decisions. At Alcor, we begin with blind CVs, pre-screen candidates, conduct interviews, manage offers and counteroffers, and support you from the payroll, accounting & legal compliance standpoint, which not all IT recruitment agencies offer. It's a full-cycle service designed to be an efficient long-term solution because we carefully approach tech recruitment.
When the French cryptocurrency software company Ledger was looking for a provider to create its team in Eastern Europe, they reached out to Alcor with the goal of finding 10 QA specialists. We astonished our client by filling the positions with talented devs and ensured full legal compliance regarding French and Eastern European legislation. To demonstrate how it works in the long run, a Junior QA Manual Engineer we hired for Ledger stayed onboard, got promoted to a QA Automation Specialist in 1.5 years, and keeps performing well at Ledger.
If you want to take it even further and set up a whole office for your augmented team in Bulgaria, then establishing an R&D center is the best alternative to an extended team. Look at it as an improved version of IT recruitment, where on top of IT recruiting in Bulgaria, you get an entire team with office premises. It's a way to scale your business fast, which was the goal of another client of Alcor, ThredUp. The goal of the world's largest resale store company was to expand to a new market so that the US and EE teams would work on different aspects of the same product. Alcor built a full-fledged R&D for ThredUp, all the while attracting rare senior talent, helping with business & travel navigation, and arranging smooth payroll. As a result, the client had a 100% transparent business structure for their new office in Eastern Europe.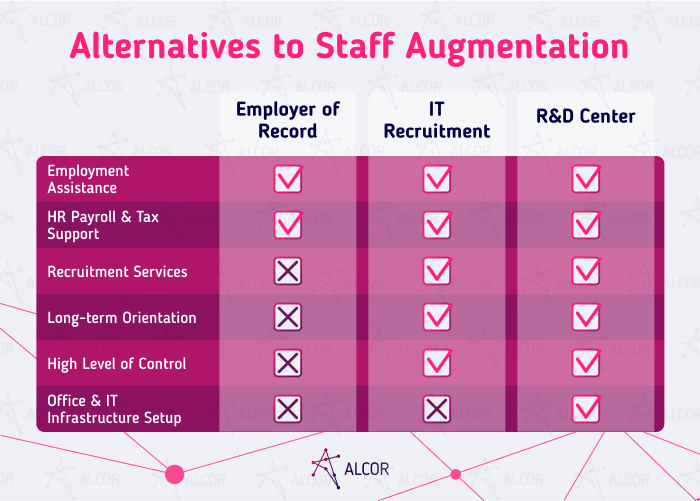 On the whole, alternatives to team augmentation services in Bulgaria can address the challenges of this model. EOR helps to manage employment, while IT recruitment is long-term and has no-buyout fees, as does an R&D center, adding a fully operating office to the mix.
Instead of Staff Augmentation in Bulgaria, Opt for an All-in-One Alcor Solution
Alcor is a trusted IT recruitment and R&D services provider in Eastern Europe. We operate in Poland, Romania, Bulgaria, and Ukraine. Recently, we have also begun delivering our services to clients in Latin America. Apart from IT recruitment or R&D services, we can cover your employer branding or recruitment process outsourcing to Bulgaria, payroll, and legal support. With Alcor, you can scale fast: we guarantee to find you 20 devs in 1 month.