In the IT industry, the R&D model is becoming more and more popular, enabling big and small tech companies to grow rapidly. Outsourced R&D Centers have already contributed to the development of such companies as Tonic, BigCommerce, and Grammarly. However, R&D outsourcing can be carried out quite differently, as one might outsource the whole software R&D process, an R&D team, or just back-office functions of their own R&D center. In this article, I will distinguish between software R&D outsourcing and R&D office outsourcing, as well as dwell on reasons, tips, and risks of outsourced software research and development services.
3 Reasons to Outsource a Software R&D Team  
Let's have a closer look at the reasons why some companies reach out to outsourced software R&D services.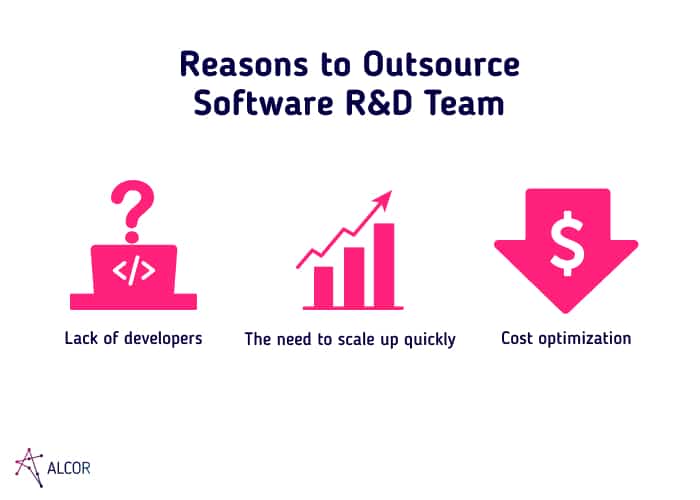 Lack of developers 
Finding tech talents is often quite a challenging task. The demand for software development services is continuously increasing, as in the USA there is a tendency towards developer shortages. According to AVentures, 70% of the demand for outsourcing comes from America. In this case, engaging the software R&D team abroad is a great way out. For example, in Ukraine the number of IT specialists reached 285,000 in 2021 and this number increases by approximately 23,000 every year. 
 
Apart from a broad talent pool, Ukraine also boasts of well-educated developers who have diplomas of higher education in the IT sphere, reinforced by extensive experience. As stated in Ukraine IT Report 2021, 60% of Ukrainian developers have 3-10 years of programming experience. That means that the majority of developers in Ukraine are now Middle- to Senior-level specialists, making it the main benefit of navigating R&D outsourcing to Ukraine.
The need to scale up quickly
Since the tech business is developing rather rapidly, you may have already felt the drastic need for more developers to work on your product, or deliver new solutions to it. This means that the load should be allocated properly among specialists to make product development well-optimized, so new people become vital in the short term.   
Cost optimization  
Assembling a team abroad may significantly reduce your costs, including operational expenses, taxation, and savings on salaries. As an example, a Middle JavaScript developer's salary in Eastern Europe is $3500, compared to $8500 – $9000 in America. Thus, the difference in salaries can dramatically broaden your budget. As for taxes, you can use incentives offered by the governments in this region. In Ukraine, for instance, you will pay only 5% of payroll tax for a programmer. Yet to benefit from this and other advantages, you need to choose the right engagement model.   
6 Tips on How to Make Outsourcing Software R&D Work  
Once you've hired an R&D team of developers, you may wonder how to make it work efficiently. And that's where we move to R&D office outsourcing. This is about establishing an offshore development office and cooperating with a local service company. The task of this vendor would be to organize all back-office functions for you in a new location with further continuous support. Make sure you outsource only non-core R&D office activities connected with operational management, not software research & development itself. This is crucial in making R&D work, so pay special attention to what you outsource. Apart from this, let me share some other tips on how to outsource a software R&D center effectively.    
 

Take geographical location into consideration  
If you intend to open your R&D center abroad, analyze the current state of the IT ecosystem in different countries. The choice of the offshoring destination directly influences your company's performance, so draw special attention to the number of tech talents available. For example, Eastern Europe has entered the international arena in IT offshoring, providing patrons with a vast candidate pool. The most popular destinations are Ukraine, Poland, and Belarus. Poland counts 255,000 tech specialists while Belarus has more than 50,000. Ukraine has established itself as a leading choice, being home to 285,000 developers. Another point to consider is time difference and flight time. The time-lag between Ukraine and the USA is 8 hours, so onshore and offshore teams can maintain proper communication. If you are in Europe and want to visit your development hub in Ukraine, only a 2-3 hour flight keeps you from your R&D office.  
Choose a reliable provider  
Before you delegate your back-office operations, I advise examining your potential provider. Check the customers' reviews to understand what results they reached with the help of this partner. It pays to refer to the authoritative rates as well because a trustworthy vendor may help you to save your time, money, and meet your company's objectives. Also, you should keep in mind that a reliable partner must provide you with some guarantees which will open the way for further cooperation. For instance, these guarantees may be recruitment liabilities that include a certain amount of developers to be hired within specific time frames. If the objectives are not met, the vendor should cover the losses.  
All-in-one services are important
When you enter a foreign market, you face a bunch of pertinent back-office operations. Allocating them to different providers may cause confusion, unjustified expenses, and uncoordinated communication between you as the client and vendors. Cooperate with a provider that can deliver all the services for your R&D office, such as legal compliance, recruitment, payroll, and accounting. This approach will help you receive a single solution that won't contradict any other business processes in your company.  
Following this tip, People.ai managed to get their own offshore development center in just one month. Before this, the company already had some experience with different service providers, but this strategy wasn't a success and the R&D project almost failed.  Thus, the company decided to delegate it all to one business process outsourcing (BPO) company and within only 4 weeks they had their office done and hired the team of developers in Ukraine.  
Get across to your team 
As an employer, you will have full control over your R&D team which gives enough space for team management. First of all, you will notice that your developers are dedicated to your product, so respond with the same loyalty. Create a pleasant working environment, share your values, and deliver an understanding of your objectives. Nevertheless, you shouldn't forget that your team is in another country, so organize daily calls and weekly meetings. Keeping in touch with the offshore employees enhances their productivity and your awareness of current affairs.   
Develop your employer branding 
Make the candidates fall in love with your enterprise! When you enter a new labor market, ensure creating a proper employer brand first. Otherwise, poor employer branding retards the recruitment process, as your potential candidates may know nothing about you. Tech specialists apply for a position more willingly when they have already heard about the company. Tell more about your company on different platforms, mentioning why it's the perfect place for talented people. In this way, you'll attract the best talents and speed up the hiring process.   
Take for example Tonic Health which decided to outsource software R&D to Ukraine but faced a major obstacle. The company found out that its employer brand wasn't developed enough on the Ukrainian market while headhunting for IT talents. For this reason, Tonic couldn't find competent talents and their job offers were often rejected. After referring to a dexterous service provider, the company employed the best developers within a very short time. Now, Tonic Health is happy with their R&D office of top specialists in Kyiv and continues to grow.  
Take care of your local manager 
As soon as your offshore office opens, the team lead becomes the person who has the biggest range of responsibilities. An offshore development lead has to handle back-office operations as well as technical & programming tasks. Thus, he/she may unintentionally switch their focus to some paperwork or legal issues. Result? The development processes slow down. To make your R&D center work, consider lessening the burden for your local manager by delegating the formalities to external professionals. 
Risks and Limitations of R&D Outsourcing 
Low-quality recruiting   
The success of your product greatly depends on your team. Thus, recruiting is not a stage that should be neglected. Choosing an unprincipled staffing supplier could cost you a lot. This is because most agencies are interested in hiring specialists as quickly as possible without a thoughtful IT skills assessment. An experienced recruitment provider will be attentive to your demands in order to conduct a proficient interview while finding YOUR specialist.   
Insufficient level of English
One more risk that you may face is the comprehension of English, as the main language for communication between R&D developers and the head office is usually English. Due to remote collaboration, teammates must deliver their ideas clearly and quickly. Thus, at least Intermediate level is a must that is sometimes difficult to find among developers abroad.  For this reason, when you deliver your requirements to a recruiter, mention the importance of a good command of the English language to narrow down the candidates' pool.   
Hidden costs 
It may seem that outsourcing is all about cost reduction and benefits. Not always. Why? In the case of choosing a "crafty" partner for your offshoring business, you could pay a lot of money for ambiguous services or for services you don't really use. This trick is a usual practice of the "cost+" pricing model applied by outsourcing/outstaffing companies. As a result, overcharging is unavoidable. A pay-as-you-go approach is the way out, as you pay transparently for only services used.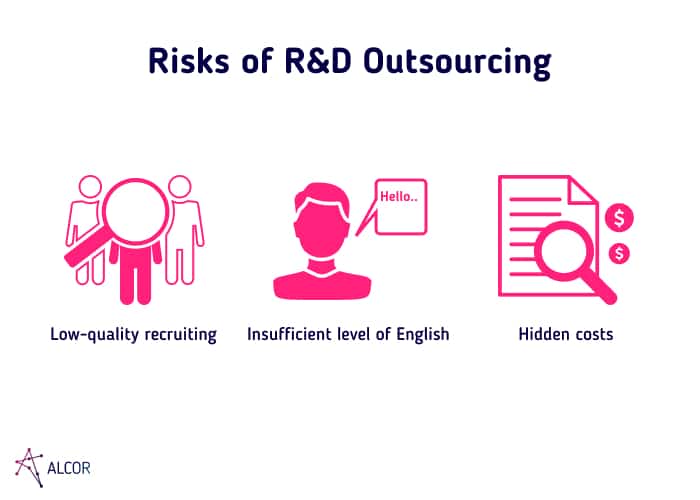 Outsourcing Software R&D Center in Ukraine 
As you can see, among other promising countries, Ukraine is becoming a top-of-the-line offshoring destination for tech giants and start-ups. Given all reasons and risks of opening your own R&D center, consider outsourcing software R&D to Ukraine with a safe provider. 
For example, at Alcor, we've been providing all-in-one services for R&D offices for more than 5 years, including recruitment, real estate & IT infrastructure, legal compliance, and payroll & accounting. We are an operational service company with expertise in the IT sphere and a deep understanding of the local market. We are here to help you establish your own software research and development center in Ukraine.  
You can also be assured that your team will consist only of dedicated tech talents, as our top recruiters work with a vast database and HR resources. When it comes to the interview stage, our recruiters follow your objectives and conduct technical pre-screening, soft skills analysis, and English checks. After this, you will have detailed feedback on each candidate and the crucial decision is up to you. As an employer, you will take full control over your team, guiding it towards your corporate values and aims. We don't intrude into your R&D projects, so you keep your product development in-house. Alcor just helps you build out the engineering team here – and make your business legally compliant.
What is more, Alcor guarantees to hire 5 engineers in the first month and 100 people in a year! If we do not meet these objectives, we will hire the rest of the developers free of charge. Our other commitment is transparent pricing, meaning that you pay only for the services needed and receive detailed invoices for all expenses.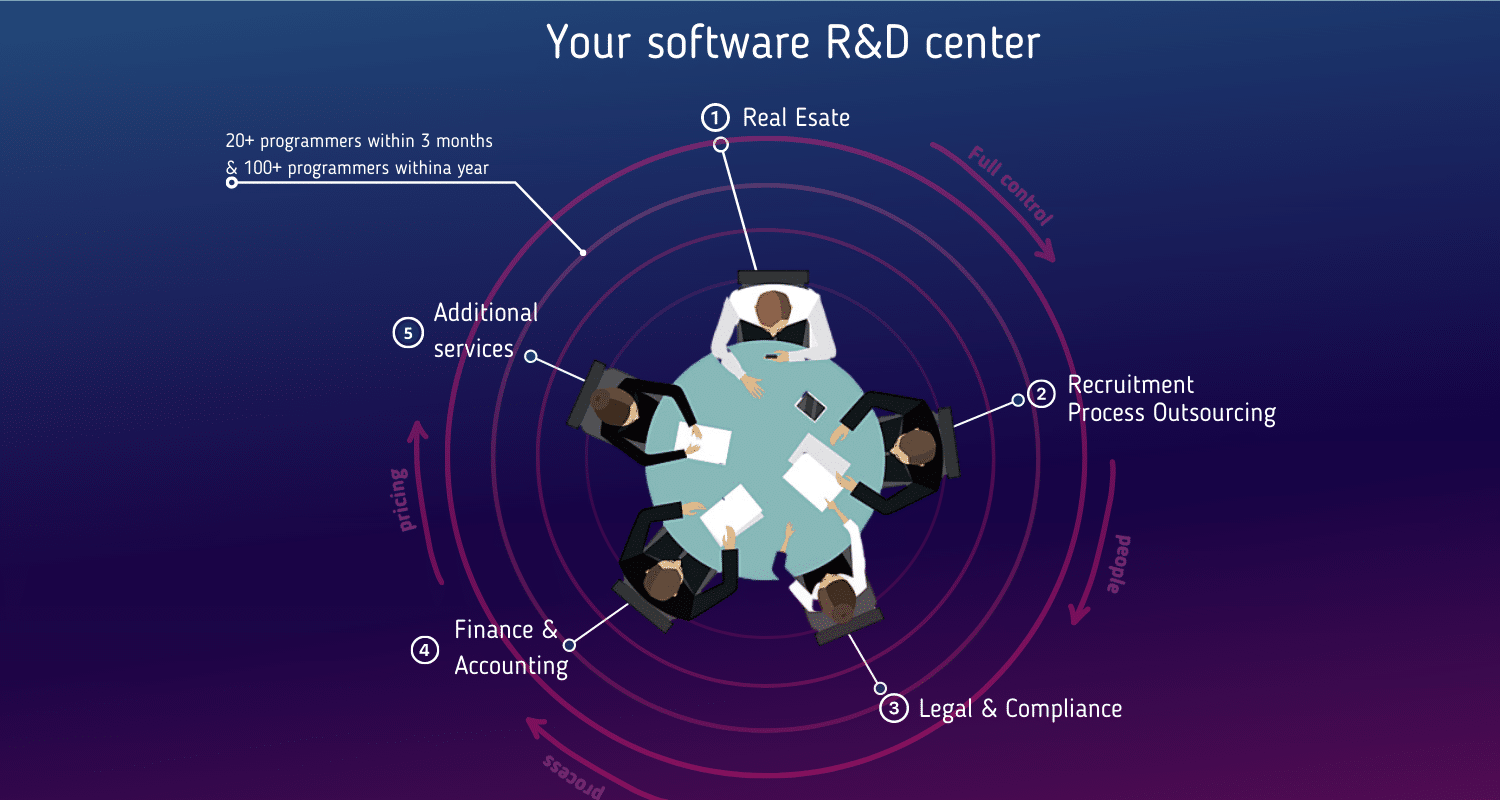 Final Thoughts 
Software R&D is a cutting-edge model of cooperation with foreign developers. Many companies have already chosen this track to develop their business in the biggest Eastern European talent pool – Ukraine. Following management tips and entrusting back-office operations to a safe provider will mitigate all the risks of R&D establishment. Starting your business with Alcor guarantees you a secured launching of your branded R&D office with legal compliance and full operational support. Open the door for your company's enhancement and investors' attraction. Enter the Ukrainian market with Alcor!