In 2022 and 2023, the tech industry went through massive layoffs and hiring freezes. Boston Consulting Group surveyed 815 previously laid-off tech specialists in the US and Europe, most of whom have landed new positions. It means that the tech talent market is not in slumber, but somewhat alive and kicking, and decreasing personnel and keeping costs intact is no longer viable. Many tech companies have resumed their search for professional software devs and benefited from setting up their outsourced software development teams in Mexico or other LatAm countries. But if you set out to work with tech gems in the same way, can you save costs on your hunt?
I'm Sergiy Ovcharenko, an expert in scaling and structuring tech businesses. As a CBDO at Alcor, a full-cycle IT recruitment and R&D company, I've developed a broad understanding of how businesses can grow the fastest and what to do to help IT product companies set up their offshore teams.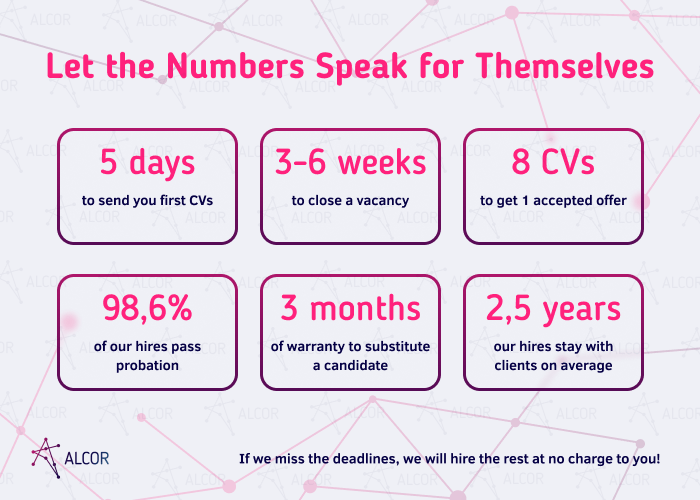 In this article, I'll address all your concerns about outsourcing in the LatAm region, equip you with the latest data on its IT market, hubs, and salaries, and even suggest other effective business scaling models. Ready, steady, fasten your seatbelt on the way to Mexico! 
Mexican IT Industry Overview
In a nutshell, that's how I'd describe the Mexican IT market:
Steadily growing 
The HackerRank Developer Skills 2023 Report reports that EMEA and Latin America were ahead of other regions in 2022 regarding talent. Fittingly, the Global Innovation 2022 Index rates Mexico as the third in LatAm with the most innovative economy in the technology sector, placing its S&T clusters in Mexico City on the top global list. 
Startup-friendly 
The pandemic also helped the Mexican IT industry soar, bringing about a startup boom, says The Economist. Consequently, as of 2023, the country abounds with more than 440 startups and the 2nd best business score in Latin America. 
Set on Outsourcing  
Mexico's IT outsourcing market has shown a remarkable 10%-15% growth rate annually, making it the third-largest IT services exporter. What's more, the IT services market volume is projected to reach $18 billion by 2028, with IT outsourcing dominating one-third of it now. 
HackerRank Report mentions that the market for tech experts is incredibly competitive, but while it's on the rise, it's a great time to invest in tech talent. One way to do this is to outsource software developers from Mexico. 
Advantages of Software Development Outsourcing to Mexico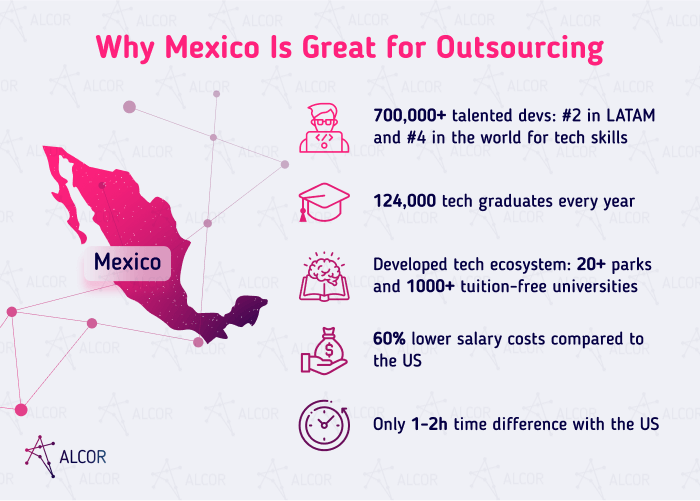 Skilled Coders
The key driver behind software outsourcing in Mexico is its large and skilled talent pool, which numbers 700,000 devs. What's more, the quality of tech services is startling. As Coursera Global Skills Report 2023 shows, developers in Mexico are #2 in Latin America and The Caribbean and #4 in the world for technology skills, with exceptionally high scores in data science. TechCrunch highlights that Mexico is currently experiencing a surplus of highly trained tech professionals, and that number is going to grow thanks to free and comprehensive higher education. 
Educational Tech Ecosystem
According to a recent governmental report, 124,000 specialists in computer science, electronics, programming, electricity, and computer maintenance graduate in Mexico each year. Additionally, the proportion of STEM professionals outpaces all the OECD countries in the American continent, bringing Mexico into the top 7 countries with the highest number of STEM graduates. That means only one thing — the number of software engineers in Mexico will steadily increase. And thanks to the rise of bilingual Spanish and English campuses, most of the graduates will be ready to jump straight into the hiring market. 
Developed Tech Infrastructure
Innovations in tech infrastructure have significantly contributed to the rise of software development in Mexico and keep doing so. Now, there are 20+ nationwide tech parks and more than 1,000 tuition-free universities. In addition, the country goes above and beyond to support Mexican developers by launching government programs for entrepreneurs, such as 500 Startups LaTam and Fondo Nacional Emprendedor. 
Guaranteed Deliverables
Outsourcing to Mexico is gaining ground not only thanks to its promising market but also to the fact that Mexican working culture is similar to the US. It leaves you with high-quality code, carefully managed deadlines, and no roadblocks in your tech production. 
Slashed Prices
You can cut your costs in half by assembling a team of qualified Mexican devs. It might sound unbelievable, but let's look at some salary data. CBRE places the average annual wage in Mexico at around $27K. According to Glassdoor, software developers in Mexico earn $37K a year, while the yearly salary of tech specialists in the US amounts to $106K. You can see that Mexican software engineers tend to have lower wages. Later in the article, I'll delve deeper into salaries for different positions in Mexico and abroad. 
Real-time Synchronization
Last but not least, only a slight time difference is one of the top reasons US companies choose nearshore software development in Mexico. See for yourself: Mexico City is two hours behind New York and just one hour ahead of California. Thus, managing remote software developers in Mexico will be straightforward, with little to no changes to your team's working schedules. And that, in turn, will bring productivity and efficiency to new heights. 
Challenges of Outsourcing Software Development to Mexico
Ban on Outsourcing 
The differences in legal systems often become a significant complication for those who want to hire a software development team in Mexico, especially given the amendment to Federal Labor Law in 2021. This part of the law reportedly bans outsourcing of core business activities. Does that mean your work with top LatAm talent is over before it even started?
Let me assure you, that's not the case. The amendment aims at handling tax evasion and does not entirely ban outsourcing. Instead, it bans subcontracting, which is not the same thing. To cut to the chase, the alleged ban on outsourcing is a challenge, but with professional legal help, you can still hire experienced devs in Mexico. 
Outsourcing Downsides
On the one hand, outsourcing as a business model is straightforward and works perfectly for short-term projects. On the other hand, if you plan to hire foreign talent long-term, this is not the best option, as sooner or later, you'll have to pay buyout fees to hire the same Mexican software developers in-house. On top of that, since the outsourced development team communicates with you through a provider, it may result in misunderstandings, low product loyalty, and, unfortunately, potential data breaches. So, if your project is long-term or you'd like to expand your current team and maintain some control, I'd advise you to consider other models before making up your mind. 
Top Mexican Software Development Outsourcing Hubs
Mexico City
Thanks to its convenient location, Mexico City unites North and South America and acts as a gateway to the LatAm region. Home to 21 million people and top regional tech universities, such as the National Autonomous University of Mexico and the National Polytechnic Institute, it has agglomerated over half of IT professionals, Also, this tech hub made it to the top 10 in LatAm and compelled giant companies like Google, Meta, Twitter, and Uber to open offices in this city. Finally, it's mostly known for its well-developed startup network in Fintech, producing unicorns like Bitso, Clip, Kavak, and Stori. 
Monterrey
Geographically close to the US border, Monterrey houses over 100 innovation parks, 320 IT companies in the IT sector, according to the Mexican newspaper Eleconomista, and 28,000 tech professionals. No wonder it's called the investment magnet, as it's Mexico's second largest industrial center, with such major corporations as Banorte, Cemex, Femca, Coca-Cola, Soriana, and others. In cooperation with corporations, Monterrey's elite universities — Tec de Monterrey, University of Monterrey, and Autonomous University of Nuevo Leon — attract entrepreneurs and contribute to the city's unique ecosystem. Thus, Monterrey is famous for EdTech startups and unicorns — ever heard of Nowports?
Guadalajara
Guadalajara has been dubbed the "Silicon Valley" of Latin America. Being the 5th most digitized city in the region, it has attracted investments from Intel, IBM, and HP, quickly reaching LatAm's top 50 IT clusters. Currently, it abounds with over 600 tech companies, such as Kueski, Voxfeed, and WePow, and more than 78,000 tech experts. Sky's the limit for Guadalajara, as its Metropolitan area will soon turn into the base for the digital media projects hub — the Digital Creative City. 
Mexican Developer Salaries Comparison
Keeping my promise, I invite you to look closer at how much a Mexican software engineer can earn a year. As you can see from the table below, junior positions range from $10K to $28K annually, while senior salaries can start at the level of $40K and reach up to $90K. Also, since Mexico is a leading country for data science and cloud computing, these specialists have a higher average income. 
Position
Gross Annual Salary, USD 
Junior
Middle
Senior
Full-Stack Software Developer
12,000-25,000
25,000-45,000
50,000-80,000
Front-end Software Developer
10,000-22,000
22,000-40,000
40,000-75,000
Back-end Software Developer
12,000-25,000
25,000-45,000
50,000-80,000
Android Developer
10,000-22,000
22,000-40,000
45,000-75,000
iOS Developer
10,000-22,000
22,000-40,000
45,000-75,000
Game Developer
12,000-25,000
25,000-45,000
50,000-80,000
Data Scientist
13,000-28,000
28,000-50,000
60,000-90,000
Cloud Engineer
13,000-28,000
28,000-50,000
60,000-85,000
The difference can hardly go unnoticed if we compare the LatAm region with other countries. Another table illustrates that even the lowest wage in Canada, the UK, or Germany will cost you $10-15K more than the biggest average software developer salary in Mexico, not to mention the whopping 50% higher US rates. 
Position, Middle
Gross Annual Salary, USD 
Mexico
USA
UK
Canada
Germany
Full-Stack Software Developer
25,000-45,000
90,000-105,000
63,000-75,000
60,000-72,000
64,000-87,000
iOS Developer
22,000-40,000
86,000-110,000
73,000-79,000
66,000-82,000
69,000-83,000
Cloud Engineer
28,000-50,000
122,000-142,000
69,000-79,000
72,000-79,000
76,000-90,000
In conclusion, our salary data should have dispelled any doubts about the cost-efficiency of outsourcing software development to Mexico by now. 
Viable Alternatives to  Outsourcing Software Development
Despite the challenges mentioned earlier, outsourcing software engineering in Mexico is doable. Still, my main tip is to consider whether that's the best way to invest in tech talent for your company's particular case. Take a look at the following alternatives below. 
EOR (Employer of Record) is a business that officially employs a candidate who works for you. This way, you're no longer concerned about HR payroll, bonuses, and taxes. But you should bear in mind that this model doesn't usually include recruitment, so it's best to use EOR only after you have already found and interviewed the right candidate.
IT recruitment covers attracting, interviewing, and hiring skilled professionals with a custom tech stack. This process usually begins by discussing your IT staffing needs, creating an ideal candidate profile, and writing job descriptions. In the end, we make job offers to the best candidates and work with rejections/counteroffers. It also implies long-term collaboration and lets you participate in the hiring decision-making. 
To give you an example, let me tell you a story of a US scientific software company Dotmatics, who opted for Alcor's services instead of traditional outsourcing to Eastern Europe. The goal was to grow fast and furiously by getting 30+ qualified tech specialists onboard. Our team provided the client with full-cycle IT recruitment and individual support on arising matters. With weekly reports and careful recruitment, we managed to forward only the best programmers for a final decision. As a result, Alcor hired 30 first-class IT specialists within a year, including a Director of Engineering, Full-Stack, React, DevOps, Node.js, QA Engineers, and a Product Manager, the latter two positions — with the first candidate. Alcor also had the client's back on payroll and equipment procurement and covered legal compliance, helping Dotmatics run a 100% transparent business in both locations. 
R&D Center is the last and most fully-fledged model for expanding your company to foreign locations. Add office premises, EoR, coverage of business taxes in Mexico & compliance, employer branding, IT infrastructure setup, and procurements to the model of  IT recruitment in Mexico, and you'll get a 100% transparent offshore team. In the long run, this is the best model to reap all the benefits of tech talent potential in foreign locations. 
4 Questions to Ask Your Software Development Outsourcing Partner
If you've weighed all the pros and cons and decided to outsource to Mexico, here's a checklist of questions to guide you in choosing a trusted outsourcing partner. 
1. What are their IT recruitment qualifications and services?
For starters, ask a potential partner to provide you with their complete list of services. It will allow you to understand whether or not you should seek legal advice, recruitment, and other back-office support elsewhere if needed. 
If they provide recruitment, check their cases and qualifications — years of recruitment experience in the tech field will ensure that you won't have to replace the team later. For instance, when ThredUp, a US consignment store, was having difficulty balancing all their hiring goals in Eastern Europe, they reached out to Alcor for assistance. While our legal department established an R&D center, the IT recruitment department dealt with full-cycle recruitment, including counteroffers and onboarding. While cooperating with us, ThredUP got a Senior Full Stack Engineer with rare C++, C#, .Net, and TCP/IP skills in just two weeks, a one-of-a-kind specialist on the market. That's when business models and recruitment experience matter the most. 
2. What's their speed-to-hire?
In other words, how quickly your outsourced team will start operating from the minute you order the services. For instance, it takes Alcor's recruiters one business day to send the first blind CVs to the client and five working days to provide verified candidates. As a result, our team fills a vacancy in 3-6 weeks. 
3. What are their guarantees?
Traditionally, outsourcing providers should give guarantees. Alcor hires 5 devs in a month, 20 in 3 months, and 100 in a year.  If we don't meet these deadlines, we recruit the rest free of charge! We also provide a 3-month candidate replacement warranty if the candidate doesn't pass the probation period. Luckily, our clients haven't resorted to this option: 98.6% of Alcor's candidates pass the probation with flying colors. Such guarantees are also desirable for your search, as all these points help hold the partner accountable and foster responsible collaboration. 
4. How are the fees paid?
Ideally, your vendor should prepare regular invoices. The more details they include there, the better. The point of invoicing is to let you see the price for each service, as outsourcing fees may go overboard when packed with unnecessary services. Ensuring your provider informs you on accounting is a way to control your spending and choose what's best for your company. 
So You Need to Hire a Software Development Team in Mexico?
Alcor is here to help you with full-cycle recruitment and launching R&D centers from scratch in Mexico, Argentina, Colombia, and Chile. We have also provided "wow" results in the Eastern European market for 6+ years.  As one of our clients says, "They've solved every problem we've faced."
In our company, we are convinced of the power of high-quality tech recruitment and going the extra mile for our clients. That's why, on the journey to highly professional teams or full-fledged offices abroad, you won't be left to your own devices and can always lean on Alcor's shoulders for above-and-beyond support.