The russian full-scale invasion of Ukraine in 2022 has disrupted the world, putting Ukraine's outsourcing at risk. In the face of the war, Ukrainian talent has shown remarkable resilience; 85% of developers have adapted and managed to keep working full-time. But there's still room for doubt: is IT outsourcing in Ukraine worth its risks? 
I am Dmytro Ovcharenko, a tech business strategist and CEO of Alcor, a renowned full-cycle IT recruitment and R&D services company. We specialize in assisting US and European businesses with IT recruiting in Ukraine, Poland, Romania, Bulgaria, and other Eastern European countries, as well as the LatAm region.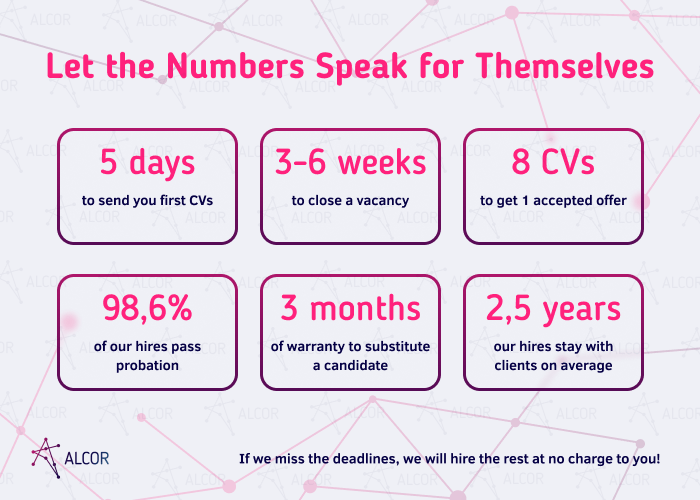 In this article, I'll give you an honest and data-packed review of Ukrainian software development outsourcing in times of adversity. In addition, I'll outline a reliable approach to facilitate a smooth and safe expansion into Ukraine with a reliable IT recruitment & R&D partner. So, let's dive in!
Do Tech Companies Outsource to Ukraine in 2023?
Before the full-scale russian invasion, Ukraine was known as a thriving tech market. One-fifth of Fortune 500 companies had remote developer teams, while multinational tech giants like Microsoft, Amazon, Google, and Ericksson had R&D centers in Ukraine. Overall, there were more than 100 R&D centers in the country. 
In 2022, the war made top companies worry about the safety of their employees. A gaming company Ubisoft, for example, ultimately left the Ukrainian market. Google evacuated its team and started disbanding its Kyiv office but resumed its operations in Ukraine a year later. PepsiCo also reopened its plants, and several world-renowned companies, including Deloitte, Mastercard, Oracle, Samsung, IBM, and Huawei, continued their business activities in Ukraine despite the ongoing war. Remarkably, 96% of companies planned to maintain their operations in Ukraine in 2023. 
Furthermore, the USA, the UK, and the UAE are investing a substantial 8 million dollars in development, as well as Philip Morris International, Nestlé, and BlackRock. Gartner, in turn, praises the expertise of Ukrainian IT specialists in cybersecurity, IoT, AI, and cloud computing, making Ukrainian outsourcing an enticing choice.
Is It Safe to Outsource to Ukraine in 2024?
It's undeniable that the local IT sector is facing several threats, which question the safety of outsourcing to Ukraine. According to Work.ua analytics, the market has bounced back by 57%, but it is further restrained by the global recession and peculiarities of reserving IT specialists subject to military service. 
Despite these challenges, it's noteworthy that 52% of IT companies kept 100% of their contracts, while 32% of businesses kept 90–99%. The results indicate that only 16% of companies lost 10% or more of their contracts. Additionally, 77% of IT companies have got new customers, and 56% expect 5–30% growth this year. The key factors contributing to such resilient recovery include high social responsibility for IT engineers and their relocation, uninterrupted delivery and communication with clients, and high-quality services even in the face of war. 
The statistics also show the impact of the frontline: the farther IT clusters are situated from active hostilities, the quicker they rebound. That's why Western Ukrainian regions tend to hire more actively. Also, 85% of software engineers work remotely while residing in Kyiv (36%), Lviv (18%), Dnipro (6%), Odesa (4%), and Kharkiv (3%). 
As for IT businesses, only 2% had to shut down due to the war. On the whole, the number of outsourcing providers is decreasing, as the top 50 Ukrainian IT players now have 6.6% fewer employees as opposed to the beginning of 2023. The teams are also dispersed, as nearly half of the top 50 businesses manage with one-fourth of their team working from abroad. On the other hand, the situation has shifted in favor of product companies — their presence in the market is growing.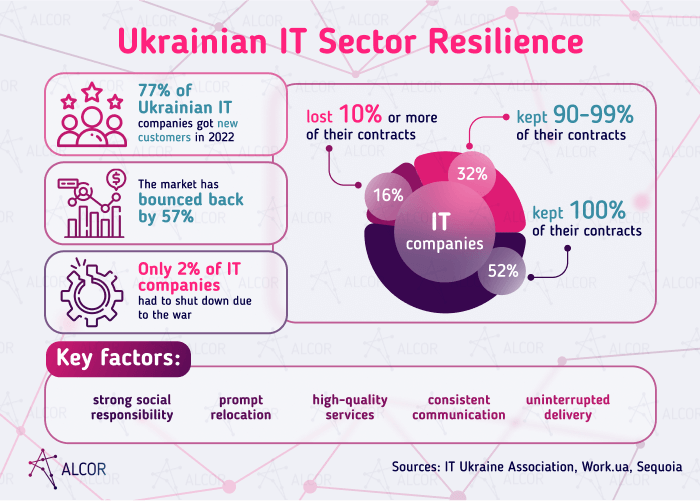 How the Ukrainian IT Outsourcing Industry Changed
The Impact on the Economy
Before the full-scale invasion, the IT services industry in Ukraine was snowballing, amounting to 2 billion dollars in 2021, according to the IT Ukraine Association. What's more, the Global Sourcing Association labeled Ukraine as the #1 IT outsourcing destination in 2021. Projections indicated that the market was set to expand to nearly $3 billion by 2023, with Ukrainian IT outsourcing dominating one-third of the overall volume. 
In the first year of the war, the software industry's growth plateaued. Throughout 2022, the tech sphere brought over 7 billion dollars to the Ukrainian economy, remaining the only sector with positive dynamics. At the beginning of 2023, the National Bank of Ukraine concluded that IT services exports had dropped by 16%. Two factors caused such a decrease. Firstly, these numbers tend to fall in the first quarter of the year. Secondly, the decline follows a period of consistent growth. Considering a similar situation in 2014, it's predicted that the market will recover. As of now, Statista estimates that the sector's value will surpass $5 billion by 2028, even considering the impact of the russian invasion of Ukraine. 
Emerging Miltech Startups 
Following the russian invasion of Ukraine, the military tech sector has become the backbone of tech innovation in Ukraine. The Ministry of Digital Transformation of Ukraine is keen on creating a military tech cluster to coordinate military tech projects through one platform, support miltech entrepreneurs, and contribute to team interaction in Ukraine and abroad. 
The sphere is developing by leaps and bounds: Ukrainian innovative weapons, such as kamikaze drones, the UNITS training system, the Punisher, the Griselda system, and many others, have been successfully tested in battle. More miltech startups are already pitching cutting-edge apps for demining, analyzing intelligence, etc. By engineering and testing such custom military technologies, Ukrainian software developers will gain invaluable experience that can spur further investment and outsourcing software development to Ukraine regarding this sphere. 
IT Talent Migration
You might think it's not the best idea to outsource developers from Ukraine. However, the general landscape proves to be quite positive. 
The Ukrainian IT community, DOU, has conducted a survey to assess the current situation of tech talent relocation. 10% of respondents are currently abroad, predominantly in Poland, Spain, Germany, and Portugal, but are planning to return to Ukraine. 53% of these software developers have been working in IT for more than 5 years, while 50% hold senior positions. 
Relocation numbers within Ukraine have been relatively low compared to 2022. In 2023, 3% of developers came back to Ukraine from abroad, while 55% were not planning to leave even if presented with an opportunity. Thus, despite the ongoing war, outsourcing to Ukraine is a viable solution for foreign companies thanks to the talent remaining and gradually returning to the country. 
Software Development Outsourcing Rates in Ukraine
To give you a better understanding of possible outsourcing rates in Ukraine, I suggest checking salary dynamics. One of the most popular hiring platforms in the country, Djinni, informs that devs' expectations about the monthly salary have decreased by $300-500 due to a reduced number of vacancies as a result of the war. DOU, in turn, claims that throughout 2021–2023, the median salaries tend to stay the same or even drop, with exceptions for senior or in-demand positions. 
Here's a short table of median salaries depending on programming expertise, which I compiled based on DOU data. As you can see, you don't risk getting ripped off if you decide to outsource to Ukraine.
Median Monthly Salary in 2021
Median Monthly Salary in 2022
Median Monthly Salary in 2023
Senior Software Engineer
$4,000
$4,700
$4,900
DevOps
$3,200
$3,500
 $3,500
Data Scientist
$2,450
$2,300
$3,020
Machine Learning Engineer
$2,100
$2,800
$2,825
Business Analyst
$2,150
$2,350
$2,300
Senior QA
$3,000
$3,400
$3,300
How to Mitigate Risks When Outsourcing to Ukraine
Prioritize Well-Defended Locations
A good location in Ukraine should be either far from the frontline, i.e. in the western or central part of Ukraine, in such cities as Lviv, Uzhgorod, Chernivtsi, Ternopil, Dnipro, and Vinnytsia, or protected well enough like the capital Kyiv. When you outsource software development to Ukraine, you should ensure that your team is in those cities. But if, let's say, you're willing to open an R&D center in southern or eastern regions, consider suggesting working remotely or renting an office with quick and unobstructed access to bomb shelters. 
Brace Yourself for Power Outages
The Ukrainian energy infrastructure suffered severe damage from massive russian missile attacks last fall and winter. To restore the systems and prevent long-term blackouts, the government incorporated schedules of power outages and established points of invincibility where people could charge their devices, access the Internet, and warm up. In the meantime, businesses and entrepreneurs purchased generators, power banks, portable gas stoves, etc., to keep doing their work. 
Since the Ukrainian infrastructure has not fully recovered, IT companies in Ukraine are already preparing to mitigate these issues. For instance, many companies offer offices or co-working spaces connected to Starlink and equipped with generators. Programmers who work remotely may also have the necessary equipment. Having had the experience of managing power outages last year, both Ukrainian devs and teams are well-prepared to handle them again. 
Discuss Safety Measures, Deadlines & Mental Health
Considering the points mentioned above, you might be asking yourself whether it's efficient to outsource software engineers from Ukraine. As I've said, over 4 out of 5 Ukrainian software devs have demonstrated remarkable resilience in keeping up with their fast-paced work environment in times of war. As they meet the deadlines, rest assured that your projects will be delivered following the highest possible standards. If you intend to keep it that way, help your Ukrainian coders with the struggles of living in wartime by offering mental healthcare support and discussing safety measures with your team of developers through your Ukrainian outsourcing company. 
Is IT Outsourcing the Best Choice for You?
So, opting for IT outsourcing services in Ukraine or team augmentation might be risky and appealing at the same time. You should bear in mind that many outsourcing companies in Ukraine are going through tough times. 
Not to mention that the IT outsourcing model has its limits. 
Firstly, it is rather short-term and project-based. Secondly, when outsourcing a software development team from Ukraine, you may find that developers are less loyal to your product than they would be if employed in-house, leading to team indifference. Thirdly, since you communicate with the team through a project manager provided by your IT outsourcing company in Ukraine, it results in limited control over the development processes. Finally, this lack of control may put your IP rights at risk. That's why this approach is not recommended for IT product companies. 
Hiring IT Experts in Ukraine Can be Fast and Easy with Alcor!
At Alcor — an experienced IT recruitment and R&D services provider in Eastern Europe and Latin America — we connect product tech companies with professional software developers differently. Our team finds perfectly fitting talents for our clients, employs them on the best terms, and takes care of the legal and administrative side of the question. By recruiting with Alcor, you'll get a loyal team of devs, maintain control over all the decision-making processes, and receive guaranteed IP rights protection. 
That's how we worked with a US-based IT company Sift. The client set out to expand its team to Eastern Europe, aiming to hire 30 developers in 1 year. Sounds beyond impossible, but our team brought along such a powerful employer branding campaign and IT recruitment techniques that not only did Sift reach its goals, but they also got its legal, compliance, and procurement fully sorted. Ultimately, Sift launched its own office in Eastern Europe and keeps growing. 
One more benefit of IT recruitment is that you don't necessarily have to be in need of a large team to use this model. It works well for a lower number of nearshore or offshore developers, too. For instance, we hired 6 Full-Stack programmers for Gotransverse in 1.5 months. This result was possible thanks to a smart combo of tech recruitment and EoR. At Alcor, we're ready to go the extra mile for our client and adapt the model if necessary — after all, we have more than 6 years of experience in offshoring, tech recruitment, and setting up R&D centers. 
To conclude, regardless of which model you choose, working with Ukrainian tech talent is worth it — local software developers are well-versed, resilient, responsible, and, above all, eager for innovations. In the meantime, the Alcor team is here to consult you on any further matters!