Software development in Latin America has undeniably secured a prominent position in the global IT landscape. Recent data reveals a remarkable trend: 75% of the US companies have considered hiring talent from LATAM, marking a significant 20% increase from the previous year. So, what makes this region so attractive?
I'm Dmytro Ovcharenko, CEO at Alcor, with over 15 years of experience in the tech industry. In this article, I'll dwell upon the advantages and possible disadvantages of hiring programmers in the Latin American software industry. You'll also gain insights into the annual salary rates in the region, along with a brief overview of its prominent offshoring locations and IT hubs. So, let's dive in!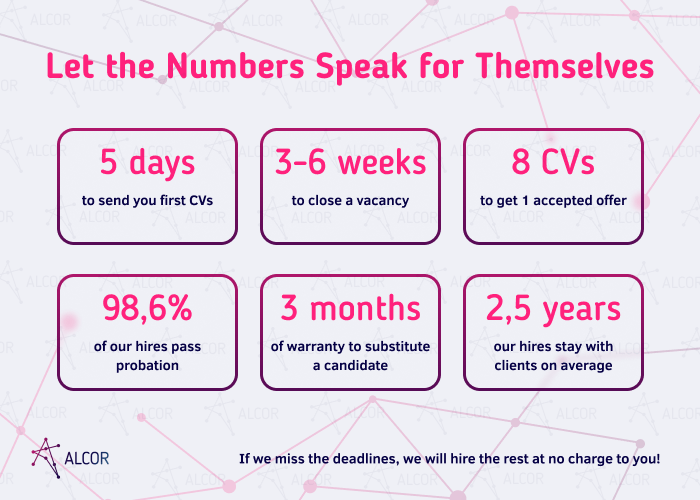 Latin American Software Development Industry Overview
Latin America is one of the rapidly expanding IT markets in the world. Experts predict it will grow by a CAGR of about 6.5% between 2023 and 2028. Currently, South American software development is leading the region's industry, mainly thanks to countries like Colombia, Mexico, Chile, and Argentina. For instance, Mexico's IT market holds a value of $28 billion, making it the second-largest technology market in the region, yielding only to Brazil.
In 2022, the Latin American software industry generated a total revenue of $18.6 billion. The enterprise software and application development segments chiefly drove this growth. Furthermore, a notable surge occurred in software-as-a-service (SaaS), which generated around $7.4 billion in revenue in 2022. Among the LATAM nations, Colombia experienced remarkable growth in this sector, recording a 61% increase in just one year.
These impressive results can also be attributed to the thriving venture capital (VC) activity, which has steadily risen over the past five years. South America now boasts 23 unicorns, including notable names like Kavak, Rappi, NotCo, Bitso, and LifeMiles. The region achieved $4 billion in the previous year, completing a record-breaking 488 deals. Moreover, startup exits within the region reached an astonishing $11 billion. In 2020, fintech accounted for 40% of all venture capital investments in the region.
Advantages of Software Development Outsourcing to Latin America
Large Pool of Skilled Talents
South America boasts an impressive pool of over 1 million IT professionals, half of which house Colombia (150,000), Mexico (225,000), Argentina (100,000), and Chile (61,000). These software developers are well-versed in various modern technologies, such as .Net, Java, Ruby, Python, C++, C#, React, and Node.js. Moreover, LATAM developers excel in mobile development, data analytics, cloud computing, database development, and operating systems.
Prevailing Cost-Effectiveness
But it's not only the high availability of talent that lures foreign IT companies to outsource software developers from Latin America. What truly acts as a compelling draw for businesses is cost-effectiveness. Not only do they save up to 70% on expenses, but also keep the high quality of the software product. Additionally, the varying price ranges throughout the LATAM region allow tech companies a wide array of talent options within their budget. If you're eager to discover precise salary rates, continue reading this article!
Well-Educated IT Workforce
On top of appealing cost-effectiveness, international IT companies also get to work with highly qualified software engineers in LATAM. The region places great importance on education, especially in STEM fields. Many young individuals have the opportunity to study at reputable technical universities, with 20 of them being ranked among the Best Global Universities in Latin America. The University of Chile, Monterrey Institute of Technology, and the University of Buenos Aires are among them. 
Furthermore, both regional and international education programs play a significant role in the increasing number of software developers in LATAM. Notably, major US tech giants like Microsoft and Hewlett-Packard recognize the exceptional potential of South American talent, launching educational programs to support the development of their IT skills.
Geographical Proximity
Their close location is another compelling factor driving IT companies to outsource software developers from Latin America. This is especially relevant for American and Canadian tech businesses that can greatly benefit from nearshore endeavors. To illustrate, a mere 3-4 hour plane journey connects San Jose, CA to the major IT hubs in Mexico and Colombia. This not only facilitates face-to-face interactions between in-house and offshore tech teams but also enhances the supervision of the development process. Furthermore, the geographical closeness to remote Latin American developers streamlines onboarding procedures and team-building activities.
Time Zones Alignment
Who wouldn't appreciate the convenience of minimal or no time difference when working with offshore programmers? This becomes a reality if outsourcing to Latin America. Consider this: there's just a 1-hour time difference between Mexico and the US West Coast and a 2-hour difference with Colombia. Slightly more time separates the US West Coast from Chile and Argentina – 3 and 4 hours, respectively. As a result, IT companies based in the USA can engage in seamless real-time communication, instant feedback, and highly productive collaboration when outsourcing software development to South America.
Similar Work Culture 
The close geographical proximity between South American and North American countries fosters strong business ties. This longstanding history of successful collaboration has significantly influenced the work culture in LATAM. As a result, software developers in this region seamlessly integrate into foreign teams due to their shared business ethics, customs, and workflow, which align with those in the USA. This means that when assembling a team of software developers in Latin America, foreign companies can expect high productivity and rapid results, all while minimizing the time required for employee adaptation.
Disadvantages of Outsourcing Software Development to Latin America
Complex Labor Laws 
Navigating the labor laws can be a significant challenge for foreign IT companies looking to do software development in South America. Each country has its own unique rules and regulations that govern the work environment and protect employees' rights. Here are some critical differences in labor laws across selected Latin American countries:
Working hours. The Colombian, Mexican, and Argentine labor laws enforce a 48-hour work week, while the Chilean labor law presupposes 45 hours per week. All these countries generally allow for a six-day work week with the possibility of overtime work.
Overtime work. In Mexico, employees are usually entitled to double their salary for overtime work. After the 9th hour of overtime, triple compensation applies. Meantime, in Argentina, employees who work overtime are entitled to 150% of their average pay or 200% if working on holidays. In Colombia, on the other hand, employees can work up to two hours of overtime per day and up to 12 hours per week. They're paid an extra 25% on top of their regular salary.
Paid public holidays. Chilean labor law typically grants employees 9-12 annual paid public holidays. In contrast, Colombia offers more public holidays, totaling 18. In Mexico, labor law grants  8 annual paid public holidays. On the other hand, Argentina provides 12 days.
Paid vacations: Mexican labor law grants 12 days of paid vacation after one year of work. While in Colombia, employees are entitled to 15 days of paid leave. On the other hand, Argentine labor law grants 14 days of paid leave for employees with less than 5 years of work experience. 
Given these nuances in employing Latin American programmers, my advice is to partner with a professional business outsourcing partner. They will help you overcome the complexities of local labor laws, ensuring that your offshoring process is compliant and pain-free.
Possible Language Barrier 
Communication can pose a challenge for foreign IT companies when collaborating with software developers in Latin America. Unlike their Eastern European counterparts, South American countries don't rank as high on the English Proficiency Index. Argentina leads the pack, securing a position in the top 30 globally. Chile exhibits moderate proficiency, holding the 45th spot. Colombia and Mexico are lagging, actively working to enhance their English language skills.
Consider cooperating with a reliable tech hiring partner to mitigate potential communication difficulties. They can assist you in hiring senior-level developers in South America who excel in technical skills and have strong English and interpersonal abilities.
Latin American Developer Salaries
You might be wondering how much it costs to offshore software development in South America. Let's compare the annual developer salaries in LATAM and Western countries to get a holistic picture.  
As the table below indicates, Colombia offers the most conservative salaries for programmers in South America, with average annual earnings ranging from $23K to $36K. In general, all LATAM countries listed here provide developer wages that are approximately 3-4 times lower than those in the USA, where salaries typically span between $91K and $128K.
Turning to Western Europe, annual compensations for developers in the UK and Germany are roughly 2 times higher than in South American countries, with earnings ranging from $58K to $80K, depending on the developer's role.
 Positions
 Mexico
 Colombia
Argentina
Chile
Front-End Software Developer
$35,000
 $30,000
$36,000
$38,000
Back-End Software Developer
$38,000
$36,000
 $38,000
$40,000
Mobile App
Developer
$34,000
$27,000
 $36,000
$36,000
Data
Scientist
 $32,000
$30,000
$35,000
$40,000
DevOps
Developer
$35,000
 $36,000
$38,000
$38,000
Software Development
Engineer in Test
$28,000
 $23,000
$30,000
 $32,000
 Positions
 USA
 Canada
UK
Germany
Front-End Software Developer
$109,000
$102,000
$63,000
 $65,000
Back-End Software Developer
$122,000
 $110,000
$66,000
$70,000
Mobile App
Developer
$100,000
$92,000
 $68,000
$60,000
Data
Scientist
 $128,000
$90,000
$76,000
 $78,000
DevOps
Developer
$125,000
$116,000
$80,000
$74,000
Software Development
Engineer in Test
$91,000
$70,000
$58,000
 $64,000
Top Outsourcing Destinations and Their Hubs
The LATAM region is rich with skilled talent. But you might be wondering where to hire them. Let's consider the best countries in South America for outsourcing.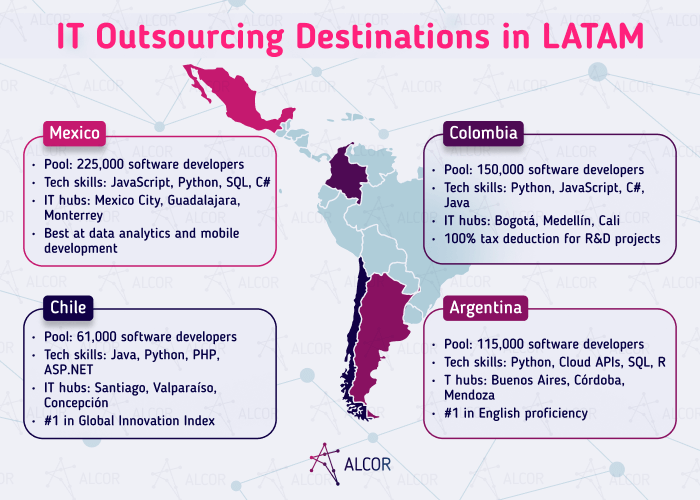 Mexico
The most frequent choice among North American IT companies for hiring software developers in LATAM is undoubtedly Mexico. Its convenient location, overlapping time zones, and impressive cost-effectiveness are just a few factors that attract foreign tech businesses. 
Mexico is a hotbed for software developers, having the second-largest IT talent pool in Latin America – over 225,000 tech experts. They are considered the most educated programmers in the region, getting STEM degrees at top universities like Tecnologico de Monterrey, National Autonomous University of Mexico, and Universidad Autonoma de Nuevo León. Mexican developers are experienced with a wide variety of programming languages, including JavaScript, Python, SQL, C#, React.js, and Angular. 
The country has 38 IT clusters, with about 400 IT outsourcing companies and 450 startups. Most of them are in such Mexican tech hubs:
Mexico City is the capital and one of Mexico's most significant IT hubs. It's renowned for its startup-friendly environment, boasting 230 startup companies. In addition, Mexico City houses branches of such leading tech giants as Microsoft, Google, Cisco, Amazon, IBM, and Oracle.
Guadalajara is often referred to as the "Mexican Silicon Valley." It has a thriving tech ecosystem and a strong culture of innovation. Guadalajara boasts the highest concentration of educated IT professionals in the country who get their majors in 28 higher institutions. 
Monterrey is a prominent tech center in Mexico, known for its modern infrastructure and favorable business climate. Its proximity to the USA makes it a popular choice for nearshoring among American IT companies. Monterrey is also home to over 60 startups, including the well-known unicorn Nowports.
Read our article on software engineers' salaries in Mexico to get a detailed insight into local rates! 
Colombia
Another prominent destination for doing remote software development in Latin America is Colombia. This country ranks as the fourth-largest provider of IT services in the region, with its tech market currently valued at $8.2 billion and projected to reach an impressive $12.98 billion by 2026.
Colombia is abundant in highly skilled IT professionals who acquire STEM degrees from prestigious universities, with 9 featured in the Best Global Universities in Latin America. Colombian programmers possess profound expertise and are proficient in various coding languages and technologies, including Java, Python, C#, SQL, and Ruby. The majority of these professionals are concentrated in the following cities:
Bogotá is the capital of Colombia and the most prominent IT powerhouse in the country. It distinguishes itself with a well-developed startup ecosystem, ranking second in South America. Unsurprisingly, Bogotá hosts over 190 startup companies, including notable names like Habi, LifeMiles, Rappi, UBITS, Addi, and Bold.
Medellín is the second-largest city and tech hub in Colombia. It's also considered the education center of the country, boasting a high concentration of skilled talents. This is a primary reason why foreign IT businesses opt for nearshoring here. Microsoft, Google, Meta, Amazon, IBM, and HP are those big-name IT companies that reap the benefits of Medellín's vibrant IT market.
Cali is an emerging IT center in Colombia that has been steadily gaining recognition on the global IT stage.  The city has been making substantial investments in innovation centers and research parks, bolstering the local startup ecosystem. Recently, Cali has witnessed a remarkable surge in tech startups, with a notable focus on mobile app development and e-commerce.
Argentina
For IT companies seeking cost-effective software engineering in South America, offshoring to Argentina often emerges as a top choice. This tech  gem is home to over 115,000 IT professionals with the region's strongest English command. Argentinian programmers are masters in Python, Cloud APIs, TensorFlow, and SQL. Whether you need to develop a mobile app or harness data, Argentinian developers are your go-to crew. According to the Coursera Skills Report, they rank among the best mobile developers and data analysts in South America. 
The availability of skilled talent contributes significantly to the growth of Argentina's tech industry, with the IT market projected to reach $2.5 billion by 2026, growing at a CAGR of 8.3%. Several IT hubs drive the rapid development of IT in Argentina:
Buenos Aires is a bustling capital city and the largest IT powerhouse in Argentina. Being home to about 85% of the Argentinian tech community, Buenos Aires develops with leaps and bounds. It's known as an innovative city with the most significant number of Bitcoin entrepreneurs in the country and the LATAM region.  Buenos Aires also has a vibrant startup ecosystem of over 290 companies, mainly focusing on fintech, e-commerce, and software development.
Córdoba is Argentina's second-largest IT center known for its exceptional educational system. The high concentration of young, bright minds and supportive public sector incentives boost the development of the city's startup and entrepreneurial scenes. Córdoba is home to 126 startups with stars like Xcapit, Wibond, and Mobbex.
Mendoza is an emerging tech hub in Argentina, primarily focusing on cultivating the entrepreneurial spirit. To make it a reality, the government launched the "Consejo Consultivo Emprendedor" (CCE) initiative that resulted in an impressive 20,000 employments, over 4,000 new establishments, and 200 investments. Mendoza is also known for its two successful startups: Energe and Eventioz.
Chile
If you want to hire a software development team in Latin America, consider Chile as well. The country's IT market has been experiencing remarkable growth, projected to reach $2.5 billion by 2028, with an annual growth rate of 8.2%. The Chilean government has proactively implemented critical initiatives and programs to foster innovation and cultivate an attractive business climate. 
Another prominent destination for doing remote software development in Latin America is Chile. The country's IT market has been experiencing remarkable growth, projected to reach $2.5 billion by 2028, with an annual growth rate of 8.2%. The Chilean government has been proactive in implementing critical initiatives and programs to foster innovation and cultivate an attractive business climate. Consequently, Chile stands as the second most attractive South American country for startups and holds a top spot in LATAM for innovation. Impressive as it is, the country is home to over 122 startup companies, including three notable unicorns: Betterfly, Cornershop, and NotCo.
The driving force behind such a rapid development of the IT market is its software developers who are well-versed in Java, Python, PHP, ASP.NET, and Perl. They excel in statistical programming, data analytics, computer programming, and mobile development. Chilean developers are mainly located in such three IT hubs:
Santiago is the epicenter of IT in Chile, boasting the third-largest pool of available IT workers in Latin America. This Chilen offshoring location is a real magnet for foreign IT companies, as it has good infrastructure, pleasant business conditions, and high talent availability. Google, Starlink, Amazon, and Microsoft are just a few foreign tech giants present in Santiago.
Valparaíso is an emerging IT hub in Chile, steadily developing its infrastructure and startup scene. Such renowned IT enterprises as Google, IBM, and Uber invest in its potential.
Concepción is another IT center in Chile that has been impressively growing. Its IT companies predominantly focus on sectors like e-commerce, cybersecurity, and digital marketing, contributing to a diverse and thriving tech landscape.
Hire a Software Development Team in Latin America with Alcor!
Are you willing to hire software engineers in Latin America but need help determining which location to pick? Alcor got you back! We are a full-cycle provider that builds software R&D offices for Western tech companies in Latin America and Eastern Europe. Our dedicated team is ready to provide in-depth market research for each destination. This includes talent availability, pay scale analysis and consultations on local labor laws and taxation systems.
Once you've made your ideal choice, Alcor will take care of the Latin American IT staffing process to assemble your own development team. Our 40+ experienced headhunters typically close one position in 3-6 weeks. In addition to recruitment services, Alcor also handles various operational functions, such as payroll, legal compliance, and procurement, ensuring the smooth functioning of your remote development team. This staffing model is totally different from traditional outsourcing and brings about more security & compliance for your operations in a new location.
Our staff augmentation solution has proven reliable and effective for many well-known tech companies like BigCommerce, ThredUP, People.ai, and others. Just look at the results of our partnership with the US-based IT company Gotransverse. We efficiently established a fully backed team of 6 developers within just 6 weeks! Our client was delighted with the caliber of candidates we provided, resulting in an impressive 95% CV pass rate. This achievement underscores our commitment to ensuring the success of our clients' IT staffing endeavors.