Colombia has been widely recognized as the Silicon Valley of Latin America, catching the attention of such tech giants as Google, Amazon, IBM, and others. Inspired by their success, more than 11,000 IT companies are choosing to tap into this market and opt for nearshore software development in Colombia. So, what does this destination actually have to offer?
I'm Dmitry Ovcharenko, CEO of Alcor, with over 15 years of experience in the tech industry. At Alcor, we focus on IT recruitment in Colombia, helping product tech companies assemble their own development teams in this country. In this article, I'll describe key reasons why Colombia appeals to software companies, challenges of nearshoring software development to Colombia, share local software development rates, and an efficient solution for doing your business there.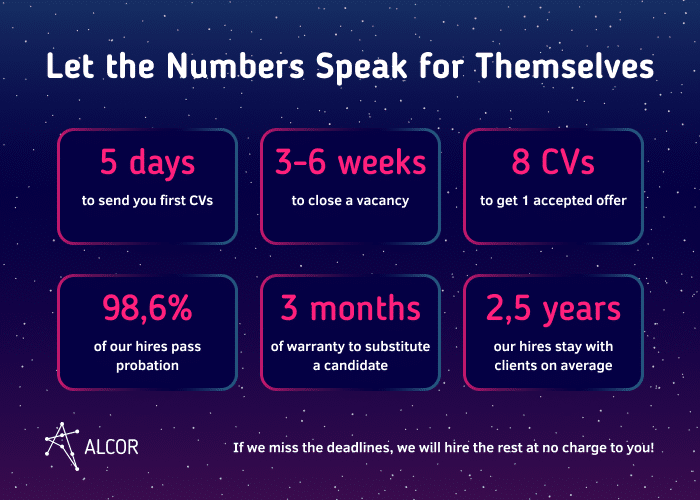 Reasons to Nearshore Software Development to Colombia
Thriving tech market  
First and foremost, among LATAM countries, Colombia holds the impressive position of being the fourth-largest provider of IT services. In 2021, the Colombian ICT market surged to an astounding value of $8.52 billion, a testament to the nation's unwavering dedication to embracing the digital revolution. And the momentum shows no signs of slowing down! With an electrifying compound annual growth rate (CAGR) of 8.8%, the projection for 2026 sets the bar even higher, soaring to an awe-inspiring $12.98 billion. The Colombian government, in turn, pays special attention to the IT industry and implements various initiatives and programs for its development. One of them is the ICT Sector Modernization Law that aims to ensure greater legal certainty for prospective investors, fostering nationwide infrastructure expansion to enhance the availability of ICT services, thus promoting wider access to emerging technologies. 
Vast pool of skilled software developers
With a 50+ million population, there are over 150,000 Colombian software developers, each equipped with an arsenal of diverse tech stacks and competencies. Some of the most popular programming languages among them are Java, C++, Python, SQL and Ruby. What's more, software developers in Colombia also possess a strong higher educational background in ICT. Over 13,000 graduates join the Colombian software development pool annually, ensuring a unyielding supply of skilled professionals to meet the industry's demands. Thus, Colombia is fourth among Latin American countries in terms of the highest proportion of graduates pursuing STEM careers (Science, Technology, Engineering, and Mathematics). Notably, 9 Colombian universities are ranked in the Best Global Universities in Latin America list, while 25 higher education institutions from Colombia have been heralded as top global universities in the prestigious QS World University Rankings.
Moderate labor costs
To ensure cost efficiency (but not compromise software quality) some tech entrepreneurs opt for nearshore technology outsourcing or IT recruitment in Colombia, as local wages are considerably lower than in the US. For example, senior full-stack developers in the US earn $150K a year while Colombian software engineers with the same level of expertise get only $48K annually. Such a significant difference in labor costs enables tech companies from the USA to save up to 40% on product development. Later in this article, I'll share a detailed table with salary rates of the key roles in a software development team, so you can get a bigger picture. 
Convenient location
Many IT companies are considering offshoring software development to Colombia due to its strategic geographic position. Located in the northwestern part of South America, this country is within easy reach of some American cities. The flight duration from New York to Bogota averages around 5 hours, while the trip from Miami takes approximately 3 hours. Geographic proximity allows organizing frequent company meetings, team buildings, and other activities.  
Favorable time zone
For US-based tech companies, cooperation with a nearshore software development company in Colombia will be favorable for one more reason – the local UTC-5 time zone. Thus, there is no (or only a slight) time difference between the Colombian capital Bogota and the biggest US cities such as Miami, New York, Florida, Washington, D.C., and California. Sharing similar time zones with US regions enables real-time communication, seamless coordination, and swift problem solving with the remote team.  
Robust start-up ecosystem  
The gateway to South America can also boast a growing number of startups with world-famous  unicorns – Rappi, with a valuation of $5.25 billion; LifeMiles, with total worth of $1.15 billion; and Habi, valued at $1B. All in all, there are ca. 289 known startups in LATAM with nearly 190 of them located only in Bogota.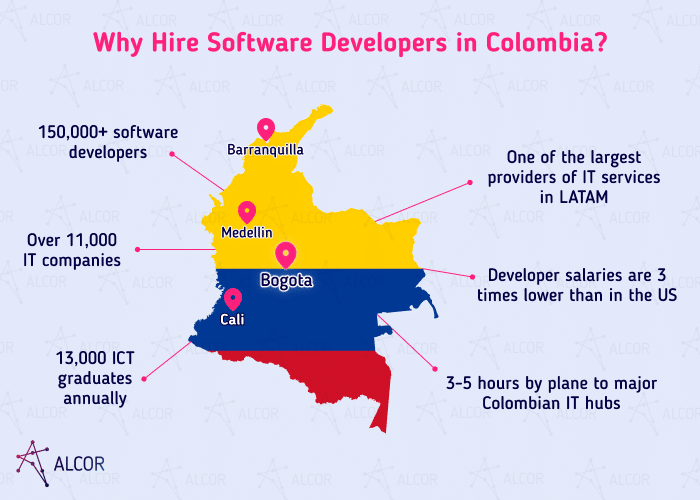 Nearshore Software Development Rates in Colombia 
As I mentioned above, opting for hiring Colombian software engineers costs less than working with programmers in North America. Middle IT talents in Colombia charge on average 3-4 times less than their American colleagues. This fact greatly appeals to US-based companies that make strategic decisions to go for nearshore software development outsourcing to Colombia. The table below showcases the comparison of Colombian vs the US salary rates.  
Positions 

 Junior

 Middle

 Senior

 Colombia
USA
 Colombia
USA
 Colombia

USA

Full-Stack
Software Developer

$22,000
$90,000
$33,000
$130,000
$48,000
$150,000
Front-End
Software Developer
$21,000
$75,000
$27,000
$110,000
$39,000
$130,000
Back-End
Software Developer
$24,000
$85,000
$36,000
$120,000
$48,000
$145,000
Mobile App
Developer
$21,000
$80,000
$27,000
$115,000
$39,000
$140,000
Game
Developer
$21,000
$80,000
$27,000
$100,000
$36,000
$140,000
Data
Scientist
$21,000
$110,000
$27,000
$150,000
$42,000
$170,000
DevOps
Developer 
$24,000 
$100,000 
$36,000 
$135,000 
$51,000 
$160,000 
Software Development
Engineer in Test 
$15,000 
$60,000 
$21,000 
$90,000 
$33,000 
$121,000 
Embedded
Developer 
$21,000 
$90,000 
$27,000 
$107,000 
$39,000 

$132,000 

Colombian salaries were converted to US dollars at a relevant exchange rate for July 2023. 
Challenges of Nearshoring Software Development to Colombia 
Complex labor law
Nearshoring software development to another country always comes with legal compliance and regulatory considerations that need to be carefully addressed. Colombian legal frameworks greatly differ from the US ones in definitions of employment types, contractual obligations, and worker protections. In addition, local legislation has certain nuances when it comes to classifying contract workers and independent contractors, and their misclassification can lead to significant penalties and potential legal issues. Colombia also prioritizes employee rights with comprehensive protection, including social security, mandatory benefits, and labor unions, imposing unfamiliar legal obligations on American IT employers.
Solution:
To effectively navigate this challenge, US companies must engage in thorough research and always stay updated on local labor law developments – or alternatively seek professional legal guidance from a partner to assist with employment agreements, consultations on local legislation, and intellectual property rights protection. By leveraging the expertise of external parties, companies can better ensure compliance with labor laws and mitigate potential risks associated with nearshore technology development in Colombia.
Taxation system peculiarities
Another pain point American companies often encounter when deciding to team up with a nearshore software development team in Colombia are tax regulations. In terms of this, business taxes in Colombia have their own nuances, making it crucial to thoroughly study the local taxation system, understand the tax obligations and incentives for businesses operating there. This includes familiarizing themselves with a corporate income tax rate of 35%, value-added tax (VAT) rate of 19%, payroll taxes of 9%, and any potential tax exemptions or benefits available to foreign companies. In addition, one should constantly keep an eye on changes and updates in Colombian taxation laws. For instance, Colombia's Tax Reform Law, introduced on January 1, 2023, introduces substantial modifications to tax regulations impacting resident and non-resident companies alike. Interestingly, IT companies in Colombia can benefit from a 25% tax discount and 100% tax deduction for investments in research, technological development, and innovation projects that aim to address commercial issues, generate new knowledge, or resolve internal processing problems.
Solution:
If you are planning to enter a new market, it's important to thoroughly explore the tax system, including its rules, rates, and obligations. It will help you develop a comprehensive understanding of local tax regulations, ensuing compliance, and optimization of your financial strategies. Alternatively, you can seek expert advice that might provide you with valuable expertise, local market insights, and support in navigating the payroll and taxation processes, ensuring a smoother and more successful offshoring experience.
Tips to Nearshore Your Software Development to Colombia 
If you're planning to go global and work with nearshore software developers in Colombia, here are some pieces of advice that will help you enter this market with flying colors:
Implement an effective management approach 
When making a decision to hire a remote development team in Colombia, it's essential to consider the collaborative approach you will adopt. Effectively overseeing an offshore team requires robust leadership and management skills to ensure a seamless and productive workflow. In such cases, utilizing remote team management tools, conducting regular sync-ups, implementing frequent performance reviews, and adhering to established project management methodologies such as Agile or Scrum can greatly contribute to successful outcomes and provide valuable assistance.
Decide on the collaboration model
Freelancers. On one hand, opting to hire a freelance developer in Colombia can significantly reduce labor costs, taxes, and streamline the recruitment process. However, freelancers often work on multiple projects with different companies, which may result in limited involvement and dedication to your specific product. Moreover, the nature of this collaboration model carries the risk of data leakage and requires careful consideration of intellectual property rights protection.
IT outsourcing. Outsourcing software development to Colombia is another way to work with local software engineers. It provides access to a broader talent pool with diverse tech stacks, enabling you to handle heavy workloads, fill expertise gaps, or even develop your product from scratch. Initially, it may seem like a cost-effective solution with high level of flexibility; however, nearshore technology outsourcing often involves the risk of being charged for ambiguous services with unclear pricing structures. Additionally, relinquishing full control over the product development process can potentially result in data leakage and security breaches.
Your own development team. To bypass the above-mentioned challenges, tech companies often build their own development teams in financially attractive locations with strong IT industries like Colombia. To receive not just efficient recruitment but also legal compliance, accounting, and payroll functions, they entrust all hiring & back-office operations to a reliable IT recruiting & support company. This allows companies to maintain complete control over their core element – product development – while benefiting from a dedicated offshore engineering team with comprehensive back-office support.
Choose a reliable IT recruitment provider
To choose the right IT recruitment services provider, it is important to carefully examine factors such as the company's hiring experience, case studies, Clutch reviews, scope of services, number of IT researchers and recruiters, and other things. Additionally, evaluating their communication and collaboration processes, candidate screening methods, and ability to meet specific hiring needs can further help in making a final decision.
This approach appealed to the US-based company Dotmatics. Having a plan to expand abroad, Dotmatics made a strategic decision to step back from traditional IT outsourcing and assemble their own offshore development team. The need for quick but high-quality staff augmentation abroad led the company to Alcor. We assigned a group of experienced researchers and 4 headhunters who helped Dotmatics with full-cycle IT recruitment. Within a year, with Alcor's assistance the client got a team of 30 skilled software engineers with various tech stacks and skills. Some of the vacancies such as Product Manager and QA engineer were filled with the first candidate!
Apart from that, we provided Dotmatics with full back-office support, taking care of all payrolls/reporting, procurements, and legal compliance. Thus, Dotmatics effectively operates a fully transparent business in both the United States and abroad, ensuring clear visibility and accountability across their operations.
Nearshoring Software Development to Colombia Can be Easier with Alcor 
At Alcor, we focus on IT recruitment in Latin America and Eastern European countries. We help American product tech companies hire Senior/Lead Software Engineers or Developers with niche skills for their own development teams. Our dedicated IT recruitment department comprises 44 experienced headhunters who engage in full-cycle recruitment, encompassing candidate sourcing, selection, and onboarding processes. We also provide our clients with clear and transparent guarantees – we vow to hire 5 software engineers in 1 month and more than 20 IT talents within 3 months. If we don't meet those deadlines, we will hire the rest at no charge!  
Alcor has successfully facilitated the establishment of engineering teams abroad for companies such as Grammarly, GoTransverse, Sift, and others. If you also want to expand your business growth and successful journey into LATAM or Eastern Europe, feel free to share your hiring & other operational needs with us!