Many non-tech companies and startups want to build their mobile applications but lack in-house technical expertise for this task. In this case, they might resort to outsourcing mobile application development to third parties. Even enterprise-level IT companies that have internal tech employees may use outsourcing to reduce costs or speed up the application programming process. However, in both scenarios, the result often turns out to be the opposite of what is expected.
If you're thinking about whether to utilize mobile app development outsourcing or not, let's first find out why companies struggle with outsourcing app engineering, then how to choose a mobile outsourcing partner, how to manage an outsourced application team, and what is the best alternative to mobile app outsourcing for IT product companies.
5 Challenges of Outsourcing Mobile App Development
The mobile app market is growing by leaps and bounds, as the revenue of both Android and iOS apps reached $133 billion in 2021 – so it's no wonder more and more companies are investing in the development of their mobile applications. Some of them do it via partnering with outsourcing or outstaffing vendors, while others select alternative solutions such as setting up their remote mobile app development teams abroad.
Those that choose to outsource mobile app development instead of opting for better engagement models often face the following challenges:
Keeping your corporate data confidential and secure might be your #1 priority, but not always the primary concern of your app engineering outsourcing partner. As such companies work on projects of several clients simultaneously, their developers are usually located in the same office or room. Thus, there's a high chance of an intentional or unintentional data breach that puts your sensitive information at risk (even if you signed a non-disclosure agreement).
When you cooperate with an outsourcing app development company, you don't have direct access to communication channels with developers. Instead, you share your requirements and ideas with an intermediary – your vendor – who could misinterpret them to programmers. In this case, there's the chance that they will misunderstand the task (and might deliver results which are below your expectations.
If you aren't getting the full picture on the work progress, this is likely to translate into hidden costs of the IT services of your provider – which you will be obliged to pay for. For example, such a vendor can substitute one developer for another that charges more, or require you to pay for new hardware/software that they purchased without warning you.
Loss of internal expertise 
Another disadvantage if you decide to outsource mobile app developers is the loss of unique knowledge acquired by them during the project. These developers are the ones who create your mobile app from scratch; thus, their knowledge becomes an integral part of its success. Yet once you've terminated your cooperation with outsourcers, this internal expertise goes out the door with them forever.
Businesses that adopt outsourced mobile app development services face difficulties with attracting investments. Since their in-house team is not the one that built their mobile application, investors have little trust and view them as shell companies that don't have any meaningful assets of their own.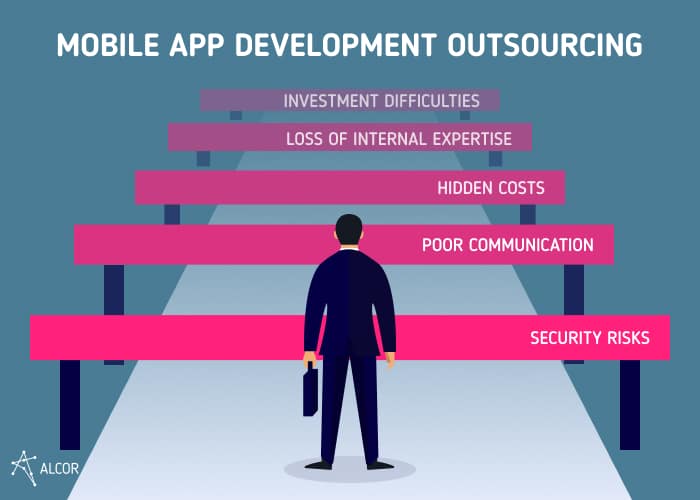 Back in 2019, Hertz, a company in the car rental industry with 10,000 corporate and franchise locations around the world sued a rather famous outsourcing agency that was hired to create new mobile apps and website for the company. The result was a new platform with poor quality, was not adapted to tablets, and could only work in North America. What was even worse, Hertz paid this outsourcing partner $32 million – which was a complete disaster for their business plan and budget.
If you want to avoid these and other outsourcing risks while delegating the development of your mobile app safely, consider other options, such as your own software team in financially attractive locations like Poland, Romania, or other Eastern European countries.
Is Outsourcing a Suitable Partnership Model for You?
Apart from the possible risks of working with an outsourced mobile application development team, there are a few benefits of app outsourcing that work in two cases:
You're a non-IT business that needs professional help in mobile application development;
You're an IT company that has an internal software development department but needs to aptly supplement this team with additional IT skills.
In the first scenario, a company doesn't have internal technical expertise and needs to cooperate with a skillful vendor to obtain a custom end-to-end application or platform. For example, if a company produces and sells clothes, they may hire an outsourcing provider to develop a mobile app that enables online payments for their customers, thus making it easier for them to shop/pay online.
In the second scenario, an IT company has an urgent need to find more coders to complete the project without hiring them in-house. For instance, if an in-house developer gets fired or quits in the middle of an ongoing project, the company must quickly replace this person in order not to miss a deadline. As a result, they might contract outstaffing firms to receive the needed people temporarily.
If your situation doesn't relate to any of these described cases, then IT outsourcing might not be the best option for you. For example, suppose you're a product IT company that struggles to find the needed skills onshore and seeks to expand abroad. In that case, there is a much more reliable alternative to outsourcing – professional tech recruitment services via offshoring. This solution allows you to access professional programmers even with the rarest skills without the need to spend too much time/costs to hire them in-house, and the results can be highly satisfying. Such companies as Samsung, Grammarly, Wargaming, and many others have already benefitted from IT offshoring.
How to Choose a Mobile App Development Company
If you want to spot a reliable application development outsourcing partner from the first try, you should take into account certain characteristics that predetermine the success of your future partnership:
Try to find a vendor that has years of engineering experience for companies from your niche. Ideally, they must have publicly available case studies and positive client reviews on independent resources.
To successfully outsource app development, your partner must be completely open regarding prices and deadlines. They must describe the composition of the price and prepare regular detailed invoices for you to track your finances.
Mobile app programming partners that have cultural similarities with your in-house team will understand your requirements better and completely share your product development vision. For instance, mobile developers from Eastern European countries like Poland or Romania share the same work ethic with their Western European and American counterparts.
Your vendor must have at least an Intermediate level of English so you could easily communicate and completely understand them. For example, mobile app developers from Eastern Europe are in the top 50 by English proficiency.
Pick providers from countries to outsource mobile app development with a favorable business environment and moderate taxes. For instance, taxes in Western European countries are around 40% bigger than in Central and Eastern Europe. In Poland, a personal income tax for developers is 8%-14%, while in Romania there are no income taxes for software engineers.
9 Questions to Ask Your Potential Outsourced App Development Partner
You can make sure that your mobile app outsourcing partner matches your expectations by asking them the following questions:
On a scale from 1 to 10, how would you evaluate your experience in engineering cross-platform mobile apps?
Do you have relevant experience in app development for healthcare/fintech/e-learning/IoT/etc. (depending on the area of your business)?
What technologies do you use to develop feature-rich applications (Flutter, React Native, etc.)?
Do you provide UI/UX design services?
How often are you going to communicate with in-house team members and project manager?
What are your time estimates regarding data analysis and prototype creation?
Is it possible for our company to have full control over the work progress, or will there be managers from your side?
What guarantees can you provide when it comes to deadlines and code quality?
How do you propose transferring the intellectual property rights to our company?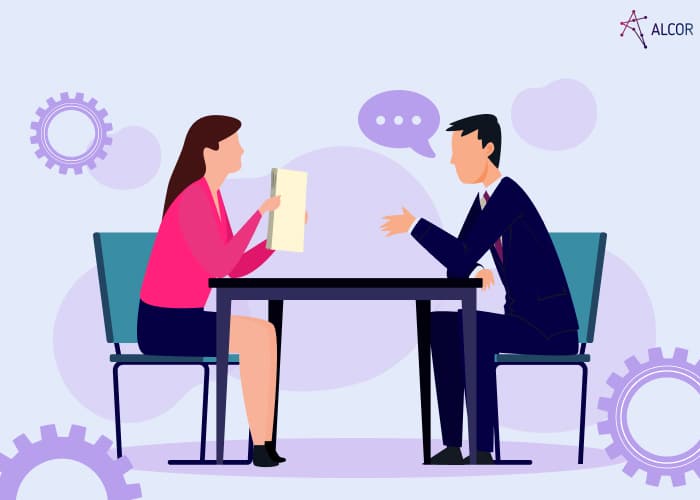 3 Tips to Manage Outsourced Team Successfully
Even if you have discussed every aspect of your work together, it may be tricky while managing your application development outsourcing team or managing offshore teams. These tips can make this process easier for you:
Appoint a local PM 
Local product managers and team leaders help product IT companies manage their software teams abroad. They report to you on every development stage, resolve all issues that may arise in the team, and handle administrative functions. But if you don't want your PM to allocate a chunk of time to operational management and rather focus on streamlining product development, you can cooperate with a professional offshore development services provider that can back you up from an administrative standpoint.
       2. Schedule regular online meetings with your team 
Although local PMs play a key role in keeping you updated on current matters in your offshored team, they are still not enough to make your developers loyal to your company and product. Thus, if you want to reach ultimate dedication from your coders, conduct regular online meetings and discuss not only the working processes but also personal matters.
       3. Use online project management tools 
Last but not least, it's beneficial to use team management software such as Slack, Trello, Jira, Worksection, and others. They help to improve planning, task delegation, project navigation, budget projecting, performance analysis, and other management activities. In this way, you can simplify communication and increase the productivity of your offshored developers.
Consider Alcor BPO International Recruitment Services Solution
One of our clients is People.ai, a USA-based company that develops an AI platform for managing B2B sales. Several years ago, they decided to expand and opted for opening their development office in Eastern Europe. The company didn't want to outsource the mobile app development team since previous cooperation with several IT outsourcing vendors did not bring the expected results.
When People.ai started searching for trustworthy offshoring partners, they found our international recruitment services company Alcor. It took us only a month to assemble the competent software engineering team, arrange an office, and provide all necessary legal & accounting support for the Eastern European team of People.ai. The results? We hired 25+ engineers for them, and in the summer of 2021 they got $100,000,000 of investments (Series D) which made the total value of the startup estimated as $1.1 billion!
If your company is also planning to set up a software team abroad, Alcor can help you hire developers in Eastern Europe, namely Poland, Romania, Slovakia, Hungary, and the Czech Republic. Having 40+ IT researchers and recruiters on board and established hiring processes, we can recruit even a big team of mobile app development talents for you. Moreover, with 200,000+ skilled programmers in our internal database, we can find even the rarest skills for you in no time. And after you approve our candidates, our legal team can handle various legal issues – from the employment of your new team members to stock options support.
Final Thoughts
Startups, SMBs, and enterprises may consider iOS or Android app development outsourcing if they lack technical expertise. However, mobile app outsourcing may impose many challenges on companies that try to adopt it – confidential data security issues, poor communication with developers, hidden costs, loss of internal expertise, and inability to attract investments.
If you're a product IT company that wants to avoid these and many other problems that may occur in app development outsourcing, there is a better solution – a collaboration with a reliable BPO services company. This firm can not only hire the right IT skills but also deal with legal support, compliance, payroll management, accounting, and other administrative functions.