In the turbulent year of 2022, the Mexican IT outsourcing market generated $3.9 billion in revenue and established itself as the third-largest technology services exporter globally. This trend appears poised to continue for the foreseeable future, as 75% of US companies have expressed their intent to hire talent from LATAM. Now, looking ahead to 2024, what does the landscape of IT outsourcing to Mexico hold? 

 
I'm Dmytro Ovcharenko, Alcor's CEO and founder. At Alcor, we help tech companies build their own R&D centers in LATAM and Eastern Europe, while our IT recruiters in Mexico and other countries take care of finding software developers for their teams.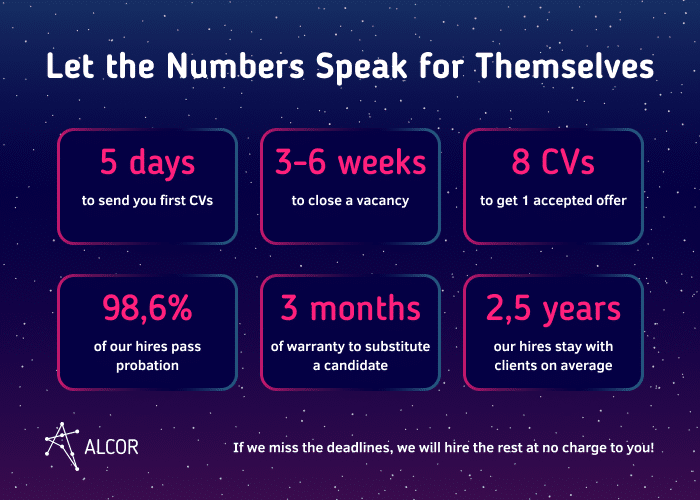 In this article, I'll walk you through the benefits, myths, and risks of outsourcing IT services to Mexico, share local tax regulations for technological businesses, compare this country to other outsourcing destinations in Latin America, and describe efficient alternatives to this collaboration model.
5 Benefits of IT Outsourcing to Mexico
Booming IT sector

The IT sector in Mexico boasts a substantial market valuation of $28 billion, firmly establishing itself as the second-largest technology market in Latin America, trailing only behind Brazil. Mexican outsourcing, in turn, holds a dominant position in the market and is anticipated to reach a volume of $7.90 billion by 2028, with a notable annual growth rate of 12.32%.
Today, the country has over 38 IT clusters and nearly 400 companies offering software development services, according to Clutch. The majority of these are concentrated in the capital, Mexico City, but it's not the sole IT hub; cities like Monterrey, Guadalajara, and Mérida stand among them, forming vibrant technology centers of their own. Among these locations, there're distinguished tech parks like Creative Digital City, the Guadalajara Software Center, Apodaca Technology Park, and Monterrey Technology Park, with a total of over 20 such parks spread across the country. 
Big talent pool
Another reason why US companies choose to nearshore technology to Mexico is the abundance of tech talent available there. It boasts 700,000 software developers who excel in various programming languages and technologies. Indeed, local IT talents typically demonstrate a robust mastery of JavaScript, Python, SQL, C#, React.js, Angular, and others. 
Affordable costs 
Offshoring to Mexico offers another strategic advantage – cost-efficient salary rates. Thanks to this, Western companies can achieve cost reductions of up to 60%. For instance, a Middle Full-stack developer salary in Mexico is $35K a year, while programmers from California with the same level of expertise charge $130K. The gap with Western Europe is also significant: a Senior front-end developer from Mexico earns only $58K a year; at the same time, a counterpart from Berlin gets around $80K.  
Thriving startup ecosystem 
In 2023, Mexico shines with an excess of 440 dynamic startups and, according to the Global Startup Ecosystem Index, one of the prime locations in Central America for launching a startup. Notably, in 2019, VC investments in Mexican startups reached $650 million, nearly quadrupling the amount from the previous year. This flourishing environment, complemented by the success stories of unicorn startups such as Bitso, Clara, and Kavak, serves as a compelling magnet for ambitious tech entrepreneurs looking to outsource their operations to Mexico. 
Geographical proximity
Another reason why US companies outsource software development in Mexico is its location. Nestled in North America, Mexico offers proximity to many major U.S. cities. The flight from Los Angeles to Mexico City takes just around 3 hours, making it an accessible location for in-person meetings. Moreover, Mexico shares the same time zone (UTC-5) as California, fostering real-time communication and seamless collaboration for US-based tech companies.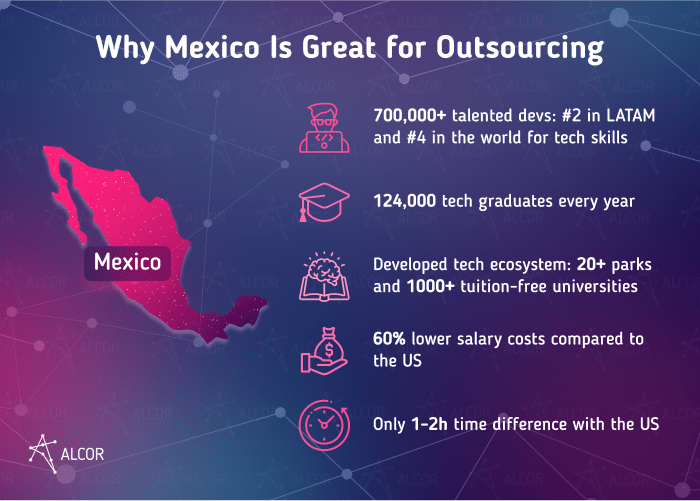 2 Myths about IT Outsourcing to Mexico
Underqualified developers
Some people believe that lower costs equate to lower qualifications and knowledge among Mexican software developers. This is one of the main misconceptions among tech companies that choose to outsource to this country.
The reality is that Mexico stands out as the leader in the American continent, boasting the highest number of STEM graduates, adding 124,000 to its pool every year. On top of that, Mexican IT talents are ranked 2nd in terms of technical expertise in Latin America. Interestingly, TechCrunch encourages US-based businesses to consider Mexican developers, highlighting the current abundance of highly trained tech professionals in the country. 
Mexico's outsourcing ban
Another popular myth regarding IT outsourcing in Mexico involves concerns over the legal landscape, particularly considering the 2021 amendment to the Federal Labor Law. This amendment reportedly bans outsourcing of core business functions, prompting worries about the feasibility of working with outsourced programmers in Mexico.
But let me debunk this myth. The amendment's primary objective is to combat tax evasion and does not outright prohibit outsourcing. Instead, it specifically targets subcontracting, which is a distinct practice. In summary, while the perceived ban on outsourcing presents a challenge, professional legal guidance can navigate these complexities, allowing you to still transparently engage skilled developers in Mexico.
5 Risks of IT Outsourcing to Mexico
Questionable dedication
When IT companies go offshore to Mexico with IT outsourcing providers, they often encounter challenges related to commitment and dedication. Software developers at outsourcing companies frequently shift between projects, emphasizing output over outcome. This approach can lead to varying levels of dedication, product quality, and alignment with your corporate values and goals. At the end of the day, your project becomes just one among many, which underscores the importance of going the extra mile to ensure its success.
Lack of control
When you outsource software development to Mexico, you might lose some control over the product development process. This can make it tough to assess on time how well the project is doing in terms of performance and quality.
Data security concerns
When engaging with an IT services provider to outsource, you inevitably share essential aspects of your product development. As the collaboration draws to a close, the software engineers involved often transition to fresh projects with other tech companies. This progression inherently heightens concerns related to data security, the potential for information leaks, and the safeguarding of your IP rights.
Cloudy pricing
While offshore outsourcing to Mexico might appear as a cost-efficient choice on the surface, it may not always be the optimal long-term solution. Beyond the apparent expenses tied to product development, some companies incorporate additional, often unnecessary, services into their billing structure without the customer's full awareness. Consequently, the final invoice can carry a significantly inflated price tag, exceeding initial expectations.
Complex taxation 
When developing their outsourcing strategy to Mexico, tech entrepreneurs often stumble over local tax regulations and legislation.
First of all, this country is well-known for its bureaucracy, which becomes particularly intricate when it comes to payroll management. Payroll in Mexico involves a myriad of calculations and encompasses various mandatory payments. These include PIT withholding, occupational risks, sickness and maternity benefits, disability and life insurance, retirement, severance at an advanced age and old age benefits, childcare and social benefits, and state payroll tax.
Thus, it implies being constantly up to date with new reforms, laws, and other regulatory changes to ensure your outsourcing operations in Mexico remain compliant and efficient. But let's have a general overview of local tax rates.
Mexican Taxation for IT Companies 
The corporate income tax (CIT) in Mexico stands at 30%, with an additional 10% withholding tax on dividends from profits already subjected to CIT, resulting in a rate of 37%. However, for businesses involved in research and development activities, there's the possibility of a substantial tax credit of up to 30%.
On the personal income tax front, American IT firms venturing into Mexico face a critical choice in employment models. They can opt for the traditional employment model, subjecting both employees and employers to taxes, or the B2B model with a 25% tax for programmers. These decisions intersect with Mexico's personal income tax structure, where rates range from 1.92% to 35%, and non-residents face taxation between 15% and 30%, with a $7,000 income exemption within a 12-month period.
While navigating these tax intricacies, US companies might also need to address labor code restrictions and explore tax treaties to mitigate double taxation risks. It's worth noting that Mexico offers relief through tax treaties with the USA and Canada, and various employment models are available, with tax implications for both employees and employers.
Mexico vs other LatAm Outsourcing Destinations 
When weighing the pros and cons of outsourcing to Mexico, tech entrepreneurs also explore other destinations in Latin America. Let's take a closer look at a few of these options:
Mexico vs Brazil
One of Mexico's outsourcing competitors in Latin America is Brazil. In 2022, its information technology sector boasted a market valuation of $45 billion. Brazil's IT outsourcing market, it turns, is projected to reach $9.82 billion by 2028. The country is home to over 500,000 software developers who excel in JavaScript, CSS, Python, Java, C#, PHP, and other programming languages and technologies.
Last year witnessed a bustling ecosystem of software development in Brazil, teeming with more than 8,000 companies actively engaged in the sector. In addition, the country hosts 13,000 startups, with the biggest number of unicorns in Latin America. 
Mexico vs Colombia 
Another common destination in the region is Colombia. In 2022, the local ICT market was valued at $ 18.83 billion, and it's on a trajectory to reach $35.02 billion by 2027. Colombia boasts more than 150,000 software engineers and over 13,000 STEM graduates join its pool every year. Developers in this country are especially well-versed in Java, C++, Python, SQL, and Ruby. 
Colombia is a burgeoning hub for startups, boasting a thriving ecosystem with more than 300 of these innovative companies. The heart of this entrepreneurial wave beats strongest in cities like Bogotá, where 190 startups call home, followed by Medellín with 56 and Cali with 44. The country proudly hosts several unicorns, including well-known names like Rappi, LifeMiles, and others.
Mexico vs Argentina
The IT market in Argentina is on a promising path, expected to achieve an 8.3% CAGR between 2022 and 2027, ultimately expanding the market by $6.6 million. Projections also indicate a steady rise in revenue within Argentina's IT services market from 2023 to 2028, with a cumulative increase of $4.5 billion in total. 
Argentina is home to major tech parks, including the Catalinas Norte Technology Park, one of the world's largest. In addition, Argentina has more than 500 startup companies and around 11 unicorns.
The country provides access to 100,000+ tech talents and is #1 in terms of English proficiency in LATAM. Argentinian devs also possess strong skills in Python, TensorFlow, Cloud APIs, SQL, R, and NLP. These facts make IT software outsourcing to Argentina a top choice among US companies.
IT Outstaffing to Mexico
One of the well-known alternatives to software development outsourcing is IT outstaffing to Mexico. This approach involves a temporary collaboration with remote programmers or development teams offered by an outstaffing service provider.
This model also allows you to adjust the team size according to your current business needs and overall workload. Yet, contrary to traditional outsourcing, tech companies maintain direct control over the development process and team management, bypassing the need for intermediaries.
Still, IT outstaffing often brings a touch of detachment to your project since these team members aren't your in-house employees. This separation can raise concerns about how it might affect product quality and data security. Consequently, potential investors may become apprehensive, questioning the future success of your product.
Apart from that, outstaffed developers grow within your project as specialists and gain more expertise. Yet, when your collaboration stops, you lose these talents. If you decide to bring them on board and keep them in-house, you'll have to pay buy-out fees.
Better than IT Outsourcing
To bypass all the risks and drawbacks of outstaffing and software development outsourcing in Mexico, tech companies opt for other ways to work with local IT talents: 
IT Recruitment 
Western software companies often choose IT recruitment services, partnering with experienced IT staffing agencies. These firms maintain sizable recruitment teams, ensuring the prompt and effective acquisition of talented software engineers. Some IT hiring agencies go a step further by providing EoR services, sparing companies from the need to establish a legal entity in their offshoring destination. This means that businesses can directly engage with their hired developers, while some of them also assist with essential payroll and legal matters in the local market. 
That was Dotmatics' solution after deciding to step back from traditional outsourcing. Alcor engaged a group of researchers and 4 experienced headhunters to help the company with full-cycle IT recruitment. Within a year, with our help, Dotmatics assembled a team of 30 seasoned software engineers in a new market. Alcor brought on board a Director of Engineering, along with a diverse team of professionals skilled in Full Stack development, React, QA Automation, DevOps, Node.js, and other tech talents. In addition, we provided the client with back-office support and handled developer payroll and laptop procurement while also ensuring full legal compliance.
R&D office
Another approach to doing nearshore software development in Mexico is to establish your own research and development center. As a rule, with R&D service providers, you access a one-stop solution that encompasses various essential components, including IT recruitment, EoR services, legal compliance, office leasing, and additional services such as procurement management and employer branding.
That's what Alcor did for People.ai, a US-based company that decided to expand to a foreign market.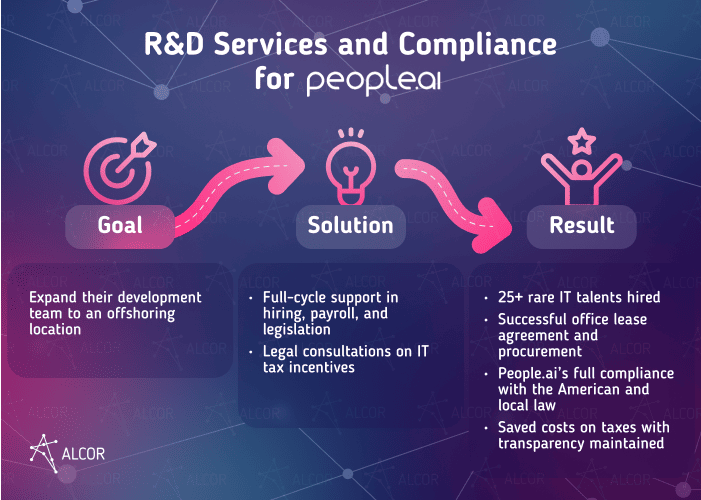 Hire Mexican Developers as Simple as Is 
Planning to go global and expand to new markets such as Mexico, Colombia, Argentina, or any other Latin American and Eastern European country? Let Alcor have your back!
Alcor is an experienced IT recruitment and R&D services provider with an exclusive focus on hiring Senior/Lead software developers, as well as programmers with rare tech skills. Our solution differs from traditional IT outsourcing and outstaffing models, ensuring that you have your own dedicated team of IT talents while retaining full control over core operations. Additionally, we offer comprehensive back-office support and transparent pricing, allowing you to choose the services that best suit your business needs. 
Our IT recruitment department comprises 40 experienced headhunters with extensive networks and up-to-date knowledge of the latest hiring trends and techniques. We guarantee to hire the first 20 software engineers within 3 months and over 100 programmers in a year. If we don't meet these deadlines, we'll hire the remaining resources at no additional cost. 
Ready to explore new prospects for your IT business with a reliable partner who is committed to your success? Just drop us a line!