A prominent feature of the tech industry is its ever-shifting environment. Therefore, keeping budgets along with this constant expansion and provision of new IT services may be troublesome objectives without strategic planning. In fact, a sustainable and effective outsourcing strategy is the key to meeting your business goals. With a consistent approach, you will be able to minimize the risks and downsides of controversial outsourcing practices. Here we are going to discuss who needs to develop an IT outsourcing strategy and how to do it in order to enjoy its advantages.
Potential Challenges of IT Outsourcing
Outsourcing in the IT industry might be a challenge for several reasons. First of all, working on a product requires focus, time, and unique technologies because it is the core of your business. In the case of outsourcing software development, unplanned expenses may arise due to numerous adjustments and fixes. Considering that no one except you knows how the final version ought to look, edits are inevitable.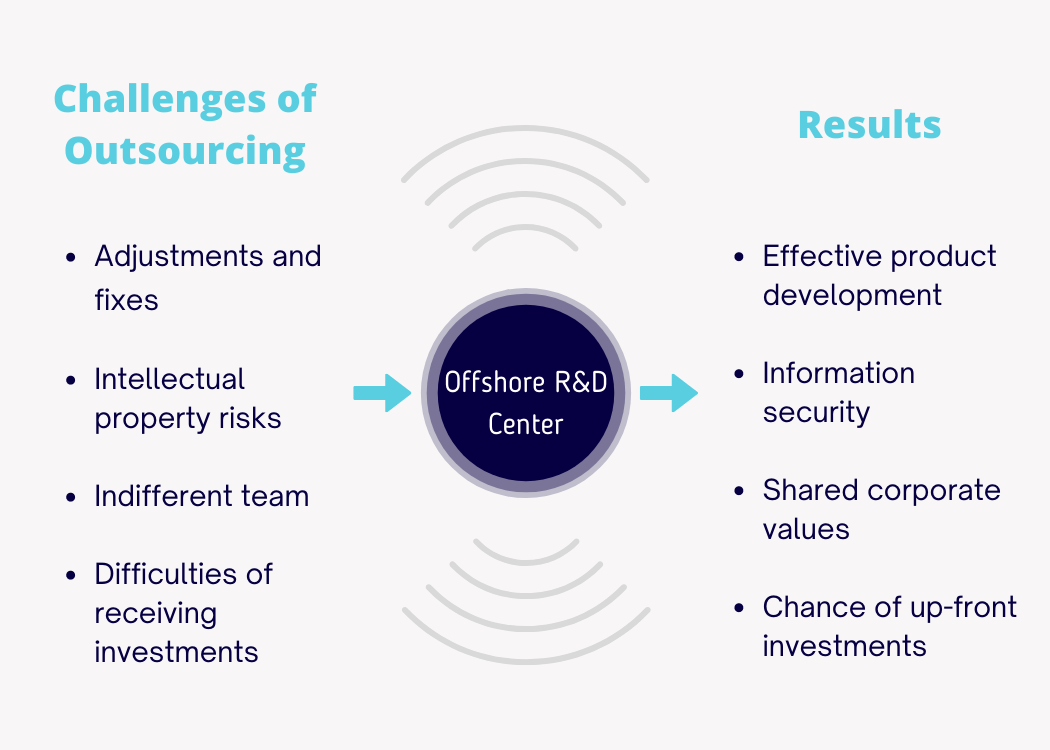 Secondly, there is always a risk of violation of intellectual property rights due to revealing core information about the product and corporate insights. Undeniably, it's better to assign confidential tasks to entrusted IT experts. What's more, external employees don't have the essential background and understanding of your business's history and values. Consequently, while outsourcing the main business operations, you might obtain poorer results because of a less committed team of developers.
Finally, IT outsourcing may also prevent potential investors from putting money into your idea. It's not uncommon for them to perceive outsourcing activities as a scarcity of knowledge and proficiency. In many cases, a skilled team of software engineers plays a key role in the final decision. The truth is that great ideas mean nothing, as long as there are no developers to implement them into practice. 
These points prove that it's much better to delegate secondary business processes – such as accounting, human resources, and facility management – to the contractors. You can make it less risky by developing an IT outsourcing strategy on your own to evaluate and minimize the possible risks. Alternatively, you can alter the initial plans and start your own offshore software development. Read this article to find out the difference between outsourcing and offshoring.
If transferring part of your business to third parties does not sound appealing to you, consider opening your offshore development center. That's exactly what BigCommerce did after long-term cooperation with outsourcing companies. They were tired of the constant competition for  IT experts in the outsourcing industry. With our help, BigCommerce managed to assemble its professional team at a rapid pace. The company engaged nearly 30 specialists in six months and over 50 engineers more within one year, which was a great boost for their business.
What is more, we took care of the compliance process with the best national and international practices to ensure full legitimacy and transparency. Consequently, with Alcor's legal assistance BigCommerce was successfully transformed into a public company and got access to the IPO market.
What is an Outsourcing Strategy?
An IT outsourcing strategy is a long-term plan that describes which IT functions are better to keep in-house and which tasks should be delegated to an IT outsourcing service provider to cut costs, save time and resources.
There are a large number of outsourcing strategies among traditional and innovative ones. For instance, a long-tail strategy for IT outsourcing combines primary long-term partnerships and contracts with a few smaller suppliers, who cover the operations beyond the capabilities of main providers. However, all strategies have the same aim: to provide a detailed method of transferring activities at the lowest possible cost – to get the best revenue figures. Just choose the most appealing and appropriate plan and you are good to go.
Usually, many departments are involved in writing an outsourcing strategy, including legal, finance, and HR. Their joint efforts help to define operations that are beyond the capabilities of the in-house team. When those are specified, the company starts looking for providers that have essential qualifications and instruments to deal with the delegated tasks.
What are the Benefits of an Outsourcing Strategy?
There are plenty of strategic advantages of an IT outsourcing plan. To begin with, having an outsourcing plan prevents you from making unreasonable business moves. In essence, it implies no wasted money with time-saving and cost-effective solutions. It ensures systematic steps on the way to achieving specific goals. In addition, you can track results, see your progress, and identify trends in getting the work done. An outsourcing strategy enables you to evaluate the risks and make an informed decision as regards the vendor's selection.
Apart from that, by examining all the available data, it's possible to define your market position and develop a plan for the future. Accordingly, strategic outsourcing and IT service management have the potential to relieve your pains, maintain high-quality standards, and boost competitiveness. 
5 Tips on How to Develop IT Outsourcing Strategy
Once you have decided to delegate your business tasks to external contractors, make sure that you have built an effective outsourcing strategy. Here is the list of outsourcing best practices to include in your plan.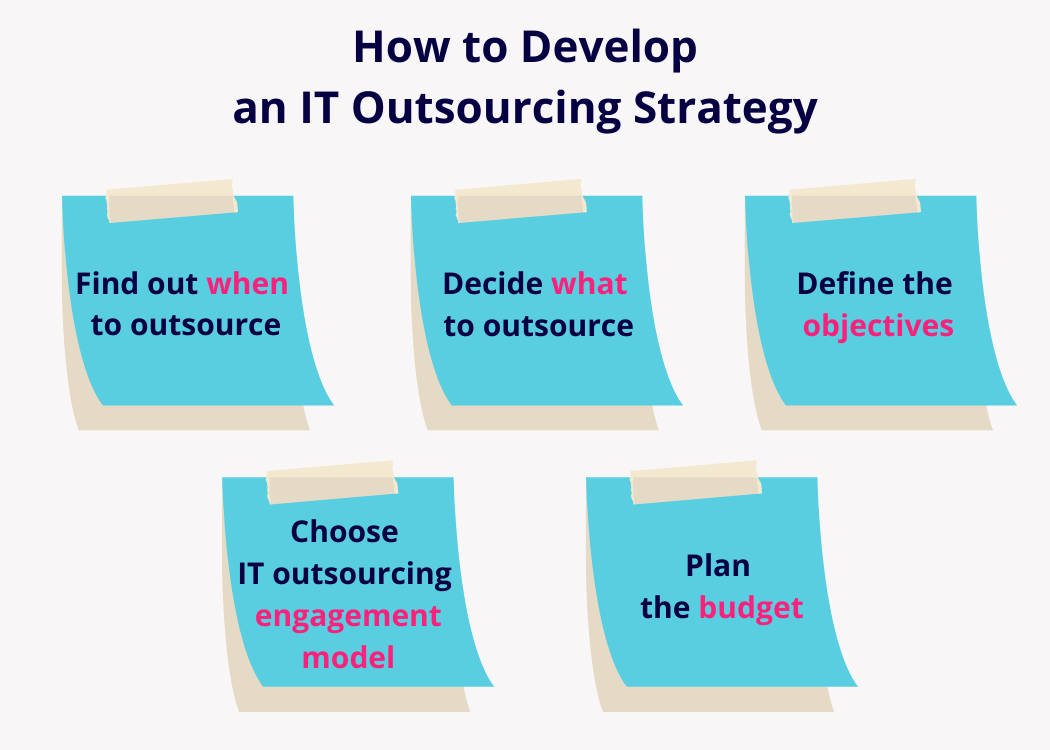 1. Find Out When to Outsource 
Choosing the right time to outsource is an important business move. Sometimes IT companies try to cover all the time-consuming operational processes on their own. Consequently, too much attention is paid to collateral tasks. You should notice the first signs of the necessity of external help when your administrative activities get out of control. Another hint is an increase in the client's requests, as well as the number of projects you cannot cope with; then it's better to admit that you need a hand and outsource your non-core business functions.
2. Decide What to Outsource
In case you experience a lack of time, try to make a list of your daily tasks and ask your colleagues to do the same. Go through them and see which of the duties are the most time-consuming. For example, if you spend too much time reviewing lease agreements, then consider outsourcing real estate services. The second type of functions worth outsourcing is specialized ones you can't do by yourself, such as accounting and IT legal & compliance services. As soon as you get rid of these collateral tasks, you'll get the chance to focus more on your product – which is the core.
3. Define your Objectives
Your company may also need IT outsourcing in case of establishing new services to attract more clients or expanding the existing ones for your loyal customers. Obviously, these business aims imply different KPIs. Therefore, as soon as you come up with the actual reasons why to outsource IT services, it's crucial to identify measurable and quantifiable goals. No doubt, the company that outlines precise targets has a greater opportunity to develop a cost-effective and useful outsourcing strategy.
4. Choose an IT Outsourcing Engagement Model
You should choose an IT outsourcing engagement model according to your business requirements. There are three most popular outsourcing plans. The most common one is called staff augmentation. It means having external employees who take care of specific tasks while following all your directives. The second one is a project-based model when outsourcing companies have full control over a specific project from start to finish. The last one is a dedicated team model, which implies engaging outside personnel to extend in-house team capacity. You don't have to worry about delegated processes because they are fully managed by your external co-workers.
There is one more alternative business model – your own offshore software development center – that merges full control over your corporate policies, an opportunity for scaling, as well as quick and quality IT staffing services. There are no third parties when it comes to employment, so as a result you receive a dedicated staff with the necessary skills. 
5. Plan your Budget
Another tip is to calculate the financial costs of desired goals carefully. In fact, haphazard outsourcing may result in even higher costs than in-house services. Thus, to reduce the risks of frittering away the budget, it's highly advisable to be prepared for both estimated and unexpected expenses. Sometimes service providers introduce "hidden costs" which may include the management of outsourced production, unplanned logistics, new requirements on IT infrastructure, and so on. A reputable mediator can help a company to uncover the hidden costs and find a balance between affordability and excellent results. The best way out is to switch your engagement model to a comprehensive business solution with a crystal clear pricing method.
IT Outsourcing Strategy Example
People.ai is a product company based in San Francisco that managed to develop a successful strategy for outsourcing IT services. Let's have a look at the key points of this prominent case study!
Choosing an appropriate time
People.ai owns a platform for B2B sales acceleration and uses patented AI tools to enable enterprises to run businesses more efficiently. In 2019 the company raised $7M of investments and realized that it's high time to plan business expansion.
Setting clear goals
The company aimed to attract rare engineering talents abroad without frittering away the budget. They chose Ukraine as a winning offshoring location due to its large talent pool and competitive wages.
Planning the expenses
We offered the client a transparent pricing model, according to which you pay only for what you use. There were no large upfront investments or hidden fees. So, right from the start of our cooperation, People.ai knew what to expect in terms of costs.
Delegating mundane operations & deciding on a business model
People.ai made a decision to outsource the most time-consuming tasks not related to product development. At first, they made a mistake by cooperating with loads of vendors simultaneously that led to confusion. Soon after that, they delegated all back-office operations to a single reliable provider: Alcor. In just 1 month, our experienced recruiters hired over 25 Ukrainian software developers. Alcor's accountants handled the payroll, while legal and finance departments offered the best business structure to run a company in Ukraine. Our IT and real estate managers chose the most convenient office location in accordance with the client's requirements and established IT & security infrastructures. All these services comprised a fully backed-up R&D center.
Final Thoughts
All in all, the development of an effective IT outsourcing strategy helps you to overcome all possible challenges and get some successful experience while transferring your internal operations. When you select a specific strategy, outsourcing is performed in a more gradual and organized manner. For sure, it's quite useful to have a detailed outsourcing plan you can turn to in case of an emergency.
Nevertheless, software development outsourcing can be problematic for various reasons. Therefore, Alcor advises you to opt for IT BPO services in Ukraine and delegate only secondary business tasks – which we will be happy to take care of.