Once a company has opted for offshoring, it's crucial to compare several possible business models and choose the one that best fits the business. Although this task may sound quite simple, it creates a lot of confusion in practice. That's why I decided to compare two popular cooperative practices for Informational Technology companies and clarify the main differences between the dedicated IT team model and an R&D center.
What are the most common misconceptions? Do you want to learn which option is more beneficial? Keep reading because this is the article you were looking for.
What's a Dedicated Development Team
A dedicated development team is a cooperative model, according to which the provider presents the client with IT experts who are working on the vendor's office premises. Accordingly, the customer hires an already-formed group of committed engineers who can build, test, and release software. There could be a crew of designers, QA managers, DevOps engineers, or a dedicated web development team, etc. The team may vary in size from two to dozens of specialists, while the scope of the dedicated team services is also customized to a particular project.
Companies are often looking to hire dedicated teams in beneficial locations for IT outsourcing, outstaffing, and offshoring. For instance, Asian, South American, and European countries like Ukraine always make it to the top go-to regions for delegating IT services. Cooperation with a dedicated development team in Eastern Europe brings about lots of benefits – from accelerated software engineering to cost savings.
Advantages and Disadvantages of the Dedicated Development Team Model
In order to get a holistic view of outstaffing services, it's crucial to weigh the pros and cons of the business model. In case you feel overwhelmed by doubts, I listed the advantages and disadvantages of this form of partnership for you.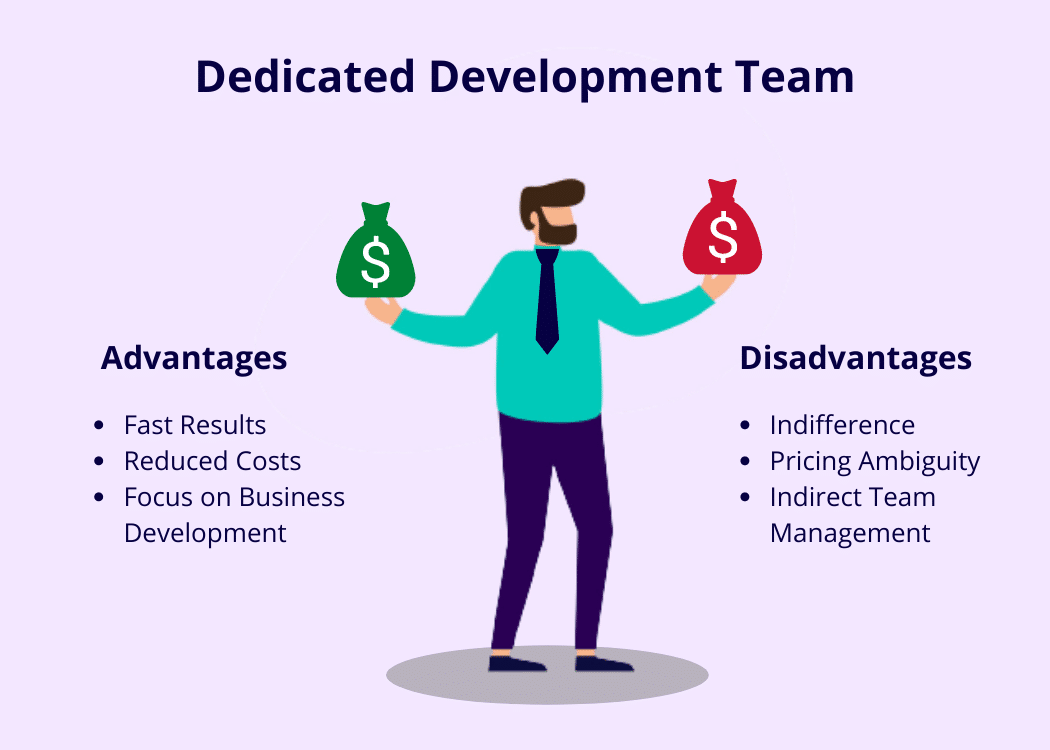 Fast Results vs. Indifference
One of the most common reasons to use the outstaffing model is fast results. It's possible to estimate how many specialists you need for a specific project and decide whether you want to hire more for the purpose of its faster completion. Accordingly, you can scale up and down the external staff based on your convenience. Sounds good? Partly, yes.
However, many clients tend to treat their temporary employees only as a workforce rather than colleagues. Thus, it's no surprise that dedicated programmers would likely be more committed to their income than to the client's product. Unless they get hired for big projects, they are not interested in the client company's growth and product excellence. Such indifference can have a negative outcome on the provided IT services.
Reduced Costs vs. Pricing Ambiguity
Another point why businesses hire a dedicated development team in Eastern Europe is cost reduction. Naturally, coders in an offshore dedicated team come from entirely different labor markets with smaller pay scales. Hiring lower-paid human resources may seem a solution for enterprises that seek to minimize expenses.
On the other hand, it could be challenging to foresee the specific price you'll pay in total by the end of the development process. Similar to traditional outsourcing, unexpected costs usually arise due to dozens of adjustments and fixes. In fact, only the client knows how the final product ought to look, so an extension of the editing process is almost inevitable. Thus, it's difficult to estimate both project duration and total expenditures.
Focus on Business Development vs. Indirect Team Management
Among the advantages of cooperation with a dedicated software development team in Ukraine and other business process outsourcing services is the ability to keep the focus on most essential tasks. Using BPO services, you and your key employees can free up some time to engage in activities that require much attention and personal participation.
When it comes to the drawbacks if you decide to outsource a dedicated team, the problem of indirect management appears. To begin with, without an effective means of communication with foreign colleagues, a remote working style might be a challenge. Particularly in the case of the dedicated development team, all operations are managed through an intermediary. Quite often it requires hours of negotiations and tons of paperwork to create a temporary partnership.
Financial Pitfalls of the Dedicated Team Model
As regards the challenges of dedicated development team outsourcing, there are several important points to take into account. As I have said before, dedicated coders are often engaged in the project for cost-reduction purposes. However, if we stop for a moment and think about it from a different perspective, we will discover new financial concerns.
– Buy-out Fee
First of all, from day to day you invest time and resources into external app or web development specialists. By assigning tasks to the dedicated team members, you also enable their constant learning and evolving. Consequently, they grow with your enterprise, earning valuable experience and coding skills. However, when the project is over you either lose the human capital that you have previously invested in, or pay a buy-out fee to keep working with brilliant IT experts. It's not the best possible scenario, is it?
Alternatively, you can let Alcor's recruiters assemble your professional team with zero buy-out fees. People.ai, for example, decided to extend their engineering team in Ukraine, so we hunted down over 25 rare IT talents for them. From the beginning, the client was the only employer of these software developers, so no buy-outs to think about. In 2021, our client managed to raise $100 million in investments and now People.ai is valued at $1,1 billion. Great results!
– Difficulties of Receiving Investments
It is clear that in the case of start-ups and small-size businesses, even minor investments can play a crucial role in further development. To be honest, the first thing investors pay attention to before putting their money into someone's idea is the presence of a skilled team of engineers. An outsourced labor force usually scares them off, because great ideas mean nothing without trustworthy specialists who can bring them to reality.
– Loss of Revenue-generating Expertise 
Quite often companies use the narrow expertise of a remote dedicated development team in Ukraine or other Eastern European countries to fill knowledge gaps (in terms of product creation). Considering the fact that a product is your main asset and the possibility to generate more revenue, the delegation of its development is a slippery slope for both startups and big enterprises. Thus, it is better to assign this task to your in-house team.
Dedicated Team Model vs. Fixed Price Model 
Apart from the dedicated team solution, there's also a fixed price model that presupposes cooperating with a vendor under a fixed budget and precise deadlines. If you're considering this option, you must prepare a clear structure of the task, as well as every single project detail in advance, so that your provider would stick to them. The main benefits of a fixed price model are that you don't have to monitor the performance of your vendor's team and have certain control in terms of timeframes and finances.
However, such a delegated responsibility might also become an issue later in the project if you realize that you need to alter the initial project plan. The whole point of pre-determined milestones and costs is that you pay a specified amount of money once and obtain exactly what you requested from the vendor, meaning no changes are allowed unless you pay extra.
Dedicated Team Model vs. Time & Material Model
Time & Material, or the T&M model, seems to be the opposite solution to a fixed price model as it offers flexibility in decision-making and adjustments in terms of project execution. Basically, you cooperate with a vendor that has a team of coders and pay this firm a certain rate per hour, day, or week. What is more, you are not required to plan the whole project beforehand and are welcome to manage the development process from A to Z.
On the other hand, you lose the ability to control your finances and deadlines, in contrast to a fixed price solution. Thus, it might lead to excessive expenditures from your side and delayed task completion that you didn't expect from your provider's side. The planning process may also be compromised if you or your team have insufficient development project management expertise.
Is There a Better Alternative?
Consider Starting Your Own R&D Center
An R&D center is a new trend for those who decided to step back from the conventional forms of outsourcing. Basically, it's a representative unit of the company in a foreign country with lower labor costs. Lately, I wrote detailed instructions on how to set up a successful R&D hub. The efforts are definitely worth it because this model merges costs reduction, an opportunity for scaling, quality IT services, and many other perks I advise you to consider.
Full Control
The first distinction between an R&D office and the dedicated team model is the ability to control all the expenses and inner team processes without any intermediaries. That means a business owner can establish the rules and enjoy full transparency.
Long-Term Basis
While dedicated software developers are the external human resources for specific projects, the R&D team consists of regular employees working on a full-time basis. It ensures high engagement in the development of the product, as these specialists see the direct results of their work, grow with your company, and root for mutual success. Moreover, various bonus systems and training can motivate your team to work even better.
Employer Branding
Another advantage of opening an R&D hub is your own branded office and corporate culture. Considering that there are no third parties when it comes to employment, you can select people with the right mindset to be part of your team, share common values, follow universal corporate policies, and pursue the same goals. All these points can boost your employer branding and make offshore recruitment far less challenging.
In addition to the stated benefits of an R&D center, with Alcor you will get:
Fast Recruitment
We can ensure the fast fulfillment of positions, not just because Ukraine has such a vast talent pool but due to our large database of contacts. The recruitment team will present you only with the best Ukrainian dedicated developers with a proven track record. Moreover, you will stay updated during the entire hiring process with the help of our weekly reports about processed CVs and conducted job interviews. You are welcome to take part in candidate selection and you make the ultimate decision at the final stage. To make the recruitment process even less stressful, we also prepare a list of guarantees for you:

Legal Compliance and Protected IP Rights
At Alcor, you can get the full set of legal services needed for the successful operation of an R&D center in Ukraine. Our team can help you with tax planning because we know how to make use of government tax incentive programs. According to it, Ukrainian developers pay only 5% of their monthly income when properly registered as independent contractors. Apart from that, by cooperating with us your company will keep its competitive edge due to secured intellectual property rights. Alcor will not have access to your product development, corporate insights, and confidential information. All in all, we can ensure both a legal and profitable business in Ukraine for you – as we did for Grammarly, BigCommerce, thredUP, and other companies.
Transparent Pricing 
All our business process outsourcing services are accompanied by the fundamental principle of transparency. We will keep all the detailed records, so you are free to control the ongoing processes. At Alcor, we also do not charge any up-front investments, buy-outs, or other hidden fees. You pay only for what you use, that's it.
In a nutshell, if you are considering Ukraine as an offshoring destination, Alcor will be happy to take care of your operational tasks. Of course, there are loads of things to know before transferring part of your business here, so we will be happy to assist you with any queries.
Dedicated Development Team vs. Your Own R&D Center
To sum up the main differences between cooperating with dedicated software engineers vs. your R&D developers, as well as analyze all the benefits and risks of these solutions, here's a comparison table for you: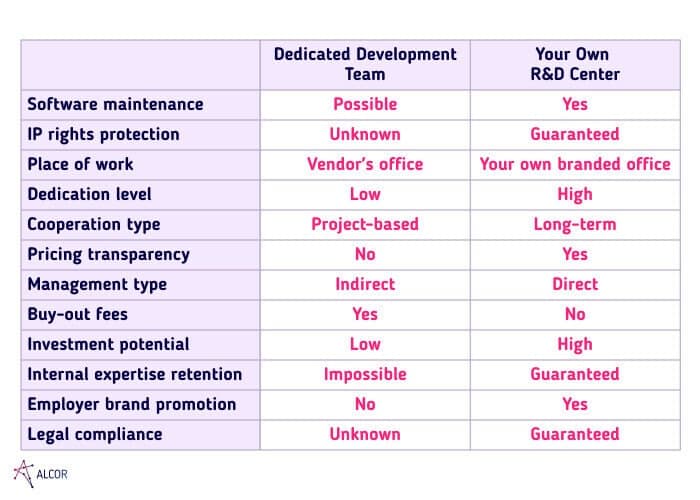 Final Thoughts
To sum up, a dedicated development team services model has significant limitations worth taking into account. Among other BPO services, there is a better alternative – your own R&D center. This model can address the weaknesses of remote dedicated teams of developers – and double the advantages of co-located teams.
Alcor is an all-in-one place to build your own fully equipped R&D offices in Ukraine. We provide recruitment, legal compliance, real-estate, accounting services, and make them work in synergy.