When tech companies are looking for experienced engineers for a new project, they often opt for working with a professional development partner. Such a company can supply the right programmers and guarantee the high quality of their work. But how do you know that your development agency is capable of doing this?
After years of developing tech businesses, I've learned a lot about building fruitful cooperation between IT companies and staffing providers. I've come up with the main problems you might have with your potential software development partner, ways to solve them, and the main 7 partnership questions that you need to ask your vendor before starting collaboration.
Main Issues Companies Have While Choosing the Right Software Development Partner
A partner for software development is a company that can staff you with the necessary talents to meet your programming goals. You may provide your company with IT skills through outsourcing, outstaffing, and offshoring.
Outsourcing is a business expanding practice that lets you assign development tasks to a software outsourcing partner.
Outstaffing, on the other hand, means working with engineers provided by an outside company to reach certain development goals.
Besides this, some people might mistake outsourcing for offshoring, while the latter presupposes relocating part of your business tasks to a foreign country with a big talent pool and lower labor costs.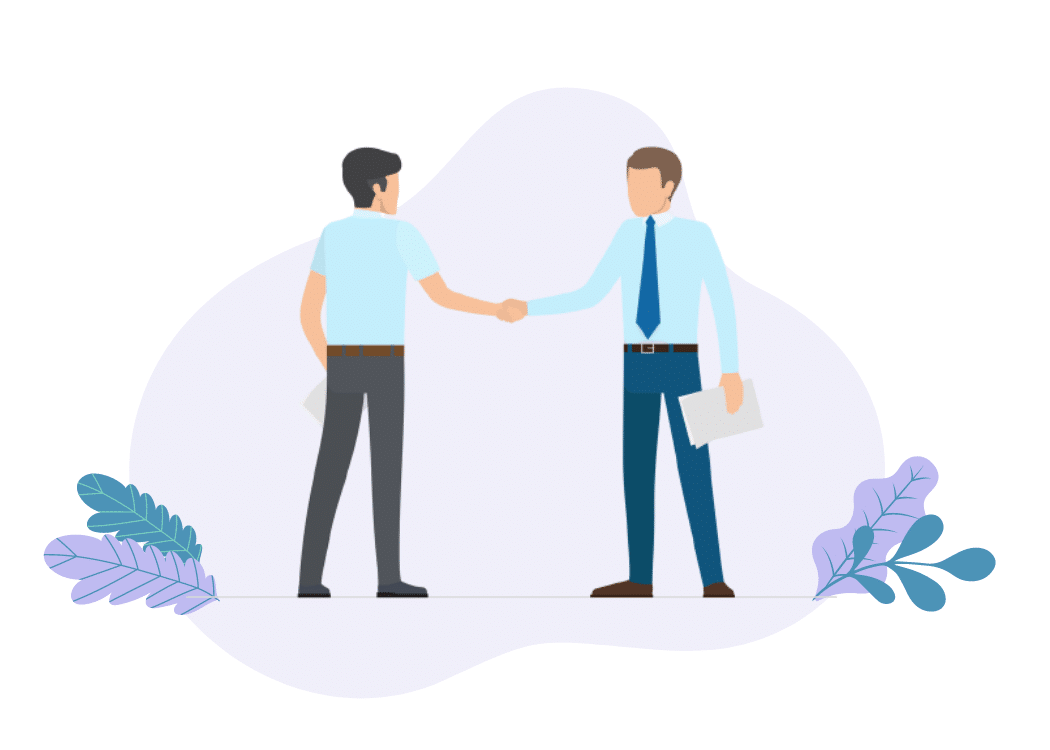 Unfortunately, looking for experienced software vendors is a challenge since there are not many qualified partners in development. Luckily, it's easy to rule out unfitting providers if you pay attention to these factors:
No development experience in your field
Everyone wants their software developers to be experts in a programming language or technology needed for the task. But sometimes your software development partner might fake customer reviews or hide a lack of working experience behind non-disclosure agreements. While NDAs seem a reasonable way to believe the provider, case studies are more difficult to forge and way easier to check.
Cloudy pricing
A software partnership is doomed if a provider cannot tell you the price and what it's composed of after the first call. As your cooperation will proceed, you're likely to face unexpected hidden costs such as payments for services you didn't use. Employee buy-out fees will be an even bigger surprise when you resort to hiring your temporary developers full-time.
A lack of loyalty
It's often puzzling to figure out whom your developers recognize as their main employer in software partnerships with outstaffers. As a rule, people assigned for your project treat you as a temporary client, so their commitment won't be long-lasting.
Besides that, such business staffing options as outsourcing discourage your future investors because you delegate the development of the core product to a partner in software development (which may entail various risks in the future).
Unclear IP rights ownership
A software development partnership with either outstaffing or outsourcing engineering firms puts your company at risk of losing intellectual property. A provider initially owns the source code, so you won't be able to change it unless your vendor transfers the source code ownership to you.
Speaking about a partnership for software development with outstaffers, they'll give you only a part of their team, while other engineers will work on projects for other clients. All of them work in the same office space and can accidentally leak your confidential data to each other.
Communication via vendor
Except for offshoring agencies, hardly any software development firm as a partner lets its clients directly speak with programmers. Thus, your only communication channel will be your provider which can translate into poor-quality results (if not all your requirements are shared with engineers).
What to Do to Build the Best Software Development Partnership?
An unreliable software development partner can fake their experience, charge over-the-top costs, and even expose your confidential data to risks. Avoid such vendors by considering the aspects that I have listed below:
Choose providers with a proven track record
It's a good sign if you find a partner for development with testimonials and case studies published on their site. Check out the vendor's ratings and reviews on platforms such as Clutch or GoodFirms. You're free to Google the information on independent portals to dig up not only positive but negative feedback and make a rational decision.
Demand transparent pricing
A reliable software development partnership starts from discussing the scope of work, terms, and the end price for your project. The best option is when you don't need to make large up-front investments and pay only for services that you use. Obtain control over your expenses by requesting the provider to prepare detailed monthly invoices. Therefore, you should search for vendors that provide such documentation, because they will not charge you extra for no viable reason.
Take the core business in your hands
To achieve the results you'll be satisfied with, it's better not to delegate development to third-party vendors. What you should do is manage the core processes that directly affect decision-making in your business yourself. You can appoint your provider with operational management to get rid of tedious administrative tasks.
Embrace your intellectual property from the beginning
Believe it or not, the right development vendor will never question your ownership of IP. For example, offshore development providers can staff you with a permanent team that gets employed by you, or step it up with a development hub, so that no intellectual property risks will arise.
First hire a local manager
If you participate in the recruitment process and obtain the right to either approve or disapprove candidates, you're likely to succeed in the long run. Beyond that, it would be beneficial for you to hire a local team leader or a project manager who will be accountable for the development progress.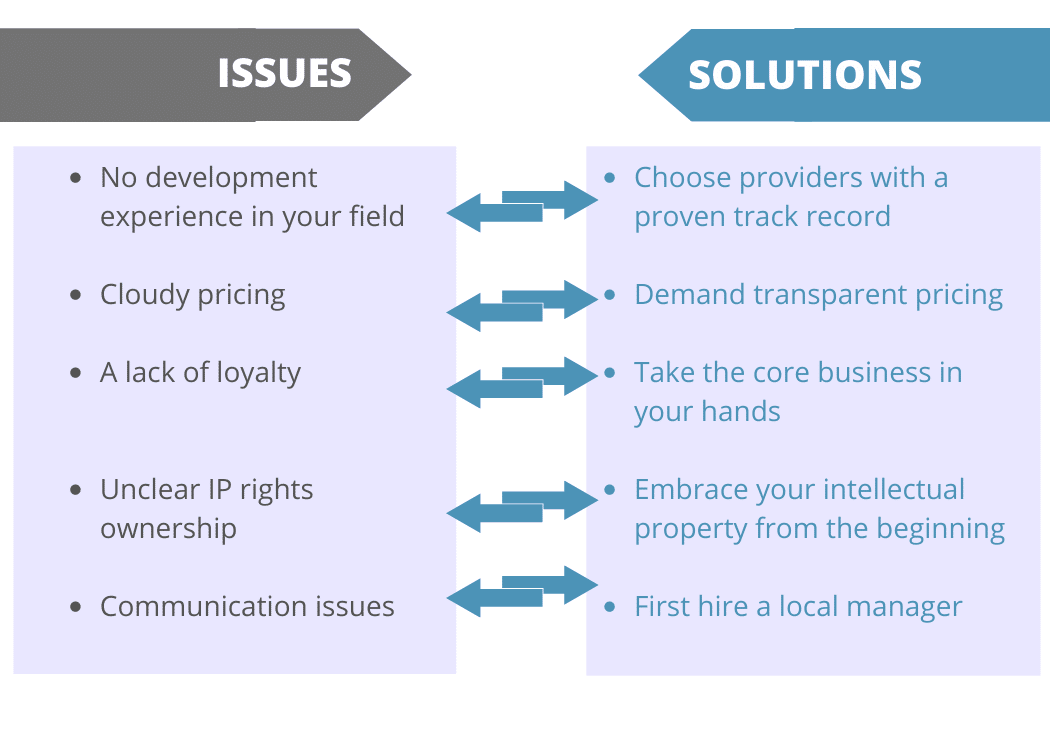 To develop a fruitful corporate partnership for software development, you should work with skillful business process outsourcing services vendors. They will not only provide you with the solutions that I have mentioned above but also offer a better alternative to outsourcing – your R&D center!
For instance, our company offers a full cycle of operational functions: from hiring talents to promoting your employer brand in Eastern Europe, managing your payroll & accounting as well as legal support. This enables you to forget about non-essential tasks and stay focused on your product. At least that's what enterprises such as Samsung, Luxoft, BigCommerce, Huawei, and many others did with us in Eastern Europe!
7 Questions You Should Ask Your Potential Development Partner
Both web and app development partnerships bring your company lots of profit and prompt your business growth. But how to choose the right software development partner? You just need to find answers to the following software vendor interview questions:
1) Do they have software development experience in your sphere?
Before you make any decision regarding a partnership in software development, check out if your vendor will build your site or app on their own, or hire IT specialists to do this. As I've already mentioned, it's safer to supervise development yourself and appoint your provider with administrative tasks.
2) Do they provide back-office functions or will you have to manage them yourself?
This is one of the crucial questions to ask a software development company since you have to know about the obligations of both parties. As a rule, such companies provide few back-office functions, so you will have to find other service providers to cover the offshoring needs (e.g. a legal counsel, recruiting agencies, etc.) It's impossible to have quality software development and full operational support in one place, so take care of the product development yourself and cooperate with a BPO services company to support your offshore team from an operational standpoint.
3) Is your vendor qualified enough to find the necessary IT skills for your project?
Recruitment is the most important step in business development because the right IT specialists are the key to building a successful product. That's why you should work with a provider that has years of recruitment experience and hire tech professionals that completely meet your company requirements.
4) Is it easy to scale your team if you collaborate with them?
A professional offshoring partner provides its clients with guarantees such as 20+ software developers in 3 months. Otherwise, they will recruit the rest free of charge. On top of that, they should give you a 3-month warranty, so that you can replace a candidate if he/she doesn't meet your expectations.
5) Do they offer a compliant cooperation model?
A software development vendor rarely ensures that your business is lawful – both in the offshoring location and your home country. This is explained by their business model that says you just receive services and don't own anything. If you wish to keep the development team, the R&D model is a solution. It is fully compliant and, what is more, has been approved by foreign technology enterprises that successfully grew from a seed startup to a public company (BigCommerce, ThredUP).
6) Will you own the source code?
Your intellectual property and the source code must legally belong to you from the beginning of your partnership for software development. Sign a non-disclosure agreement and get developers under your management to make it a reality.
7) Will you be able to control your cash flow?
The perfect scenario is when your development provider both delivers professional accounting services and prepares detailed monthly invoices to let you see how much you pay for each service. Thus, you make as many investments as you can afford at the moment.
Looking for a Software Partnership? We Can Build an R&d Center for Your Needs 
The BPO services company Alcor offers a full cycle of operational functions for tech companies – from hiring talents to promoting your employer brand in Eastern Europe. This way we enable our clients to forget about non-essential tasks – to stay focused on developing and enhancing their products.  
If you want to create your R&D hub in Eastern Europe, our team can find you an office space, negotiate the lease agreement with the landlord, and supply procurements. Or if you feel that you don't need a physical office, we can set up home offices and infrastructure for your Eastern European programmers. Some of our clients even received assistance while transferring equipment and supplies from their offices to the homes of their developers at the beginning of the pandemic. 
At the same time, our IT researchers and recruiters will help you hire Eastern European developers who even have the rarest technology stack and a high level of English in just a few steps: 
– Take your staffing requirements into account on our first call; 
– Access our database of over 200,000 tech professionals to find the best engineers for you; 
– Receive relevant developer salary reports (the indie game developer salary and compensation of other tech specialists);
– Prepare prescreening interview questions for developers upon your request; 
– Conduct an HR interview;  
– Organize an online coding session or a tech interview upon your request; 
– Make offers for the best candidates. 

After developers accept your offers, we can help you manage their payroll and take care of accounting, so you don't have to worry about it. Namely, our team with ACCA/DipIFR certification can handle salary processing, tax planning, tax returns preparation/submission, tax records maintenance, financial statements preparation/allocation, detailed invoice production, summary reports preparation, and other functions. 
If you decide to cooperate with Eastern European recruitment services partners like Alcor, you will receive legal & compliance support. Our lawyers will prepare service agreements and non-disclosure agreements, protect your intellectual property rights and confidential data, pay taxes for your developers, assist in M&A deals, and even obtain work permits for your foreign employees.  
This is what we did for Grammarly, a leading English writing assistance provider that helps over 30 million people in the world, when they needed to legalize and receive residence permits for some of their foreign employees in Eastern Europe, Alcor made it happen and even more. 
Enterprises such as Samsung, Luxoft, BigCommerce, Huawei, and many others became successful with our help in Eastern Europe! For example, we managed to set up an R&D center for People.ai, an AI platform provider for sales in B2B businesses. It took us one month to establish their dream office abroad and staff it with over 25 talented software engineers. This year, the company raised $100 million in investments and is now valued at $1.1 billion. 
Final Thoughts
A partner in development can be found among outsourcing, outstaffing, or offshoring agencies. However, you'll struggle to build long-term collaboration with outsourcers and outstaffers because most of them have scarce development experience in your sphere, offer weird pricing, lack commitment to your product, question your IP rights ownership, and poorly communicate with you.
To avoid dishonest development partners, ask the 7 most essential software development questions to your vendor. Luckily, our team knows the answers to all of them. That is why you may spend most of your time improving your product with complete operational backup from our side!