Creating a technology business requires considerable outflow, and its expansion will cost even more. After figuring out how to allocate equity in a startup, your company will face the problem of team extension, and then you will benefit from outsourcing. Nonetheless, when it comes to this, you may feel stressed out. This path is not so easy, in fact very thorny. Sure, you can decide that the game is not worth the candle, but this is not entirely true. From this article, you will understand what it's like to choose the best location (and what you should know before launching this process).
Let's start with an understanding of the concept "outsourcing", which in essence means not wasting your time on things where you are not the professional, instead just searching for that "labor".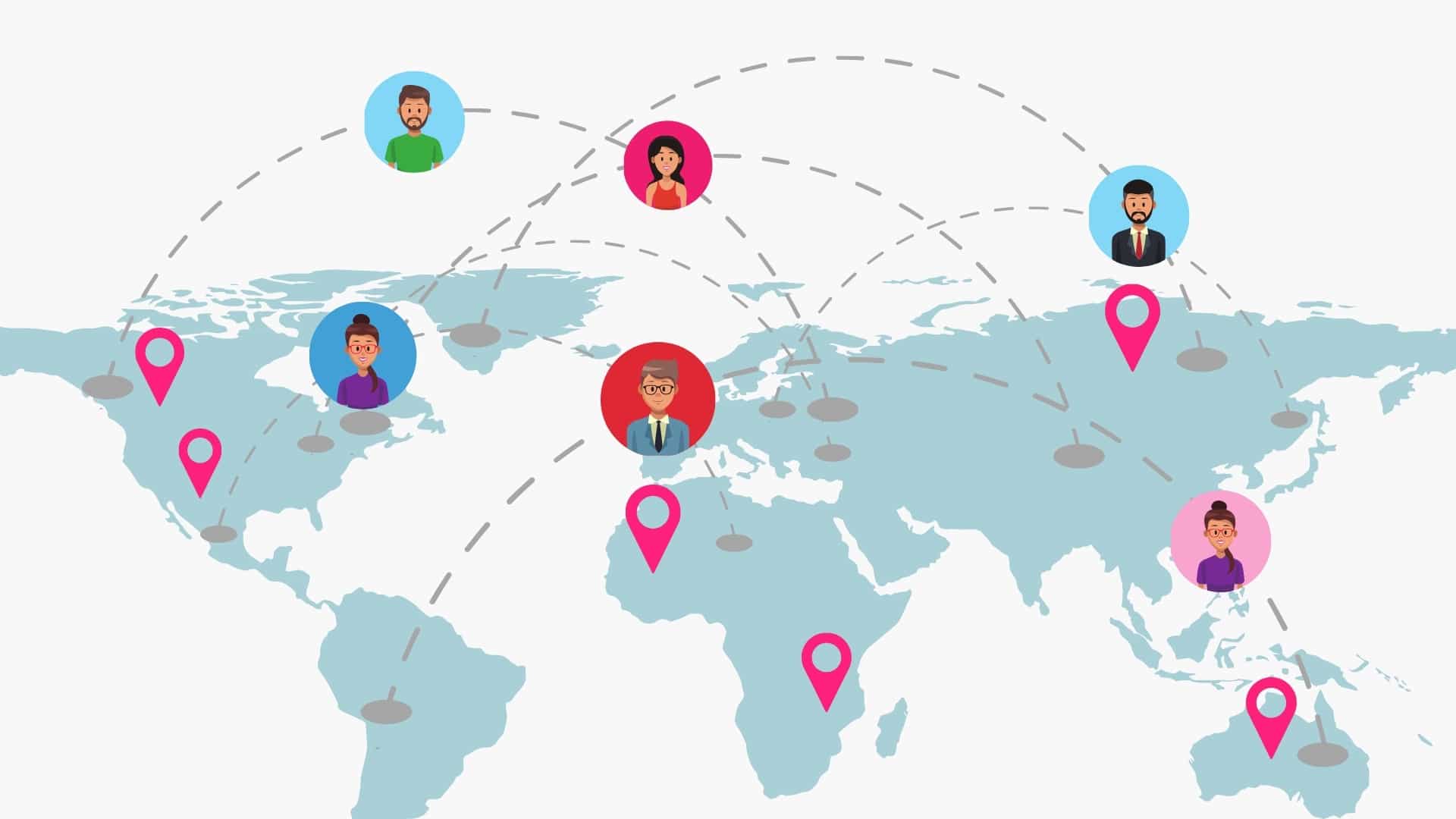 If you decide to outsource some necessary functions, you need to understand that you will face several problems: choosing a location, organization of work, legal & legislative details, and so on. To make it easier for you, I will share the important points for outsourcing software development to Ukraine. You will also learn some life hacks and other alternatives.
Reasons for IT outsourcing in Ukraine 
In the conditions of a frantic demand for programmers in the Western world – with many foreign startups as well as medium and large technology companies – Ukraine looks like an attractive location for talent search. In Ukraine, software outsourcing is very popular among foreign IT product companies, but why?
– Big pool of IT specialists
– Reasonable operational costs
– Cultural proximity
– Geographic position
Ukraine boasts of the largest and fastest-growing number of IT professionals in Europe. It is a country with over 285 thousand IT specialists who are internationally recognized as skillful and professional. Software developers make up the lion's share of the pie. It's important to add that the number of local programmers is growing every year, as well as the quality of their work. This is possible due to a big number of technical universities, extra-curriculum courses, and certificate programs that are popular with the young. It is a well-known fact that Ukraine has good technical education and every year approximately 36,000 graduates join the ranks of IT developers in Ukraine.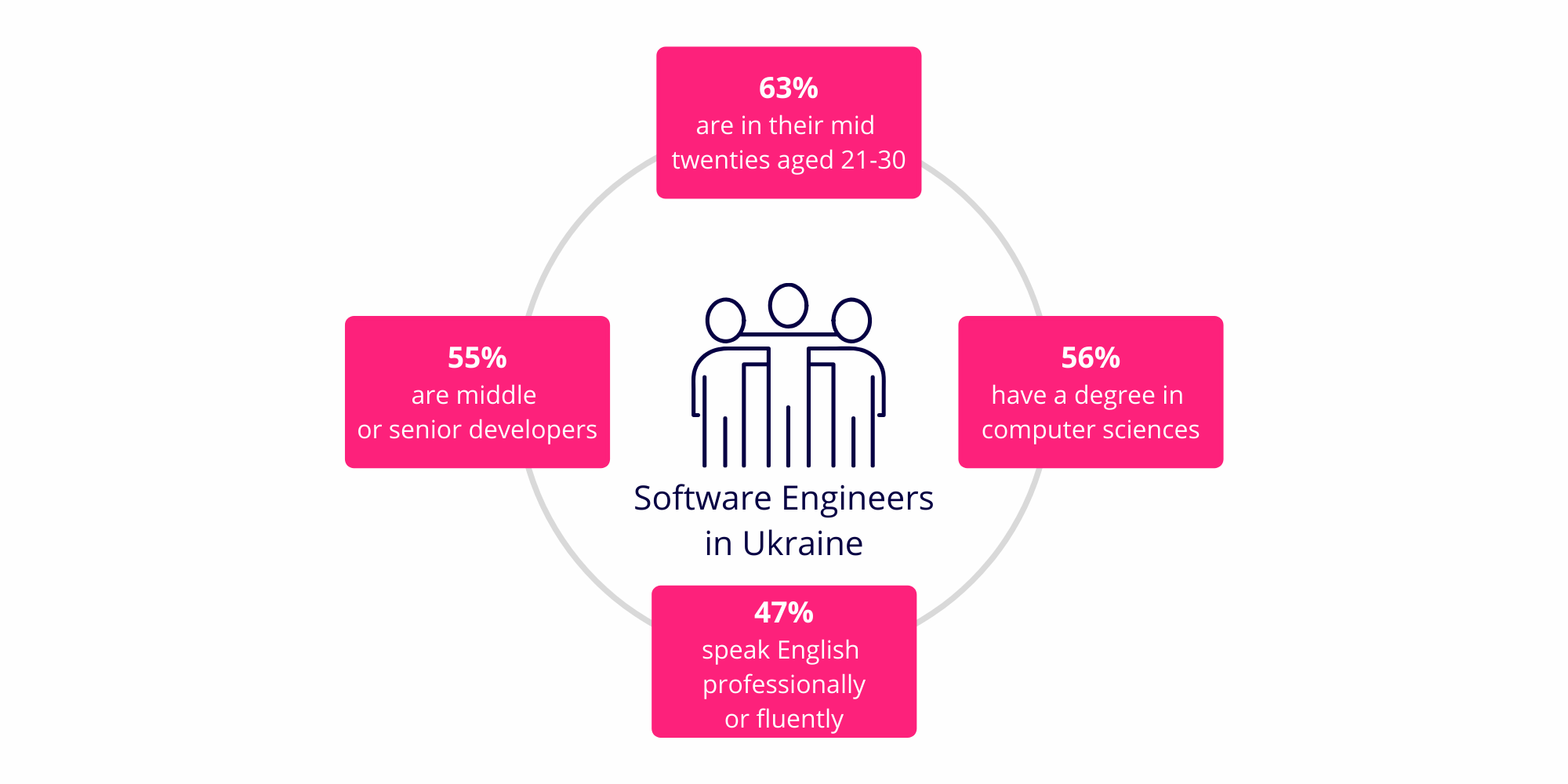 If the previous data does not convince you, then note that IT outsourcing in Ukraine allows you to save money by accessing reasonable costs and talented software developers (at a competitive salary). Ukraine is not only a place where you can find a good team of programmers but also save on the budget, as such specialists in the US and Europe are several times more expensive.
Another important advantage of Ukraine as a location for outsourcing is its cultural proximity. Ukrainian developers are fluent in English, so communication with them is simple and does not require much effort. This is a significant relief.
In addition to communicating without being "lost in translation", it is important to consider time zones. Because of this, companies are often afraid to open foreign offices or hire a team. In Ukraine, this is not a subject of concern: only 7 hours from the American East coast, so from the early morning to the late afternoon communication is very feasible.
12 Things You Need to Know before Choosing Ukrainian IT Outsourcing
Software outsourcing in Ukraine is definitely a very convenient strategy in its essence. Instead of becoming an effective working tool for a customer company that has decided to outsource some of the tasks, such a partnership can turn into a headache. Why? Let's look at the top 12 things a company leader should consider when using IT outsourcing.
1. Low-level project management
Sometimes an outsourcing provider may have few project managers who are frequently not good at this. Eventually, you'll face critical problems like failing deadlines or missing important details.
2. No comprehension of your business needs
An outsourcing team may not want to dig into the business processes of your company, so the outcomes of their work are not going to be as good as you expected.
3. Deadlines are often not followed
Competent specialists are in huge demand, and IT outsourcing companies often assign them to different clients simultaneously. This affects not only the quality and confidentiality of your product development, but also the speed of completion.
4. Strict terms of agreement
Business needs can change all of a sudden, and the unexpected Covid-19 pandemic has already proven that. But if the service provider has inflexible terms of cooperation, as a customer you will not be able to make changes during project development, cut budgets, or even terminate the agreement.
5. Communication with no effect
The lack of valuable feedback, a far-away location, different time zones and schedule, sophisticated operational processes, as well as other disrupting factors often lead to a communication gap with the service provider.
6. Privacy and IP rights can be violated
Again, since developers from different projects work at the premises of the outsourcing provider, it's difficult to track their work. Don't you think they can use part of your code as a template for other products? It also refers to communication. Once you share some insights with your outsourcing team, you cannot be sure they will keep it a total secret from their fellows in the office.
Despite these risks, it is quite possible to find an ideal – or almost ideal – outsourcing company, especially if you act step by step according to a fairly simple algorithm.
7. Criteria for selecting a reliable provider
Simple and measurable criteria that may be of good use when selecting an IT partner.
Budget. Look for developers who work in your price segment. At the same time, you should not choose those who offer the lowest price for their services.
Expertise in the required field. Experience in a particular field should be one of the deciding factors when choosing an IT partner. If the team is already familiar with similar tasks, they will be able to help you avoid problems during product development. For instance, if you work with Java, learn more about the advantages of outsourcing java development and the risks and limitations of this approach. 
Availability and quality of feedback from previous customers. Feedback from previous customers will help assess the quality, speed, and effectiveness of a particular team before working with it. Also, pay attention to the quality of the feedback – the more details the better.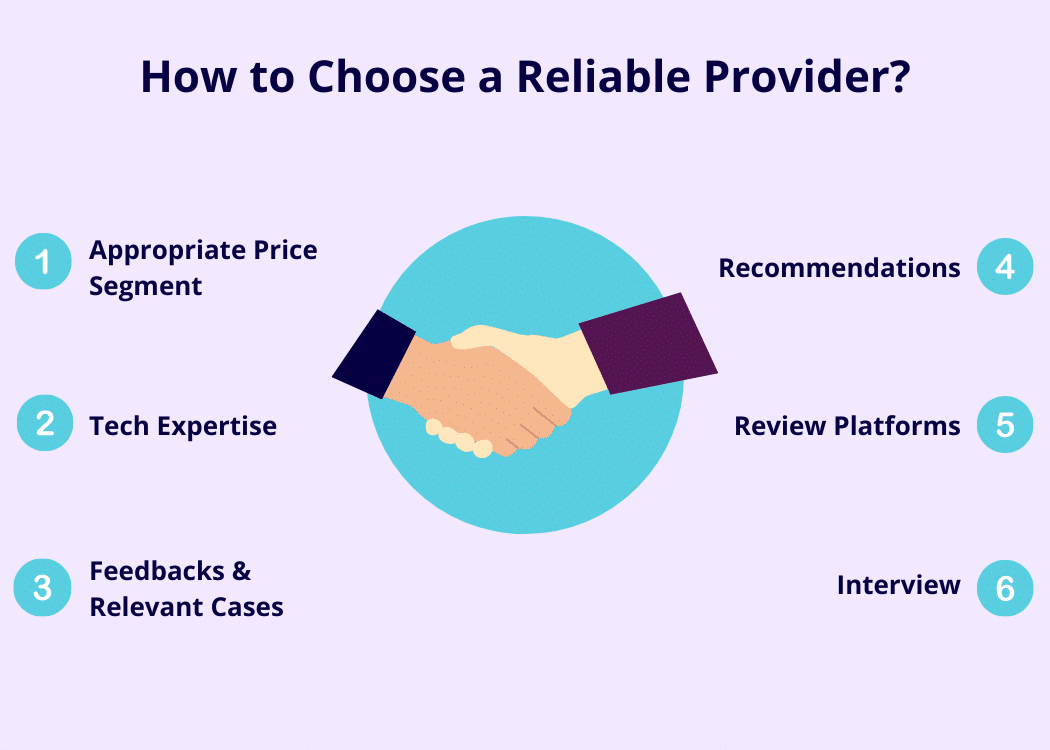 8. Valid channels of searches can help
During the existence of the outsourcing industry, provider search channels have more or less formed, so you are likely to use one of these methods:
Recommendations. The advice of partners, colleagues or the business community in your industry is probably the most reliable way to find a remote team. 
Review platforms. On B2B review platforms, you can find customer reviews, team portfolios and see more detailed information about the experience of the team. The most famous representative of such a platform is Clutch.co.
9. Question the technical aspects
It is not always possible to independently assess the quality of work of the selected service provider from a technical point of view, so I recommend involving competent specialists. This could be one of your colleagues or partners.
10. Interview with a potential partner
An interview helps to understand the quality of communication and project management skills of the selected outsourcing provider. Once all the stages of the search quest are completed, you can make a choice. First, focus on the quality of the data obtained – the better the vendor understands the stages and nuances of a remote partnership, the easier it will be for you to work together. Nevertheless, there are a few other factors you should pay attention to if you are about to begin outsourcing in Ukraine.
11. Specifics of labor legislation in Ukraine
Before starting the new collaboration, you'd better explore in detail all employment opportunities, so as not to create problems for yourself now or in the future. Ukraine is very comfortable in terms of taxation. Here the model of an independent contractor (also called "private entrepreneurs") is widely used. This model stands for a self-employed person with whom it is possible to conclude contracts. De jure Ukrainian programmers act as contractors, so only 5% of their salary goes to taxes, which is quite competitive compared to other countries. It's important to mention that de facto your software engineers work as traditional employees. They report to you as the only direct employer and follow your corporate policies, have a 9-to-5 workweek, vacations, and sick leaves. 
Pay special attention to the subject of the contract and the responsibilities of the contractor, clearly define the mechanism of termination of the contract at different stages, establish compensation for breach of important terms of the contract before you finally agree to outsource custom software development to Ukraine.
Take care of all legal issues in advance and make sure you follow the law; consult local specialists who will help you find the most suitable and transparent solution, give a legal opinion, prepare contract templates and other documents. Read about the compliant solution for IT offshoring to reduce possible risks.
The team is the first and main thing to start with. If you work with an outsourcer, then you are not actually looking for a team because team & project management is a responsibility of your outsourcing provider. Outsourced employees work with you on the project but they are not your permanent team, thus worth considering. What does it mean? It implies that they can move on to your competitors.
12. Outsourcing is not a "magic pill" 
Business owners take advantage of delegating tasks to external parties when they have expertise in one field but need help in another. For example, tech entrepreneurs without any understanding of operational management (e.g. accounting & payroll, legal compliance, tax issues, etc.) may outsource these areas, which is another kind of offshoring. 
When IT Outsourcing Really Works
There are two main cases when outsourcing IT to Ukraine can actually be profitable for product IT companies and become a "magic pill":
To solve a short-term task that does not require constant cooperation (you can undoubtedly outsource such "small" tasks without distracting the core team);
A test run attempt (if you are unsure of the market for your products, you can use outsourcing to avoid risks).
For both cases, outsourcing can be a reasonable short-term solution; but in the long run, software outsourcing in Ukraine might not be the best solution. Why?
– Developers may be assigned to other clients: the middleman, or service provider, has to consider the interests of other projects and clients, so qualified developers are allocated among them.
– Privacy and confidentiality are important, especially when unfair competitors can abuse your credibility.
– Numerous adjustments and fixes are inevitable at the initial stages of product development. You will pay extra for every minor change as none of them has been calculated into the initial cost. In addition, you will face the problem of cost opacity.
– Your development team should understand some background to offer the best solutions. With outsourcing, software developers are usually less committed to your project or clients.
– Company's brand: Your new team works under the brand of another company with a team sitting at the middleman's premises.
– The success of your company can also be delayed by lack of flexibility, i.e. you must adjust the product created by your outsourced team to actual customer needs and a changing market environment.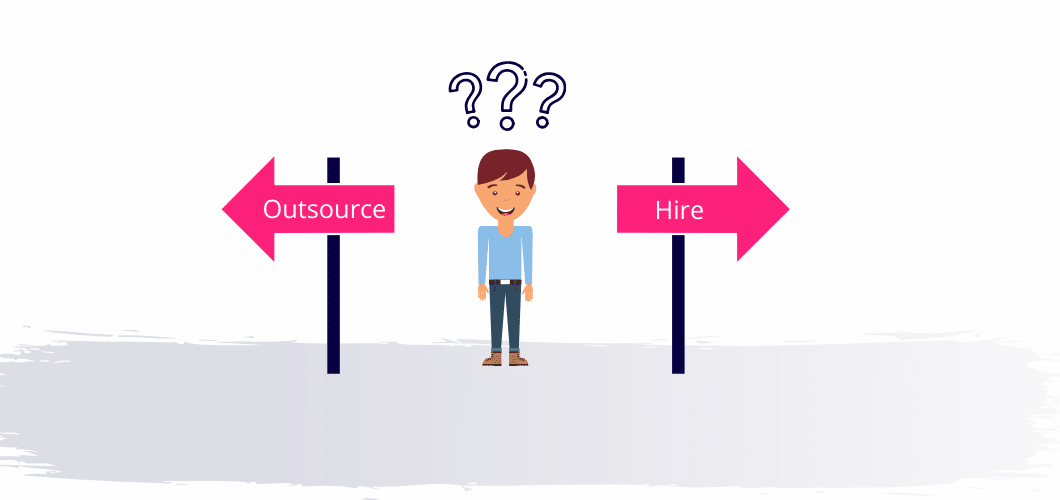 Final Thoughts
The potential problems described above prove that IT outsourcing to Ukraine (as well as to other locations) doesn't always equate to effectiveness. Still, there is a way out of it. One of the solutions is to open an offshore development office, which is a huge advantage today. 
The offshore development office (also called a software R&D center) has established itself as a tendency to maintain research and development activities in an offshoring country. Many companies, such as Google, People.ai, Reddit, or Grammarly prefer to have their headquarters in the country of origin, but move their software development activities to another place where they can find a plethora of IT talents.
You may ask: What do I get when opening our own software development office?
Firstly, dedicated high-skilled professionals working on your product only. This model won't scare investors away as all team members are your employees, thus you have more control over developers. The offshore team follows all policies and practices of your company, which will reduce the risk of misunderstandings, i.e. they fully share your values and support your brand. Unlike in other models, you'll manage developers directly and influence the delivery yourself. Why? Because there's no intermediary with whom you'll have to negotiate and discuss every step. 
Secondly, it is also important that you get higher security, and in your own development office you won't share technology or valuable data with external service providers. Moreover, you fully control your Intellectual Property and unique expertise. 
As well, you will have a team that understands the customer. Your developers can use this knowledge to offer innovative solutions rather than merely complete the tasks they receive – and of course, your offshore R&D office enables fast resolution of issues because your team focuses on one project. In contrast, it may take outsourcing providers longer to respond since they usually support several clients.
To make all these advantages work well, you would probably need a trustworthy partner to lead you through the local market and provide operational management support. At Alcor, we open software development offices for American and European tech companies in Ukraine. Our offering includes IT recruitment services, real estate support, legal compliance assistance, HR payroll, and accounting support.