Business expansion goes across different countries, creating borderless job opportunities while assembling teams with different cultural backgrounds. IT companies that manage global offices benefit from a larger pool of tech specialists and local market knowledge, which are the keys to further international expansion. Therefore, leading a global team requires exceptional communicative and leadership skills for proper management. A piece of good news – it won't be an obstacle if you follow professional techniques and recommendations. In this article, you will find top tips for managing a global team to enhance your international workflow.
Top 11 Recommendations on How to
Manage a Global Team Effectively
Firstly, what is technical leadership? It is the ability to supervise and direct a team of IT specialists, oversee and review the process, providing necessary technical guidance, which leads to the development of a cutting-edge software. Whn it comes to a global team, it consists of members from different countries and cultural backgrounds. For this group of people, the virtual environment becomes their working space, bringing out new challenges for remote management. Taking this into account, let's take a closer look at managing international teams best practices and insights that I compiled from my experience.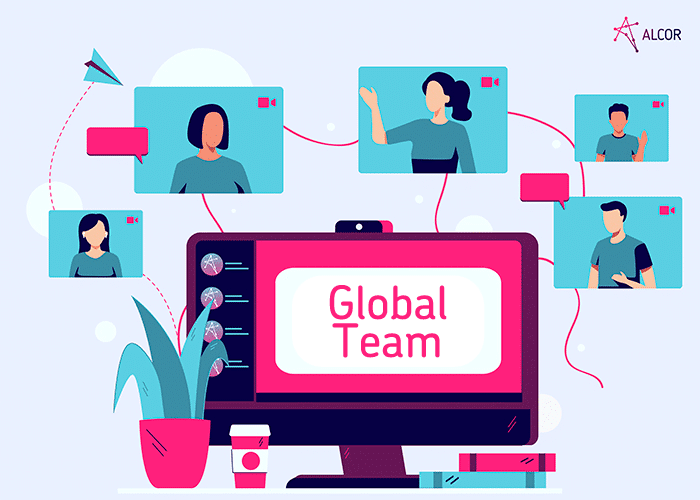 Pick the proper project management tool
The first step to manage a global team is choosing a relevant project management platform. Why is it so important? Your in-house team may be promptly available to discuss current tasks and objectives, but team members who work overseas are not so easy to reach. In the IT sphere, such platforms as Trello or Jira get a lot of play worldwide, as they are useful not only for project managers but software developers as well. Thus, both your remote and local developers can track project status and create templates for every stage. From the point of view of timelines, teammates can organize the development process into discrete "stories" and subdivide them into smaller "sprints". In such a way, wherever the employees are, everyone can see what projects are being worked on and who is working on what. These tools are popular in tech companies all around the world, especially in countries where software engineers got used to working with distant clients in the R&D centers. For example, Ukrainian developers are on a first-name basis with Jira, so don't hesitate to involve them in this practice. Sharing a common platform will definitely contribute to your company's productivity.  
Organize regular calls 
Common platforms are not the only way to maintain communication with your international team. Don't forget about video meetings via Zoom or Skype. Scheduling conference calls on a regular basis attains a continuous information exchange and enhances team spirit, so try to involve your remote teams in brainstorming sessions and daily standup meetings. These calls will coordinate the workflow of both the in-house and international team.  
Develop not only product but trust
Trust is greatly valued in every successful company. The Harvard Business Review reveals that employees in companies with a high level of credibility experience 74% less stress and 50% more productivity. You can develop trust with your teammates that work remotely with the help of different means: transparent feedback, valuing your long-term relationship, and giving enough attention. Thus, your remote developers won't feel excluded or separated from the on-premises team, feeling that they are on the same level of credibility. In short, the best way to build trust to last is to give an equal amount of freedom and support to everyone.
Provide your offshore team with working space
The next tip on how to manage a global team effectively is establishing a decent office for your offshore developers. Ever since the Covid-19 pandemic, software developers have come to terms with a WFH model and even got used to it. Nevertheless, to make a team out of just a group, these colleagues ought to have face-to-face contact. The main reason is that offline communication boosts team spirit and establishes a good working relationship. One more advantage of working at the office is that it's a space to concentrate and increase productivity. While working from home, developers have to put up with crying children, the neighbor's renovations, barking dogs, or many other distractions.  
That's why a lot of IT companies tend to follow a hybrid working model. This implies an opportunity to work from home or at the office, providing employees with a flexible schedule. The members can instantly discuss the issues they've been working on and build a trusting environment vis-a-vis. According to recent research, 47% of employees would consider changing their workplace if their employer doesn't provide a hybrid working model. Since the hybrid model is greatly welcomed among employees, consider giving it a go. Find an office space to make it possible for your offshore team to gather together two or three times per week.
I can now see this trend gaining ground among our clients. For example, People.ai is a product company from San Francisco that didn't reject their offshore development office in Eastern Europe even during the pandemic. They switched to voluntary office visits that resulted in 2 working days in the office and 3 WFH days per week, maintaining productive work. Such flexibility was possible because of the engagement model with us as their operational services provider. Prior to that, People.ai had opted for their own R&D center in Eastern Europe and delegated all back-office functions to us, yet keeping software development fully in-house. In 4 weeks, they got their development office ready and hired several software engineers. How did they manage to do so? Read more here to learn about the R&D experience of People.ai.  
Take care of the back-office operations 
Managing a global team best practices also include smart organization of your operational processes across different locations. You must conform to local legislation and collaborate with reliable accountants and lawyers. When you employ new team members, the payroll should be well-organized, so make sure that the offshore accountants you are working with can provide transparent tax compliance and check financial and accounting records. At the same time, to reduce the risks of insufficient bookkeeping, make sure the accountants don't interfere with your control over the cashflow and bank account. To be certain that all operational processes in an offshoring country go smoothly, I advise cooperating with a local team of lawyers who can consult you on labor law, IP law, lease agreements, and contract reviews.
Sitecore reached out to us to optimize their accounting processes, and one of the main requirements was full compliance with international IT standards. Our experts reviewed their accounting strategy which had given scarce results. Alcor restructured the payroll accounting for Sitecore, reviewed reports, and optimized their tax management, compiling them with Eastern European and international standards. Until the present, Sitecore enjoys its transparent bookkeeping & accounting solutions.  
Be generous with internal resources
One more crucial component on how to manage a global team is a simple matter of care. Software engineers are often tech geeks who are constantly developing and eager to know more. In turn, good employers try to make knowledge available to everyone, especially to their global development teams. I strongly advise you to share all the materials and resources that may help your remote teammates to grow. These materials can include database access, corporate policy regulations, useful videos, internal training programs, access to the virtual library, and everything else that your company may provide for professional development. It's also a great idea to initiate English lessons because they will maintain the proper language level of your employees. Your team still needs your care and the feeling of being valued – even if you are a thousand kilometers away.
Dive into cultural diversity 
To manage an international team, consider that your team members will have different cultural backgrounds. That's why it's important to define the impact of this background on workflow. You could start with expressing your interest in their working habits. Eastern European specialists, for instance, follow a western-inspired working culture. They value the possibility to speak out and be transparent with any kind of feedback, being hardworking and persistent. 
Deal with the time lag
Time differences are not as challenging as they seem. First, check the difference in time with your remote development team. It will have an impact on setting deadlines and organizing daily calls. You can have a look at Timezone.io – this platform will assist you in tracking your virtual team and keep you updated with their local time. This tool comes in handy to choose suitable times for video calls as well. If your team of developers is in an offshore country, just consider the time gap. For American tech companies which manage a global team in Eastern Europe, this gap is 7-9 hours. Usually, they organize their meetings in the morning or evening, making it convenient for both in-house and remote teams. After you pick a win-win time for the meeting, prepare an agenda. This procedure will ensure that all the employees are aware of upcoming calls and the topics to be discussed. Thus, time zones are not an obstacle to your team management. 
Keep everyone in the loop
While managing a global team, make sure that everyone is on the same page. You should keep your global team of developers updated with all announcements and news in your company. If you share an important piece of news, check to see that everyone is in touch with this. In case you use several communication channels, make it clear for every employee how and when to use these channels. Being well-synchronized with your software R&D team is all about proper management.
Charge your global team up
Another useful tip on how to manage a global project team is different ways to boost motivation. It can be different: sincere praise, recognition, promotion, financial reward, or team building. Build thankful relationships in your team and inspire confidence in them. If the offshore developers are satisfied with their workplace, it plays into your employer branding. There is no better advertisement for new candidates than the possibility to work in a company where people do well and feel valued.
Welcome with open arms
First impressions are most lasting. Make a new member of your international team feel valued and welcomed from the first seconds. The onboarding process must be memorable for a new employee to motivate him/her and reduce possible anxiety. I advise you to take care of all the stages in advance. Introduce a new member to colleagues, coordinate all departments and prepare a workstation for a new teammate. Effective talent onboarding has more influence than you may assume. Employees who experienced effective onboarding tend to be 18 times more devoted to their company and 30 times are more likely to feel job satisfaction.
An Ultimate Global Team Management Checklist 
Let's move from how to lead a global team successfully to a conclusive checklist. I advise you to make full use of it, following every item. It's a great idea to share this list among your colleagues to whom it can come in handy.
✔️ Choose a project management tool  
✔️ Prepare an onboarding plan 
✔️ Establish a reward system  
✔️ Set a vision for the common goal 
✔️ Create a schedule of regular calls 
✔️ Meet offline sometimes 
✔️ Keep everyone updated 
✔️ Invest in team development  
✔️ Appreciate your global team
✔️ Hire a reliable accountant  
✔️ Find a professional lawyer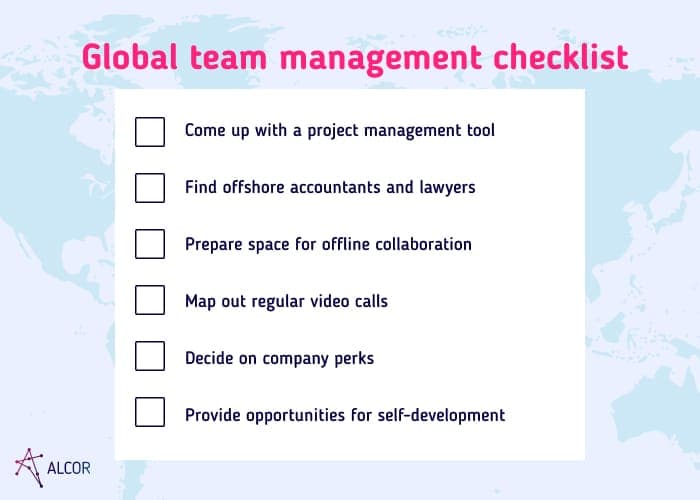 Alcor BPO Can Improve Your
Managing a Global Team At Lower Cost 
Whenever you want to be sure that your team management goes smoothly, refer to the checklist above. As you see, to manage a global team successfully you need not only proficient leadership skills but organized back-office operations. To support your global team from an operational standpoint, consider a collaboration with a reliable provider.
Alcor is an international recruitment services provider that helps foreign IT firms to open their software research and development center in Eastern Europe. Thus, you just stay focused on your product, we'll take care of everything else.
These items include:
Our recruiters will find top IT specialists in alignment with your demands within the shortest time period, providing you with proven and eligible candidates.
Legal support of your team in Eastern Europe
Here at Alcor, we have a team of lawyers who know all the specifics of both Eastern European and international law and are ready to conform your operations to local legislation.
Opening your own office and its maintenance
Real estate managers at Alcor will find the best office space for your team of developers in Eastern Europe. We also assist in the lease agreement, furnishings and hardware installation. As a result of our collaboration, you will receive your own branded office.
Our accountants complete tax compliance and outsourced payroll services, running all bookkeeping operations for you. As a client, you keep full control over your cash flow while we provide you with transparent billing.
With Alcor, you won't face any hidden fees because you pay only for the services you use. This is different from what outstaffing agencies offer, isn't it? Therefore, with us, you'll be free of large upfront investments and get an opportunity to regulate the number of services you want. This usually results in a smaller paycheck for big development teams. In terms of recruiting, you will hire potential employees and know exactly how much they earn as well as the office cost and its maintenance. Alcor helps you with establishing your own rules for your team in Eastern Europe.
Our company has already helped such technology companies as Samsung, Huawei, ThredUp, Grammarly, and others. Experience this on your own!
 
All in all, the most important thing you should bear in mind is that the distant team is a part of your workforce that makes a substantial contribution to your business. I do hope that the best ways to manage a global team I've shared above will enhance your developers' engagement and dedication. Treat them in the same way as your on-premises team, as there is no better employee than the one who feels valued. At the same time, address the global team management checklist that will be your friend in the organizational process. Start applying these tips under your corporate values and results won't be long in coming.
Feel free to contact us if you want a team of reliable professionals to assist you in managing payroll, opening your development center, or virtual recruiting a development team in Eastern Europe.