A platform team has been the talk of the town for some time now. Dubbed as an emerging trend by Gartner, it is projected to be established in 80% of software engineering companies by 2026. Ultimately, it will accelerate application delivery by covering developers' needs for automatization, unified delivery requirements and frictionless infrastructure support. 
In this article, I'll go into the nitty-gritty of what platform engineering is about, define its main roles and responsibilities, elaborate on the platform team pros and cons and help you decide whether the game is worth the candle for your business. Shall we dive in?
What is a Platform Engineering Team? 
A platform team is a team of software engineers that handle most operational aspects for the team of product developers. They're in charge of process optimization and automation of software development, i.e. responsible for the development infrastructure. 
Platform vs Product Team: Is It the Same?
It is common to think of a platform vs product team as two drastically different structures, but in fact they share more similarities than it seems at first sight. 
Both design and develop tools for customers, but the users of platform teams are product teams. They also have workflows, timelines and long-term plans. Their success is measured with improvements — the less complicated it is for engineers to interact with the infrastructure, the better. This, in turn, increases overall product development productivity. 
However, there are several challenges of a platform team. First of all, not only do they need to take care of the internal architecture of the platform, but they should also be in the loop regarding main product flows and company goals. This will allow them to predict how their platform will be used and what transitions lie ahead. Thus, platform team devs need to be highly qualified experts, and the search for those is rather exigent, not to mention the exorbitant costs to hire. Secondly, some experts assert that one product developer needs at least one platform developer, which can double a candidate pipeline. So, essentially, the main risks associated with a platform team boil down to creating one at affordable rates. 
On the other hand, product teams have external users, whose needs they align with business requirements and further transform into a product to build. Their responsibilities, when relying on a platform team for managing the development phases, are purely product-related, e.g. creating prototypes, running tests, or iterating quickly. 
Roles and Responsibilities of a Platform Team
The key roles in a software development team for platform building are not much different from regular development teams, i.e. you'll undoubtedly need software developers, network engineers, security experts, as well as system and database administrators. However, to get a closer look at the way roles of a platform team function, it's worth approaching them from a team perspective. 
So, how do platform teams work exactly? In a nutshell, it depends on the tasks. These can be broken down into two distinct sections:
on the surface, it's about managing tools, libraries and frameworks, as well as handling A/B testing, feature flags and other possible obstacles on the engineers' way; 
on the inside, though, they take care of the whole infrastructure, including working with Kubernetes (an open source platform for deploying and scaling applications), data storage, etc. 
In conclusion, core responsibilities of a platform team require them to be experts in Kubernetes, Spark, SQL, Cassandra, plus software & machine interfaces. As for soft skills, they need to be pros in communication, patient and open-minded. Last but not least, the goal of a platform engineering team is to design an inimitable internal tool rather than just one that is out on the market and can be bought to save time. For that, they will need to have a product mindset. 
Now, let's take a closer look at specific responsibilities of platform team members: 
Creating Internal Developer Platforms
Essentially, such a team builds an internal developer platform (IDP) – a software engineer platform with all the automated workflows, tools and services needed for the seamless work of a delivery team. Once all the infrastructural complexities are handled, product developers can access IDPs and streamline their work with no friction. 
Developing Key Delivery Standards
Platform engineering is also used for creating a set of management tools, as well as standardized processes and workflows. With proper data insight and resource management, a mobile platform team, for instance, can create "development paths" that will simplify building a mobile application. At the same time, key delivery standards shouldn't hinder software engineers in using other tools, but rather give them a handful of convenient shortcuts and clear requirements. 
Aligning Software Development & Business
The work of a platform engineering group also involves applying business knowledge to make product features correspond to business goals, which needs a great deal of strategic planning. For example, not all features are necessary in an application, but enthusiastic product engineers can get carried away with adding more, while losing out on functionality. That's why platform and program teams should work hand in hand to, eventually, make up a single team and implement functional and cost-efficient solutions.
Reducing the Developer Workload
A platform engineers team makes product engineering much easier. One of the most noteworthy facts about software developers is that they're prone to burnout, but with a platform team that keeps workflows under control, it's possible to reduce such risks. While designing the platform, developers track performance metrics (throughput, duration of the workflow, recovery, etc.) and tailor it accordingly, thus improving monitoring and testing, which reduces developer cognitive load. 
How the Building of a Platform Team Can Affect Your IT Business?
Increased Efficiency
Automating all workflows and creating shorthands in development eventually leads to faster development and contributes to overall effectiveness. 
Improved Security 
Having an internal developer platform certainly creates a less breachable security system, especially because more data is kept in-house rather than given up to other management tools. As a result, data access and breaches are kept in check. 
Enhanced Scalability & Reliability
The fewer bottlenecks, the faster the development. With monitoring, testing and automation tackled by a platform team, developers can scale the product much faster, thus delivering more frequent updates to the end-user. 
Boosted Communication
Platform teams build a bridge between development and operational teams, resulting in frictionless collaboration and uninterrupted iterations. 
Ongoing Improvements
Taking care of operational aspects gives more room for additional issues that might come up, such as technical challenges or changes in business goals. In other words, getting rid of infrastructure complexities allows you to further improve the development process.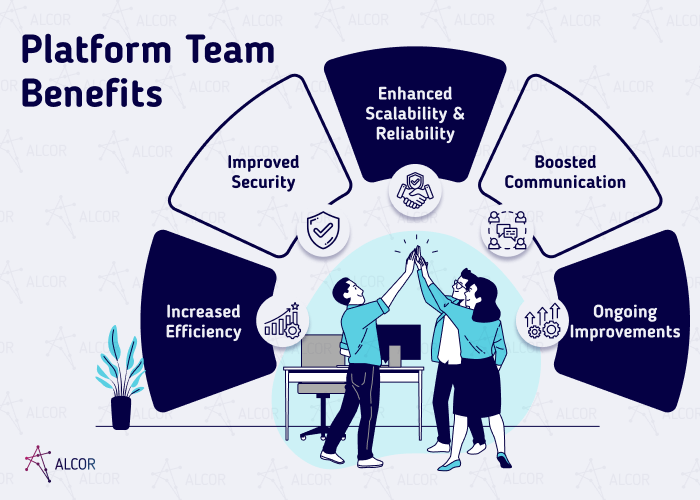 As Forbes says, a platform team isn't a must. Nevertheless, it's the driving force behind scalability and maximized collaboration that adds to the whole IT stack of the team. So, if you're in need of growing your product fast, assembling a platform team is worth considering. 
Real Example: a Platform Team in Uber 
Rapidly growing tech companies inevitably adopt a platform-team approach to maintain their scaling pace, Uber being a vivid example of this tendency. What does a platform team do for this tech giant then?
As mentioned on Uber's website, ever since 2014, its Developer Platform Team's mission has been to enable developers to create 'moving experiences'. On top of that, the company has taken the platform to a whole other level since it doesn't collaborate with only one engineering team, but at the intersection of many, making it one of the best examples of successful virtual teams as well. 
And speaking of results, the Uber platform team attests to much quicker feedback cycles, while their engineering teams are enabled to promote the product to external partners, making it part of a wider developer ecosystem. And what more is there to say if Uber's revenue is skyrocketing every year? In 2022, the company made 82% more in revenue than in the previous year. 
Where to Find a Reliable Platform Team?
When building a platform team, it's important not to make it under-staffed. But how and where can you find a lot of developers quickly?
IT Outsourcing Providers
When eager to develop a platform team, some companies may consider IT outsourcing providers. On the one hand, this approach allows them to cut costs on recruitment and operational expenses, such as procurements or office leases, plus, these companies save time on hiring and training an outsourced team since such crews are usually vetted by IT outsourcing firms. On the other hand, outsourced platform developers don't become a part of your team, so you run the risk of losing out on internal expertise. Also, you do not have direct control over your development team as you cooperate with them via the provider, which leads to possible data leakages or even IP ownership issues.
This is why a lot of companies, including Dotmatics which is a US scientific software company, are dissatisfied with the IT outsourcing model. They were ready to step back from delegating software development to an external company and opted for Alcor's IT recruitment model to make their ambitious goal of obtaining 30 developers within a year a reality. As a result, we provided them with professional QA Engineers, Director of Engineering, Full-Stack, React, DevOps and QA Automation specialists. Also, our team kept Dotmatics updated during the cooperation process by sending weekly reports and assisting in arising queries, leading to a "WOW" effect from the client.
IT Outstaffing Vendors
Other companies see outstaffing or team leasing in IT as the viable solution to set up a platform team. This way they use the services of temporary employees through a leasing vendor. On the bright side, a company can communicate with leased platform coders without intermediaries and be quite flexible in terms of team adjustments. However, this choice has certain drawbacks, such as no particular commitment to your product and the necessity to invest in training the employees of someone else. What is most disappointing is that if you want to work with outstaffed employees permanently, you need to buy them out from a leasing vendor, which incurs high buy-out fees. 
IT Recruitment Companies
Another way to build a platform team is to hire one via an experienced tech recruitment provider that has a large software developer network like Alcor. This way you can hire a team of 20 programmers in 3 months, cut the time to hire platform developers and save money. Moreover, cost savings will be even bigger if you choose Eastern Europe as the hiring location. EE has a ripe tech scene with hubs, startups and IT recruitment agencies, as well as a talent pool of over 1 million developers. The Eastern European ICT industry ranks high in Europe — Poland is 7th, while Romania is 12th. What is more, our salary research has proven that average developer remuneration in the US is 40% higher than in Eastern Europe. And speaking about taxes, Polish developers are subject to pay taxes ranging from 8.5% to 19% at most, while Bulgarian developers and Romanian developers are only required to pay a 10% personal income tax rate. 
As for the skills, Eastern European devs can hardly be surpassed. Recently we had an excellent case to prove that. For example, once our client Ledger — a French-based cryptocurrency software company — was in need of assistance to hire 20 QA Engineers in Eastern Europe. Imagine the astonishment of the Ledger team when we filled the positions of a QA Lead and 3 QA Manual specialists for them in just two weeks, all thanks to highly skilled candidates from the first stages. What's more, we dealt with all legal complexities, such as tax management, labor law and IP rights protection. Our cooperation has resulted in quick and efficient recruitment and Ledger still entrusts us with further hiring. 
Wrapping Up
So, you're now armed with sufficient knowledge about the question 'What is a platform team?', how it can benefit your business, and where to find it. To recap, a platform team develops an internal infrastructure to help the development team deliver faster and better results, ultimately making your business more scalable and secure, as well as boosting communication and stimulating ongoing improvements. When looking for such a team, remember to keep your eye on the prize — that is, skilled programmers. You can turn to an IT outsourcing provider, outstaffing vendors or recruitment companies, but I'd advise the latter since it's the most efficient way in the long run. 
If you need further clarification on hiring pro devs for your team in Eastern Europe, our company Alcor is there for you. With 10 years of experience in full-cycle IT recruitment, we're experts in bringing in candidates worth your while — our CV pass rate is 80% and 98% of our hires successfully complete the probation period. So, if you're looking for talented programmers, we can help make your business more scalable by bringing in a platform team.