According to the latest data, the talent gap in the US is significant, with 8.8 million job openings but only 6.3 million job seekers.
Meanwhile, IT companies are exploring other countries to find hidden tech gems, and Mexico is one of them. As tech entrepreneurs explore this burgeoning market to hire skilled programmers, they pay special attention to salaries in software development in Mexico before making the final decision.
I'm Alina Grytsenko, Team Lead of Recruiters at Alcor, with 8 years of experience in building software teams. At Alcor, we help product tech companies with setting up R&D centers and IT staffing in Mexico and other Latin American countries.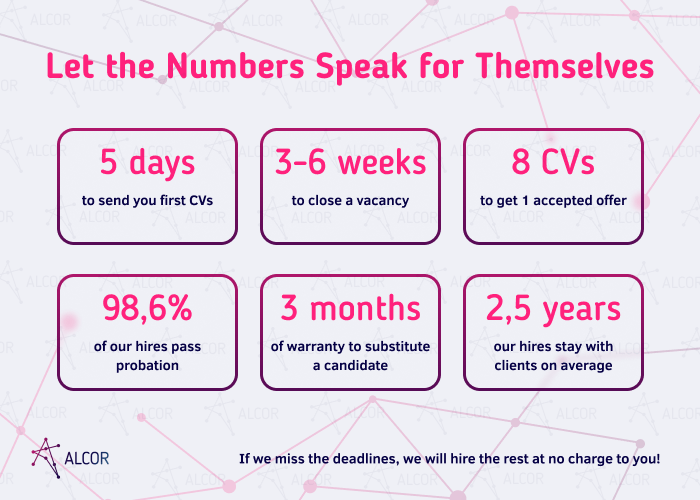 In this article, I'll share the average salary of a software developer in Mexico for different roles, the reasons why IT companies choose Mexican developers, the challenges of hiring Mexican programmers, and an efficient solution to do it as simple as possible. 

Why Tech Companies Choose to Hire Developers in Mexico?
Flourishing IT market
Mexico's IT industry currently commands an impressive valuation of $28 billion, securing its position as the second-largest technology market in the region after Brazil.  
Notably, IT outsourcing stands as the dominant force within this market, consistently expanding annually from 10% to 15%.  
The country also boasts 38 IT clusters and over 440 startups, with the majority concentrated in the primary IT hub – Mexico City. In addition to the capital, the country has other thriving tech centers, such as Monterrey and Guadalajara.  
Big talent pool
Another rationale for technological companies that choose nearshore outsourcing in Mexico is the availability of tech talent. An impressive pool of 700,000 Mexican developers, ranking second in Latin America in terms of tech skills, lures plenty of US businesses seeking top-notch expertise.  
Generally, developers in Mexico are well-versed in JavaScript, Python, SQL, C#, React.js, and Angular. And the list doesn't end here.
 
Strong tech education 
Every year, Mexico adds 124,000 skilled graduates in computer science, electronics, programming, and computer maintenance to its workforce. Thus, the growing number of educated software engineers meets the evolving demands in local and foreign markets.
In addition, Mexican technology universities are globally recognized, with four of them listed in the Best Global Universities ranking.
Convenient location & time zone 
Situated in North America, Mexico offers convenient accessibility to several American cities. The flight duration from Los Angeles to Mexico City typically hovers around 4 hours, making it a relatively short journey. Meanwhile, flying from Houston to Mexico City takes approximately 2 hours.  
The country also offers another advantage – the shared UTC-6 to UTC-8 time zones with major U.S. cities like Los Angeles, New York, Texas, and Chicago.
Moderate salary rates 
Nearshoring IT in Mexico is also booming due to its cost-effective labor costs. According to Glassdoor, the average software developer salary in Mexico City is only $33K a year, developers from California have an annual salary of $165K.  
The gap between Mexican and European pay is also impressive: for instance, front-end software engineers' salary in Mexico City is $25K a year, compared to an annual salary of $70K in Berlin.  
These significant cost differences enable tech companies to cut operational expenses without compromising software quality or expertise. 
But let's study the compensation for other positions in more detail.
Software Developer Salaries in Mexico 
The table below showcases the software developer salary in Mexico for different roles and tech stacks.
| | | | |
| --- | --- | --- | --- |
| Gross Annual Salary, USD  | Junior  | Middle  | Senior  |
| Full-stack developer  | $19,000  | $35,000  | $65,000  |
| Front-end developer  | $16,000  | $31,000  | $58,000  |
| Back-end developer  | $19,000  | $35,000  | $65,000  |
| Android developer  | $16,000  | $31,000  | $60,000  |
| IOS developer  | $16,000  | $31,000  | $60,000  |
| App developer  | $18,000  | $35,000  | $65,000  |
| Python developer  | $24,000  | $40,000  | $68,000  |
| Web developer  | $18,000  | $33,000  | $65,000  |
| Java developer  | $24,000  | $40,000  | $65,000  |
| DevOps  | $21,000  | $39,000  | $73,000  |
Thus, the average salary in Mexico for a senior software engineer is 70% higher than for junior-level positions. At the same time, mid-level tech specialists receive a salary that is 54% lower than that of developers with 5+ years of experience.
 
Notably, the DevOps software engineer salary in Mexico is one of the most generous, while iOS/Android and front-end programmers tend to earn less.
Portrait of a Mexican Software Developer 
Before you begin searching for a software developer in Mexico to join your team, make sure to clarify your hiring needs and make the recruitment process more efficient. 
Generally, Mexican programmers are in their mid-thirties and hold bachelor's and master's degrees in computer science, mathematics, or a related field. 
Within the American continent, Mexico stands as the frontrunner in terms of the largest STEM graduate population. Thanks to the proliferation of bilingual Spanish and English campuses, most developers in Mexico's graduating pool are well-prepared for collaborating with international employers. 
Apart from a strong tech background, software developers in Mexico stand out for their adaptability, teamwork, problem-solving, creativity, and attention to detail.  
Much like their counterparts in other countries, local tech talents highly value career growth opportunities, work-life balance, competitive salary, learning and development prospects, and other aspects that contribute to a fulfilling professional experience.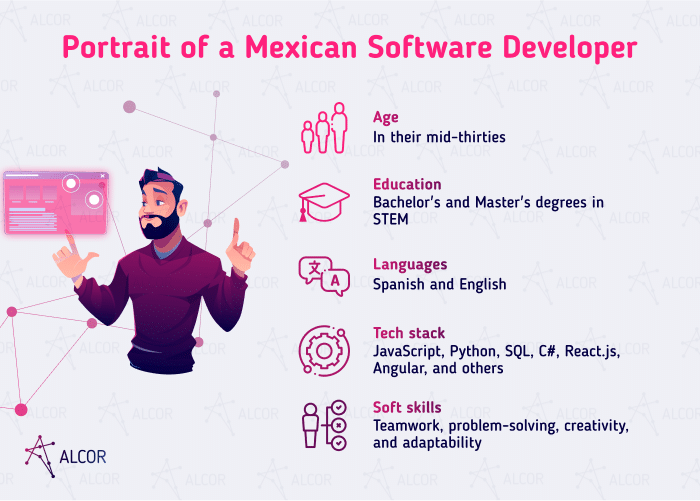 Challenges of Hiring Developers in Mexico
High competition in the employment market
With the skyrocketing demand for software engineers in Mexico, it might be challenging to hunt desirable talents. The issue lies in the fact that larger companies often have a stronger market presence and provide a more extensive range of perks to their employees.
Consequently, highly specialized candidates are more inclined to seek opportunities with prominent tech giants rather than opting for smaller, lesser-known firms. 
Ban for sub-contracting 
Many Western companies considering outsourcing software development to Mexico may initially be concerned about the legal landscape, especially considering the 2021 amendment to the Federal Labor Law. This amendment specifically addresses subcontracting for core business functions, raising concerns about the feasibility of tapping into offshore software developers in Mexico. 
However, it's important to clarify that the amendment primarily aims to combat tax evasion and does not completely abolish subcontracting.
Read our article on taxes for US companies doing business in Mexico to learn more!
While it presents a notable challenge, seeking expert legal guidance can help you navigate these waters and connect with highly skilled developers in Mexico. 
Tips to Hire Developers in Mexico 
Build a strong employer presence 
Expanding your tech business into Mexico requires a strategic approach to stand out as an employer attracting top programmers.
One key strategy is to promote your employer brand effectively in the local market. By understanding the nuances of the foreign market, you can create a strong social presence that resonates with potential candidates.
That's what we did for Sift, a fraud detection company in the US, aimed to expand into a new market.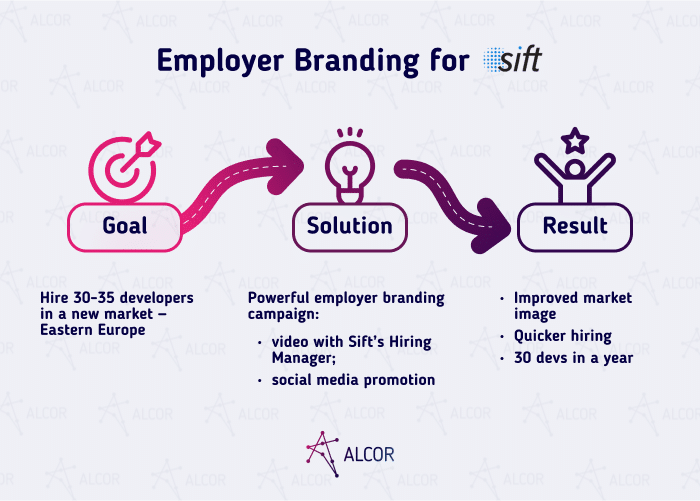 Additionally, enhancing your company's bonus package with enticing benefits like flexible work schedules, hybrid work models, language classes, medical insurance, and stock options can make your organization more appealing to local candidates.  
Mexican programmers also prioritize compensation, so it's equally important to conduct research on the average salary in software development in Mexico to ensure that you offer fair and competitive remuneration packages.
Team up with a local BPO company
To hire desirable software engineers and get professional legal assistance in Mexico, tech companies decide to collaborate with local BPO companies.
As a rule, such firms help with all back-office operations, including IT recruitment, legal compliance, payroll & accounting, and real estate, while some of them even offer employer branding and procurement management. 
This way, you get a 100% transparent team of remote software developers in Mexico, ensuring compliance with Mexican legislation. 
That's the path People.ai decided to follow. Planning to expand to a foreign market, the company needed a reliable partner to delegate its back-office operations. This need led People.ai to Alcor.  
Just within a month, the company got its brand-new office while our recruiters took care of hiring programmers for its team. Alcor successfully recruited over 25 software engineers for the company's team, including talents with rare skills and tech stacks.
Furthermore, our legal advisors ensured that People.ai fully complied with both American and local laws, and our accounting experts assisted with transparent payroll management.
Today, the company has more than 125 employees and has ambitious plans for further expansion. 
Hire Developers in Mexico Simple as Possible 
Thinking of working with nearshore software developers in Mexico? Let Alcor be your reliable partner and guide in this market.  
Alcor builds software R&D offices for product tech companies in Latin America and Eastern Europe. Our solution includes support with IT staffing, legal compliance, payroll, procurement management, and other operations to help you enter new markets as smoothly as possible! Our model is different from traditional outsourcing, so you won't deal with any hidden fees, running your software development fully on your own.  
Our internal IT recruitment team consists of 44 experienced headhunters who are up to date with the latest sourcing and hiring techniques and focus on recruiting Senior/Lead software engineers. The quality of our hires speaks volumes – 98.6% of our candidates successfully pass the probation period.
Our clients also enjoy transparent guarantees. We vow to hire the first 5 programmers within a month and more than 100 within the first year. If we don't meet the deadlines, we'll hire the rest at no charge!  
Ready to write your success story in a new region? Alcor's here to help you out!