If your goal is to create a flawless game with great animation and graphics that runs on any device, you need to work with pro Unity developers for hire via the Alcor turnkey solution. Such legendary games as Heartstone, Among Us, Temple Run, Pokemon Go, and Hitman Go were created by talented Unity engineers, and the list doesn't end here. 
How to hire Unity 2D developers (or 3D) quickly and most efficiently? What hard and soft skills of these programmers should you pay attention to in the first place? And why hiring a whole team of Unity coders for your R&D office may be cheaper than recruiting such developers via outsourcing? I've answered all these questions and even more in this article!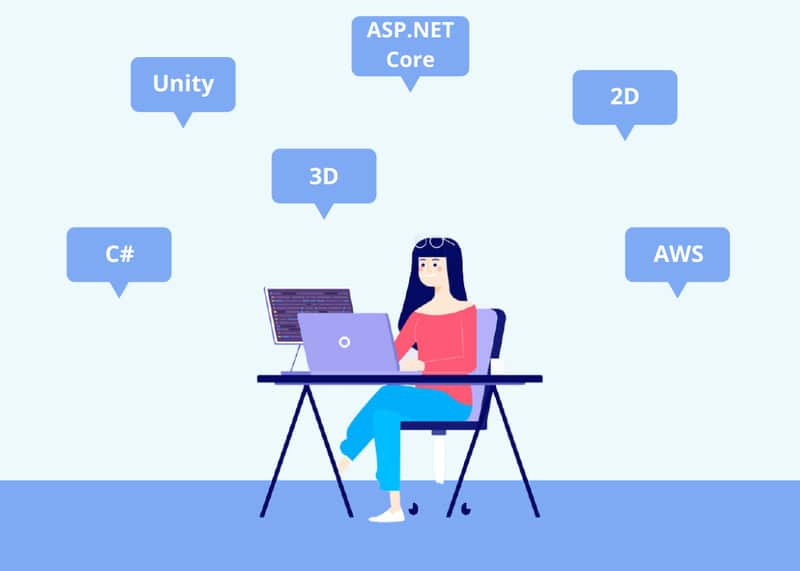 5 Tips to Hire a Top Unity Developer 
It's simple to hire game developers if you have already done this before. But if you haven't, I've pointed out 5 things that will help you recruit the top Unity coders quickly: 
1. Consider the most essential hard skills 
The hard skills of any developer are the first thing you should pay attention to. If you're looking for Unity developers for hire you should know that they must have excellent Unity skills, just for starters. Also, such coders need to have mastered the logic and syntax of C# and understand concepts of 3D or 2D, depending on your requirements. 
Beyond that, Unity software engineers need to have outstanding game physics knowledge to create realistic scenes. They must have practical experience with ASP.NET Core for backend and AWS skills to make your games compatible with the Cloud.  
2. Take into account the soft skills of Unity coders as well 
If you need to hire Unity developers, you should take into account their passion for the gaming industry. If they get inspired by their work, it will be easy for them to see beyond the game plan and generate creative ideas.  
Besides that, flexibility is essential for such coders to quickly adjust to any changes during development. Seasoned Unity programmers usually have strong analytical skills, yet they also need to easily work in teams and continue deepening their knowledge. 
3. Ask the right interview questions 
To single out the most suitable candidates and eliminate those who lack important skills, you should ask them deep questions about their experience. For example, find out whether they've developed 2D or 3D games, what companies they have worked for, and what type of games they've created.  
4. Provide important work conditions and benefits 
Now that we've covered what criteria are important to you as an employer, it's time to find out what your candidates are waiting for as employees.  
The first step to attract and build a trustworthy relationship with candidates is to tell them about the type of games that you need. Some Unity coders are into casual games and thus might have difficulty developing serious games with sophisticated interfaces, or vice versa. By the way, if you're in the gambling sector and need your coders to create slots, you should specify this in the job description from the beginning, because not all programmers can do this as well. 
Regarding schedules, more and more CTOs provide flexible work hours for their employees to keep them safe during the ongoing pandemic. Additionally, employers choose to include health insurance, add more sick leave, and offer paid days off if engineers get a Covid vaccination, etc.  
5. Compare the Unity development market of different countries 
Hiring Unity developers is beneficial for any company that wants to develop a top-notch game or app. However, there is increasing demand for these specialists on the market, so even enterprises with enough resources and recruitment capacity cannot always recruit enough Unity programmers. Thus, it makes sense for businesses to opt for remote game engineers from Eastern European countries.  
What is so special about Eastern Europe?  
First of all, this region has a large IT talent pool – 500,000+ developers with enhanced English skills. Secondly, Eastern European software engineers share the work culture with their colleagues from the United States and Western Europe which makes them easy to work with. Last but not least, offshoring Unity development to Eastern European countries allows foreign companies to save costs because of low salaries and taxes. In Poland, software engineers pay 8%-14% of personal income tax, while in Romania, developers are exempted from paying this tax. 
If you're interested in the wages of different Unity engineers, here is a salary chart based on the data of IT market insights sites Glassdoor and Djinni (as of May 2021). By the way, the salaries above are net. To calculate gross salaries in Ukraine, add 5% of tax: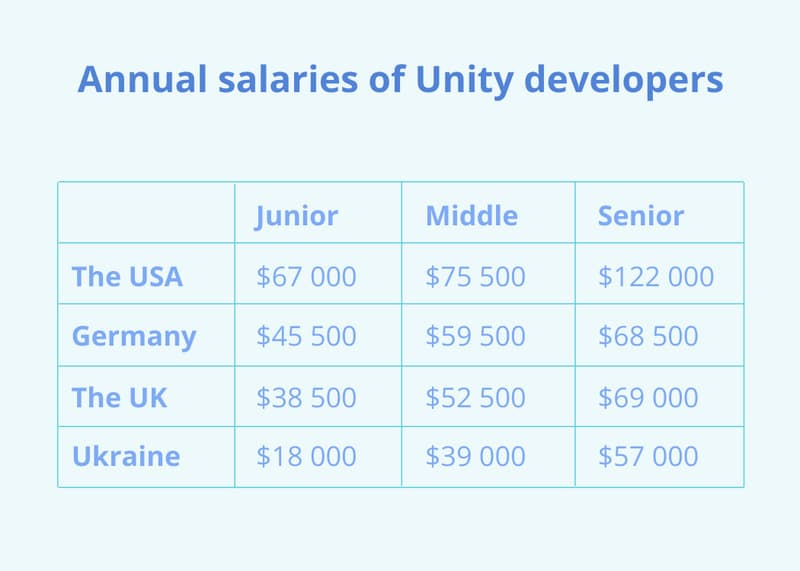 Depending on your needs, you may also need other programmers in your team. Therefore, it could be useful to take into account the Software Team Leader salary, indie game developer salary, the average ETL developer salary, and AWS certified developer associate salary rates across the globe.
Alcor R&D Center: A Dedicated Unity Development Team in Eastern Europe 
If you're thinking to hire Unity developers abroad, you may do it via outsourcing, outstaffing, or offshoring.  
Outsourcing lets you forget about the management of your team and save some money on employee maintenance, but it may expose you to IP rights threats and hidden costs. With outstaffing, you are flexible in terms of team adjustments and finances. However, this business practice provides only temporary loyalty from coders. 
Offshoring, on the other hand, lets you employ Unity developers abroad or even obtain your branded R&D office in Eastern Europe. This is what we do at Alcor, a BPO services provider for IT product companies.  
For instance, People.ai, a USA-based tech product company that develops an AI platform to optimize sales in the B2B sector, had been working with different providers to create an offshore development hub – but the system slowed down the offshoring process for the company and thus delayed their deadlines. Then they reached out to us for help and we set up a dedicated R&D office for them in 1 month, hired more than 25 talented programmers, and much more. 
Why did People.ai choose our BPO company as an offshoring partner? 
We specialize in IT recruitment 
Our IT researchers and recruiters find, interview, and hire the top Unity developers in Eastern Europe. They will consider your staffing needs to pick only the best candidates for your company. Unlike other R&D vendors and recruitment agencies, we have a database of over 200,000 programmers to meet your expectations. 
Once we've chosen several Unity coders for a position in your company, our recruiters conduct the first HR interview with them. Only after that, we listen to the interview requirements in your company and schedule tech interviews, coding sessions, test tasks, and final interviews.  
Not long ago, we were hiring Unity developers for one of our clients – Moon Active. They are one of the top mobile game startups that produce entertainment content. They wanted to hire middle and higher-level Unity coders but couldn't do it fast because of their high standards for employees and long tech interviews. With our expertise and consulting, our recruitment team managed to hire 3 suitable employees for Moon Active in just a few weeks. 
Our lawyers adjust your operations according to local legislation 
Our legal & compliance experts will plan and pay taxes, as well as protect intellectual property and prepare important agreements with your offshored R&D developers.  
We can even assist you during M&A deals, as we did for Luxoft, a high-end business solutions provider. When they were planning to purchase an IT company, lawyers at Alcor calculated all risks in a due diligence report, restructured the management and organization model of the seller company, and prepared and negotiated the purchase agreement. 
We provide full payroll & accounting support 
Financial managers at our company will track your cash flow and pay salaries for your programmers in Eastern Europe, so you won't have to do it yourself. Moreover, we will also perform an audit of financial statements, prepare payroll returns to authorities, and send you detailed invoices. This way you'll always be in control of your money. 
Opportunity to choose traditional or home office 
Having a physical place where your offshored employees meet, bond, and communicate is the best thing a manager can do. That is why our real estate team can always find an office space, negotiate lease terms, sign the agreement, make redecorations, and provide procurements for R&D offices of our clients. 
And since the beginning of the pandemic, we have transferred physical office spaces and developed IT infrastructure in the homes of our clients' coders. If any issues arise, our IT team will always be in touch to fix any kinds of problems. 
Final Thoughts 
In case you're wondering how and where to hire Unity developers, I would suggest that you first study the international Unity market. In this way, you'll discover that one of the top locations to hire Unity coders is Eastern Europe. 
But how exactly to hire Unity 3D developers in this region? You should consider cooperating with a reliable offshoring vendor that focuses on IT recruitment for your niche. Our company does this and even provides legal, financial/accounting, and real estate backup for our clients.