If your goal is to create a flawless game with great animation and graphics that runs on any device, then you should consider working with pro Unity developers for hire. Games such as Heartstone, Among Us, Temple Run, Pokemon Go, and Hitman Go were created by these specialists, and the list doesn't end here. 
But how and where to hire Unity developers, what hard and soft skills of these programmers should you pay attention to, and why building a whole team of Unity coders via an IT recruitment agency is the most cost-effective approach. Find out in this article! 
Unity Developer Brief Market Overview
The gaming industry is steadily becoming a real goldmine, now reaching a whopping $245.10 billion in market size. One of its rapidly evolving segments is VR, which is expected to witness an impressive CAGR of 32.75% during the 2023-2028 period. And did you know that 60% of all VR/AR games available today are built on Unity? 
This cross-platform game engine is a top choice among game studios of all sizes. Due to its user-friendly interface, pre-built components, and broad asset store, companies can cut down on game development time significantly without compromising product quality. 
According to a recent report by Unity Technologies, around 62% of indie and 58% of midsize studios released a game in less than a year in 2022. In fact, the number of games built with Unity has been steadily increasing year by year, showing an incredible growth of 93% in 2021 (almost a 2x boost since 2020). At the same time, the number of new creators rose by 31%, with the Unity community now exceeding 4.5 million registered developers. In total, more than 61% of developers and 12,500 studios worldwide use Unity for game development, making it a leader in the market.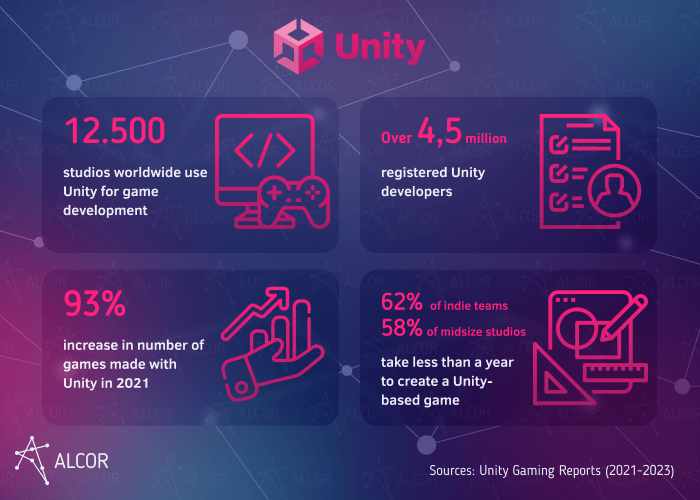 Portrait of a Top Unity Developer 
If you are eager to start your journey in the game development world, you should be armed with relevant information concerning job requirements for Unity developers. So, let's start with education. There is no strict rule which obliges these developers to possess a higher STEM degree. This criterion is especially overlooked by indie game studios which prize skill over university diploma, while AAA enterprises (particularly big-name ones) tend to add it in their job descriptions. 
What most hiring managers would agree on when it comes to hiring Unity developers is the importance of relevant experience and portfolio. This is the most vivid manifestation of a game developer's competency. Typically, a candidate is expected to have at least 3 years of working with Unity 3D engine and C# language, experience in full lifecycle project delivery plus building different types of games (mobile, PC, and VR). A big plus for candidates is to have experience in working on a game that has a large user-base.
Let's move on to other Unity 3D programmers' hard skills. Apart from mastery of Unity and C#, your ideal candidate should also have superb 3D and 2D graphics, level design, and game physics knowledge to create realistic scenes. In addition, it's a big plus for them to possess hands-on experience with ASP.NET Core for back-end development and AWS skills to make games compatible with the Cloud. 
When it comes to soft skills, it's vital for your perfect fit to have a passion for games. If they get inspired by their work, it will be easier for them to see beyond the game plan and generate creative ideas. Besides that, flexibility and strong problem-solving skills are key to quickly adjusting to changes during game development. Below, you can see a complete Unity game developer's skill stack.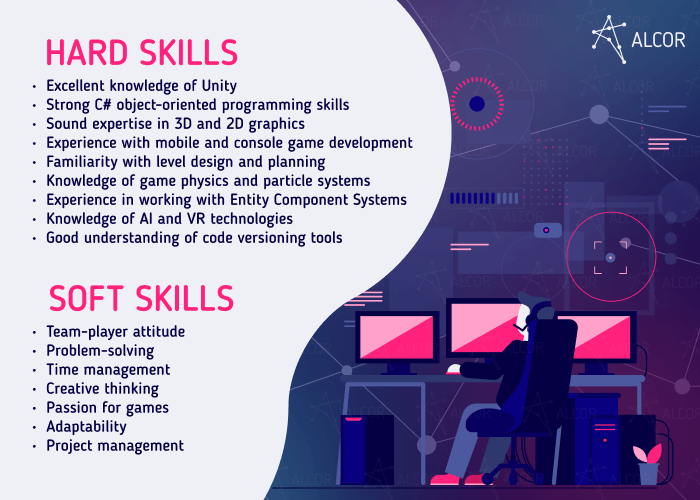 15 Must-Ask Questions for a Unity Developer
As you can see, there are quite a lot of skills you need to check to properly hire a Unity developer. To pick the best matching candidate for your tech team, I recommend asking 3 types of interview questions: technical, behavioral, and interpersonal. While the first set of questions are meant to test the software development competence of the candidate, the second and third groups unveil personal traits of the applicant as well as their ability to cooperate and deal with challenges. Here are some examples of interview questions you can ask to hire Unity 3D developers:
Technical interview questions
What are the primary components of Unity 3D?
What does the hierarchy panel do in the Unity editor?
What exactly is Fixed Timestep in Unity 3D?
What is the purpose of the inspector feature in Unity 3D?
Explain the difference between DAU and MAU.
Behavioral interview questions
Describe a situation where you made a mistake while using Unity 3D and how you managed it.
Tell us about how you cooperated with cross-functional teams to achieve a timely product launch.
Tell us about a time when a project failed to meet market expectations. How did you handle the situation?
Tell us about the most successful project that you took part in. Which approaches did you employ?
 Tell us about a time when you lacked the necessary skills to complete a project. 
Soft skills interview questions
 How would you explain complex Unity features to nontechnical employees?
 How would you ensure that your Unity projects are completed in a timely manner?
 Tell us about a time you had a strong disagreement with your coworker. How did you handle it? What was the outcome?
 Would you be comfortable informing your project lead that you believe you have taken on more than you could handle?
 What is more essential to you: doing the task on time or ensuring that it is of high quality? Why?
Tips to Attract & Retain Unity Developers
According to the Stack Overflow survey, low salary is the primary reason for changing jobs for about 65% of software developers. Since there is a growing tech talent shortage and high competition for them, you need to make sure your Unity 3D developers get a well-deserved and competitive remuneration. In addition to that, providing some nice perks & benefits is another effective method for attracting and retaining top talent. Apart from a basic employee bonus package, you can offer something unique and exciting; for instance, some activities for entertainment and team cohesion like gaming or cinema rooms. Or you could take care of your workers' well-being by implementing physical/mental health programs or massage sessions. 
Create flexible working conditions
Remote and hybrid work arrangements have become the must-haves for IT companies, as they drive diversity and inclusion in the workplace (which enhances innovation). In fact, the Gartner 2021 Digital Worker Experience Survey found out that flexible working hours increased productivity in almost half of respondents. The McKinsey and Company study also revealed that flexible working arrangement is a top three motivator for finding a job. Thus, offering remote opportunities when hiring Unity 2D developers will only contribute to your game development process. You can also try out a four-day workweek to ensure a healthy work-life balance for your programmers.
Encourage career growth & self-development
Most software engineers are lifelong learners who always try to stay abreast of new trends and technologies. Unity programmers are not an exception. According to statistics, 9 in 10 programmers would like to get more learning and development opportunities from their company, while 41% of respondents are prone to quitting due to limited career progression. Therefore, to keep your retention rates high, focus on building a corporate culture that encourages self-development. This is a win-win scenario for both parties. 
Unity Developer Salaries by Country
You might be wondering where to hire Unity developers. There are basically 3 groups of destinations for your consideration:
Countries with high-quality, expensive services 
Low-cost markets with moderate or low-quality services
Locations with optimal price-to-quality ratio
Let's begin with the first group of countries. As you can see, the salary pay rates for Unity developers range from $48,000 to $130,000 per year, depending on the expertise level of these IT specialists. The United States is an absolute leader among the listed countries, offering the highest Unity 3D developer salaries, whereas in Europe, these remunerations are quite modest in comparison (spanning from $48,000-$95,000 per annum).
Gross annual income, USD
USA
Canada
UK
Germany
Australia
Junior Unity Developer
$81,000
$62,000
$48,000
$50,000
$60,000
Middle Unity Developer
$102,000
$80,000
 $65,000
 $70,000
$90,000
Senior Unity Developer
$130,000
$105,000
$93,000
$95,000
 $110,000
Moving on to the second option. From the table below you can see that Unity developer salaries in these countries are 3-4 times lower compared to the above-mentioned markets. The Philippines and India stand out as locations with the smallest Unity 3D programmer salaries (varying from $6,000 to $18,000 per annum).
Gross annual income, USD
Mexico
Brazil
Argentina
India
Philippines
Junior Unity Developer
$16,000
 $20,000
 $14,000
$7,000
$6,000
Middle Unity Developer
$22,000
 $27,000
$20,000
$12,000
 $11,000
Senior Unity Developer
$30,000
 $33,000
$27,000
$18,000
 $18,000
And finally, the third group of locations are Eastern European countries that offer optimal pricing for high-quality services. The Unity game developer salary here stays within the $15,000 to $50,000 limit. American IT companies that look for seasoned Unity 3D developers can save up to 70% on labor expenses, while still getting top-notch development services. For instance, such countries as Hungary and Bulgaria offer the lowest senior Unity developer salary rates in the EE region, ranging from about $37,000 to $40,000 a year.
Gross annual income, USD
Poland
Romania
Bulgaria
Hungary
Czech Republic
Junior Unity Developer
$20,000
 $16,000
$15,000
 $15,000
$18,000
Middle Unity Developer
$35,000
$23,000
$23,000
 $21,000
$30,000
Senior Unity Developer
$50,000
$42,000
$40,000
$37,000
 $48,000
Finding the Unity Developer that You'll Wish to Hire
Basically, there are 4 available options for hiring Unity developers. Let's look at each of them in detail.
Working with a Freelancer
This is an ideal option for short-term, non-tech projects like making VR showrooms for customers, a simulation for industry/military training, or a pre-visualization for a movie. There are multiple freelancing websites where you can pick up a Unity developer according to your requirements and budget. Moreover, since freelancers work as independent contractors, you don't need to worry about any employment contracts and social packages. 
Cooperation with an Outsourcing Provider
If you are an owner of an architecture or retail company that simply wants to leverage the benefits of Unity technology, this option can come in handy. You won't have to spend so much time on recruiting developers, instead getting a ready-made Unity team that can get down to business right away. The outsourced provider will take care of your project from start to finish, including team management and buying the needed equipment. Yet if you are the head of a startup or IT product company, outsourcing may not be your best choice, as it could put your IP rights at risk (and impose some hidden costs). 
Services of an Outstaffed Team
A similar option to the above-mentioned one is getting an outstaffed team. With this business model, you are flexible in terms of team adjustments and finances. However, it's vital to remember that you don't own the Unity team but lease it from an outstaffed vendor, which is why you only get "feeble loyalty" from the coders. Furthermore, long-term cooperation with an outstaffing provider presupposes additional expenses, such as commissions and buy-out fees.
Partnership with an IT Recruitment Agency
For those companies that prefer to supervise the development of Unity-based products, the option of building their own development team is the most reliable and cost-efficient. In this case, you'll maintain full control over the development process, IP, and expenses, get a 100% dedicated tech team, and receive professional coverage of necessary BPO services. 
That's what one European IT startup opted for developing their mobile games. The company was seeking middle and senior Unity developers for hire but couldn't manage it fast enough due to their unawareness of local market specifics and extensive tech interviews. When they started cooperating with Alcor BPO company, this problem vanished. It took our recruiters only a month to hire seasoned Unity programmers who perfectly matched the client's requirements.
Freelancer
IT outsourcing
Outstaffed team
IT recruitment
Time to hire
short
short
average
average
Cost
low
moderate (possible hidden costs)
moderate (possible hidden costs)
moderate
Development quality
low
low
moderate
high
Commitment & loyalty
low
low
moderate
high
Data security
low
low
low
high
Hire the Best Unity Developers with Alcor!
Alcor is an international IT recruitment company with 10 years of experience in building software development teams in Poland, Romania, and other Eastern European countries. Among our success stories is cooperation with Grammarly, People.ai, Dotmatics, Sift, Gotransverse, and other US and European IT companies.
What do we offer? All our clients receive full-cycle IT recruitment services which include: creation of ideal candidate profiles and enticing EVP, talent sourcing and screening from our 600,000+ candidate network, interviewing, and providing consultations on the local market. We guarantee expeditious and high-quality hiring, as our IT recruiters need only 8 CVs to get to 1 accepted offer, while 98% of our candidates successfully pass the probation period. Alcor also assigns an account manager to work exclusively with each of our clients. In addition to that, you can upgrade your tech team to an offshore development center. Our R&D solution presupposes a complete coverage of all needed back-office services.