Looking for TOP IT headhunters? You're not alone. Every executive of a tech company agrees that talented IT specialists make up the core of the high-tech industry. The main challenge is to find and hire such people among available workforces. Hence, the question many tech leaders are asking is: "Who can help me select good software developers in the pool of talents?" In this article, I'll write about IT headhunters & talent recruitment agencies, as well as how to choose a recruiter overseas for hiring senior developers. 
IT Headhunters for Software Companies 
Before discussing how to choose a headhunter, let's speak about the real value of an IT recruitment agency. Sometimes the management board of a company doesn't realize the real necessity of external recruitment services. However, a headhunter company might come to the rescue if you wish to access a larger talent pool, hire senior developers, technical executives, or find a rare IT specialist.  
These reasons brought People.ai, a developer of the innovative AI-powered sales platform, to Ukraine. To build an offshore development team, they ventured to open their own R&D office in Kyiv. Within just one month, Alcor managed to lease and equip an office for them, hire the first engineers, as well as ensuring total legal compliance and HR payroll management.  
Outsource Vs. In-House Recruitment 
On the one hand, in-house recruitment sustains your HR expertise that will be handy in the long run. It also creates a good candidate experience in the market. On the other hand, such a recruitment department requires a lot of time and investments to bring positive results. You'll need to spend money on salaries & bonuses, pay for HR tools and ads.  
Therefore, with outsourcing recruitment services you can save costs and receive high quality at the same time. Since external IT headhunters have gained extensive experience, they do their job quickly and professionally – leaving you the chance to focus on onboarding and IT staff training instead. 
Types of IT Headhunters 
An IT headhunter is often referred to as the general name for an IT recruiter. Their job is to source and then lead eligible candidates through the hiring pipeline. There are two major types of headhunters for IT professionals.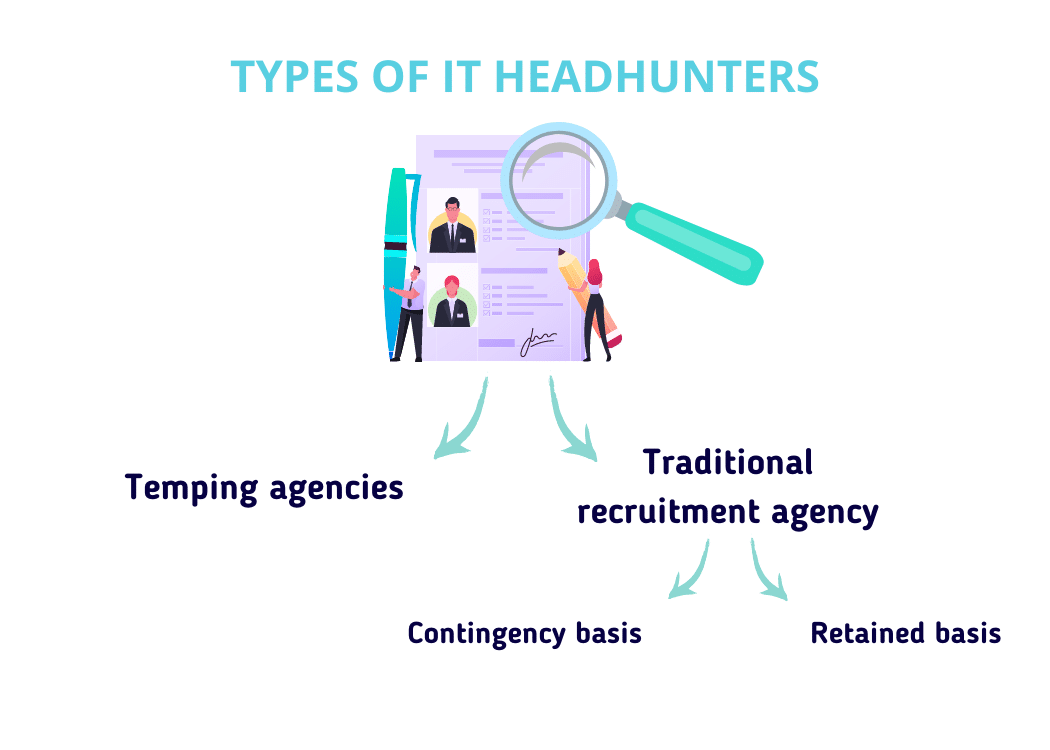 Temp agencies 
These are employment agencies that fill in positions of temporary jobs. Tech companies may use this kind of service to staff the team with junior specialists for a short-term project or support the development team with an additional workforce during busy periods. 
Traditional recruitment agency 
Traditional recruitment agencies work with vacancies for permanent roles. However, the cooperation model can be different. Companies that work with IT recruiting agencies on a contingency basis don't pay for the services unless their vacancy is successfully filled. It works in case you want to engage multiple recruitment providers or use internal HR resources. Working on a retained basis, companies pay recruiters in advance, allowing them to work with your job openings exclusively. 
How to Find an IT Headhunter Offshore 
Among the best ways to find an IT headhunter in offshore locations, such sources as recommendations, client review platforms, social/mass media remain on top. Don't hesitate to check industry groups on social networks for referrals or ask for recommendations yourself. It's quite practical to reach out to a software company with a similar background and/or tech product, e.g. e-commerce, healthcare, fintech, or another software developer. They will share their own experience with particular IT recruiters from the country you are interested in. 
The best platform with reviews of B2B providers is Clutch. It gathers not only valuable feedback on companies but also presents global industry rankings. For instance, having intentions to find an IT headhunter company, you may look up in the list of TOP HR and recruiting firms. It's worth mentioning that TOP lists on Clutch get updated frequently so that a user always receives accurate information.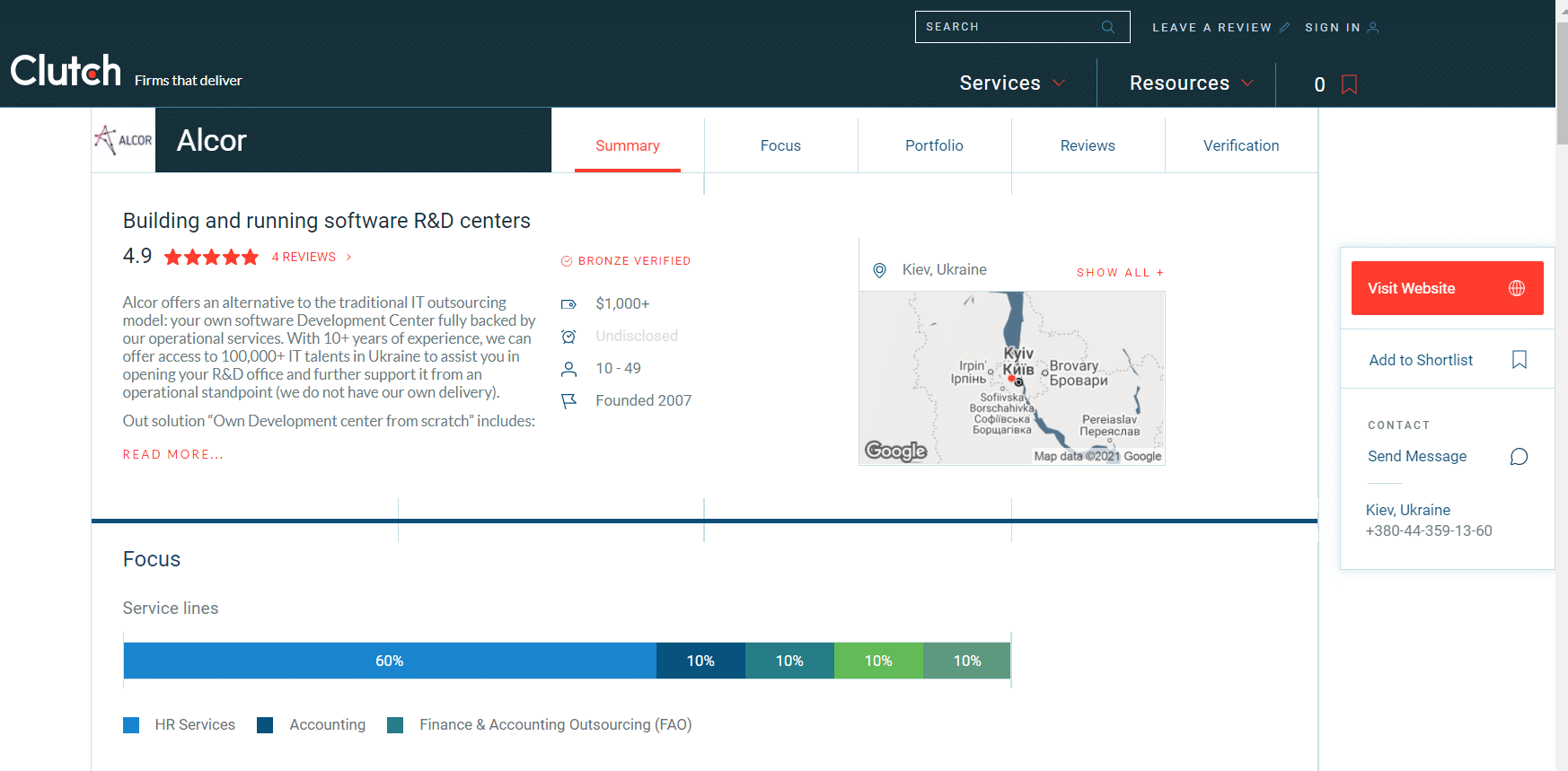 How to Choose a Headhunter and Evaluate Potential Providers 
Having created a list of potential recruiting providers, software companies start the selection process to pick the best of them. I recommend paying attention to their expertise in the IT industry, level of service, and guarantees. The following questions will help you identify the most reliable recruitment provider. 
How large is their database? 
Compare their pool with the overall market volume (e.g. nearly 200,000 specialists in Ukraine). This will tell you about the capabilities of IT headhunters and your chances for success. 
Do they have case studies? 
Although most of the client companies may be protected by a non-disclosure agreement, there are some of them that an IT recruiting agency would love to showcase. Study its website to find the case studies that demonstrate high-speed recruitment, excellent service, or brilliant hires that were essential in satisfying the client's business needs. 
Who will work on your vacancy? 
The best way to fill a vacancy fast is to divide the hiring process between researchers and recruiters. While the former will source eligible candidates, the latter will provide HR interviews and pre-screening, thus bring results more efficiently. 
How are candidates verified? 
It's important to check resumes, define the soft skills of a candidate, collect recommendations, and give test assignments. As a rule, recruiting specialists take care of this so that a client receives only qualified CVs to consider for the next interview stage (technical assessment).   
How do you track the progress? 
To keep abreast of the hiring process, communicate with your external IT recruiters frequently. A good practice is to have weekly reports with the number of available engineers, processed CVs, conducted interviews, etc. – to see the headway made. 
Do they charge a cancellation fee? 
In other words, suppose you managed to find an engineer by yourself; would the recruiting agency charge you for their work so far? Usually, there are no fees for quitting if you work with IT headhunters on a contingency basis. 
Is it possible to substitute a candidate after the hire? 
Being confident in their services, headhunter companies provide warranty for the candidates they found for you. You should have a three–month guarantee period to substitute the candidate free of charge if he/she doesn't meet your expectations. 
Do they offer operational support? 
Once you have the desired IT specialist in an offshoring location, you'll need to employ them properly. Very few providers can offer an all-in-one-place solution to not only find a software engineer but also manage HR payroll and ensure legal compliance. At Alcor, we hire developers for you and then help with operational management in Ukraine (legal & accounting support, real estate, IT infrastructure, etc.)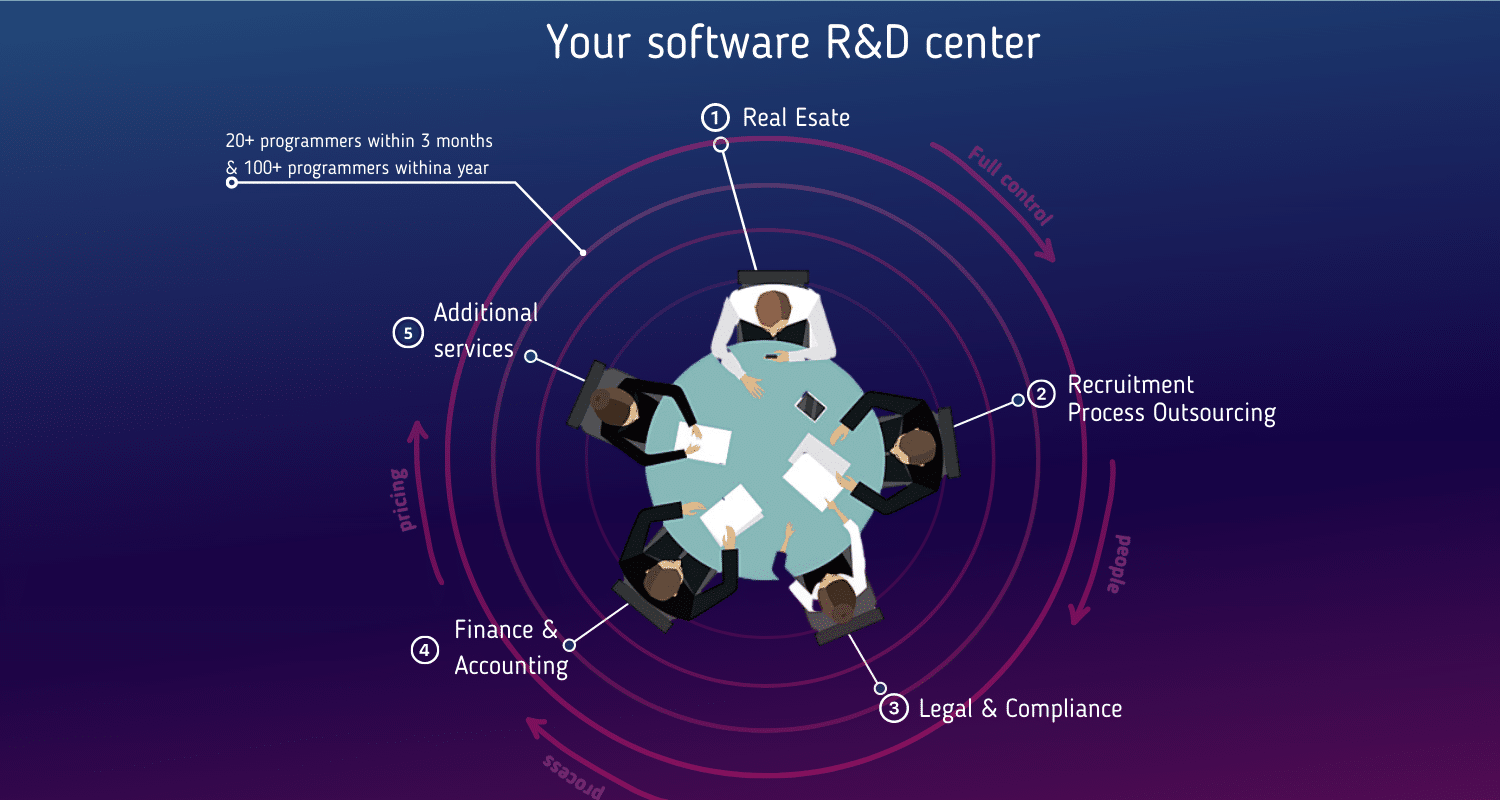 How to Establish a Profitable Partnership 
A profitable partnership is born at the crossroads of the client's expectations and the provider's level of service. This means that both sides should contribute to achieve the desired goals. But can you claim that you both move in the same direction? Let's check. 
TOP IT headhunters usually adopt a streamlined process that can be tailored to the client's internal corporate procedures. It includes: 
Drafting the ideal candidate profile. 

Creating the employee value proposition. 

Launching the talent sourcing process. 

Pre-screening eligible candidates. 

First HR interviews. 

Job interviews on the client's side. 

Preparing a job offer. 
This model of cooperation is ideally supported by additional services like employer branding, legal compliance, accounting & employer of record solutions, relocation of IT specialists, etc.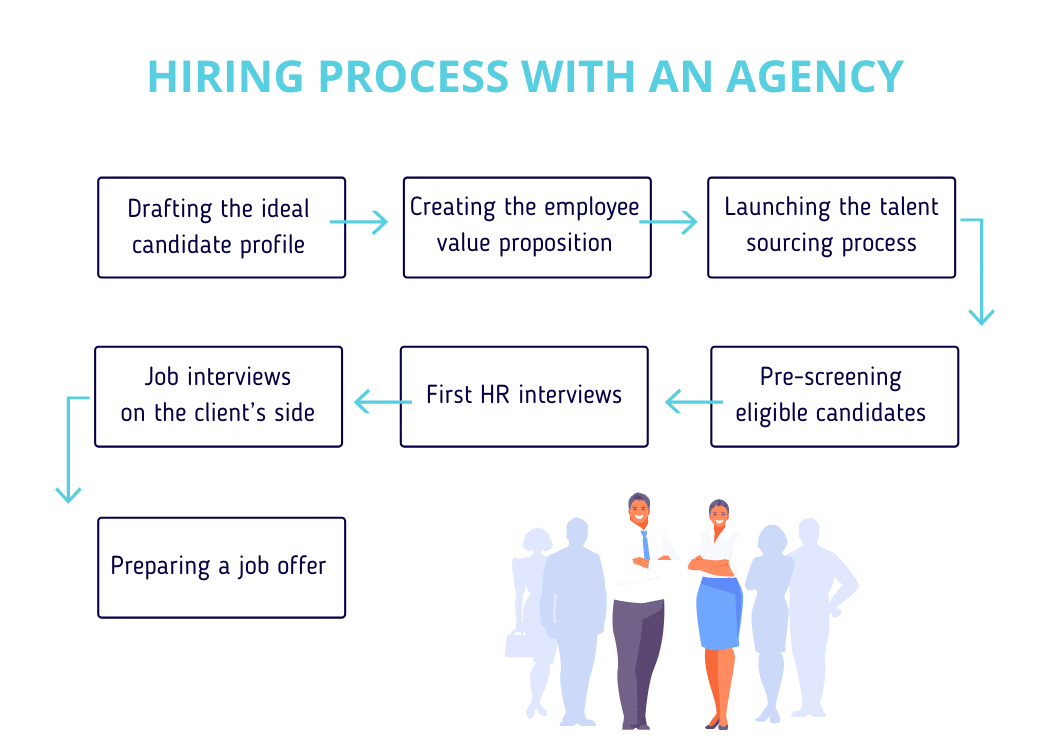 Apart from this, pay attention to whether you give exhaustive information about your company. It's highly appreciated if you could share what tech product you develop, technologies your team works with, as well as what business goals you all strive to accomplish. I also advise to describe your corporate culture and tell more about the engineering team a future developer will work in. IT headhunters need this information to promote your employer brand in the local market and attract the best talents. 
Right from the start, give your job descriptions to an IT recruiting agency for estimation. It usually takes 3-4 weeks to hire a regular software engineer of middle-senior levels, but the real time depends on the market. Professional IT recruiters will articulate possible challenges and suggest an appropriate hiring strategy according to the current situation on the local labor market. 
Hardly anyone questions the necessity of proper individual support. This can be reached with the help of a dedicated account manager provided by your recruitment agency. No need to contact several people for your queries; just keep in touch with one person to receive all updates. 
Final Thoughts 
Foreign tech companies evidently cannot deal with a thriving IT labor market alone. To hire a headhunter, you must consider their professionalism and service level. At Alcor, we are ready to find you exceptional IT talents and provide comprehensive business navigation in Ukraine.